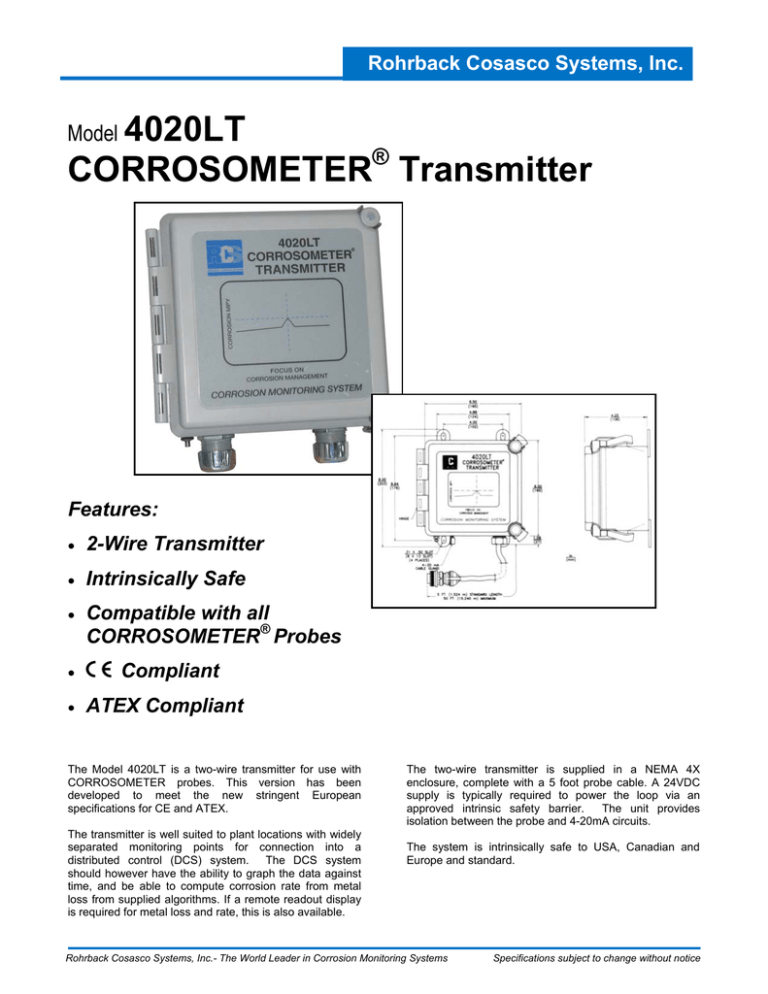 Rohrback Cosasco Systems, Inc.
Model 4020LT
®
CORROSOMETER Transmitter
Features:
•
2-Wire Transmitter
•
Intrinsically Safe
•
Compatible with all
CORROSOMETER® Probes
•
•
Compliant
ATEX Compliant
The Model 4020LT is a two-wire transmitter for use with
CORROSOMETER probes. This version has been
developed to meet the new stringent European
specifications for CE and ATEX.
The transmitter is well suited to plant locations with widely
separated monitoring points for connection into a
distributed control (DCS) system. The DCS system
should however have the ability to graph the data against
time, and be able to compute corrosion rate from metal
loss from supplied algorithms. If a remote readout display
is required for metal loss and rate, this is also available.
The two-wire transmitter is supplied in a NEMA 4X
enclosure, complete with a 5 foot probe cable. A 24VDC
supply is typically required to power the loop via an
approved intrinsic safety barrier.
The unit provides
isolation between the probe and 4-20mA circuits.
The system is intrinsically safe to USA, Canadian and
Europe and standard.
Rohrback Cosasco Systems, Inc.- The World Leader in Corrosion Monitoring Systems
Specifications subject to change without notice
Specifications:
ƒ Output:
ƒ Ambient Temperature Range:
ƒ
ƒ
ƒ
ƒ
ƒ
ƒ
4-20 mA
-18°C to+ 60°C
(0°F to +140°F)
14-32 VDCat 20mA
±0.4%
5 lbs (2.3 Kg)
NEMA 4X, IP66
5 ft (50 ft MAX)
UL/ULc Class 1, Zone 1, Ex and AEx ia IIC T4 for USA and Canada*
(UL/ULc Class 1, Div. 1, Groups A,B,C,D, T4 for USA and Canada)*
DEMKO Approved for Europe
EEx ia IIC T4 – ATEX 94/9/EC *
*Requires the use of Safety barrier P/N 095776-702-1 if probe or transmitter
is in Class 1 Division 1 area or Zone 0 or Zone 1.
Protection type "nC" permits the use of the transmitter without the safety
barrier provided probe and transmitter are in class 1 Division 2, or Zone 2
area.
Supply Voltage Range:
Resolution:
Weight:
Enclosures:
Probe Cable:
Hazardous Area Certifications:
®
All CORROSOMETER Probes
(Excludes CORROTEMP® CORROSOMETER® Probes)
May be used with Model 4021L receiver
ƒ Compatibility:
ƒ Display:
: Complies with all applicable EU Product Directives: EMC Directive 89/336/EEC
ƒ
ƒ ATEX: Complies with all applicable EU Product Directives: ATEX Directive 94/9/EC
Ordering Information:
Model
4020LT
4020LT
Description
Corrosometer® Transmitter
Code
Probe Element
W
Wire Loop
TS
Tube/Strip Loop/Flush
SP
Cylindrical
Code
Probe Connector
A
Inserts: 2000, 3000, 3705
B
Fixed & ADJ: 1052, 2500, 2520, 2600, 2610, 2620, 3500, 3600, 4000 SERIES
S
Retractable: 3700
Code
Cable Type
0
Standard
1
Flexible Conduit
W
B
0
Example
Rohrback Cosasco Systems, Inc.
11841 East Smith Avenue
Santa Fe Springs, CA 90670, USA
Tel: (1) 562-949-0123 Fax: (1) 562-949-3065
US Toll Free: 800-635-6898
E-Mail: [email protected]
Web Site: www. cosasco.com
Bulletin # 101-G
Rohrback Cosasco Systems Corrosion Monitoring Equipment is manufactured and sold under one or more of the following US Patents: 4138878,
4238298, 4338563, 4514681, 4537071, 4587479, 4605626, 4625557, 4755744, 4839580, 4841787, 4882537, 5243297.
© Copyright RCS, Inc.