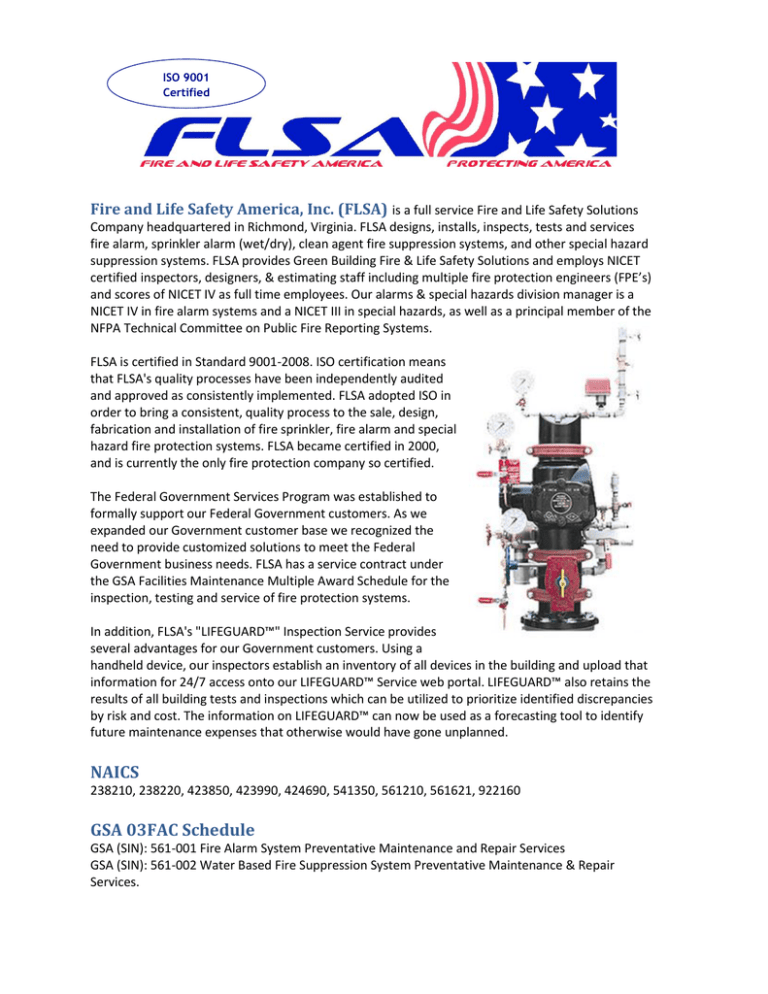 ISO 9001
Certified
Fire and Life Safety America, Inc. (FLSA) is a full service Fire and Life Safety Solutions
Company headquartered in Richmond, Virginia. FLSA designs, installs, inspects, tests and services
fire alarm, sprinkler alarm (wet/dry), clean agent fire suppression systems, and other special hazard
suppression systems. FLSA provides Green Building Fire & Life Safety Solutions and employs NICET
certified inspectors, designers, & estimating staff including multiple fire protection engineers (FPE's)
and scores of NICET IV as full time employees. Our alarms & special hazards division manager is a
NICET IV in fire alarm systems and a NICET III in special hazards, as well as a principal member of the
NFPA Technical Committee on Public Fire Reporting Systems.
FLSA is certified in Standard 9001-2008. ISO certification means
that FLSA's quality processes have been independently audited
and approved as consistently implemented. FLSA adopted ISO in
order to bring a consistent, quality process to the sale, design,
fabrication and installation of fire sprinkler, fire alarm and special
hazard fire protection systems. FLSA became certified in 2000,
and is currently the only fire protection company so certified.
The Federal Government Services Program was established to
formally support our Federal Government customers. As we
expanded our Government customer base we recognized the
need to provide customized solutions to meet the Federal
Government business needs. FLSA has a service contract under
the GSA Facilities Maintenance Multiple Award Schedule for the
inspection, testing and service of fire protection systems.
In addition, FLSA's "LIFEGUARD™" Inspection Service provides
several advantages for our Government customers. Using a
handheld device, our inspectors establish an inventory of all devices in the building and upload that
information for 24/7 access onto our LIFEGUARD™ Service web portal. LIFEGUARD™ also retains the
results of all building tests and inspections which can be utilized to prioritize identified discrepancies
by risk and cost. The information on LIFEGUARD™ can now be used as a forecasting tool to identify
future maintenance expenses that otherwise would have gone unplanned.
NAICS
238210, 238220, 423850, 423990, 424690, 541350, 561210, 561621, 922160
GSA 03FAC Schedule
GSA (SIN): 561-001 Fire Alarm System Preventative Maintenance and Repair Services
GSA (SIN): 561-002 Water Based Fire Suppression System Preventative Maintenance & Repair
Services.
Fire & Life Safety America
CAPABILITIES
Inspection
FLSA offers weekly, monthly, quarterly, semiannual and annual inspection schedules to meet the
specific regulatory and insurance requirements for Federal and Military facilities. Our qualified
inspection team provides inspection services to ensure that sprinklers, alarm systems, and other
suppression systems and devices are functioning properly, are tested regularly, and meet applicable
code requirements.
FLSA offers the following services:
• Inspection & Testing of Addressable/Analog Fire Alarm Systems
• Programming for a variety of alarm systems
• Servicing of all fire alarm devices
• Central Station Monitoring of fire alarm systems
• Testing & certification of Backflow Prevention Devices
• Inspection & Testing of Water Based Fire Protection Suppression Systems
• Fire Pump Testing
• Inspection & Testing of Special Hazards Suppression Systems
• Inspection & Testing of Fire Extinguishers
• Identification of Manufacturer's Recall Sprinkler Heads (VRP)
Service/Repair
FLSA provides facilities management with on-going maintenance support and repair services on a wide
variety of life safety systems. Our Service Department has the ability to work in occupied space, so
that the customer's business and personnel experience the least disruption. We also work during "off
hours" to accommodate our government customers. FLSA offers emergency and repair service for all
types of Fire Alarm and Fire Sprinkler Systems and all types of special hazard systems. We offer a wide
variety of maintenance contract agreements designed for the specific site's needs. Our technicians are
provided with fully equipped service vehicles, and are available for 24 hour on-call emergency service.