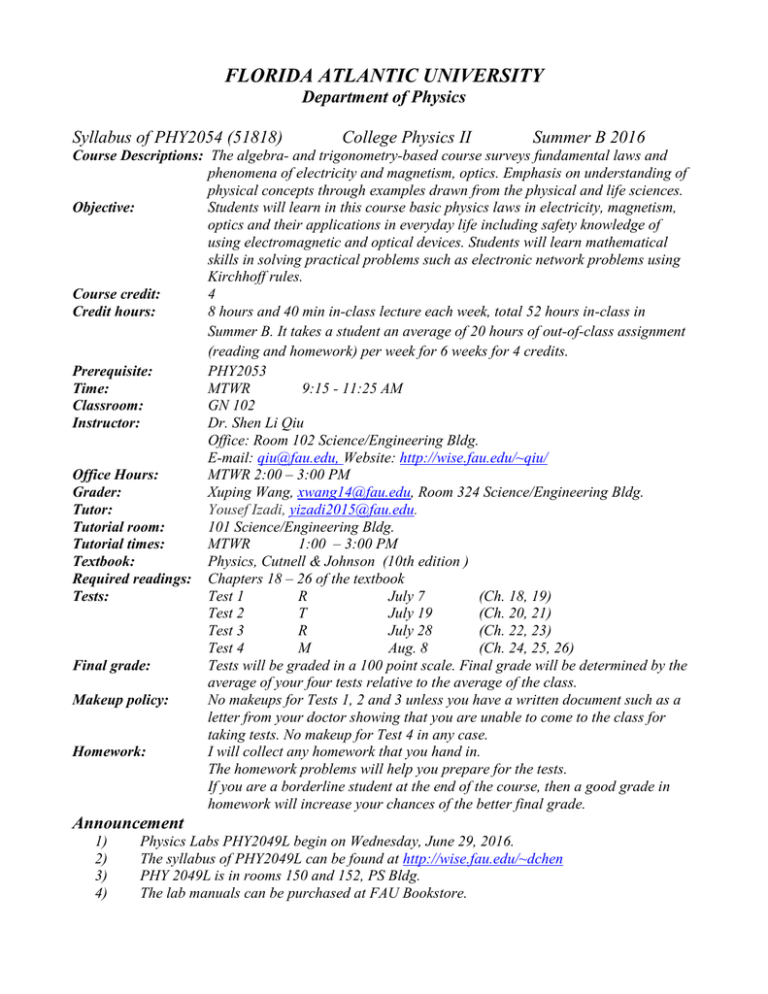 FLORIDA ATLANTIC UNIVERSITY
Department of Physics
Syllabus of PHY2054 (51818)
College Physics II
Summer B 2016
Course Descriptions: The algebra- and trigonometry-based course surveys fundamental laws and
phenomena of electricity and magnetism, optics. Emphasis on understanding of
physical concepts through examples drawn from the physical and life sciences.
Objective:
Students will learn in this course basic physics laws in electricity, magnetism,
optics and their applications in everyday life including safety knowledge of
using electromagnetic and optical devices. Students will learn mathematical
skills in solving practical problems such as electronic network problems using
Kirchhoff rules.
Course credit:
4
Credit hours:
8 hours and 40 min in-class lecture each week, total 52 hours in-class in
Summer B. It takes a student an average of 20 hours of out-of-class assignment
(reading and homework) per week for 6 weeks for 4 credits.
Prerequisite:
PHY2053
Time:
MTWR
9:15 - 11:25 AM
Classroom:
GN 102
Instructor:
Dr. Shen Li Qiu
Office: Room 102 Science/Engineering Bldg.
E-mail: [email protected], Website: http://wise.fau.edu/~qiu/
Office Hours:
MTWR 2:00 – 3:00 PM
Grader:
Xuping Wang, [email protected], Room 324 Science/Engineering Bldg.
Tutor:
Yousef Izadi, [email protected]
Tutorial room:
101 Science/Engineering Bldg.
Tutorial times:
MTWR
1:00 – 3:00 PM
Textbook:
Physics, Cutnell & Johnson (10th edition )
Required readings: Chapters 18 – 26 of the textbook
Tests:
Test 1
R
July 7
(Ch. 18, 19)
Test 2
T
July 19
(Ch. 20, 21)
Test 3
R
July 28
(Ch. 22, 23)
Test 4
M
Aug. 8
(Ch. 24, 25, 26)
Final grade:
Tests will be graded in a 100 point scale. Final grade will be determined by the
average of your four tests relative to the average of the class.
Makeup policy:
No makeups for Tests 1, 2 and 3 unless you have a written document such as a
letter from your doctor showing that you are unable to come to the class for
taking tests. No makeup for Test 4 in any case.
Homework:
I will collect any homework that you hand in.
The homework problems will help you prepare for the tests.
If you are a borderline student at the end of the course, then a good grade in
homework will increase your chances of the better final grade.
Announcement
1)
2)
3)
4)
Physics Labs PHY2049L begin on Wednesday, June 29, 2016.
The syllabus of PHY2049L can be found at http://wise.fau.edu/~dchen
PHY 2049L is in rooms 150 and 152, PS Bldg.
The lab manuals can be purchased at FAU Bookstore.
Lecture schedule and homework assignments
Week
Lecture
Homework
Ch.18 Electric force and electric Ch.18:7,13,17,18,27,33,39,44,49,53,59,60,62,67,76
1
fields
Ch.19: 4,8,14,20,22,23,24,25,35,38,48,49,62,64,66
2
3
4
5
6
Ch.19 Electric potential energy and
the electric potential
Ch.19 continued,
Test 1
Ch.20 Electric circuits
Ch.20 continued
Ch.21 Magnetic forces and
magnetic fields
Test 2
Ch.22 Electomagnetis induction
Ch.23 Alternating currents
Ch. 23 continued
Ch.24 Electromagnetic waves
Test 3
Ch.24 continued
Ch.25 The reflection of light: mirrors
Ch.26 The refraction of light: lenses
and optical instruments
Test 4
Ch.20:
60,64,70,79,81,83,84,85,93,97,100,103,112,114,117
Ch.21: 5,7,15,19,22,23,38,40,49,50,56,67,68,70,73
Ch.22: 5,10,25,34,38,40,44,54,57,66,67,71,73,79,80
Ch.23: 7,15,17,19,20,26,28,34,36,37,38,44,45,51,52
Ch.24:
12,14,16,17,22,23,28,32,35,36,41,45,54,56,58;
Ch.25: 5,6,11,14,19,23,24,27,29,30,33,37,38,44,45
Ch.26:
20,28,33,36,56,58,61,91,93,100,101,105,109,118,120
Answers to even problems in the homework assignments are posted on my web page and on FAU
Blackboard.
Disability policy statement: In compliance with the Americans with Disabilities Act Amendments Act
(ADAAA), students who require reasonable accommodations due to a disability to properly execute
coursework must register with Student Accessibility Services (SAS)—in Boca Raton, SU 133 (561297-3880); in Davie, LA 203 (954-236-1222); or in Jupiter, SR 110 (561-799-8585) —and follow
all SAS procedures.
Code of Academic Integrity policy statement: Students at Florida Atlantic University are expected to
maintain the highest ethical standards. Academic dishonesty is considered a serious breach of these
ethical standards, because it interferes with the university mission to provide a high quality
education in which no student enjoys an unfair advantage over any other. Academic dishonesty is
also destructive of the university community, which is grounded in a system of mutual trust and
places high value on personal integrity and individual responsibility. Harsh penalties are associated
with academic dishonesty. For more information, see University Regulation 4.001.