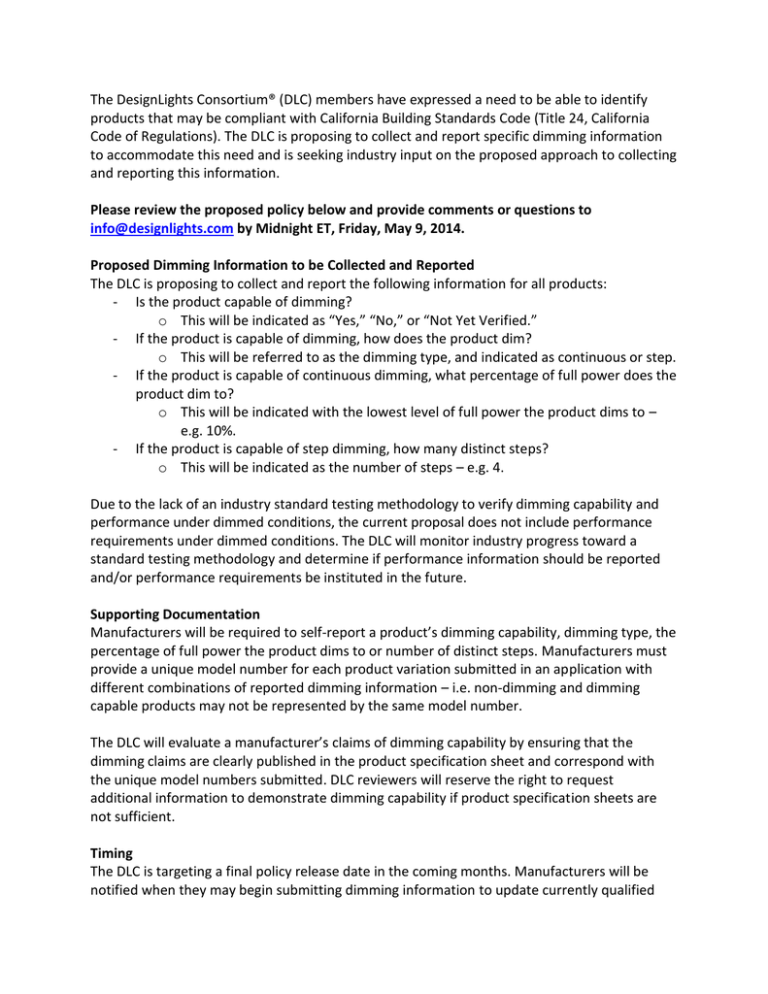 The DesignLights Consortium® (DLC) members have expressed a need to be able to identify
products that may be compliant with California Building Standards Code (Title 24, California
Code of Regulations). The DLC is proposing to collect and report specific dimming information
to accommodate this need and is seeking industry input on the proposed approach to collecting
and reporting this information.
Please review the proposed policy below and provide comments or questions to
[email protected] by Midnight ET, Friday, May 9, 2014.
Proposed Dimming Information to be Collected and Reported
The DLC is proposing to collect and report the following information for all products:
- Is the product capable of dimming?
o This will be indicated as "Yes," "No," or "Not Yet Verified."
- If the product is capable of dimming, how does the product dim?
o This will be referred to as the dimming type, and indicated as continuous or step.
- If the product is capable of continuous dimming, what percentage of full power does the
product dim to?
o This will be indicated with the lowest level of full power the product dims to –
e.g. 10%.
- If the product is capable of step dimming, how many distinct steps?
o This will be indicated as the number of steps – e.g. 4.
Due to the lack of an industry standard testing methodology to verify dimming capability and
performance under dimmed conditions, the current proposal does not include performance
requirements under dimmed conditions. The DLC will monitor industry progress toward a
standard testing methodology and determine if performance information should be reported
and/or performance requirements be instituted in the future.
Supporting Documentation
Manufacturers will be required to self-report a product's dimming capability, dimming type, the
percentage of full power the product dims to or number of distinct steps. Manufacturers must
provide a unique model number for each product variation submitted in an application with
different combinations of reported dimming information – i.e. non-dimming and dimming
capable products may not be represented by the same model number.
The DLC will evaluate a manufacturer's claims of dimming capability by ensuring that the
dimming claims are clearly published in the product specification sheet and correspond with
the unique model numbers submitted. DLC reviewers will reserve the right to request
additional information to demonstrate dimming capability if product specification sheets are
not sufficient.
Timing
The DLC is targeting a final policy release date in the coming months. Manufacturers will be
notified when they may begin submitting dimming information to update currently qualified
products, as well as a date when new applications will be required to include dimming
information for all submitted products.
Currently qualified products will not be removed from the QPL if dimming information is not
updated. Instead, a product's dimming capability will be indicated as "Not Yet Verified" until
dimming information is provided. The DLC is proposing that qualified products whose dimming
information is indicated as "Not Yet Verified" as of January 1, 2015, will be changed to "No" at
that time.
Cost
Due to the need for DLC staff to review and process product updates, there will be a cost for
relisting products with appropriate dimming information. While DLC is working to minimize
these costs as much possible, there will likely be an application fee for manufacturers seeking
to update their data. The structure and fee schedule will be announced as they are determined,
based on the final policy that is put into place.
Application Processing Time
Due to the volume of expected update submissions in June and July, DLC is considering
extending the standard turn-around time from the current two-weeks to three-weeks for
applications received in this time period. This new review period will apply to both new
submissions and update submissions.