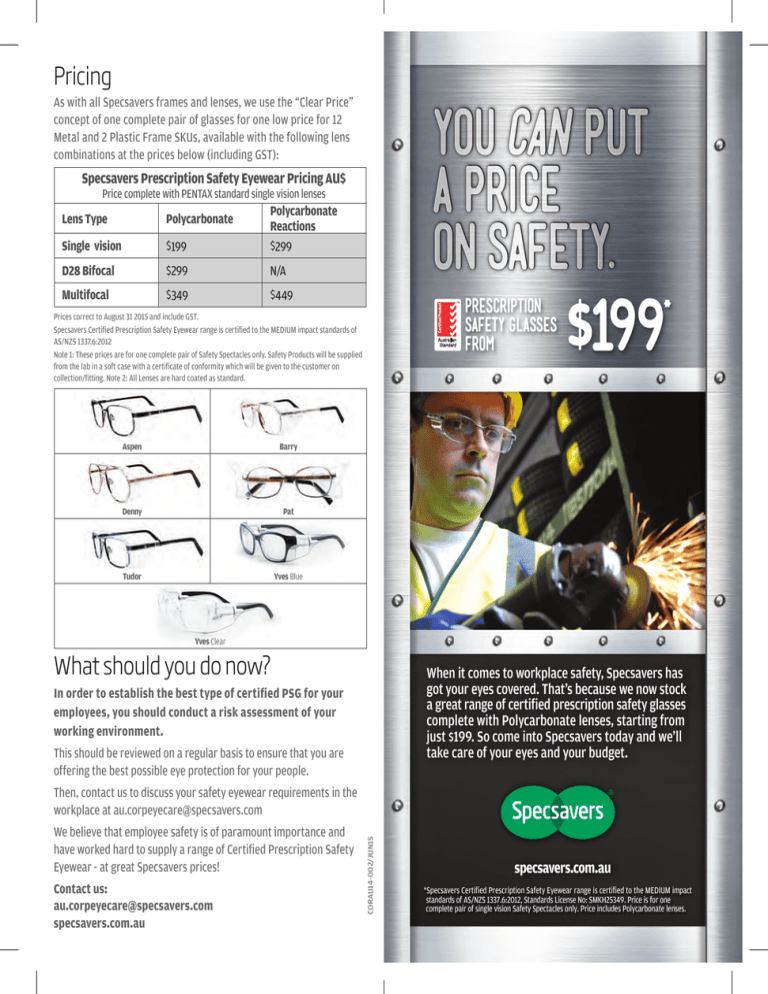 Pricing
As with all Specsavers frames and lenses, we use the "Clear Price"
concept of one complete pair of glasses for one low price for 12
Metal and 2 Plastic Frame SKUs, available with the following lens
combinations at the prices below (including GST):
Specsavers Prescription Safety Eyewear Pricing AU$
Price complete with PENTAX standard single vision lenses
Lens Type
Polycarbonate
Single vision
$199
Polycarbonate
Reactions
$299
D28 Bifocal
$299
N/A
Multifocal
$349
$449
prescription
safety glasses
FROM
Prices correct to August 31 2015 and include GST.
Specsavers Certified Prescription Safety Eyewear range is certified to the MEDIUM impact standards of
AS/NZS 1337.6:2012
Note 1: These prices are for one complete pair of Safety Spectacles only. Safety Products will be supplied
from the lab in a soft case with a certificate of conformity which will be given to the customer on
collection/fitting. Note 2: All Lenses are hard coated as standard.
Aspen
Barry
Denny
Pat
Tudor
Yves Blue
$199
*
Yves Clear
What should you do now?
When it comes to workplace safety, Specsavers has
got your eyes covered. That's because we now stock
a great range of certified prescription safety glasses
complete with Polycarbonate lenses, starting from
just $199. So come into Specsavers today and we'll
take care of your eyes and your budget.
In order to establish the best type of certified PSG for your
employees, you should conduct a risk assessment of your
working environment.
This should be reviewed on a regular basis to ensure that you are
offering the best possible eye protection for your people.
We believe that employee safety is of paramount importance and
have worked hard to supply a range of Certified Prescription Safety
Eyewear - at great Specsavers prices!
Contact us:
au.corpeyecare@specsavers.com
specsavers.com.au
CORAU14-002/JUN15
Then, contact us to discuss your safety eyewear requirements in the
workplace at au.corpeyecare@specsavers.com
specsavers.com.au
*Specsavers Certified Prescription Safety Eyewear range is certified to the MEDIUM impact
standards of AS/NZS 1337.6:2012, Standards License No: SMKH25349. Price is for one
complete pair of single vision Safety Spectacles only. Price includes Polycarbonate lenses.
Protecting your
employees' eyes at a
cost to fit your budget.
Eye Examinations
Specsavers Prescription
Safety Glasses
This could mean the provision of single vision, bifocal or
multifocal glasses, depending on your employee's individual
occupational requirements. Thorough and professional eye
examinations are bulk billed and we will also provide Free Digital
Retinal Photography with every standard eye exam.
The welfare of your employees' eyesight is your responsibility.
Caring for the health of your employees' eyesight is crucial for
their optimal performance and comfort at work. Inadequate or
inappropriate eye protection and failure to observe occupational
health and safety practices are the major causes of workplace eye
injuries. So, taking steps to look after your employee's eye health
is just another way to ensure you're an employer of choice and
Specsavers Certified Prescription Safety Glasses can ensure that
your legal requirements are met simply, affordably and easily.
Our Optometrists are professionally qualified and we continually
invest in technology allowing us to have state-of-the-art testing
equipment in all our practices, ensuring the best possible care
for your employees' eyes.
This has led to Specsavers becoming the fastest growing group
of Optometrists, providing professional eye care and affordable
eyewear across Australia.
More Australians choose Specsavers
than any other optometrist*
Regular eye examinations are essential for clear, comfortable
vision. We recommend that an eye examination is carried out
at the time of ordering safety glasses, at any of our over 280
network of stores across the country.
You can then be sure that the prescription is as accurate as
possible, thereby ensuring the safety of the wearer.
Specsavers Range of Certified
Prescription Safety Glasses (PSG)
Specsavers mission is to passionately provide affordable
eyecare for all, simply, clearly and consistently. Our Certified
PSG are no different.
When you choose Specsavers Optometrists you're in safe hands.
Our range of Certified PSG are certified to the standards of AS/
NZS 1337.6:2012, essential for the frames and lenses to be
considered safe and suitable for their intended purpose - so they
are safe, stylish and comfortable to wear and come with a 1-year
guarantee against manufacturing defect.
The most important consideration of any safety frame is the fit,
which is why we offer a sample of our safety glasses to be tried on
in store before ordering, and a complete measurement and fitting
service before your employee starts using their new Certified PSG.
Every pair of glasses is individually made to meet an individual's
vision requirements and lifestyle needs. Our dispensers will check
that all new glasses fit properly and have clear, comfortable
vision, making any necessary adjustments to ensure a perfect fit.
Our Polycarbonate lenses provide very lightweight lenses that are
tough and durable and able to cope with most situations in which
PSG are needed.
*Source: Roy Morgan Research Market Leadership Survey, Jan 2013.
Specsavers Certified Prescription Safety Glasses range are
certified to AS/NZS 1337.6:2012 and available in a range of
styles and sizes to suit most wearers.