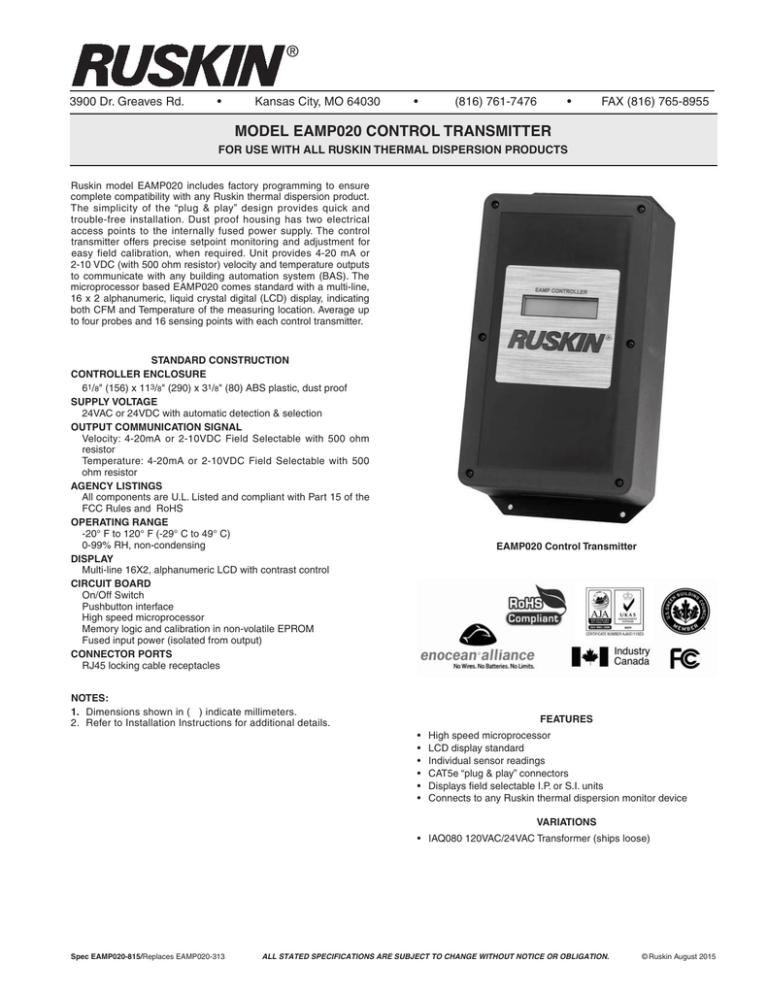 ®
3900 Dr. Greaves Rd.
•
Kansas City, MO 64030
•
(816) 761-7476
MODEL EAMP020 CONTROL TRANSMITTER
•
FAX (816) 765-8955
FOR USE WITH ALL RUSKIN THERMAL DISPERSION PRODUCTS
Ruskin model EAMP020 includes factory programming to ensure
complete compatibility with any Ruskin thermal dispersion product.
The simplicity of the "plug & play" design provides quick and
trouble-free installation. Dust proof housing has two electrical
access points to the internally fused power supply. The control
transmitter offers precise setpoint monitoring and adjustment for
easy field calibration, when required. Unit provides 4-20 mA or
2-10 VDC (with 500 ohm resistor) velocity and temperature outputs
to communicate with any building automation system (BAS). The
microprocessor based EAMP020 comes standard with a multi-line,
16 x 2 alphanumeric, liquid crystal digital (LCD) display, indicating
both CFM and Temperature of the measuring location. Average up
to four probes and 16 sensing points with each control transmitter.
STANDARD CONSTRUCTION
CONTROLLER ENCLOSURE
61/8" (156) x 113/8" (290) x 31/8" (80) ABS plastic, dust proof
SUPPLY VOLTAGE
24VAC or 24VDC with automatic detection & selection
OUTPUT COMMUNICATION SIGNAL
Velocity: 4-20mA or 2-10VDC Field Selectable with 500 ohm
resistor
Temperature: 4-20mA or 2-10VDC Field Selectable with 500
ohm resistor
AGENCY LISTINGS
All components are U.L. Listed and compliant with Part 15 of the
FCC Rules and RoHS
OPERATING RANGE
-20° F to 120° F (-29° C to 49° C)
0-99% RH, non-condensing
DISPLAY
Multi-line 16X2, alphanumeric LCD with contrast control
CIRCUIT BOARD
On/Off Switch
Pushbutton interface
High speed microprocessor
Memory logic and calibration in non-volatile EPROM
Fused input power (isolated from output)
CONNECTOR PORTS
RJ45 locking cable receptacles
EAMP020 Control Transmitter
NOTES:
1. Dimensions shown in ( ) indicate millimeters.
2. Refer to Installation Instructions for additional details.
•
•
•
•
•
•
FEATURES
High speed microprocessor
LCD display standard
Individual sensor readings
CAT5e "plug & play" connectors
Displays field selectable I.P. or S.I. units
Connects to any Ruskin thermal dispersion monitor device
VARIATIONS
• IAQ080 120VAC/24VAC Transformer (ships loose)
Spec EAMP020-815/Replaces EAMP020-313
ALL STATED SPECIFICATIONS ARE SUBJECT TO CHANGE WITHOUT NOTICE OR OBLIGATION.
© Ruskin August 2015
DIMENSIONAL DETAILS
LCD Screen
61/8 (156)
31/8 (80)
113/8 (290)
EAMP020 Electronic Controller
Dimensions, in. (mm)
FIELD WIRING CONNECTIONS
1. Connect dedicated 24VAC power to Control Transmitter.
a. Connect 24 VAC hot to +24H terminal
b. Connect 24 VAC common to -24C terminal
2. Connect 4-20mA velocity and temperature output signal from
transmitter to Building Automation System (BAS) noting the
polarity indicated on the wiring schematic.
3. Connect CAT5e network shielded cable between probe(s) and
transmitter
4. Turn power switch on
POWER
Output
Output
Operation
The options menu allows access to reset factory settings, adjust
gain and offset, change units, enable error indication, and set the
zero cutoff of the device. The up and down buttons on the control
panel are used to scroll through the menu options and adjusts
values.
Normal Operation
During normal operation the UP and DOWN buttons will scroll
through each sensor's velocity and temperature reading. Pressing
the ESC button on the control panel will display the average velocity and temperature values. During Normal Operation two LED's
illuminate at the RJ45 connector on the control panel. The left LED
indicates that the EAMP has properly identified the probe. The right
LED illuminates each time the EAMP020 communicates with the
connected probe.
For additional information, reference installation instructions of
related thermal dispersion air/temperature monitoring device.
SW2
1-4
5-8
9-12
SW3
SW4
SW5
13-16
SUGGESTED SPECIFICATION
Furnish and install, at locations shown on plans, or in accordance
with schedules, a microprocessor based control transmitter housed
in a dust proof electrical enclosure. Electrical enclosure shall be
equipped with four RJ-45 connectors for flawless wiring of associated air/temperature monitoring device. Control transmitter shall be
capable of digitally communicating calibration data from the associated air/temperature monitoring device to the microprocessor.
Circuit shall be capable of processing up to 16 independent flow
and temperature sensing points per airflow measuring location. An
integral multi-line, alphanumeric 16 x 2 liquid crystal digital display
shall display both flow and temperature in field selectable I.P. or S.I.
units. Transmitter shall include auto zero, digital offset/gain adjust-
®
3900 Dr. Greaves Rd.
Kansas City, MO 64030
(816) 761-7476
FAX (816) 765-8955
www.ruskin.com
ment, continuous performing sensor/transmitter diagnostics and
visual alarm to detect malfunctions in the system. The main circuit
shall include an on/off switch and fused protection. Circuit shall
include automatic detection and selection of 24VAC or 24VDC
power. Controller shall feature two 4-20mA or 2-10VDC, field selectable, linear output communication signals indicating air velocity
and temperature. Operating range shall be -25° to 140°F. Complete
assembly shall be assembled, wired and calibrated in an ISO 9001
certified facility. All components shall be U.L. listed and RoHS compliant. Control Transmitter shall be, in all respects, equivalent to
Ruskin model EAMP020.