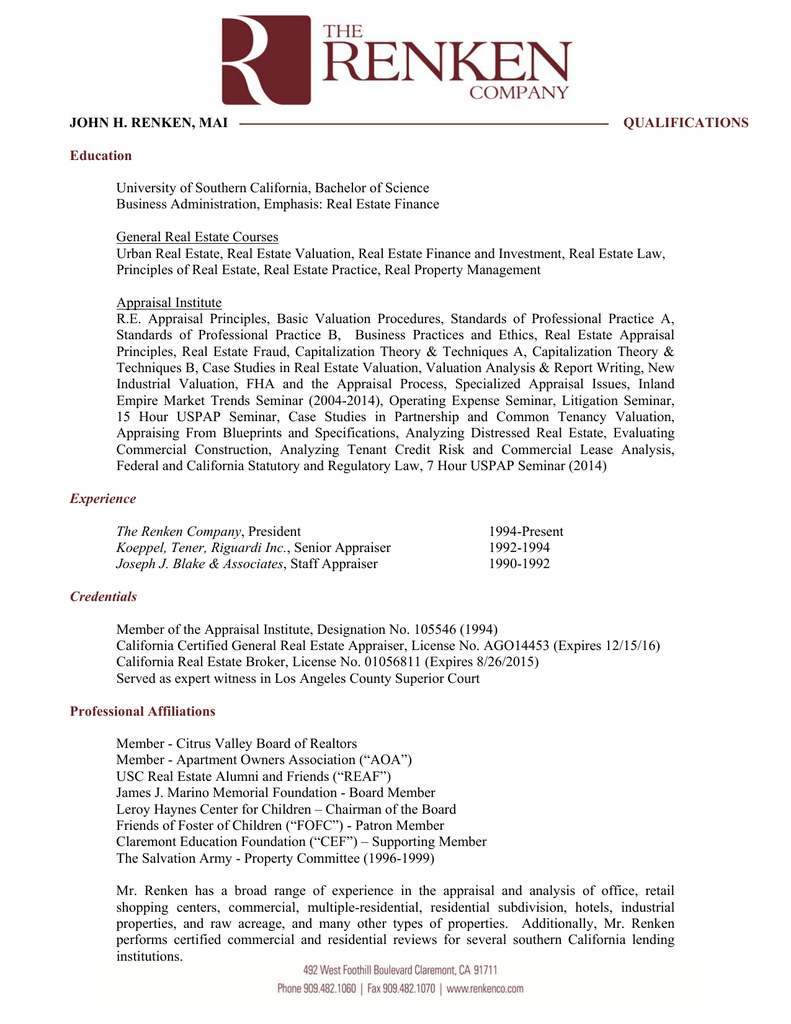 JOHN H. RENKEN, MAI
QUALIFICATIONS
Education
University of Southern California, Bachelor of Science
Business Administration, Emphasis: Real Estate Finance
General Real Estate Courses
Urban Real Estate, Real Estate Valuation, Real Estate Finance and Investment, Real Estate Law,
Principles of Real Estate, Real Estate Practice, Real Property Management
Appraisal Institute
R.E. Appraisal Principles, Basic Valuation Procedures, Standards of Professional Practice A,
Standards of Professional Practice B, Business Practices and Ethics, Real Estate Appraisal
Principles, Real Estate Fraud, Capitalization Theory & Techniques A, Capitalization Theory &
Techniques B, Case Studies in Real Estate Valuation, Valuation Analysis & Report Writing, New
Industrial Valuation, FHA and the Appraisal Process, Specialized Appraisal Issues, Inland
Empire Market Trends Seminar (2004-2014), Operating Expense Seminar, Litigation Seminar,
15 Hour USPAP Seminar, Case Studies in Partnership and Common Tenancy Valuation,
Appraising From Blueprints and Specifications, Analyzing Distressed Real Estate, Evaluating
Commercial Construction, Analyzing Tenant Credit Risk and Commercial Lease Analysis,
Federal and California Statutory and Regulatory Law, 7 Hour USPAP Seminar (2014)
Experience
The Renken Company, President
Koeppel, Tener, Riguardi Inc., Senior Appraiser
Joseph J. Blake & Associates, Staff Appraiser
1994-Present
1992-1994
1990-1992
Credentials
Member of the Appraisal Institute, Designation No. 105546 (1994)
California Certified General Real Estate Appraiser, License No. AGO14453 (Expires 12/15/16)
California Real Estate Broker, License No. 01056811 (Expires 8/26/2015)
Served as expert witness in Los Angeles County Superior Court
Professional Affiliations
Member - Citrus Valley Board of Realtors
Member - Apartment Owners Association ("AOA")
USC Real Estate Alumni and Friends ("REAF")
James J. Marino Memorial Foundation - Board Member
Leroy Haynes Center for Children – Chairman of the Board
Friends of Foster of Children ("FOFC") - Patron Member
Claremont Education Foundation ("CEF") – Supporting Member
The Salvation Army - Property Committee (1996-1999)
Mr. Renken has a broad range of experience in the appraisal and analysis of office, retail
shopping centers, commercial, multiple-residential, residential subdivision, hotels, industrial
properties, and raw acreage, and many other types of properties. Additionally, Mr. Renken
performs certified commercial and residential reviews for several southern California lending
institutions.
JOHN H. RENKEN, MAI
QUALIFICATIONS (continued)
Reports have been prepared for such functions as sale, construction loan, permanent financing,
asset monitoring, estate planning, litigation support, and division of interests. Active work with
computer analysis programs includes Argus. Following is a partial list of the property types
appraised by Mr. Renken:
Office Buildings
High-rise office buildings, mid-rise office buildings, low-rise office buildings, garden-style office
buildings, office condominiums, and bank branches.
Medical
Medical office buildings and medical office condominiums.
Retail
Power centers, neighborhood shopping centers, strip centers, stand-alone retail stores, restaurants,
and fast-food restaurants.
Industrial
Business parks, industrial parks, distribution buildings, manufacturing buildings, research and
development buildings, storage facilities, and mini-warehouses.
Residential
Estate homes, condominium developments, planned unit developments, apartments,
hotels/motels, bed and breakfast, mobile home parks, single family residences, multi-family
residences, low income housing, and senior housing.
Subdivisions
Completed lots, undeveloped lots partially completed and proposed lots, high-end production
homes, existing and proposed condominiums, single family lots, and condominium proposed lots.
Vacant Land
Commercial lots and acreage, estate home lots, industrial lots and acreage, parking lots, and those
uses listed under subdivisions.
Special Purpose
Automobile dealerships, automobile repair facilities, movie theaters, parking structures, churches,
and government-leased buildings.