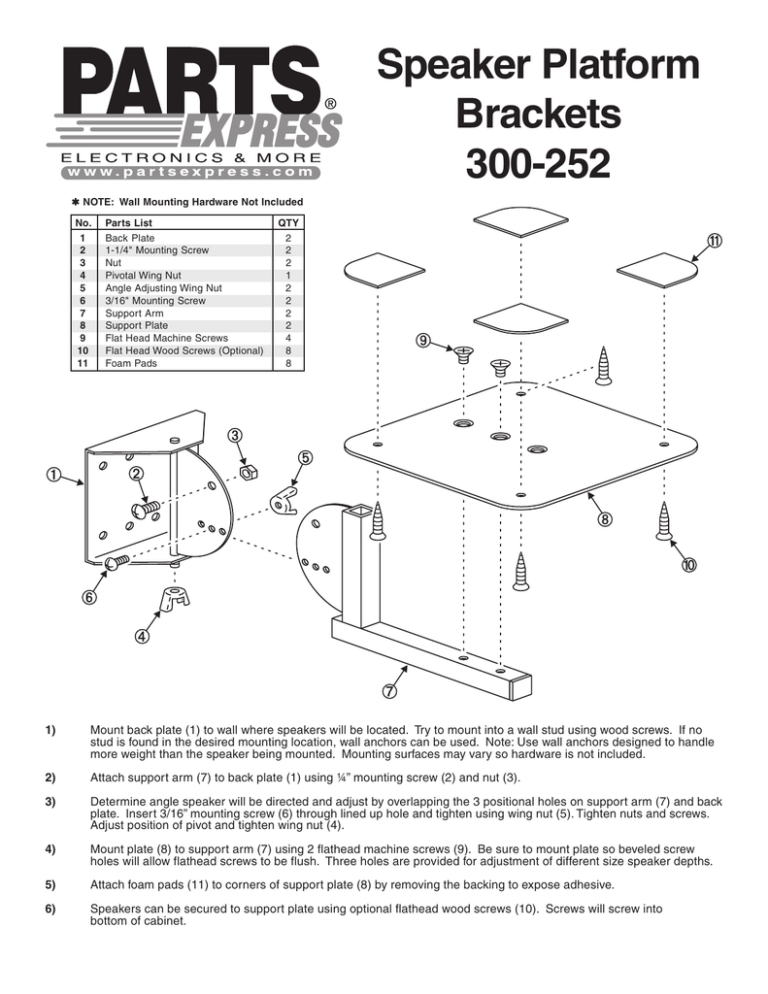 Speaker Platform
Brackets
300-252
✱ NOTE: Wall Mounting Hardware Not Included
No.
1
2
3
4
5
6
7
8
9
10
11
Parts List
Back Plate
1-1/4" Mounting Screw
Nut
Pivotal Wing Nut
Angle Adjusting Wing Nut
3/16" Mounting Screw
Support Arm
Support Plate
Flat Head Machine Screws
Flat Head Wood Screws (Optional)
Foam Pads
QTY
2
2
2
1
2
2
2
2
4
8
8
1)
Mount back plate (1) to wall where speakers will be located. Try to mount into a wall stud using wood screws. If no
stud is found in the desired mounting location, wall anchors can be used. Note: Use wall anchors designed to handle
more weight than the speaker being mounted. Mounting surfaces may vary so hardware is not included.
2)
Attach support arm (7) to back plate (1) using ¼" mounting screw (2) and nut (3).
3)
Determine angle speaker will be directed and adjust by overlapping the 3 positional holes on support arm (7) and back
plate. Insert 3/16" mounting screw (6) through lined up hole and tighten using wing nut (5). Tighten nuts and screws.
Adjust position of pivot and tighten wing nut (4).
4)
Mount plate (8) to support arm (7) using 2 flathead machine screws (9). Be sure to mount plate so beveled screw
holes will allow flathead screws to be flush. Three holes are provided for adjustment of different size speaker depths.
5)
Attach foam pads (11) to corners of support plate (8) by removing the backing to expose adhesive.
6)
Speakers can be secured to support plate using optional flathead wood screws (10). Screws will screw into
bottom of cabinet.