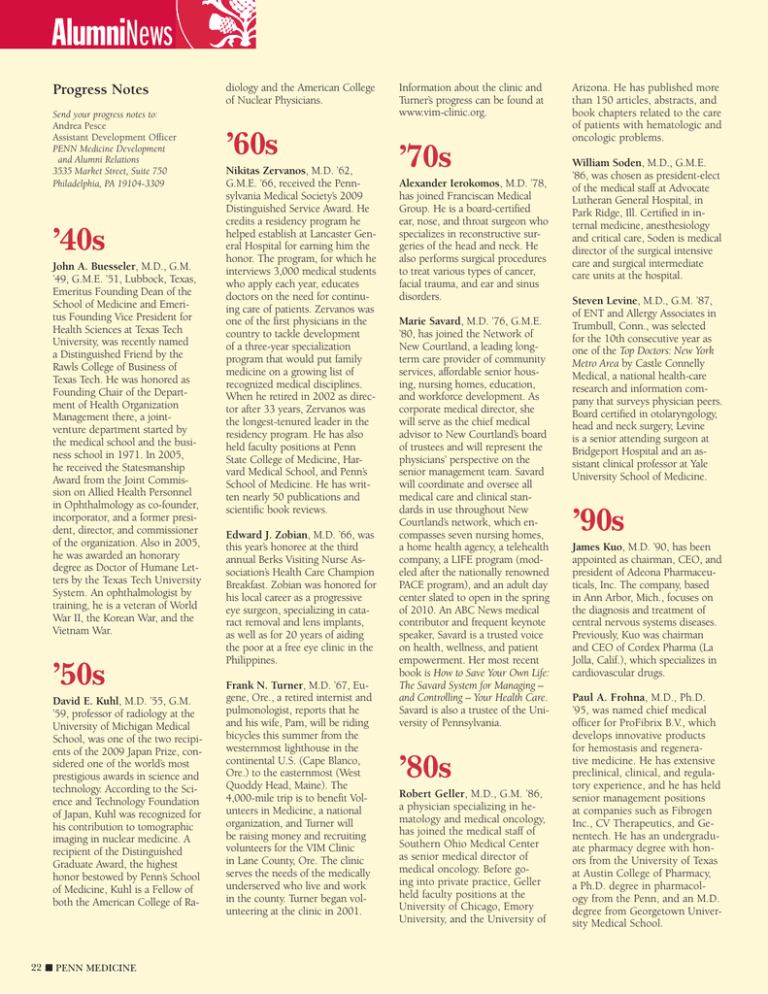 Progress Notes
Send your progress notes to:
Andrea Pesce
Assistant Development Officer
PENN Medicine Development
and Alumni Relations
3535 Market Street, Suite 750
Philadelphia, PA 19104-3309
'40s
John A. Buesseler, M.D., G.M.
'49, G.M.E. '51, Lubbock, Texas,
Emeritus Founding Dean of the
School of Medicine and Emeritus Founding Vice President for
Health Sciences at Texas Tech
University, was recently named
a Distinguished Friend by the
Rawls College of Business of
Texas Tech. He was honored as
Founding Chair of the Department of Health Organization
Management there, a jointventure department started by
the medical school and the business school in 1971. In 2005,
he received the Statesmanship
Award from the Joint Commission on Allied Health Personnel
in Ophthalmology as co-founder,
incorporator, and a former president, director, and commissioner
of the organization. Also in 2005,
he was awarded an honorary
degree as Doctor of Humane Letters by the Texas Tech University
System. An ophthalmologist by
training, he is a veteran of World
War II, the Korean War, and the
Vietnam War.
'50s
David E. Kuhl, M.D. '55, G.M.
'59, professor of radiology at the
University of Michigan Medical
School, was one of the two recipients of the 2009 Japan Prize, considered one of the world's most
prestigious awards in science and
technology. According to the Science and Technology Foundation
of Japan, Kuhl was recognized for
his contribution to tomographic
imaging in nuclear medicine. A
recipient of the Distinguished
Graduate Award, the highest
honor bestowed by Penn's School
of Medicine, Kuhl is a Fellow of
both the American College of Ra-
22 ■ Penn Medicine
diology and the American College
of Nuclear Physicians.
'60s
Nikitas Zervanos, M.D. '62,
G.M.E. '66, received the Pennsylvania Medical Society's 2009
Distinguished Service Award. He
credits a residency program he
helped establish at Lancaster General Hospital for earning him the
honor. The program, for which he
interviews 3,000 medical students
who apply each year, educates
doctors on the need for continuing care of patients. Zervanos was
one of the first physicians in the
country to tackle development
of a three-year specialization
program that would put family
medicine on a growing list of
recognized medical disciplines.
When he retired in 2002 as director after 33 years, Zervanos was
the longest-tenured leader in the
residency program. He has also
held faculty positions at Penn
State College of Medicine, Harvard Medical School, and Penn's
School of Medicine. He has written nearly 50 publications and
scientific book reviews.
Edward J. Zobian, M.D. '66, was
this year's honoree at the third
annual Berks Visiting Nurse Association's Health Care Champion
Breakfast. Zobian was honored for
his local career as a progressive
eye surgeon, specializing in cataract removal and lens implants,
as well as for 20 years of aiding
the poor at a free eye clinic in the
Philippines.
Frank N. Turner, M.D. '67, Eugene, Ore., a retired internist and
pulmonologist, reports that he
and his wife, Pam, will be riding
bicycles this summer from the
westernmost lighthouse in the
continental U.S. (Cape Blanco,
Ore.) to the easternmost (West
Quoddy Head, Maine). The
4,000-mile trip is to benefit Volunteers in Medicine, a national
organization, and Turner will
be raising money and recruiting
volunteers for the VIM Clinic
in Lane County, Ore. The clinic
serves the needs of the medically
underserved who live and work
in the county. Turner began volunteering at the clinic in 2001.
Information about the clinic and
Turner's progress can be found at
www.vim-clinic.org.
'70s
Alexander Ierokomos, M.D. '78,
has joined Franciscan Medical
Group. He is a board-certified
ear, nose, and throat surgeon who
specializes in reconstructive surgeries of the head and neck. He
also performs surgical procedures
to treat various types of cancer,
facial trauma, and ear and sinus
disorders.
Marie Savard, M.D. '76, G.M.E.
'80, has joined the Network of
New Courtland, a leading longterm care provider of community
services, affordable senior housing, nursing homes, education,
and workforce development. As
corporate medical director, she
will serve as the chief medical
advisor to New Courtland's board
of trustees and will represent the
physicians' perspective on the
senior management team. Savard
will coordinate and oversee all
medical care and clinical standards in use throughout New
Courtland's network, which encompasses seven nursing homes,
a home health agency, a telehealth
company, a LIFE program (modeled after the nationally renowned
PACE program), and an adult day
center slated to open in the spring
of 2010. An ABC News medical
contributor and frequent keynote
speaker, Savard is a trusted voice
on health, wellness, and patient
empowerment. Her most recent
book is How to Save Your Own Life:
The Savard System for Managing –
and Controlling – Your Health Care.
Savard is also a trustee of the University of Pennsylvania.
'80s
Robert Geller, M.D., G.M. '86,
a physician specializing in hematology and medical oncology,
has joined the medical staff of
Southern Ohio Medical Center
as senior medical director of
medical oncology. Before going into private practice, Geller
held faculty positions at the
University of Chicago, Emory
University, and the University of
Arizona. He has published more
than 150 articles, abstracts, and
book chapters related to the care
of patients with hematologic and
oncologic problems.
William Soden, M.D., G.M.E.
'86, was chosen as president-elect
of the medical staff at Advocate
Lutheran General Hospital, in
Park Ridge, Ill. Certified in internal medicine, anesthesiology
and critical care, Soden is medical
director of the surgical intensive
care and surgical intermediate
care units at the hospital.
Steven Levine, M.D., G.M. '87,
of ENT and Allergy Associates in
Trumbull, Conn., was selected
for the 10th consecutive year as
one of the Top Doctors: New York
Metro Area by Castle Connelly
Medical, a national health-care
research and information company that surveys physician peers.
Board certified in otolaryngology,
head and neck surgery, Levine
is a senior attending surgeon at
Bridgeport Hospital and an assistant clinical professor at Yale
University School of Medicine.
'90s
James Kuo, M.D. '90, has been
appointed as chairman, CEO, and
president of Adeona Pharmaceuticals, Inc. The company, based
in Ann Arbor, Mich., focuses on
the diagnosis and treatment of
central nervous systems diseases.
Previously, Kuo was chairman
and CEO of Cordex Pharma (La
Jolla, Calif.), which specializes in
cardiovascular drugs.
Paul A. Frohna, M.D., Ph.D.
'95, was named chief medical
officer for ProFibrix B.V., which
develops innovative products
for hemostasis and regenerative medicine. He has extensive
preclinical, clinical, and regulatory experience, and he has held
senior management positions
at companies such as Fibrogen
Inc., CV Therapeutics, and Genentech. He has an undergraduate pharmacy degree with honors from the University of Texas
at Austin College of Pharmacy,
a Ph.D. degree in pharmacology from the Penn, and an M.D.
degree from Georgetown University Medical School.
Santosh Kesari, M.D. '96,
Ph.D., was appointed chief of
neuro-oncology in the Department of Neurosciences and associate professor of neurosciences
at the University of California at
San Diego School of Medicine.
Kesari, also director of neurooncology at the Moores UCSD
Cancer Center, specializes in
treating brain tumors.
Marc Neff, M.D. '96, was recently named medical director
of the bariatric surgery program
at Kennedy University Hospital
in Stratford, N.J. A Fellow of the
American College of Surgeons,
Neff oversees the clinical operations of the program, recently accredited by the American College
of Surgeons. Neff completed a
five-year general surgery residency at York Hospital in York, Pa.,
followed by a two-year fellowship
in minimally invasive surgery at
St. Peter's University Hospital in
New Brunswick.
Michael J. Paglia, M.D. '98,
Ph.D., recently joined the women's health department of Geisinger Health System, serving Danville, Scranton, and Wilkes-Barre.
He has a doctorate in public
health with a focus on health-services research and has been an assistant professor of obstetrics and
gynecology at Brown University
School of Medicine.
Christopher D. Sullivan,
M.D. '98, has joined Centerpoint
Medical Center of Independence, Mo., as the hospital's chief
medical officer. He received his
master's degree in public health
from Johns Hopkins Bloomberg
School of Public Health. Sullivan
comes to Centerpoint from Excela
Health Westmoreland Hospital in
Greensburg, Pa., where he was
the associate chief medical officer and vice president of medical affairs. He is a Fellow of the
American College of Preventive
Medicine.
Michelle Butterworth, M.D.,
G.M.E. '99, was named secretarytreasurer of the American College
of Foot and Ankle Surgeons,
which has 6,000 members. She
practices with Pee Dee Foot
Center in Kingstree, S.C., and is
board certified in foot surgery and
reconstructive rear foot and ankle
surgery by the American Board of
Podiatric Surgery.
OBITUARIES
Percy L. Owens, M.D., G.M. '28,
Bismarck, N.D., retired obstetrician and gynecologist; December
2, 2009.
John D. Helm Jr., M.D. '38,
G.M.E. '42, Lancaster, Pa.; December 23, 2009. He completed
a fellowship in gastroenterology
at Evans Memorial Hospital in
Boston in 1942. He was an assistant instructor at Penn and later
an instructor at Boston University
School of Medicine. From 1943
to 1946, he served in the U.S.
Army as a captain. He was board
certified in internal medicine and
gastroenterology and was a fellow of the American College of
Physicians. Helm was a senior
physician at the Lancaster General Hospital until 1980, serving
on its credentialing and by-law
committees. He also served on
the courtesy staff at Saint Joseph
Hospital.
Richard E. Miller, M.D. '41,
G.M.E. '49, Tamaqua, Pa.; January 29, 2010. He joined the U.S.
Army at the outbreak of WWII
and eventually advanced to major. He served in the European
Theater of the war in General
Patton's Third Army as battalion
surgeon of the 553rd Engineer
Battalion and later at the U.S. Station Hospital in Etampes, France,
and received four battle stars. After the war he served a three-year
residency in obstetrics and gynecology at HUP. He practiced in
his Tamaqua office from 1949 to
1995, while also serving as chief
of Ob/Gyn at the former Coaldale
State General Hospital.
Richard Lace, M.D. '42, G.M.E.
'46, Verona, Pa., a retired pediatrician; November 5, 2009. From
1944 to 1946, he served as a
physician in the Army, then took
a second residency at Children's
Hospital of Buffalo, N.Y. He
worked in the pediatric department at Dallas Medical and Surgical Clinic in Texas for two years,
then opened a practice in Tarentum, Pa. He is said to have been the
first pediatrician in the AlleghenyKiski Valley, where he treated
about 7,000 children during a
career of more than 35 years.
Robert McClelland, M.D. '44,
G.M.E. '53, Vero Beach, Fla., a
retired ophthalmologist; October
30, 2009. He was a veteran of
World War II, serving in the U.S.
Army Medical Corps. He was a
longtime professor and staff member at the Columbia Presbyterian
Medical Center.
James R. Eynon, M.D., G.M.
'47, Medford, N.J.; September
17, 2009. He had practiced in
Camden and Cherry Hill. He was
one of the founders of the South
Jersey Medical Center, where he
practiced from 1956 until his retirement in 1976.
James L. Royals, M.D., G.M.
'47, Jackson, Miss.; August 25,
2006. He trained in obstetrics
and gynecology at St. Margaret
Memorial Hospital in Pittsburgh,
where he was chief resident. In
1950, he began private practice
in obstetrics and gynecology in
Jackson, Miss. Five years later, the
University of Mississippi Medical
Center opened, and Royals was
a member of its original clinical
faculty. He was a diplomat of the
American Board of Obstetrics and
Gynecology and a fellow of the
American College of Surgeons
and the American Academy of
Obstetrics and Gynecology. He
was a former president of the
Mississippi Obstetrical and Gynecological Society.
Joseph C. Bacon, M.D., G.M.
'48, Ojai, Calif.; January 19,
2010. He served in the Korean
War as a radiologist aboard the
U.S.S. Haven. After leaving the
Navy in 1955, he started a private
practice in San Diego. He then
served as a hospital radiologist in
Ojai until retirement.
Virginia Craemer Oler, M.D.
'49, G.M.E. '53, Bethesda, Md.;
January 21, 2010. She worked for
the Washington, D.C., Department of Public Health and was a
member of many nonprofit institutions, including the Columbia
Hospital for Women.
J. Jackson Stokes, M.D., G.M.
'49, Atlanta, a former ophthalmologist; October 12, 2009.
Lloyd B. Harrison Jr., M.D., G.M.
'50, Wilmington, Del., a former otolaryngologist; November 30, 2009.
Edith Strick Sheppard, M.D.,
G.M.E. '51, Meadowbrook, Pa., a
retired psychiatrist; May 3, 2007.
Paul V. Rouse, M.D., G.M. '52,
Newtown, Pa.; November 25,
2009. He practiced urology at
Nazareth Hospital for more than
50 years. After he retired from
private practice, he was a surgical
assistant at Nazareth Hospital and
a house doctor.
Joseph J. Rovinsky, M.D. '52,
G.M.E. '56, Larchmont, N.Y.,
January 4, 2010. An obstetrician-gynecologist whose career
spanned more than 55 years, he
worked until age 80. He was a
former chief resident in Ob/Gyn
at Mount Sinai Hospital. Early
in his career, he was author of
Medical, Surgical, and Gynecologic
Complications of Pregnancy with
Dr. Alan Guttmacher, a highly
influential text that helped define
the field of perinatal medicine.
He was also co-author of Clinical Hypertension. Rovinsky was
a strong advocate of women's
rights and was ahead of his time
in recommending that women
have a choice regarding having
an elective Caesarean section. In
the course of his career, he was
chief of Ob/Gyn at Elmhurst Hospital, Long Island Jewish Hillside
Medical Center, and Sound Shore
Medical Center.
Rennert M. Smelser, M.D., G.M.
'55, Lutherville, Md., a retired
surgeon; September 29, 2009.
Frank L. Weakley, M.D. '55,
Strongsville, Ohio, a retired
surgeon; November 17, 2009.
According to Dr. Frank Fazio,
chairman of the Digestive Disease
Institute at the Cleveland Clinic,
in his day, Weakley "was the busiest stapling surgeon in the United
States and taught generations of
colorectal surgeons at the Cleveland Clinic in the art and craft of
this discipline." Weakly had been
medical director of the Rupert B.
Turnbull School of Enterostomal
Therapy at the Cleveland Clinic,
which established a scholarship in
his name for students in the field
of wound, ostomy, and continence
nursing. After retiring from the
Cleveland Clinic, he served as
2010/SUMMER ■ 23
LEGACY GIVING
medical director of the Seasons
of Care Home Health Agency. A
former president of the Northern
Ohio Hospice Association, he had
been a vice president of the American Society of Colorectal Surgeons.
He was one of the authors of Atlas
of Intestinal Stomas (1967).
Dennis C. Gray, M.D., G.M.E.
'78, Haddonfield, N.J.; November
16, 2009. He worked as an anesthesiologist at several hospitals
and facilities in the Greater Philadelphia area and finished his career with Kennedy Health System
in South Jersey.
June Anne Dibb, M.D. '56, HoHo-Kus, N.J.; January 13, 2010.
A long-time psychiatrist, she held
appointments as assistant clinical
professor at the Albert Einstein
College of Medicine in the Bronx,
N.Y., and attending psychiatrist
for Bergen Regional Health in
Paramus, N.J.
Francis Nettl, M.D. '85, G.M.E.
'87, Thailand; February 22, 2009.
A native of England, he did his
residency in San Diego, Calif.,
followed by a stint with the U.S.
Navy as a sports medicine doctor.
Stephen J. Mucha, M.D. '56,
Woolwich Township, N.J., a
retired captain in the U.S. Navy
Medical Corp.; June 22, 2009. A
career naval officer of 26 years,
he served as chairman of the Department of Surgery at the Naval
Regional Medical Center in Philadelphia from 1971 to 1978. After
retiring from the Navy, he served
as medical director for GE/Lockheed Martin in King of Prussia,
Pa., until 1997. He was a member
of the recovery mission for the
first American astronaut in 1962.
Margaret E. Sarver, M.D. '58,
Beaver Falls, Pa.; December 22,
2009. She was an internist who
had her own practice in Beaver
Falls for 38 years.
John L. Cornog Jr., M.D. '60,
G.M.E. '64, Madison, Conn.;
July 26, 2008. He completed his
internship at Yale and returned
to Penn for his residency in pathology. He practiced academic
pathology at Indiana University,
Yale, and the University of Rochester. Later in his career, he taught
pathology at a variety of medical
schools and practiced in New Haven, Conn.
Robert D. Fazzaro, M.D. '74,
Vineland, N.J., a pulmonologist; November 9, 2008. He was
named the 1996 Physician of the
Year in Cumberland County by
the Center for Home Health Development in Princeton. In 2003,
he was named medical director
at Lincoln Specialty Care, a longterm care facility and rehabilitation center in Vineland. He also
served in the Air National Guard
Reserve as a flight surgeon.
24 ■ Penn Medicine
Carol M. Seabrook, M.D. '05,
Woodstown, N.J.; February 17,
2010.
Faculty Deaths
John D. Helm Jr. See Class of
1938.
Robert I. Katz, M.D., Philadelphia, former assistant professor
of medicine at HUP and PennPresbyterian Medical Center;
October 21, 2009. After joining
the University in the 1970s, he
worked in the Penn Heart and
Vascular area of Presbyterian until
resigning in 2001.
Edith Strick Sheppard, M.D.
See Class of 1951.
Richard B. Singer, See Class of
1939.
Joseph C. Touchstone, Ph.D.,
Rosemont, Pa., emeritus professor of obstetrics and gynecology;
July 26, 2009. He came to Penn
as a research associate in 1952
and was appointed research assistant professor of biochemistry
in 1958. He also worked in the
Harrison Department of Surgical
Research, part of Penn's Department of Surgery, and became a
full professor of obstetrics and
gynecology in 1968. He became
emeritus in 1992. Widely regarded as a pioneer in biochemical chromatography, Touchstone
studied amniotic fluid to determine the level of fetal lung viability in women who were at risk
for having premature infants. He
also conducted research on steroids. He was co-founder and first
president of the Chromatography
Forum of Delaware Valley. He
published more than 300 papers
and 15 books.
A Daughter's Loyalty Leads
to a Lifesaving Gift
C
atharine Ducker was a loyal and devoted daughter to
her parents, J. Ralph Custer and Sadie Egolf Custer.
They were hardworking merchants who owned and
operated a candy store and saved every penny so
their daughter could attend Barnard College in New
York. Ms. Ducker remained grateful for their generosity
and when it came time to make her estate plans, she
chose to honor her mother and father. Ms. Ducker created a bequest and was adamant that her legacy gift support an admirable cause.
A lifetime Norristown resident, Ms. Ducker knew
about Penn Medicine and the Abramson Cancer Center's outstanding reputation and decided that it was the
perfect beneficiary. Ms. Ducker's bequest provides crucial funding for groundbreaking cancer research and
therapies. Although no one in her family was directly
touched by cancer, she wanted her gift to make an impact on the lives of patients in need. Ms. Ducker's gift is
a wonderful example of the power of philanthropy
through planned giving.
Ms. Ducker chose a bequest because it was easy to arrange and her assets were not affected during her lifetime. Penn Medicine's Office of Planned Giving provides
sound guidance for those who wish to make a legacy
gift, and a bequest is one of the most common ways to
give. Whether you are establishing your first will or wanting to supplement your existing estate plan, you can create your bequest with the following language:
"I hereby give, devise, and bequeath to the Trustees of
the University of Pennsylvania, a non-profit corporation
organized and operating under the laws of the Commonwealth of Pennsylvania and located in Philadelphia,
Pennsylvania, the sum of $ ___ [or percentage of your
estate or specific description of the gift] to support Penn
Medicine."
If you would like to discuss establishing a bequest
to support Penn Medicine, or if you need customized
bequest language, please contact Christine S. Ewan,
J.D., senior director of Planned Giving, at 215-898-9486,
or you can e-mail her at [email protected] For
more information, please visit the Web site at
www.plannedgiving.med.upenn.edu.