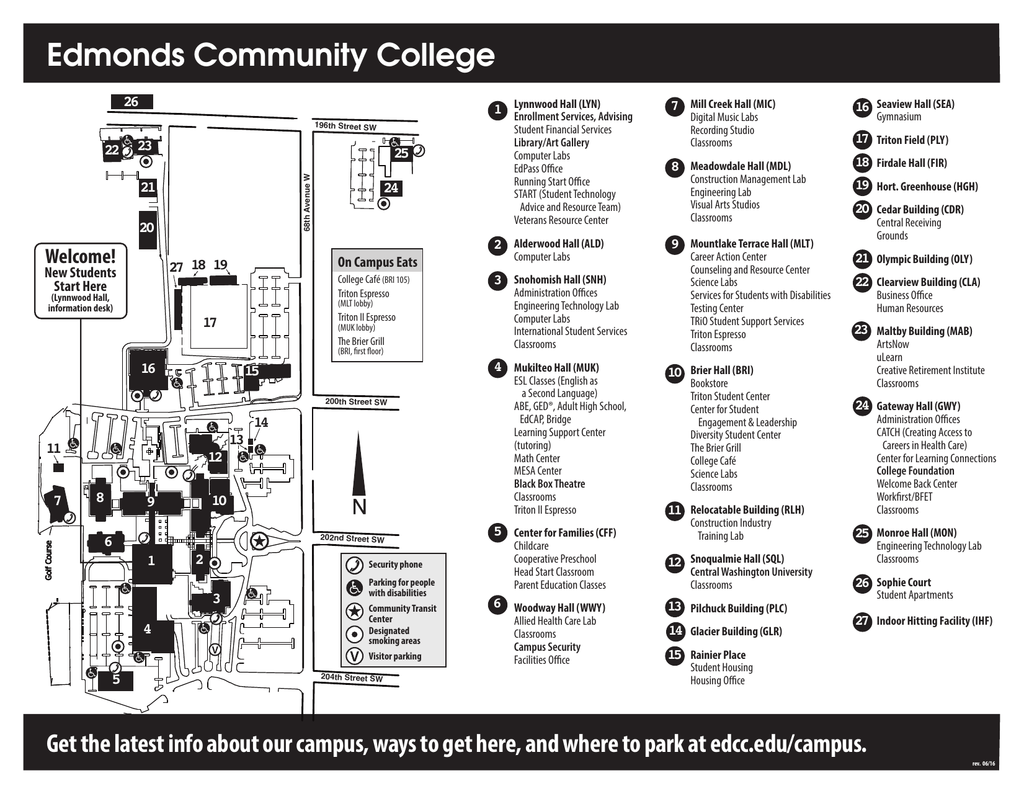 Edmonds Community College
26
196th Street SW
23
25
68th Avenue W
22
21
20
Welcome!
(Lynnwood Hall,
information desk)
24
On Campus Eats
27 18 19
New Students
Start Here
1 Lynnwood Hall (LYN)
College Café (BRI 105)
Triton Espresso
(MLT lobby)
17
Triton II Espresso
(MUK lobby)
The Brier Grill
(BRI, first floor)
16
15
200th Street SW
11
7
12
8
10
9
6
202nd Street SW
1
2
Security phone
3
4
5
13
14
Parking for people
with disabilities
Community Transit
Center
Designated
smoking areas
Visitor parking
204th Street SW
Enrollment Services, Advising
Student Financial Services
Library/Art Gallery
Computer Labs
EdPass Office
Running Start Office
START (Student Technology
Advice and Resource Team)
Veterans Resource Center
2 Alderwood Hall (ALD)
Computer Labs
3 Snohomish Hall (SNH)
Administration Offices
Engineering Technology Lab
Computer Labs
International Student Services
Classrooms
4 Mukilteo Hall (MUK)
ESL Classes (English as
a Second Language)
ABE, GED®, Adult High School,
EdCAP, Bridge
Learning Support Center
(tutoring)
Math Center
MESA Center
Black Box Theatre
Classrooms
Triton II Espresso
5 Center for Families (CFF)
7 Mill Creek Hall (MIC)
Digital Music Labs
Recording Studio
Classrooms
8 Meadowdale Hall (MDL)
Construction Management Lab
Engineering Lab
Visual Arts Studios
Classrooms
9 Mountlake Terrace Hall (MLT)
Career Action Center
Counseling and Resource Center
Science Labs
Services for Students with Disabilities
Testing Center
TRiO Student Support Services
Triton Espresso
Classrooms
Gymnasium
17 Triton Field (PLY)
18 Firdale Hall (FIR)
19 Hort. Greenhouse (HGH)
20 Cedar Building (CDR)
Central Receiving
Grounds
21 Olympic Building (OLY)
22 Clearview Building (CLA)
Business Office
Human Resources
23 Maltby Building (MAB)
ArtsNow
uLearn
Creative Retirement Institute
Classrooms
10 Brier Hall (BRI)
Bookstore
Triton Student Center
Center for Student
Engagement & Leadership
Diversity Student Center
The Brier Grill
College Café
Science Labs
Classrooms
24 Gateway Hall (GWY)
Administration Offices
CATCH (Creating Access to
Careers in Health Care)
Center for Learning Connections
College Foundation
Welcome Back Center
Workfirst/BFET
Classrooms
11 Relocatable Building (RLH)
Construction Industry
Training Lab
Childcare
Cooperative Preschool
Head Start Classroom
Parent Education Classes
12 Snoqualmie Hall (SQL)
6 Woodway Hall (WWY)
13 Pilchuck Building (PLC)
Allied Health Care Lab
Classrooms
Campus Security
Facilities Office
16 Seaview Hall (SEA)
Central Washington University
Classrooms
14 Glacier Building (GLR)
25 Monroe Hall (MON)
Engineering Technology Lab
Classrooms
26 Sophie Court
Student Apartments
27 Indoor Hitting Facility (IHF)
15 Rainier Place
Student Housing
Housing Office
Get the latest info about our campus, ways to get here, and where to park at edcc.edu/campus.
rev. 06/16
Visit us here, too
Find out more
Tap into your potential.
WATR
Center
BTC
Exit 189
100th St SW
d
ort R
Airp
Exit 186
You can start your bachelor's degree with us — and go
anywhere for your next two years. Or finish your bachelor's
degree right here on our campus at Central Washington
University-Lynnwood. Choose from a wide range of classes and
programs to train for a new career or update current job skills.
Take classes when and where it suits you: day, evening,
weekend, and online.
Know your resources.
edcc.edu/support
Get help paying for college
Exit 181
Edmonds
Community
College
At Edmonds CC, we believe you should have the opportunity to
achieve your educational goals — regardless of financial
circumstance. When applying for financial aid here, you will be
considered for a variety of federal, state, and private programs.
The college Foundation also offers scholarships to our students.
Use services to support your success
Business Training Center
Customized Training | Small Business Development Center
425.640.1840 | www.the-btc.com
Registration Office
9901 24th Pl. W | Everett, WA 98204
Washington Aerospace
Training and Research Center
Paine Field, 3008 100th St. SW
Everett, WA 98204
425.347.8928 | www.washingtonaerospace.com
Look for a variety of services on campus to help you make
decisions that fit your skills, talent, and outlook on life. Get help
to identify a career, transfer to a four-year university, or find a job
or internship. Tutoring is available in math, writing, and many
other subjects.
Make the most of college life
Attend art and cultural events throughout the year and find
opportunities to participate in intercollegiate athletics,
service-learning projects, student publications and performance
groups, and more than 50 student clubs. Explore your interests.
Edmonds Community College
20000 68th Ave. W | Lynnwood, WA 98036
edcc.edu/getstarted | 425.640.1459
Campus Security: 425.754.0154
Edmonds Community College does not discriminate on the basis
of race; color; religion; national origin; sex; disability; sexual
orientation; age; citizenship, marital, or veteran status; or
genetic information in its programs and activities. 15-16-009
Welcome
to our campus!