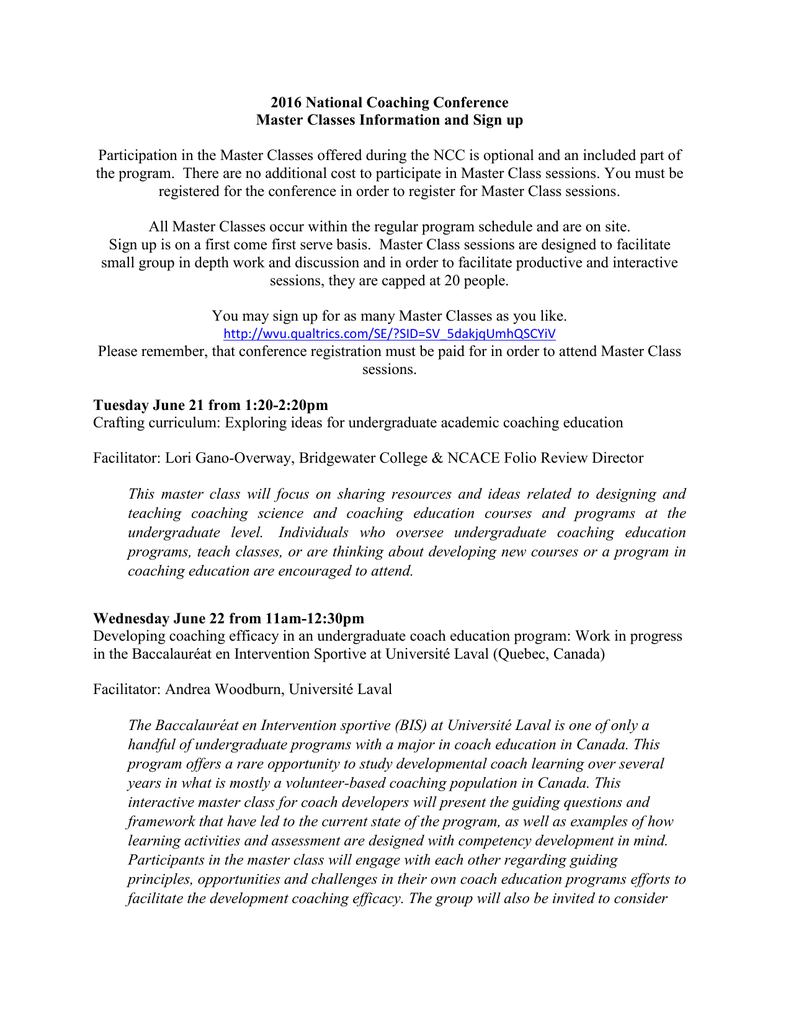 2016 National Coaching Conference
Master Classes Information and Sign up
Participation in the Master Classes offered during the NCC is optional and an included part of
the program. There are no additional cost to participate in Master Class sessions. You must be
registered for the conference in order to register for Master Class sessions.
All Master Classes occur within the regular program schedule and are on site.
Sign up is on a first come first serve basis. Master Class sessions are designed to facilitate
small group in depth work and discussion and in order to facilitate productive and interactive
sessions, they are capped at 20 people.
You may sign up for as many Master Classes as you like.
http://wvu.qualtrics.com/SE/?SID=SV_5dakjqUmhQSCYiV
Please remember, that conference registration must be paid for in order to attend Master Class
sessions.
Tuesday June 21 from 1:20-2:20pm
Crafting curriculum: Exploring ideas for undergraduate academic coaching education
Facilitator: Lori Gano-Overway, Bridgewater College & NCACE Folio Review Director
This master class will focus on sharing resources and ideas related to designing and
teaching coaching science and coaching education courses and programs at the
undergraduate level. Individuals who oversee undergraduate coaching education
programs, teach classes, or are thinking about developing new courses or a program in
coaching education are encouraged to attend.
Wednesday June 22 from 11am-12:30pm
Developing coaching efficacy in an undergraduate coach education program: Work in progress
in the Baccalauréat en Intervention Sportive at Université Laval (Quebec, Canada)
Facilitator: Andrea Woodburn, Université Laval
The Baccalauréat en Intervention sportive (BIS) at Université Laval is one of only a
handful of undergraduate programs with a major in coach education in Canada. This
program offers a rare opportunity to study developmental coach learning over several
years in what is mostly a volunteer-based coaching population in Canada. This
interactive master class for coach developers will present the guiding questions and
framework that have led to the current state of the program, as well as examples of how
learning activities and assessment are designed with competency development in mind.
Participants in the master class will engage with each other regarding guiding
principles, opportunities and challenges in their own coach education programs efforts to
facilitate the development coaching efficacy. The group will also be invited to consider
how research can be woven into the work that we all do such that it informs future
practices for coach education in the university setting.
Wednesday June 22 from 11am-12:30pm
Beyond poetic philosophies and good intentions: A new coaching assessment framework
Facilitators: Sara Lopez, Julie McCleery, & Hannah Olson, University of Washington
This master class explores a novel framework linking five core coaching
environments with specific athlete outcomes. You will experience identifying specific
behaviors linked with an environment to assess coaching competency. Recognizing
the complexity of coaching you will analyze characteristics of your own setting to
identify factors influencing coaching expectations and potential gaps between
theoretical understanding and actual coaching practices.
Wednesday June 22 from 4-5:30pm
Exploring learning theories: Activities for coach developers
Facilitators: Melissa Thompson, University of Southern Mississippi, Sarah McQuade, e.t.c.
Consultants, and Nadine Dubina, West Virginia University
As highlighted in the International Coach Developer Framework, coach development
systems are only as effective as the coach developers delivering the content. Creating and
maintaining an active, engaging learning environment is one of the biggest challenges
facing coach developers. While previous literature has established a relationship
between coach training and coaching efficacy (Malete & Feltz, 2000), athlete satisfaction
(Barnett, Smoll, & Smith, 2010), and athlete social development (Conroy & Coatsworth,
2006), effectively engaging coaches in that training is extremely difficult. Having a better
understanding of adult learning theories can help coach developers deliver more
engaging training sessions. Further, helping coaches understand their own learning
styles can facilitate coach learning beyond the workshop setting. Therefore, the purpose
of this workshop is to review three prominent adult learning theories; Transformative
Learning Theory (Mezirow, 1997), Self-Directed Learning Theory (Garrison, 1997), and
Experiential Learning Theory (Kolb, 1976). Elements of each of the theories will be
discussed followed by example activities and strategies to implement these theories in
coach development settings. A combination of direct (explained to the participants) and
indirect (embedded in the environment) uses of the theories will be explored. Finally,
participants will have an opportunity to discuss with other coach developers how they
use the concepts in coach training.
Thursday June 23 from 8-9:30am
Evaluating and enhancing your organization's readiness to provide quality coaching education
Facilitators: Christine Bolger, USOC Coaching Education & Kristen Dieffenbach, West
Virginia University Center for Applied Coaching and Sport Science
This master class is designed for individuals and departments within National Governing
Bodies and other sport organizations that are tasked with developing and leading
coaching education and coach development within their sport. The facilitators will share
current best practices and models related to coaching education and coach development
as well as explore the structure needed to create and build meaningful programs. This
Master Class will also facilitate networking and sharing of resources and ideas among
participants.