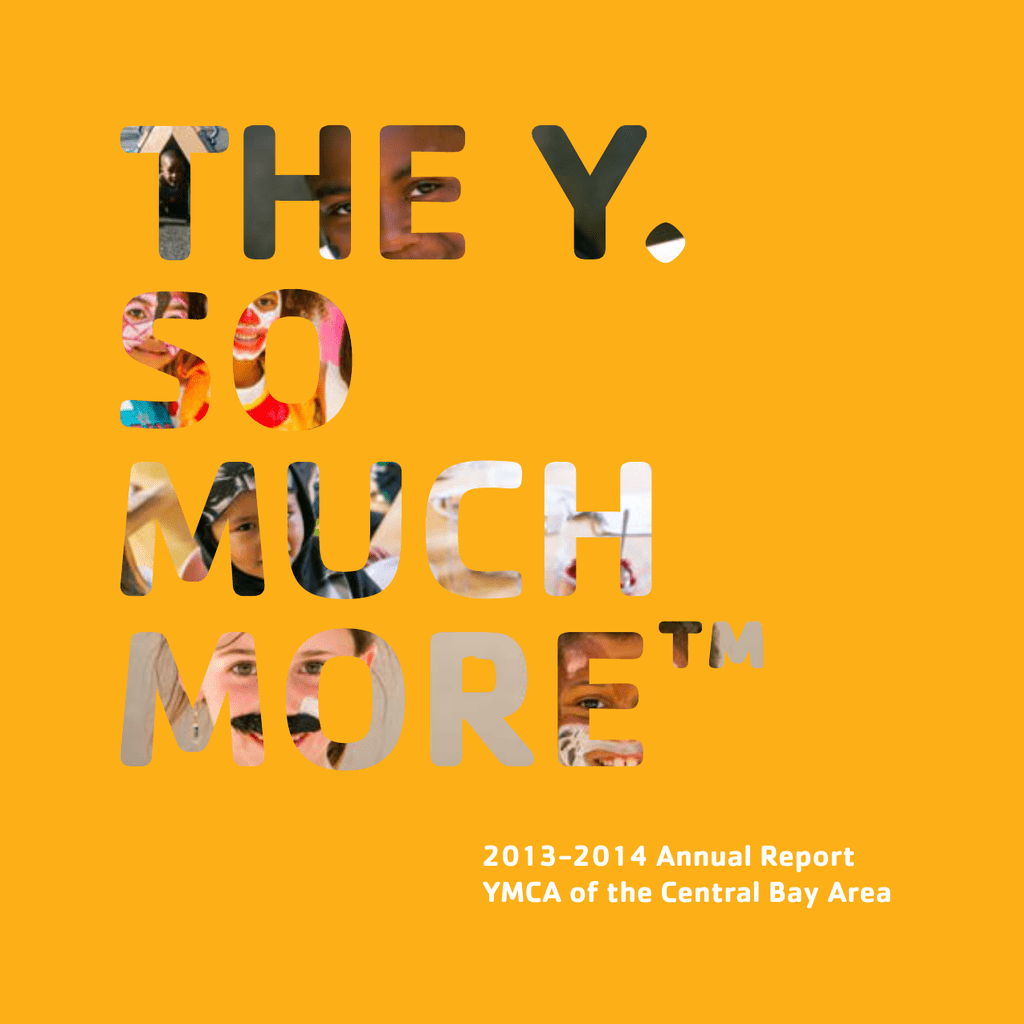 2013-2014 Annual Report
YMCA of the Central Bay Area
Martinez
Concord
Pleasant Hil
Richmond
Our Community
Dear YMCA Family & Friends,
Walnut Creek
Albany E
Berkeley
E E
P
E
P E
E
Alamo
E
Emeryville
P
Danville
Oakland
The reasons people come to the Y are countless. Parents
want their children to be safe, healthy and learn values. Kids
want to have fun and make new friends. Teens want to be
the first in their family to go to college. Adults, children and
seniors want to lead healthier lives.
San Ramon
YMCA Health &
Wellness Centers
Teen Centers
YMCA-PG&E Teen Center
Teen Centers
2111 Martin Luther King Jr. Way,
Berkeley, CA 94704
Preschools
Albany YMCA Teen Center
Before & After School
Locations
Mountain View
Preschools
Gale Ranch
2200 Brookcliff Circle
San Ramon, CA 94583
Rett Turner
Albany YMCA
921 Kains Ave., Albany, CA 94706
Downtown Berkeley YMCA
2001 Allston Way, Berkeley, CA 94704
Irvin Deutscher Family YMCA
350 Civic Dr., Pleasant Hill, CA 94523
Hidden Valley
Irvin Deutscher Family YMCA
PE Sites
E - Elementary
P - Preschool
Health & Wellness Centers
5025 Canyon Crest Drive
San Ramon, CA 94583
921 Kains Ave., Albany, CA 94706
350 Civic Dr., Pleasant Hill, CA 94523
2111 Martin Luther King Jr. Way,
Berkeley, CA 94704
Golden View
500 Glacier Drive
Martinez, CA 94553
Head Start Locations
YMCA of the Central Bay Area
Headquarters
This is the beauty of the Y. We are so much more than
you think. From exercise to education, from preschool to
preventative health, from swimming to scholarships, the
Y doesn't just strengthen our bodies. We strengthen our
community.
250 Civic Drive
Pleasant Hill, CA 94523
Albany YMCA
1705 Thornwood Drive
Concord, CA 94521
Rancho Romero
180 Hemme Drive
Alamo, CA 94507
Strandwood
416 Gladys Drive
Pleasant Hill, CA 94523
Twin Creeks
2785 Marsh Drive
San Ramon, CA 94583
1216 Solano Ave.
Albany, CA 94706
Valhalla
Before & Afterschool
Enrichment Locations
Woodside
Alamo
100 Wilson Road
Alamo, CA 94507
Albany - Y Achievers
1259 Brighton Ave
Albany, CA 94706
530 Kiki Drive
Pleasant Hill, CA 94523
761 San Simeon Drive
Concord, CA 94518
Head Start Locations
West Y
2009 10th St.
Berkeley, CA 94710
Oceanview
1422 San Pablo Ave.
Berkeley, CA 94702
South Y
2901 California St.
Berkeley, CA 94703
Ralph Hawley
1275 61st St.
Emeryville, CA 94608
This year's annual report was created to address what you
might not know about the Y. In the following pages, you'll
learn about the broad impact on the community in our "so
much more than numbers" section and you'll also hear the
stories of the people whose lives have directly improved as a
result of being part of the Y.
Eric Eisenberg
Chair, Board of Directors
YMCA of the Central Bay Area
Vera Casey
2246 MLK Jr. Way
Berkeley, CA 9470
PE Sites
Elementary:
- Archway
- Berkeley Arts Magnet
- Emerson
- Jefferson
- John Muir
- Thousand Oaks
- Yu Ming
Preschool:
- Franklin
- Hopkins
- King Childhood
Development Center
On behalf of everyone at the Y, we want to say thank you for
being part of our community.
Fran Gallati
President & CEO
YMCA of the Central Bay Area
2013-2014 So Much More Than Numbers
1,445
36 teens became the first in their family to go
to college in our Y-Scholars Program and 436
children reinvigorated
their minds and bodies in our before and
after school enrichment program
have graduated since program inception
70
teens learned 21st-century tech and
digital media arts skills in the Youth Institute
2,457
donors have supported our Y
through financial contributions
325 teens learned civic
engagement in Youth & Government
4,495
389
children prepared for kindergarten
in Head Start
513
adults were trained to
prevent child abuse
9,370
individuals were able to participate in our
programs because of financial assistance
1,019
campers made
lasting friendships, memories and
developed values
1,364
children learned to swim
children danced,
blocked, batted, dunked, spiked and
lobbed in our youth sports programs
47,120
children,
adults and families became healthier
at our health & wellness centers
1,146,897
is
the number of visits individuals made to
our three health & wellness centers to get
healthy
So Much More Than Childcare: Head Start is All About Family
Three years ago, Summer Britt, almost nine months pregnant with her son Sky and a recent
transfer student to UC Berkeley, was on a desperate search for childcare.
The childcare centers she contacted, however, were full and the paperwork to get on their
waitlists seemed endless. A former teacher of Britt's recommended the YMCA's Vera Casey
Head Start Center in Berkeley. Located in a picturesque Victorian home, Britt said she felt
as if she were meeting with "a family in their little house."
The welcoming staff felt like family, Britt says. The teachers gave daily reports about Sky's
activities and showed Britt videos of her son playing. "I felt so bad because I wasn't home
with my baby," Britt said. "But once I got [to Vera Casey] I could relax."
Finding affordable, high-quality childcare options can be difficult for any parent. For a
single mother with few resources, it's even harder. The National Institute of Child Health
Development estimated that only 10 percent of childcare settings nationwide provide
high-quality care. In California, the Institute estimated that the childcare costs 40 percent
of a single mother's income. "It was really stressful to find a place," Britt said. "You have
a picture in your head of what it's going to be like but then I'd go to a place and the staff
would be cold or the administration wasn't responsive."
At Vera Casey, however, Britt found resources she never dreamed of. Counselors at the
center gave Britt parenting advice. Sky's teachers became Britt's closest allies in keeping
tabs on her son's development. The YMCA's Head Start Centers provide a range of services
including nutrition education, health exams, social services and leadership opportunities
for parents to make policy and budget decisions. As a parent pursuing her education,
Britt qualified for subsidized full-day care and was able to finish her degree last summer.
Now she works part-time at a job she "loves" and is hoping get full-time work. Ultimately,
she said, "my distrust transformed into unshakeable trust and this faith allowed me to
concentrate on my studies, knowing my son was in good hands."
Summer Britt and her
son Sky.
So Much More Than a Day Camp: Albany Provides a Rich Experience
Jordan Okulolo, is an outgoing eight-year-old who loves to dance and is learning to swim.
His mother, Onome Okulolo, works full time and says she could keep Jordan, and his little
sister Lauren, at their grandparents' house in Richmond during the summer. "It would cost
me nothing," she says. "But I don't want Jordan watching television all day long." Yet paying
for an enriching summer camp experience for both kids is beyond what Onome, a single
parent, can afford.
Fortunately, Onome was eligible for financial assistance through the Albany YMCA. "It's still
a big stretch for me to send my kids to camp," Okulolo said. "But Jordan loves it. It's been
the best possible experience for him."
This past summer, Jordan played sports, made art and graduated to level three in the
Y's learn-to-swim program. Shy and reserved at first, Jordan eventually formed strong
friendships. Other campers loved to watch his dance moves and Jordan's obsession to earn
the colored beads counselors use to recognize good behavior or helpfulness exerted a
powerful influence on other kids.
"He was a dream camper," said Lee Hungle, the day camp's director. "He demonstrated to
all the kids what responsibility means, what respect means and how to show caring." Those
three traits — core values of the YMCA — are integral to the camp's program.
Onome Okololo and her two children
love the Y's family programs.
The YMCA of the Central Bay Area's commitment to give all children access to a summer
camp experience — no matter what their parents can afford — makes the experience
richer for everyone. "This community is about diversity," Hungle explained. "The kids are
from all different ethnicities and family backgrounds. At camp, they see diversity as typical.
Economic differences don't set anyone apart."
So Much More than Tutoring: Y-Scholars Helps Promising Teen Find
Academic Path
Thafir Elzofri is a friendly 17-year-old with a thoughtful demeanor. Born in Berkeley into a
Yemeni immigrant family, Thafir is navigating his way into college: he maintains a high GPA,
studies daily at the Y-Scholars college preparation program and makes the most of the
program's public speaking opportunities.
For most students as bright and disciplined as Thafir, college would be a given — he is enrolled
in four advanced placement courses, including calculus. Thafir is attempting not only to improve
his opportunities but also reshape his family's traditions, in which arranged marriage — and
having children — usually occur early in life.
"Marriage came up when I was 14 or 15," Thafir recalls. "I had to tell my grandfather I didn't
want to do that. I wanted to pursue my education."
A self-described shy teenager, Thafir said he found in Y-Scholars the close-knit community he
couldn't access on Berkeley High School's large campus. The program gives him a peer group
that understands him: students from immigrant families or families where college is not the
presumed track. It gives him support: tutors and college counselors who give him the help
he needs to apply to college. And it gives him quiet: with 16 members in his household, he
says the second-floor study area at the YMCA-PG&E Teen Center is one place where he can
concentrate.
"At school there's a college counselor but there's always a line of people waiting to see him,"
Thafir explains. "You can't get an hour of his attention. At Y-Scholars, I can work one-on-one
with counselor for as long as I need." Weekly meetings with his counselor include editing his
college application essay, narrowing down his college search and researching scholarships.
Thafir's counselors at the teen center say his maturity and can-do attitude impress them.
Thafir says his Y-Scholar mentors have inspired him to be a counselor or perhaps a math
teacher. "My experience with (Y-Scholars) has provided me with everything I need to even
believe I can go to college," Thafir wrote in a personal essay. "After college, I hope to come
back and volunteer."
Thafir Elzofri dreams
of going to Columbia
University to study
Math in 2015.
So Much More Than a Weight Loss Program
Vicki Dempsey says she used to be very good at dieting. For years the petite 67-year-old
writer was a serial dieter, gaining and losing the same amount of weight over and over.
"When I finished [the diet], I felt like I had a plaque on the wall. Then gradually I'd slip back
into the old behaviors," she said.
Vicki Dempsey,
Downtown Berkeley YMCA
member since 2000.
In 2010 Vicki started to suffer from acute knee pain. She used a cane and often had to
hoist herself up the banister when she walked upstairs. Told by her doctor that her only
recourse was to replace her knee, Vicki decided to follow up on an announcement about a
new weight-loss program called Changes at the Downtown Berkeley YMCA.
Starting with a 12-week intensive course of exercise, nutrition lectures and support group
meetings, Vicki gradually built stamina and muscle tone, improved her diet and bonded
with her cohort. After the course, she continued to meet for exercise with her small group
under the direction of a personal trainer. She lost 35 pounds permanently. Her knee pain
disappeared. And she gained something too.
What began as a group of individuals looking for a healthier lifestyle, developed into a
long-lasting supportive group of friends. They still meet at the Downtown Berkeley YMCA
for exercise in addition to social gatherings. Vicki now gives back to the Y by sharing her
story with new members of the Changes program.
"Whatever your motivation is, if you really want to change, the help you need is here," Vicki
wrote in her motivational speech. "In this fabulous place, the Y is holding out its hand to
you."
So Much More than a Volunteer: Jules Mayer Worked with Hands and
Heart
No one championed the cause of children more than Jules Mayer, a visionary former
volunteer leader of the YMCA who passed away last spring at the age of 94. A former
board of directors' member and board chair during the 1980s and '90s, Mayer embodied
the Y's mission of social responsibility. When the Downtown Berkeley YMCA struggled
with stagnant membership and an aging infrastructure in the early 1990s, Jules led an
ambitious, $6 million campaign to revamp and expand the original building. Membership
jumped as a result, and the Y was transformed from a gym to the cornerstone community
organization it is today.
A former engineer, Jules once designed and built an approximately 100,000-gallon
underwater reservoir for a YMCA camping site. Located on a mountainside, it used gravity
to maintain water flow and pressure. Pumps were built alongside a nearby river and later a
well was dug to fill the reservoir. Mayer supervised it all with the help of a committed corps
of YMCA volunteers and others from Berkeley. At its height, the camp served about 800
children.
"His motivations were so simple: he believed that the Y should provide all the richness it
always has for kids," said Tom Ratcliff, a YMCA board of directors' member and former
board chair. "He had a social justice model that he never talked about in lofty terms. What
he wanted to know was, what's the problem and how are we going to solve it?"
Jules will greatly be missed, but his legacy lives on through his four children, his six
grandchildren, two great-granchildren and through his generosity to the Y. Mayer, an
extraordinarily generous donor and member of the Heritage Club, which supports bequests
to the YMCA, inspired many people to give. But it was his sound judgment, passion and
clarity that gave people confidence. "Jules had a bold position on doing whatever we
needed to do to take our organization to the next level," said Fran Gallati, president and
CEO of the YMCA of the Central Bay Area. "If he hadn't been willing to take risks, the Y
would be a lot less vital than it is today."
In Loving Memory
Jules Mayer
1918 - 2014
THANK YOU TO OUR DONORS
At the Y, we do great things every day. We spark curiosity, we ignite a love of learning and we
transform lives through health and wellness — every single day. And we couldn't do it without your
support. Thank you to every single donor who has made a contribution to our Y.
Dream Builders
Golden Gate Fields
$50,000 - $99,999 Frances Hellman & Warren Breslau
Anonymous
Nancy
Park
Low Income Quilt
Fund
of the Investment Fund
San
Antonio
Area University of Foundation
California, Berkeley
Legacy Society U.S. Bank
Wells Fargo Bank
$25,000 - $49,999 Zalec Familian & Lilian Crescent Porter Hale Levinson Foundation
Foundation
President's
Club
Epstein-Roth $1,000 - $4,999
Foundation
360 Networx
Wareham Development/Nancy AAA
& Richard Robbins Mia Alexander
Donald & Peggy Alter
Family Trust
Anonymous (3)
Leadership
Arthur J. Gallagher & Circle
Co.
$10,000 - $24,999 Dawn Bachmann
Scott Barshay
Alba Witkin
Berkeley Rotary
Bank of the West
Pacific Gas & Electric Judith Bloom
Jan & Chris Bono
Company
Michael Bourne
Thomas J. Long BTIG, LLC
Foundation
Mike & Lynn Cassidy
Community
Antranik & Hasmig Builders
Cingoz
$5,000 - $9,999
Israel Class
Anonymous (2)
Clearstream Charles Pankow Communication
Builders, Ltd
Phillip Colella & Susan Linda Schacht Gage
Londerville
Concar
Margaret Corrigan & Larry Gibbs
Marjorie Cox
Dr. Jim Cuthbertson
CyberTrails
Robert Davis
Robert Dixon
Gail Drulis
ELS Urban Architecture &
Design
Energy, Inc
Ernst & Young
Holly Babe Faust
Craig Fendel
Fit-Tech
Walter & Marianne Frey
Mary & Stan Friedman
Fran Gallati & Elizabeth Doh
Ruth Ganong
Jack Gardner & Candy Rupp
Sandra & David Gerstel
Hilary Goldman
Ann Grob
Grossi Group
Michael Harris
Arthur Hartinger
Timothy Hassler
Irene Hegarty
Ellen Irie
Itrón
Tom & Marily Johnson
Christy Kaplan
Wendy Kaufmyn
Marjorie Kirk
Susan Kupfer
Lakeside Foundation
Evelyn Larsen
Steven Lee
Robert & June Lindquist
Lubman Family Philanthropic Fund
Kelley & Andre Maltais
Nancy Mampaey
David J. Williamson & Helen M. Marcus
Moody's Foundation
R.H. & Laurie Morrison
Andrea Mullarkey
Jan Murota
Alan Riffer & Caryl O'Keefe
Michael & Ann Parker
Perry Patel
Pleasant Hill Rotary Foundation
Beth Pollard
Precor
Glen Price
Ratcliff Family
Don Ratcliff
Hae Won Rhow
Chaud Richards
Anthony Rodrigues
Susan Russell
Michael Saenz
Michael Schnitzer
Anne Schonfield
Eileen Sheehan
Stephen & Susan Shortell
Robert Sonderegger & Joanna Moss
Darrell Sooy
Nancy Spaeth
Susan Taylor & Bob Fabry
Stephen Washburn
Marsha Weintraub & Stuart Hellman
Andy Williams
Bruce Williamson
YMCA of Greater Pittsburgh
YMCA
Sustainers
$250 - $999
Barbara Adams
Mickye Adams
Carol Adrienne
Albany Ford Subaru
Manuela Albuquerque
Talia Aliberti
Gertrude Allen
American Mechanical Inc.
Alexander Amoroso & Suzanne Drolet
Anonymous (10)
Angela Armendariz & Lief O'Donnell
Bess & Jeff Austin
Carlton Jones & Aztec Tennis
John Bear
Lisa Belmont & Rachel Longan
Berkeley Lodge No. 270 I.O.O.F.
Adelie Bischoff
Robert Bissell
Bob Blomberg
Ceci Bowman
Lisa Branum
Donald Brown
Maria & Bruce Budner
Chris Burmester
MiSoon Burzlaff
Alicia Butler
Judith Butler
Helen Cagampang
Karen Callaway
Kris Cardall
Ceinwen Carney
Laurie Case
Betsy Cazden
Lillian Chan
Cordelia Chang
Elbert Chang
Earl & June Cheit
Sang Chil & Dah Hae Rhow
Ronald & Susan Choy
John Clarke
Cindy Cohen
Kim Colwell
Stephen Colwell
Paul Cooper
Deborah Craig
Patrick Cronin
Crum & Forster
Maria Cruz
Heather Cunningham
Lyn Dailey
Veronica Daly
Bruce Dantzker
Linda Davis
Bob Davis
Mary D'Elia
Benton Deloache
Jackie Desoer
David Deutscher
O'Neil & Marcia Dillon
Irma Distefano
Douglas & Patricia Donaldson
Joan Dove
Sally Drach
Fredrica Drotos
Carolyn Edmunds
Eric Eisenberg
Scott Erickson
Susan Ervin-Tripp
Lisa Esherick Fund
Elizabeth Evans
Heart of a Child Preschool
Charlie & Clavel Fender
Gael Fitzmaurice
Art Flores
Gregory Freidin
Dick Friedman
Doug & Jennie Frisbie
Fromson-Ho Family
Galvan-Carty Family
Angie Garling
Steven Gay
Genentech
Steve Gere
John Gerhart
Denise Gervais
Marianne Glaspey
Judy Gonzales-Massih
Anne Good
Pamela Gray
Audrey Grubman
David Harrington
Alexa Hauser & Terry Lamb
Mary Jo Hawk
Miriam Hawley
Bill & Ann Healy
Graham Heimler
Kenneth Hickey
Ann-Marie Hogan
Tom & Hilary Hoynes
Audi Huang
Paula Hudis
Inter-State Studio & Publishing
Elizabeth Isono
Anne Naoko Ito
Janis James
Maureen Jerrett
Deborah Johnson
Robin Kaer
Robert Kaneko
Helmut Kapczynski
Alan Kaplan
Celia Karian
Nathan Kaufman & Lynn Franco
Peggy Kirihara
Marilyn Klinger
La Val's Pizza & BBQ
Terry Lamb
David & Janice
Lawrence
Margaret Le For
Bill Lee
James & Kathy Lee
Levine Family Foundation
Local Independent Charities
Janet Lord
Liza & Bobby Lutzker
Lynn MacDonald
Bula Maddison
Setrak & Anoush Maghdissian
Albert Magid
Philip Maldari
Nancy Manheim
Marshall Kirk & Eric Allman Foundation
Sarah & Chris Martiniak
Angela Mason
Amir Massih
Mike Maxwell
Paul McKaskle
Flora McMartin
Michael McQuiston
Bebe McRae
Don Melandry
Mara Melandry
David Merrick
Mary Milton
Jane Moore
John Moore
Zachary Morrison
Eileen Murphy
Noll & Tam Architects
A. Robin Orden
Prabhat Pathak
Kirk Patterson
Andrea Pearlstein
Gordon Pedersen
Bill Peebles
Hanna Pepper
Jeanne Pietrzak
Anthony Pizzo
Ann Plant
Pleasant Hill Lions Club
Jocelyn Pou Rivera
Christine Priere Izaret
Charlie Prins
R.A.W. Concepts
Raimi & Associates
Lucy Ratcliff Pope
Francoise Rees
Mary Rees
Patrick Reilly
Mary Revelle Paci
Leopoldo Reyes
Ruth & Jim Reynolds
Marilyn Reynolds
Irene Riemanne
John Rietz
Jennifer Risken
Margot Rosenberg
Isaiah Roter
Royal Café
Weldon Rucker
Peter Samis
Marc Sapir
Arno Schniewind
Bill Segesta
Nancy & Steve Selvin
Susan Shields
James Shum
Philip Siegelman
Michael J. Skinner
Robert Smith & Janet Huseby
Francoise Sorgen- Goldschmidt
Helen & Thomas Spiro
Paul Sporer
William Springer
Michael Stearns
Virginia Stefan
Jane Stern
Steve's Auto Care
Don & Ruth Stiver
David Strachan
Tannahill Realty
Tea & Talk
Aaron Thompkins
Ed Tilley
Jenna Timm
Richard & Margaret Tong
Martha Toppin
YMCA
Sustainers cont.
Gunnel Tottie
Isaac Turiel
Theresa Valcalda
Eileen Van Heuit
Jenny Wenk
Charles & Laurene Wu McClain
Karen Young
Ms. J.A. Zaitlin & Mr. Mark Nienberg
YMCA Friend
$100 - $249
Jean Abe
Brian & Shelley Adams
Sandra Adams
Susan Adams
Elizabeth Aden
Joan Allen
Rhoda Alvarez
Mike Alvarez Cohen
Delaney Anderson
Laura Anderson
Animal Eye Specialists
Martha Ann Singer
Anonymous (16)
Jahlee Arakaki
Gilberta Avila
Atsuko Awaya
Paul Bacchi
Maggie Back & Joel Freeberg
Nina Bailey
Schuyler & Susie Bailey
Anne Baker
Elizabeth Balderston
Julie Barbee
Cynthia Barlow
Betty Barraza
S. Charles Bates
Elisa Batista
Marna Batten
Charlotte & Mark Bauer
Regina Beatus
Jimmy Beckland
Marcia Belvin
Judith Belzer & Michael Pollan
Edward Bennett
Claudia Berger
Binnie Bergerud
Jerry Berkman
Catherine Berman
Dianne Berning
Carmen Best
Carol Bevilacqua
David & Rachel Biale
Jane Binder
BlackRock
Sandra Blair
Chinda Blaschczyk
Judy & John Boe
Jim & Sandy Bonato
Mike & Julia Boyer
Marian Breitbart
Anton Brenner & Eden O'Brien-Brenner
Elizabeth Breslin
Wendy Breuer
Marvin Brezinka
Joel Brodsky
Gregory Brown
Judith Brown
Leanna Bruschini
Linda Bryant
Barbara & Robert Budnitz
Linda Burden
Pamela Burdman
Kathryn J. Burke
Allen T. Cain
Teri Cannon
Abigail Caplin
Antoinette Cardoza
Barbara Carovano
Desirae Chambers-
Docks
Albert Chan
Sue Chan
Ann Chaney
Grace Chang
Elizabeth Chapple
Catherine Cheyette
Brian & Suzy Ching
Jennifer Chou
Judy Chun
Suzanne Chun
Sakuko Clark
Julie Cole
Kristin & Michael Collins
Janis Contento
Becky Contopoulos
Paula Cooper
Melissa Coupin
Pamela Cowell, MD
Karen Cox
Sharon Craig
William Craig
Pam Crane
Jasmine D'Agostino
Morton & Gloria Davis
Kyle Davy
Sebastian de la Rosa
LA Deaktor
Gayle DeKellis & David Clayton
Vicki Dempsey
Tom Devlin
Amy Dewey
Jeannette Dey
Helen Dickey
Raymond Dickinson
Robert & Madeline Dillon
Joe DiStefano
Kevin Donahue
Pamela Doolan
John Dorsey
Claire Dostal
Linda Drucker
Gitty Duncan
Valerie Dzubur
John & Pat Eberhard
Keith Edwards
Sylvia Elbury
Nicholas & Raina Elfner
Ione Elioff
Craig Ellis
Debbie Emery
Neil Ericksen
Sue Estey
Michael & Merle Fajans
Grace Fawcett
Marjorie Fendel
Anastasia Ferratti
Karen Fiene
Bob Fierce
Jerry Fillingim
Margaret Fillingim
Steve Finch
Paul Fine & Joanna Reed
David Fink
Evelyn Fisher
Sarah Fisher
David Fitz
Robert Fitzgerald
Michael & Sally Fitzhugh
Michael Flanders
Evelyn Florin
Judy Folkmanis
Barbara Foltin
Calvin Fong
Pauline Fong & Mark Fujita
Lisba Fowler
Sally Francis
Anna Frankfurt
Alan Fraser
Karen Frassetto
Joel Freeberg & Margaret Back
Joan Frisch
Diana Fuery
Cris Gallardo
Gap, Inc.
Eileen Gardiner
Laura Gardner
Leo & Jane Gaspardone
Robyn Gauthier & Jim Mathews
Paul Giganti
Nancy Gillette
Gretchen Gillfillan
John Gilman
Joe Goldenson
Brenda Goldstein
Hilary Goldstine
N. R. Golomb
Katherine Gong
Google
Amy Gorman
Eric & Jennifer Gorovitz
Andree Graham
Joanna Graham
Gretchen Graves
Gerald Gray
Rhonda Gray
Bill Gray
Stephanie Green
Phyllis Greene
Laura Grieneeks
Allison Grinstead
Lillian Grove
Vanessa Grover
Barbara Guletz
Arnold & Jennifer Haller
Hiro Haneda
Michael & Ulli Hanley
Ulrike & Michael Hanley
Karen Harber
Julie Hart
Ann Hasse
Charles Heimler
Julie Hess
Erin Hill-Freschi
Jeanne Hing
Ulrike Hodges
Maru & Thomas Hoeber
Suzanne Holtz
Dongsook Hong
Bill & Mijo Horwich
Susie Hoskins
Howard & Nancy Mel Fund
Lily Huang
Justine Hume
Donna Hunt
Janet Hurley
Jane Hyde
James Hynes
Diane Ichiyasu
Monique Inciarte
Carol Isen
Alicia Ivancovich
Naomi Izumo
Santosh Jain
Susan Jamart
Christopher James
Susan & Harold Jamison
Francine & Brian Jeffrey
Ann Jensen
Diana Jensen
Barbara L. Johnson
Joleen Ruffin
Rod Jorjorian
Larry & Lynda Justice
Tsit Yuen, Tsai Yu & Juwan Lam
Ann & John Kadyk
Virginia Kadyk
Sheila Kahan
Zarak Kahn
Diane Kanegae
Catherine Kaneko
Jane Kaneko
Kimiko Kaneko
Sally Kaneko
Nancy Kaspar
Elizabeth Kavaler
Susan & Ken Kawaichi
Mary Keegan
Gerard Keena
Linda Kehoe-
Goldstrom
Margaret Kendall
Kristi Kenney
Jack & Annie Kenny
Gerard Keena
Emily Kenyon & David Lipsky
Maral Kesmetian
Eliza Khuner
Denise Kidder
Irene Kiebert
Sunny & Kiung Kim
Vicki Kimball
Kathleen Kirby
Linda Kirkhorn
Laurie Kirkpatrick
Rima Kittner
William Klinke
Phyllis Kluger
Isabel Knight
Robert Knight
Cynthia Koenigsberg
Celeste Kopel
Andrea Kramer
Reta & Herbert Krane
Linda Kremer
Fran Krieger
Victoria Kubokawa
Kenneth Kuchman
Salim Kurwa
Adrian La Placa
Steven Lafrance
Mary Lai
Josee Lajoie
Pamela Lakey
Mark Lamoureaux
Joy Lancaster
Steve Lane
Wendy Lane
Peter Langley
Jocelyn Larkin
Jeanette Larsen
Jennifer Larsh
Chuck Laughlin
Pat & Rick Lavis
Mai Le
Don Lee
Marguerite Lee
Mark Lee
Susan Lee
Tom Lent
Linda Leong
Cornelia Levine
Susan & Peter Lindh
Teressa Lippert
Jean Lipton
David Littlejohn
Rhoda Litwack
Pia Lodberg
Ron Loewinsohn
Anne Loftis
Mary Loftis
Virginia Logan
Martin & JoAnn Lorber
Elaine Lotuschan
Evelyn Loughran
Virginia Louie
William & Jane Lucas
Georgia Lupinsky
Jo Macaluso
Anne Madden
Ingrid Madsen
Teal Major
Mathew Malkin
Arlene Marcus
Terry & Christine Margerum
Jim Marks & Edna Warnecke
Sue Marzuola
Steve Masover
Jo Maxon
Chantal Mayali
Scotty McCaulley
Holly McCulloch
Beverlee McFadden
Bonnie McKellar
Ginger McKinnon
Carolyn McMillan
Jackie McNabb & Yusuf Cassim
Tania Medrano
Stephen Meier
Barbara Mercer
Philip Mertz
Barbara Metcalf
Drew Meyers
Jim & Kate Meyers
Connie Millar & Jeff Wyneken
Dawn Miller
Marlene Millikan
Debbie Mitchell
Dorothee Mitrani-Bell
Tony Molatore
Rick Montana
Dale Moon
Karen Moore
Robert Moore
Barbara Morgan
Mary Anne Morgan
Keith Morris
Linda Morse & Scott McAllister
Jirair & Christina Moughamian
Misty Mukae
John Mullen
Anna Mungle
Anne Murrin
Sylvie Mwila Jonath
Haruko Nagaishi
Emiko Naito
Jan Nakamura
Barbara Nelson
Roger Newman
Bonnie Ng
Erica Nietfeld
Saburo Nishimoto
Carol Nishita
Sherry Novick
Barbara O'Hay
Doug O'Keefe
Jo O'Malley
Cydney Osano
Emma Osano
Rodrigo Pahati
Unson Pak
Michael Pang
Ben Pantner
Peter Parenti
Susan Parish
Fredrica Parlett
Jeanne Perkins
Pat Perkins
Trevor Pesout
Sarah Peterson
Marilyn Pew
Frank Pflaumer
Jean Phinney
Maryann Phipps
Harry Pollack & Joanne Backman
Elizabeth Pongo
Debbie Potter & Francisco Vilaseca
Nancy Poulos
Kevin Powell
Betty Prenter
Minuteman Press
Elsbeth Protzen
Laurel Przybylski
Betsy Quayle
Jim & Hao Quinn
Jean Rabovsky
Carole Raimondi
Bob Randall
Thomas Rankin
Tom Ratcliff
Brian Raymond
Shawna Raymond
Patricia Rea
Donald & Hilary Read
Sharon Reid
Michelle Rembaum-
Fox
Sandra Ried
Susan Riggs
Phyllis Ritchie
Miriam Rivas
YMCA Friend
cont.
Steven Schultz
Muriel Schulz
Roxanne Schwartz
Stephen Roan
Barbara Segal
Barbara Roddick
David & Andrea Segall
Catherine Roha
Maurice & Yvonne Miriam Rokeach & Segerberg
John Denvir
Erika
Seid
Ursula Rolfe
Elisabeth
Semel
Eve Romain
Linda
Shaw
Jeni Romero
Brian & Becky Shea
Maria Rosales
Edna Shipley
Sharon Rose
Nina Shoehalter
Karen Rosenbaum
Stephanie Silk
Polly Rosenthal
Lisette Silva
Betty Roszak
Ellen Simms
Susan Roth
Chris Simon
Rucker Family
Kathy Simpson
Pamela Rudd
Ricky Singh, D.M.D.
Sara & John Rudge
Beverly Slapin
Joan Russell
Doris Slater
Harriet Sage
Jeanne Slater
Aaron Salinas
Judith Small
Giuseppe Salvato
Scott Smith
Nadine Samuels
Patti Smolian
Edna C. San Juan
Immi Song
Sue Sandson
Patricia Spaugh
Robin Sanow
Daniele Spellm
Daniel Schacht
Lori Schack & David Jocelyn Sperling
Dolly & Pete Spragins
Mermin
Kathy Sprague
Russell Schaefer
Reuel Schiller & Jane John Sproul
Sunny St. Germain
Williams
Mary Jo Starkey
Janet Schneider
Jackson Stearns
Lorraine Schnurr
Marla Stephenson
Eric Schroeder
Ralph Stephenson
Maxim Schrogin
MaryEllen Sternad
Bess & Steve Sternberg
Kym & Dave Sterner
Barbara Sternfeld
Marcia Stewart
Victoria Stewart
Janet Stone
Margaret Stone
Jo Anne & Regis Storch
David Stump & Andrea Smith
Marge Sussman & Cindy Shamban
Diana Sweet
Uta Swiatecki
Carol Taliaferro
Teresa Tan
Charlene Tanaka
Kim Taylor
Techni-Group
Suzanne Teer
Jean Tenret
Jerry Threet
DeAnna Tibbs
Jennifer Ton
Georgina Torres
True Stone Distributing, Inc
Leslie Trutner
Sam Tsujimoto
Robert Tucker
Pat Tunney
Nannie Turrell
Mary Tyson
Seth Ubogy
Zachary Unger
Alissa Vannet
Gail Vawter
Jehan Velji
Darlene Vendegna
Elie Vidal
Janet Voorhees
Kay Vorheis
Anna Vorster
Patricia Wade
Nora Wagner
Pamela Walker
Dr. & Mrs. Edward Waller
James Walsh
Myrna Walton
Elmira Wan
Bob Warden
Emmarine Ware
Austine Warren
Sandy Warren
Chris Weber
Erika Weissinger
David Weitzman
Zach Wells
Amanda West
Westhoff Family
Kathleen Whalin
Anne Whaling
Rebecca Wheat
Harriet Williams
Window Concepts
Kenneth Winfield
David Winn
Katy Witkowski
Dan Wohlfeiler
Irving Wolf
Virginia Wolfe
Marian Wolfe & Scott Scheffler
Hertha Sweet Wong
Evie & Gordon Woznkiak
Chris & Lucy
Yaldezian
Kay Yatabe
Claire Yskamp
Teresa Yuko Doane
Lori Zorr
This list denotes our financial contributors for fiscal year 2014, which runs from July 1, 2013 to June 30, 2014.
We have done our best to ensure the accuracy of this donor listing. If there is an omission or error, we hope that
you accepts our sincerest apologies, and contact Mia Georgiu, Director of Financial Development at 510 486
8408 or [email protected]
Margot Rosenberg
Thank you to the members
Peter Samis
David Alfandary
of our Heritage Club
Lisette Silva
Talia Aliberti
Beverly Slapin (2)
Charles Aliberti
The Heritage Club honors friends who support the Y's
Jane Stern
Susan Parish Aliberti
work through bequests or other planned gifts. While the
Susan
Storch
Michael Amodeo (7)
YMCA of the Central Bay Area's mission has always been
Laura
Tuller
M.D. Baker
to respond to the communities' current needs, planned
Soraya
Vorster
Jack Ball
gifts provide a significant, long-term funding source that
Barthold/Oduro In Memory
we can both plan around and leverage immediately.
Families
Charles Bernstein
Marna Batten
Vera Bomse (2)
Stella Bean-Tuller
Jean Chin
Kids' Club Staff
Robert H. Cook
Emmanuel Contreras
Dr. Lewis Coveler
Richard Adam
Grace Keachie
Maria Cruz (2)
Mary Elena Roger & Mia Alexander
Connie Kidder
Geir Dalan
Dochterman
Paul Allman
Jeffrey Leiter
Mary D'Elia (2)
Kathy Eeles
Thomas & Tami Lowden
Don
&
Peggy
Alter
Eva Dreyfuss
My Dad Frank
Roberta Mandel
Donald
Anderson
Gail Drulis
Bob Giusti (4)
Fran Gallati
Jules & Helen Mayer
Hank & Mary Jo Audrey Goodfriend (3)
Angie Garling
Ermigine McDade
Bagelmann
Charlotte Gustafson (2)
Miriam Hawley
Donald & Mara
Schuyler & Susan Bailey
Dawn Hannafin
Graham Heimler
Dorothy Kaplan
Melandry
Lawrence & Faye Berger
Sue Jamison
Marjorie Keck 4)
M.E. & Ruth Moore
Clayton & Sarah Berling
Karl Jennings
Bork Kwong Lee
Kay & Harry Rabin
Larry Bush
Bob Kaneko
Melba Lazenby
B. Rocca
Robert
Dixon
Nancy Kaspar
Marian Magid
Sibyl & Walter Rubin
Charles
&
Clavel
Fender
Dave Knops
Marc Mandler
Henry Rysak
George Foster
Milly Lee
Jules Mayer (12)
Jack
Gardner
&
Candy
Carol Schilling
Anne Malamud
Dorothy Molatore
Rupp
Robert Smith
Norma Mark
Rhonda Rae Nelson
Luca McKerley
Timothy Hassler
Clarence & Josephine Ron Nelson
Janice Murota
Janet Huseby
Sweitzer
Deb O'Brien
Alec Newton
Pat Jensen
Josephine Sweitzer
Betty Pietrzak
Amma Oduro
Alita Rosenfeld (2)
Shigeko Jinguji
Kenneth Towers
Ian & Danny O'Keefe
Milly Rosner
Doris Johnson
Alma & Edward Vanek
Shoshana O'Keefe
Rose & Phil Schecter
T. W. Johnson
Jenny Wenk
Florence & Sy Orden (2)
Stewart Sheng (2)
Noel Panganiban (2)
Doris Sweetman
Ramona Paris
John Thune
Jeanne Pietrzak
Roxie Tyson
Wilma Polivka
Susan Watson (18)
If you have made estate plans that include YMCA of the
George Reskin
Carolyn Yee
Central Bay Area and would like to be listed as a member
David Rosenbaum-
H.W. Zoller
of The Heritage Club, please call Mia Georgiu at 510 486
Alfandary (2)
Gail Zwerdling-Nelson (2)
8408 or email at [email protected]
In Honor
Financial Statement
Fiscal Year 2013-2014
YMCA OF THE CENTRAL BAY AREA
VOLUNTEER LEADERSHIP
Our impact is made possible because of the support of many caring community leaders.
YMCA of the Central Bay Area
Board of Directors
Albany YMCA
Board of Managers
Head Start
Policy Council
Jan Bono
Jim Collier
Marjorie Cox
David Deutscher
Eric Eisenberg
Craig Fendel
Mary Friedman
Jack Gardner
Angie Garling
Tim Hassler
Erin Hill-Freschi
Christy Kaplan
Tony Kallingal
Ken Kuchman
Jules Mayer*
Andrea Mullarkey
Perry Patel
Tom Ratcliff
Chaud Richards
Susan Shields
Darrell Sooy
Dr. Nancy Spaeth
Eric Stern
Ryan Svoboda
Corrinne Threewitts
Andy Williams
Allen Cain
Toni Cardoza
Paul Giganti
Nancy Manheim
Mike McQuiston
Andrea Mullarkey
Janice Murota
Peter Parenti
Susan Russell
Peter Samis
Eileen Sheehan
Bill Springer
Virginia Stefan
Jane Stern
Lillie Bonner
Nallely Camacho
Concepcion Chavez
Larona Custer
Al Frierson
Khrystal Gomes
Lashonda Hill
Kaya Hollins
Jessica Lopez
Lizet Lopez
Miriam Munoz
Laura Polanco
Raquel Ramsey
Rachel Smith
Ashley Starks
Briana Starks
Corrine Threewitts
Tiffany Timms
Juanita Villafuerte
Delorien Windham
Downtown Berkeley YMCA
Board of Managers
Rick Betts
Anto Cingoz
Marjorie Cox
Bob Davis
Holly Babe Faust
Graham Heimler
Ellen Irie
Maureen Jerrett
Edward Kress
Jeanne Pietrzak
Matthew Raimi
Leopoldo Reyes
Mike Schnitzer
Anne Schonfield
Our YMCA is committed to the highest ethical standards and transparency for a non-profit organization. Our Y is
governed by and accountable to an independent board of directors who are committed to being good stewards. Our
Y has high standards in order to reach non-profit excellence and fiscal integrity.
Revenue
Membership
Program
Public Support
Investment/Other Income
Government Grants &
Contracts
Total Revenue:
Expenses
Irvin Deutscher Family YMCA
Board of Managers
Dawn Bachmann
Anne Baker
Jan Bono
Elizabeth Chapple
Art Flores
Michael Harris
Michael Maxwell
John Moore
Matthew Rinn
*Deceased
Program Services
Mgmt & General Admin
Fundraising
Reserves
Capital Improvements
Total Expenses:
$11,437,318
$7,993,790
$652,954
$620,583
Public Support
3%
Investment/Other
2%
$6,482,245
$27,186,890
Fundraising
Reserves <1%
<1%
$21,955,791
$3,584,620
$143,371
$201,167
$1,301,941
$27,186,890
MISSION
To bring people together in pursuit of spiritual,
mental and physical growth.
To build community.
To serve.