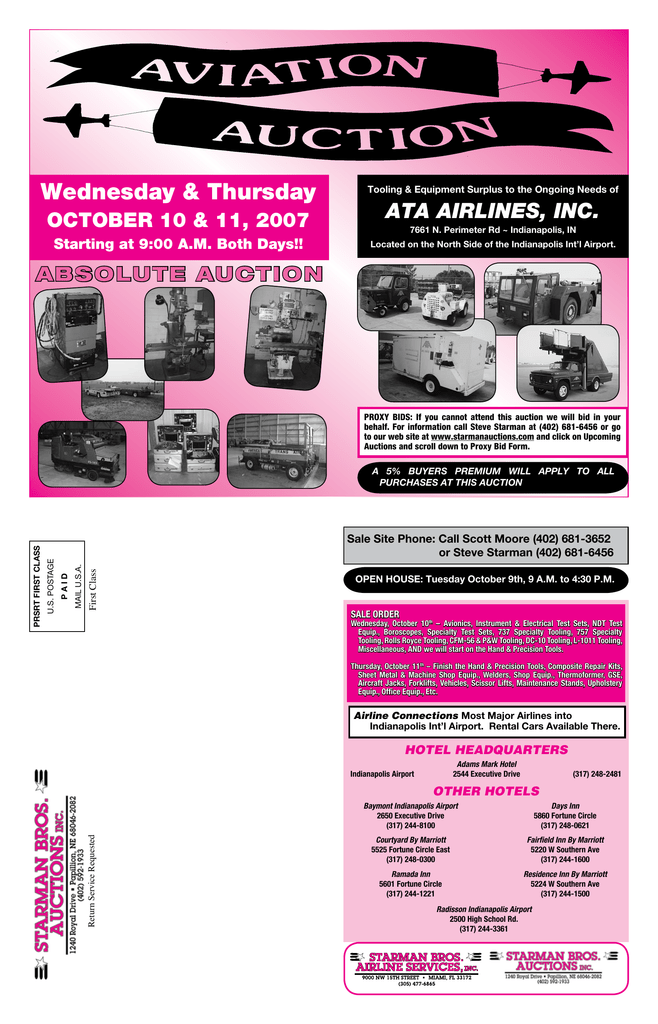 Wednesday & Thursday
October 10 & 11, 2007
Starting at 9:00 A.M. Both Days!!
Tooling & Equipment Surplus to the Ongoing Needs of
ATA AIRLINES, INC.
7661 N. Perimeter Rd ~ Indianapolis, IN
Located on the North Side of the Indianapolis Int'l Airport.
A B S O L U T E AUCTION
Proxy Bids: If you cannot attend this auction we will bid in your
behalf. For information call Steve Starman at (402) 681-6456 or go
to our web site at www.starmanauctions.com and click on Upcoming
Auctions and scroll down to Proxy Bid Form.
First Class
OPEN HOUSE: Tuesday October 9th, 9 A.M. to 4:30 P.M.
SALE ORDER
Wednesday, October 10th – Avionics, Instrument & Electrical Test Sets, NDT Test
Equip., Boroscopes, Specialty Test Sets, 737 Specialty Tooling, 757 Specialty
Tooling, Rolls Royce Tooling, CFM-56 & P&W Tooling, DC-10 Tooling, L-1011 Tooling,
Miscellaneous, AND we will start on the Hand & Precision Tools.
Thursday, October 11th – Finish the Hand & Precision Tools, Composite Repair Kits,
Sheet Metal & Machine Shop Equip., Welders, Shop Equip., Thermoformer, GSE,
Aircraft Jacks, Forklifts, Vehicles, Scissor Lifts, Maintenance Stands, Upholstery
Equip., Office Equip., Etc.
Airline Connections Most Major Airlines into
Indianapolis Int'l Airport. Rental Cars Available There.
Hotel HEADQUARTERS
Adams Mark Hotel
2544 Executive Drive
Indianapolis Airport
(317) 248-2481
OTHER Hotels
Return Service Requested
MAIL U.S.A.
PAID
Sale Site Phone: Call Scott Moore (402) 681-3652 or Steve Starman (402) 681-6456
U.S. POSTAGE
PRSRT FIRST CLASS
A 5% BUYERS PREMIUM WILL APPLY TO ALL
PURCHASES AT THIS AUCTION
Baymont Indianapolis Airport
2650 Executive Drive
(317) 244-8100
Days Inn
5860 Fortune Circle
(317) 248-0621
Courtyard By Marriott
5525 Fortune Circle East
(317) 248-0300
Fairfield Inn By Marriott
5220 W Southern Ave
(317) 244-1600
Ramada Inn
5601 Fortune Circle
(317) 244-1221
Residence Inn By Marriott
5224 W Southern Ave
(317) 244-1500
Radisson Indianapolis Airport
2500 High School Rd.
(317) 244-3361
SHEET METAL & MACHINE SHOP EQUIPMENT
Atlantic Mdl HHDS 10' Power Sheet Metal
Shear w/Power Back Gauge & Hyd Hold
Downs
Chevalier
Mdl FM-3VKH
Vertical Milling
Machine, 3HP
Motor,
10"
x 50" 3-Slot
Table, 32-¾"
Longitudinal
Travel,
161/8"
Cross
Travel, 15-½"
Vertical Travel,
Power Table &
Knee, Acu-Rite
Digital X, Y
Readout, 50 – 4500 RPM
National Mdl 5216, 52" Sheet Metal Shear,
Cap 16 Gauge Soft Steel
A 5% BUYERS PREMIUM WILL
APPLY TO ALL PURCHASES
AT THIS AUCTION
Bridgeport Series I Vertical Milling Machine,
2HP Motor, 9"x 48" 3-Slot Table, Rapid
Reverse Attachment, Acu-Rite Master
MP Digital X, Y Readout
Vaughan's Sheet Metal Stake Table w/Dies
Chicago Mdl BPO-812-6, 8' Finger Break
Grob Mdl 4V-36
Vertical
Band
Saw, 36" Throat,
24" x 28" Tilting
Table, 2-Speed,
High & Low
Range,
40'–
5,000' Per Min,
S/N 1903
Cincinnati Milacron 13" Hydra Shift Engine
Lathe, Swing Over Bed 13-¼", Swing Over
Cross Slide 8-7/8", Distance Between
Centers 24" – 60", Spindle Speed 35
– 3000 RPM, 1-¾" Spindle Hole, w/Taper
Attachment
Central Machinery Mdl 33686 Milling
Drilling Machine, 1-½ HP Motor 1 Phase,
12 Speeds, 120 – 2500 RPM, 8" x 29"
Table
Wilton Mdl 24548 20" Geared Head Drill
Press w/Power Feed, Motor RPM 1700
– 3400, Mounted On 34" x 48" Table
Stewart Stevenson Mdl TM4900 Ground Power Unit,
Detroit Diesel Eng, 90 KVA
(8) Coldbuster Mark I Aircraft
Heater Carts
Stewart Stevenson Mdl
TMSS-120 Air Start Cart,
Detroit Diesel Engine, 120
LBS Per Min @ 32 PSIG
(2) Tug Mdl 660-11 & -14 Belt
Loaders, 2,000 LB, Wide
Body, Auto Trans, Ford 6
Cyl
American Lab & Systems
Mdl HPPE503KS4-60 Hyd
Test Cart, Dual System, 30
GPM, 3,000 PSI
(2) DCF Wheel & Brake
Change Carts
Cochran Western Cargo King
K-Loader, 10,000 LB,
Diesel Engine for LD-3
Containers
(2) Bottle Tow Around
Nitrogen Cart w/Gauges
& Hoses
Fuel Spill Cart
Revere Aircraft Weighing
Kit, 5 Load Cells, AC100,
400,000 LB Scale
4 Bottle Nitrogen Cart
CSD IDG Oil Servicing Tools
(6) Malabar PF53333 2 Gallon
Fluid Dispensers
Malabar 15 Gal Strut
Servicing Cart P/N T14392
2 Place Bottle Cart
(7) Wheel & Brake Dolly's
Lift-A-Loft Lavatory Truck Mdl
APV LAV, 2,000 LB, Deutz
Diesel, Auto Trans, 400 Gal
Water Tank, 300 Gal Water/
De-Germ Tank
Ford F-600 Air Stair Trucks,
Transmatic Drive, V-8,
w/Wollard Mdl TLPH-560
Passenger Stair Unit, Up To
220" Height & Outriggers,
Wide Body Capable
(7) Amerex Mdl 490 Dry
Chemical
Ramp
Fire
Extinguishers
Ansul Mdl CR-1-K-150-C
Dry Chemical Ramp Fire
Extinguisher
(12) Malabar 150 Hand Pump
Aerosweep
FOD
Boss
Sweeping System
New & Used GPU Inventory
to Include: Starters, Wheel
Logs, Brakes, Hoses,
Belts, Control Cables,
Lighting, Solenoids, Fuses,
Alternators, Wiper Blades,
Filters,
Water
Hoses,
Carburetors, Head Lights,
Hardware, Etc.
Stewart Stevenson Mdl TMAC250 Air Start Cart w/Detroit
Diesel Engine, 250 LBS Per
Min @ 32 PSIG
Tug Mdl MA50-1 Baggage
Tug, 6 Cyl Gas, Auto
Trans, 5,000 LB DBP w/
Cab & Snow Plow
Clark Mdl MA-50-1 Baggage
Tug, 5,000 LB DBP, 6 Cyl,
Auto Trans
Clark 4,000 LB DBP Baggage
Tug, Propane
Tug Mdl MA-40-1 Baggage
Tug, 4,000 LB DBP, 6 Cyl,
Auto w/Cab
American Lab Mdl T-400030-S4 Portable Hyd Mule
Cart, 30 GPM @ 3,000 PSI,
Skydrol Dual System
Regent Mdl 9188-012 50
Ton Universal Weighing
System
(2) Par Kan Mdl FSC-550
Fuel Carts w/500 Gal Fuel
Tanks & Electric Pumps,
Unleaded
(10) Clyde 757 Tow Bars
(5) Clyde 737 Tow Bars
727 Tow Bar
(4) L-1011 Tow Bars
CSD Pre-Oilers
Air Start Cart Hose & Couplings
WELDERS & PLASMA CUTTER
Miller Syncrowave
350 LX CC-AC/
DC Squarewave
Tig Welder,
200/230/460
V, Single
Phase w/Foot
Control, Argon
Attachment,
Water Cooled,
Miller Tig
Runner
(2) Oxygen/Acetylene Cart, Gauges & Torch
Set
Millermatic 200 Constant DC Arc Welding
Power Source & Wire Feed System w/
SKP-35 Spot Pulse Weld Panel Argon
Attachment
Thermal Dynamics Mdl 300 GTSW Thermal
Arc DC Inverter ARC Welder
Airco Mdl 2DDRS DC Bumblebee Single
Range Welding Power Supply, 230/460
V, 3 Phase; 350 Amp
Thermal Dynamics Mdl PAK 5XR Plasma
Cutter
Misc. Welding Clamps
Welding Rod
Welding Curtains
FORKLIFTS & PALLET JACKS
Yale Mdl GP-100-SBS-093 Forklift, 16,000
LB, Propane, Pneumatic Tires w/Dual
Fronts, 14' 2 Stage Mast
Yale 6,000 LB Forklift, Propane, Solid
Tires, 18' 3 Stage Mast, Side Shifting
Forks
Presto Mdl PSTA27107 2,700 LB Electric
Walk Behind Pallet Lift
Presto Mdl C-74-15ZC 1,000 LB Electric
Pallet Lift
(6) Pallet Jacks
Rotex Mdl 18-A 53' Turret Sheet Metal Hole
Punch
(2) Beverly No. B-3 Shears
Right Angle Tool,
English Wheel,
42" Throat w/
Extra Rollers
Do All Mdl 3612-2H Band Saw, Hyd Table,
36" Throat w/Mdl DBW-15 Blade Welder
SHOP EQUIPMENT
GROUND SUPPORT EQUIPMENT
Stewart Stevenson Mdl
GT50H Push Back Tractor,
60,000 LB, Caterpillar
Diesel Engine
M o r g a n
Rushworth
48"
Heavy
Duty Sheet
Metal Roller,
3-½" Rollers
Tennsmith Mdl
SR-42 Sheet
Metal Slip Roller
Merchant Mdl 12A Pneumatic Sheet Metal
Shrinker/Stretcher, 12" Throat
Dustron Filter I Sanding/Paint
Down Draft Booth, 24'
Wide x 12' Deep w/Fire
Extinguisher System &
Explosive Proof Lighting
Enerpac H Frame Hydraulic
Press, 25 Ton
25 Ton H Frame Press, Air
Over Hyd
Mansur Mdl 500 System One
Electric Parts Cleaner,
Reclaimer
Vulcan A-550 Electric Heat
Treat Oven, 0-2000° F, 9"
x 9' x 8'
Dayton Mdl 32918 16-½" Floor
Mdl Drill Press, 6-Speed,
½" Chuck
Magnaflux Type MAG II-60
Magnaflux Machine, AC/
DC, 5,000 AMP, w/DeMag,
7' Bed
Zyglo Inspection Line w/3ea
36"x 36" x 30" Deep
Stainless Steel Tanks on
Castors for Penetrant,
Emulsifier & Developer,
& 48"x 48" x 30" Deep
Stainless Rinse Tank &
Free Standing Drying Oven
36"x 36" x 36"
Grieve Mdl 333 Electric Oven,
400° F, 36" x 36" (Inside
Measurement)
Grieve Oven Mdl L0-200C, 360°
F Max, 12" x 12' x 12"
Wellsaw Mdl 1016 Power
Horizontal Band Saw, 10" x
16", 2-HP, 4 Speed Drive
Do All Mdl 4207 6" Belt & 12"
Disc Sander
12-Speed Mdl 3010-0021
Floor Type Drill Press 1-¼"
Chuck
6,000 LB Hoist
Advance Mdl 2067 Drive
Around Floor Scrubber
Econoline Blasting Cabinet
36" x 24" x 24" w/Filter &
Hopper
Bead Blast Cabinet 36" x 24"
x 32"
Craftsman 6" Belt, 8" Disc Sander
Westward Mdl 5M466A Air/Manual Hyd.
NAPA Air Compressor Mdl 82-279-HAT,
Transmission Jack, 1,000 LB
2 Stage, 7 HP, 1 PH, 120 Gal Vertical
(4) Marsh Stencil Cutters, ¼" , ½", ¾" &
Tank
1"
Mdl CP-9 2-Post Vehicle Maintenance
(2) Torit Downdraft Tables 5' x 4'
Lift Platform 9,000 LB
(2) L&R Ultrasonic Parts Washers Mdl
Jet No. 1 & No. 2 Arbor Presses
650H
Magnus Magna Lift Parts Washer w/Air
Kew Mdl 0701V Heated Pressure Washer
Agitator & Power Bed
Craftsman Mdl 68768050, 3,000 PSI Gas
Hammond 6" Carbide Pedestal Grinder
Powered Power Washer
½ HP
QB Portable Sand Blaster, 125 PSI
ATI Swedged Terminal Pull Tester, 4200
MAE Portable Spot Bead Blaster
Max, AT520CT Kit, P/N T1CI8504
Wesco 750 LB Hyd Lift Dolly
Craftsman 12" 1 & 1/8 HP Band Saw w/
LUBEQ Mdl 27902 Pneumatic Oil
Tilt Table
Dispensing Barrel
Central Bench Top Mini Lathe, 3" Chuck,
Black Hawk Mdl 87552 GPU Transmission
7" Swing, 16" Bed
Jack
Dayton 12" Bench Top Drill Press
Black Hawk ½ Ton CSD Jack
Craftsman 10" Table Saw w/Dust
28" x 40" Steel Surface Plate
Collector
20" Bench Top Sheet Metal Finger Break
Enerpac Poly Cyl Bottle Holders
Model 9317 DeMag Coil
(12) Boeing Empty Tool Chests
2 Place Bottle Cart
Vehicle Jack Stands
14 Place Bottle Stand
Pneumatic Oil & Grease Barrel Pumps
Shaefer Bearing Surging Tool System
Several Extension Cords
RKH0300-0301-0302-0303-0304
(2) Roll-A-Round 250V Extension Cord
Cold Working Sleeves, Bushings & Kits
Servicing Carts
Universal Bead Blast Cabinet
w/ Reclaimer & Filter
System, 4' x 4' x 4'
New Age Rockwell Hardness
Tester w/ Digital Display
Aeroquip P/N S1347C Hose
Fitting Crimping Machine
High Pressure Hose Test Cell
Buffalo 8" Pedestal Grinder,
3 HP
(4) Aero Quality TC228 Trickle Chargers
Banding Machine
(2) Nitrogen Dispensing Tanks
24" x 32" Hyd Lift Table
Renshaw Probe (Maping) Kit
NCI Mdl 8200 Digital Scale 50 LB
(2) Magenta 420 Bag Sealers
Several Wet/Dry Vacs
(2) 55 Gal Barrel Vacs
Assalub Pneumatic Grease Cart
2,760 & 3,000 LBS Ballast Weights
Aircraft Recovery Kit
(2) 3 Ton Chain Hoists
Miller Soft Stop Fall Restraint Lanyards
Snap-On 9-Drawer Tool Chest
(2) Engine Hoists
Several Mechanics Creepers & Stools
Several Bench Grinders
Linebacker Cable-Hose Trip Protector
Several Explosion Proof Drop Lights
Halogen Shop Lights
Green MDL 106 Engraving Machine
Ashcroft 5000 Strut Gauge
2 & 5 Ton Floor Jacks
FTI Mdl IW10MF Power Pack
AIR CRAFT & AXLE JACKS
(2) Regent Mdl 50-120-72, 50 Ton 757 Wing
Jack, Air Over Hyd
(2) Regent Mdl 50-60-44, 50 Ton 737 Wing
Jack, Air Over Hyd
Regent Mdl 02-100-77, 2 Ton 757 Tail Jack,
Hyd
Malabar Mdl 525, 30 Ton 757 Nose Jack, Air
Over Hyd
Regent Mdl 15-100-77, 15 Ton 757 Nose
Jack, Air Over Hyd
(2) Regent Mdl 15-54-40, 15 Ton 737 Nose
Jacks, Air Over Hyd
Regent Mdl 15-100-40, 15 Ton 737 Tail
Jack, Air Over Hyd
Malabar Mdl 718A, 20 Ton 727 Nose Jack,
Air Over Hyd
(2) Malabar Mdl 793, 100 Ton 757/L-1011
Wing Jacks, Air Over Hyd
(2) 100 Ton L-1011/757 Wing Jacks, Air
Over Hyd
Malabar 757 Tail Jack, Air Over Hyd
Malabar 29 Ton 727 Tail Jack, Air Over Hyd
Malabar Mdl 731, 45 Ton Aircraft Jack, Air
Over Hyd
(4) Malabar Mdl 60P10, Axle Jacks 60
Ton, Air Over Hyd
(2) Regent Mdl 2150-8 50 Ton Axle
Jacks, Air Over Hyd
Malabar Mdl 60213, 60 Ton Nose Jack
Regent Mdl 2260-10, 65 Ton Nose Jack
(16) Enerpac Mdl JHA 756, 75 Ton Axle
Jacks
CREW/MAINTENANCE
STANDS, LADDERS, ETC
(16) Louisville
Aluminum Double
Sided Maintenance
Ladders, 3' to 12'
(11) Cotterman Roll-ARound Maintenance
Stands, 3'- 6'
10' Maintenance
Platform
6' Maintenance Ladder
5' Maintenance Platform
4" Roll-A-Round Ladder
(15) Fiberglass Ladders
2' – 10'
Misc Aluminum Step
Ladders
(7) Wasp Mdl A03730D4885, 757 Entry/
Maintenance Stairs,
500 LB Capacity,
Platform Height 131"
Minimum to 218"
Maximum
Wasp Mdl A01152D4884 Crew Access
Maintenance Stand,
500 LB Capacity,
Platform Height 97"
Minimum to 135"
Maximum
HAND & PRECISION
TOOLING
(13) Cherry & Huck Pneumatic Rivet Pullers; Several
Pneumatic Drills; (5) Right Angle Pneumatic Drills;
Several Pneumatic Rivet Hammers;
Chicago
Pneumatic CPO350 Pneumatic Rivet Squeezer; (3)
US Tools Pneumatic Rivet Squeezers; Huck 2025
Pneumatic Rivet Puller; Emhart 5200 Pneumatic Pop
Rivet Gun; Cherry Max G704B Pneumatic Rivet Puller;
(5) Chicago Pneumatic CP838 Pneumatic Knives;
Chicago Pneumatic Rivet Squeezers #CP-2; Several
Rivet Nut Pullers; Hand Rivet Squeezers; Buffalo
D100R Blind Rivet Puller; (2) Spot Face Reverse
Countersink Kits; Pneumatic Inline Sheet Metal Shear;
Good Selection of Rivet Sets; Rivet Squeezer Sets;
Several Bucking Bars; Counter Sink & Uni Bit Sets;
Hi Lok Collar Removal Kits; Rivet Nut Installation Kit;
Good Selection of Hole Finders; Rivet Nut Part Master
Tool; (8) Pop Rivet Pullers; Blue Point Pneumatic DA
Sanders; (10) Dynabrade Orbital Sanders; (40) Proto
& Snap On Torque Wrenches 1" & ½" Drives, FT/LB &
IN/LB; (12) Chatillion DFM-100 Digital Force Meters;
Mitutoya Series 568 Digital Bore Gauge; Greenlee
3/16"-2" Chassis Punch Set; Several Fowler & Starrett
Veneer Calipers 6", 12", 24" Some Digital; Mitutoyo
63" Caliper; (12) Thomas 2545B Vacuum Pumps;
Rimac 500 LB Spring Tester; Several Micrometers 1"
– 6" Some Sets Include Starrett, Brown & Sharp; (2)
Digital Protractors; (2) Forester Deflector Meter 2835;
(6) Chatillion 60 LB Spring Scales; (18) Starrett Dial
Indicator Depth Gauges; Hutchins Pneumatic Speed
Sander; Nortek Mdl 966 Optical Micrometer; (16)
High Press Tire Gauges; 3/8" Pneumatic Ratchet; ½"
Pneumatic Impact Wrenches; Black & Decker 3" Belt
Sander; Unibit Carbide Hole Saw Kit; Federal Pocket
Surf Portal Roughness Gauge; (3) Inside Mic Sets; (2)
Starrett Radius Gauge Sets; (10) Dial Indicators; (10)
Starrett Telescoping Gauges; (7) Schaevitz Digital
Protractor System; (25) Pacific Scientific C8 & T5
Cable Tensionmeters; Bundy Aircraft Terminal Cable
Swager; Raychem HT-900B Compressed Air Nitrogen
Heater; Enerpac 10,000 LB Tension Style Load Meter;
Cable Crimper; (6) Dayton & Snap On Bushing Driver
Sets; (3) Blue Paint Gasket Punch Sets; Roper Whitney
Hand Punch; Extech EA30 Digital Light Meter; (2)
Unison Type 4 Ignition Lead Polisher; (4) Ingersoll Rand
Pneumatic Die Grinder & Polisher; Dynafile Mdl 11000
Pneumatic Sanders; (22) Pneumatic Grease Guns; ACI
LK2 Aviation Lubrication Fitting Kit; Grease Gun Adapter
Assy Kit; Boeing, Rolls Royce & GE Go & No-Go Gauges;
Mark 4200 Digital Pressure Meter; Fluke 8050A Digital
Multimeter; (8) Glycol Hand Refractometer; Amtec
200 LB Force Gauge; Extech Mdl 475040 Digital Force
Gauge; Ingersoll-Rand 281-6 1" Pneumatic Impact
Wrench; Misc Go & No Go Gauges; Hansen Metric Tap
& Die Set; Several Tap & Die Sets; Walton Tap Extractor
Set; Good Selection of Numbered Bits, Countersink Kits
& Hole Saw Kits; (2) 7-¼" Circular Saws; Good Selection
of Safety Harnesses & Fall Resistant Lanyards; Mini
Weld II Plastic Welder; (11) Mitivac Hand Vac Pumps;
Helicoil Kits; Several Measuring Tapes; Snap On 3" Off
Sets; (9) Pneumatic Vacs; (3) Surface Sensitivity Probe;
(2) Hoover Grommet Installer; Porter Cable Router; (2)
Drager Gas Detection Pump; Very Large Selection of
High & Low Pressure Gauges, Ashcroft, Malabar, Fima,
US Gauge; Misc Hyd Strut Servicing Tools; (2) Scott
Maintenance Oxygen Bottle Kit; Large Selection of
Boeing & Lockheed Lube Fittings; (15) DeWalt & Misc.
Cordless Drills w/Chargers; Seelye Model 63 Plastic
Welder; (6) Hose Cutting Wrenches; Craftsman Router
Table; (3) Bag Sealers; (2) Sunnen Hones; Fore Dom
Mdl DD Dremel Tool, 1800 RPM Max; (5) Imperial Mdl
400 F 37° Flaring Tool w/Reamer/Deburring Tool; (5)
Pneumatic Buffer/Sanders; Sunbank Conduit Flaring
Tool; Gastech GT201 Portable Gas Detector; Fuel Tank
Sealant Repair Kit; ¾" OD Imperial Tubing Benders;
Proto 6 Ton Puller Set; Dewalt Mdl 332-5 Dremel Tool;
Large Selection of C-Clamps; Quiet Air Vac #7004; (8)
TRC Desoto Mdl 285 Sealant Mixers; (8) Number &
Letter Stamp Sets; Scriberite Kit; Several Plumbobs;
Starrett S-828H Center Finder; Accubird Cordless Pop
Rivet Gun; Craftsman Industrial Rotary Grinder; Makita
3" Belt Sander; (6) Heat Guns; Shaffield Steel Tape Kits;
(2) Desoutter Pneumatic Ratchets; Victor MHT-100 12
Volt Motorized Hand Torch; Milwaukee 9" Grinder; Snap
On & Misc Slide Hammer Puller Kits; Good Selection of
¼", 3/8", ½" Sockets & Extensions; Good Selection
of Strap Wrenches, Channel Locks, Vise Grips, Saws,
Welding Clamps, Crescent Wrenches, Crows Feet,
Sealant Guns, Etc.; Chadwick Expandable Reamer
Set; Good Selection of ¼" & 3/8" Sockets; Dead Blow
Hammers; Levels & Squares; Machinist Vices; (5)
Kurt & Misc Milling Vices; 15" Rotary Table, Several
Bench Vices; Very Large Selection of Threaded & Stem
Reamers; Indexing Collet; Milling Trees; Parallel &
V Blocks; Collets; End Mills; High Speed Twist Drills;
Radius Cutters; Roughing Cutters; Reamers; Carbide
Inserts; Helicoils; DuMont Broach Set; Narex & Criterion
Boring Heads; Milling Cutters; Milling Heads; Sheet
Metal Punches; Themac Lathe Tool Post Grinder; Bison
Indexing Head; Holdridge Mdl 4-S Radii-Cutter; 3" & 4"
Jaw Chucks; Clecos; Good Selection of Sanding Discs
& Pads; Several Other Hand & Precision Tools. Brand
Names Include Starrett, Mitutoyo, Fowler, Brown &
Sharp.
SCISSOR LIFTS &
MAINTENANCE LIFT TRUCKS
JLG
Scissor
Lift Mdl
2032E2,
Max
Height 20', 750 LB
Capacity
JLG Mdl 35S Scissors Lift,
7' x 14' Platform, 2,000
LB Capacity, 35' Max
Height
Lift A-Loft Scissor Lift
Truck Mdl APX-20,
Ford 6 Cyl, Auto Trans,
Platform
Elevated
Height 20', Platform
Capacity 3,000 LB
'99 Chevrolet Pickup, 5.8
Liter V-8, Auto Trans,
A/C, AM/FM, w/Stiner
Mdl HB-5 Scissors Lift
Platform
'98 Chevrolet Maintenance
Truck, 5.7 Liter V-8,
Auto Trans, w/Tesco
Scissor Lift Bed; 550
LB Capacity
'92 Ford F-250 Pickup,
5.8 Liter V-8, Auto
Trans, w/Scissors Lift
Maintenance Platform
& Tommy Gate
VEHICLES
'98 Ford F-250XL Super
Duty Pickup, 5.4 Liter
Triton Diesel, Auto
Trans, A/C, AM/FM,
w/ Tommy Lift Gate
'91 Chevy 20 Panel Van,
V-8, Auto Trans, A/C,
AM/FM
'89 Ford F-250 XLT Lariat
Pickup
w/Tommy
Gate, 5.8 Liter V-8,
Auto Trans w/OD, A/
C, AM/FM
'02 Chevrolet Mini Van,
4.3 Liter 6 Cyl, Auto
Trans, Front & Rear
A/C, AM/FM, Power
Windows & Locks
A 5% BUYERS
PREMIUM WILL
APPLY TO ALL
PURCHASES AT
THIS AUCTION
AVIONICS, INSTRUMENTS &
ELECTRICAL TEST SETS
(15) Barfield Mdl DPS 400 Digital
Pitot Static Testers
Barfield Pitot Static Test Set Mdl
1811G121
Allen Pitot Static Tester 25-30003
IFR Mdl TCAS 201TCAS Ramp Test
Set
(2) IFR ATC-600A Transponder,
DME Test Sets
IFR ATC 601 Digital Modes A, C & S
Transponder Ramp Test Set
(12) NAV AIDS 727, 757, L-1011 Nav Aids Mdl ADA737 Air Data
Pitot Static Accy Kits
Accy Kit
(7) NAV AID 737-600-700-800 Pitot Nav Aids 727-757 Air Data Accy Kit
Static Accy Kits ADA 737-678
LK 757-7272-10
(3) NAV AIDS 757 Pitot Static Accy Marchiori Air Data Test Set MPS
Kits ADA 757-612
24
TECSTAR Mdl PMAT 2000 Portable Access Main Terminal
(8) TIC T-30D Nav Ramp Test Sets
(12) Trimble GPS Data Loader 81635
(5) TIC Mdl T-24A-B DME-GSI
Collins Mdl 980N-1 Altimeter Test Set
Ramp Test Sets
JC Air Mdl 429EBP Data Analyzer
(8) TIC T-49C TCAS Transponder
Tektronix Mdl TVS 3012B 100 MA 2-Channel Color Digital Oscilloscope
Test Sets
(3) Tektronix Mdl 465B Oscilloscopes
TIC Mdl T-30C VOR ILS Ramp Test
(2) Tektronix Mdl 2246A 100 MHZ Oscilloscope
Set
Teletronix TDS 301-2B 2-Channel Color Oscilloscope, 100 MH
TIC T-29B Glide Slope Test Box
(7) Bird Watt Meters
TIC T-33D Transponder Ramp Test
HP 6267 DC Power Supply, 0-400 Volt & 0-10 Amps
Set
Dual Coffee Make Test Bench For DC-9, A300 A320HP 6268 DC Power Supply, 0-400 Volt & 0-30 Amps
211/212/231, 767, 757-200, 747-400
Lambada Mdl LK362-FMCS DC Regulated Power Oven Relay Test Set TW 7007
Supply, 0-60 & 0-30 Amps
Stab Trim Control Breakout Box P/N C27007-27
PMC AC Power Supply, 0-40 Volts, 0-3 Amps
757 Double & Single Oven Controller Test Panel
Sorenson DCR 40-40B DC Power Supply, 50 VDC, 50
TCAS Control Panel Test Box P/N IGG992-XX
Amps
(8) Hammond Multi-Shelf Avionics Test Cabinets
Electro DC Power Supply Mdl NF1, 60 V Max; 15 Amp
737 Indicator Light Dimming Test Panel P/N 1-69Max
55179-78
Electronic Aviation Systems 757-767 Mdl 101A Phase 737 Flight Recorder & Mach Airspeed Warning Module
Synchronous Volt Meter
Tester P/N 1233A3208
(3) Dosimeter Mdl 1888B Hand Held Radiation Meter
757 Strobe Light Test Box P/N LMPTST
(3) SE International 4EC Hand Held Radiation Meter
757 Boeing ILS Test Box P/N 602-0111-01
Victoreen Mdl 492 /Hand Held Radiation Meter
757 Boeing ADF Test Box P/N 602-0108-01
(8) PIC 313F Precision Thermometers
Aux Nav Accy Unit Test Box MPN34-0518-XXX
North Atlantic Digital Analyzing Volt Meter 2251
Gables G7500-3 Control Panel Test Box
(10) Fluke 33 & 337 Digital RMS Clamp Meter
Anti Collision Light Tester 130-2506
(3) Yoko Gawa 2426A Digital Insulation Tester
KOITO Window Heat Control Test Panel
Wavetek Mdl 2001 Signal Generator
Telephonics Mdl ND409F5000-1 CSIS Test Panel
HP 8601A Generator/Sweeper
Air Data Sensor Heat Test Panel
HP 8900B Power Meter
ILS-70 Test Panel
HP 3400A RMS Volt Meter
Alt Test Panel
HP 331A Distortion Analyzer
ATC Transponder Power Supply
HP 5245L Electronic Counter
DME Ind Test Panel
HP 8640B Signal Generator
Window Heat Panel Breakout Box 233N3212
(3) EAS Mdl 101A Phase Synchronous Voltmeter
Audio Distribution Breakout Box P/N 1-1-552817-109
(2) BriskHeat TT8301 Heat Control Box
Audio Accy Unit Test Panel
(6) Fluke Mdl 8050A & 77 Digital Multimeters
Audio Selector Test Panel
(4) Fluke 45 Digital Dual Display Multimeter
Light Dimming Module Test Panel P/N 69-55179-0
Fluke 80I-400 AC Current Probe
Pulse Switcher Test Fixture 1860OF-4PS
Fluke 505 Digital Thermometer
Dimmer Test Box P/N 1-70-0102-7
HP 3400A RMS Volt Meter
Attendant Call Test Set P/N 1-417N3011
(3) Simpson 260 Multimeters
Mixer Test Fixture P/N 860F-1
Biddle Mdl 431F Fault Locator Cable Tester
Aux Dimmer Test Box P/N 65C33409-1
Data Tech Mdl AB Moister Tester
Headset Tester P/N 28W0024-X
Kings KTH1000 Coax Crimper
Gables Headset Test Box G1492
Tentel Meter Tape Tension Gauge
Fluorescent Test Panel
(2) DMC HX4 Crimping Tools
Chart Light Dimmer Tester P/N 240001
Fluke Mdl 893A AC-DC Differential Volt Meter
Diehl Light Test Box For 4041 & 4042 Series
Matushita RD-AX220 Avionic Multiplex Tester
Electronic Ballast Test Box 8184-1
Interface Tech 429A ARINC Bus Analyzer
F-1 Logic Test Fixture Mdl 860
Hipotronics Hi Voltage Fault Detector
Avionics Inc VHF Test Box P/N 602-0110-01
(12) Yokogawa 2426A Digital Insulation Testers
Microphone Monitor Tester P/N 980-611-6XXX
AEMC 1250N Megohmmeter
Landing Light Test Box P/N 45-0351-XX
Amprobe AMB-4D Digital Megohmmeter
Fire & Overheat Detection Control Breakout Box P/
Extech Foot Candle Lux Meter
N26-14-42
(2) Raytek Digital Thermometer
Boeing FCU Module Breakout Box P/N I233A3202
Unison Type 4 Ignition Lead Positioning Tool
L-1011 Gyro Test Box
Several DMC & AMP Cannon Plug & Elect Repair Tools
Motorola & Misc. Selcal Test Boxes
AMP, Raychem & Sergeant Crimpers, Canon Plugs & Squibb Bench Tester
Misc Tools
APU Test Panel 233A3204-X
Misc Flow Meters and Manometers
Antenna Coupling Box
DMC Safe-T-Cable Terminal Tool
L-1011 NAV Accy Unit Test Box
Velocicalc Mdl 8345 Digital Velocity Meter
Air Conditioner Accy Unit Test Box P/N 65-52810
MRC Mdl A8AF Radome Moisture Tester
CSD Breakout Box
Pace Mdl PPS 400 Solder/Desolder Station
PA & Chime Test Box
Pace MBT Solder/Desolder Station
Temcal Temp Probes
(2) Pace Sensatemp Digital Soldering Station
L-1011 Windshield Temp Control Test Box
Pace ST65 Soldering Station
Multi Amp Mdl MS-1A Circuit Breaker Test Box
Several Avionics Test Set Cabinets
Cabin Interphone Test Panel
Several Avionics Test Cables
BCD5 Incandescent Lamp Dimmer Test Panel
Several Avionics Decade Boxes
Dimmer Test Panel
Misc Amp Tools
Water Line Heater Test Panel P/N 1535336
Several Multimeter Probes
Power Distributions Panel, 28V
Tektronix P6015 High Voltage Test Probe
AC Power Supply, 0-26V
Power Dist Transformer Tester w/Rectifier Test Panel
UUT Harness Test Panel
Fluke 80K-40HV Probe, 400 KU Max
Video Controller Test Panel
Superior Electric PowerStat Variable Transformer Mdl Cabin Intercom Test Panel
PBA10-NOL-3
Several Other Misc. Test Panels & Breakout Boxes
UPHOLSTERY EQUIPMENT
Union Special Mdl A1200C Sewing Machine
(2) NC-860 Carpet Sergers
(3) Eastman Carpet Cutters
Porter Cable Mdl 7301 Laminate Trimmer
Upholstery Grommets, Sockets, Eyelets, Buttons, Etc.
Cargo Strap Latches, Fittings, Buckles, Anchors
BOEING 757 TOOLING
757/767 Nose Gear Lock Pins
757 Landing Gear Door Supports
Boeing 747/757/767 Floor Track Alignment Tool
757 C-Duct Handling Cart
757/767 APU Sling A49005
757 Main Landing Gear Jacking Bar B07008
(2) Main Landing Gear Trunnion Removable & Install
Tool B57003/B32020
Boeing Over Head Nose Landing Gear Removal & Install
Kit B3205
Boeing Specialty Tool Kit B49004
757-200 Nose Gear Locks B32028
757 Control Surface Rigging Bars B27030
757 Nose Cowl Sling B71040-38
757 Fan Cowl Panel Sling CP30401
757 Rudder PCU Sling C27049
757 Leading Edge Slat Sling B27019
(7) Boeing Flap Support Clamps B27025
757 Rudder Lock C27057-1
757 Main Cargo Door Sling B52016-1
Boeing Aileron Removal & Install Sling B27012-1
Boeing Radome Sling A53001-14
757 Sling Kit B71006
Boeing Passenger Door Guide Arm Removal Wrench
B52012
Boeing Main Landing Axle Sleeve Puller B32059-15
Boeing Strut Unload Adapter Kit B54019-15
757 Main Landing Gear, Lower Bearing Seal & Retainer
Puller Set B320023-75
Boeing Outboard Trailing Edge Flap Lock Out B2701420
757 NLG Lower Bearing Seal Puller B32024
757 Engine Pylon Tool Kit
757 Trailing Edge Flap Sling B27078
757/767 Line Maintenance Kit A34011-1
757 C Duct Lifting Sling CP30459
757 Leading Edge Slat Sling B27019-10
(2) 757 Aft Flap Sling B27025-42
(2) 757 T/R Transporter Hoist
L-1011-757 APU Tail Dock Stand
757 Nose Cowl Stand CP30343/4
757/747/777 General Boom Hoist, 400 LBS Max,
A20001-79
757/767 Nose Landing Gear Dolly A32038-23
Several 757 Lock Pin Kits
(2) 757 Master Warning PC Test Boards A31006-7
757 Auto Throttle Clutch Maintenance Tool Kit
757/767 L/G Pin Puller A54008
757 Drift Pin Punch Kit
757 Jack Pad Adapters
757 APU Starter Clutch Repair Kit
Large Selection Rigging Pins, Sling & Tool Kits for
Boeing Aircraft
757 C-Duct Repair Kit
757 IDG Hoist Adapter w/Jack
Boeing MLG/NLG Bushing Removal & Install Kit B20201
Boeing SPU Sling B49003-10
Boeing Pneumatic Duct Removal & Install Tooling
B36003
757 Cabin Pressure Relief Valve Test Tank
Large Selection T/R & Misc Remove Before Flight Pins
757 Landing Gear Lower Bearing Seal Puller B32024
(2) 757 Passenger Door Sling B52001-1
(14) 747-767 Aileron Trim Actuator Dummy A27088-13
(2) 727 & 757 Air Data Accy Kit LK 757-727-LN
(15) 757 Cabin Air Outflow Valve Hold Open Tool
A21008-3-2
(8) 757 Brake Rotor Alignment Tool B30258-14 & -17
(11) 757-767 RAM Air Door Hold Open Rods A21007-1
(10) 757 Main Landing Gear Actuator Lock Out B3201245
(3) 757 Cargo Fire Extinguisher Line Test Kit B26002-4
Boeing Leading Edge Slat Drive Lock B27077-1
Boeing Passenger Door Handle Test Fixture B52007-1
777 Flap Screw Back Lash Gauge C27030-49
757 MLG Strut Locking Pins B32028-21
757 MLG Axle Sleeve Puller B32059-15
757 C Duct Hold Open Rod B710 25-9
Boeing MLG Hold Open Strut B32017-1
IDG Hoist Adapter A71013-19
757 APU Support Tool B49004-1
Flight Deck Accy & System Break Out Box AS2037
Misc Boeing Specialty Wrenches
(7) Boeing Engine Speed Card Test Wires B21003-1
Boeing Flight Control Position Sensor Break Out Box
757 APU, Engine & Cargo Fire Bottle Cans
(6) Boeing Spoiler & Stab Lubrication Adapter Kit
B12006-1, B07002-1
747, 757, 767 C Duct Pump B54001-30
757 DMC502 Maintenance Kit
Boeing T/R Opening Hand Pump
(13) Boeing Safety Lanyards F80239-12
(9) 757 MCDP Remote Control Test Box H22001
Boeing Hoist Adapters A21001-45
(2) 767 MLG Extension Pump A32027
757 Engine Safety Rod B71025
727-767 Roller Swage Drill Kit F80113-64
757 Pylon Remer Kit
757 Fuel Sump Adapter Kit
757 Squib Test Box A26001-28
757 Cowl Hinge Load Gauge
737/757 Specialty Tools to Include T/R Hold Open Arms,
Leading Edge Coupling, Pins, Seat Tract Gauges, L/G
Lock Down Pins, Fan Cowl Slings, Wing Jack Fittings,
Power Cables, L/G Actuator, Door Locks, Cargo
Roller Staking Tools, Outflow Valve, Hold Open, Flap
Servo Gauges, APU Removal Hoist, Control Surface
Rigging Blocks & Locks, L/G Alignment Pins
757 Tooling to Include Rat Drain, Flap Fitting, Cable
Holders, Spanner Wrenches, Fuel Drain, Line
Wrenches, Rudder Pedal Tester, Go-No-Go Gauges,
Load Cell Adapters, O-Ring Removal, Various
Specialty Pullers, PCU, Clamps & L/G Tooling
Several Boeing Rigging Pin, Control Lock, Landing
Gear & Airframe Specialty Tools to include Boeing #
C32026-1, C27001-35, C78023, F80201-1, B27010-1,
C 332012-1, B32049-6, C27008-22, C320021, C780231, B27001, F80049-2, B32013-13, B52023-22
NOTE: This List of Tooling Should Be Used As A
Guideline. There Are Far More Tools Available Than
Could Be Listed. The Majority Of The Tools Were
Manufactured By Quality Tooling And/Or Airspares
Tooling, Both Boeing Companies.
BOEING 737-600, 700 & 800 TOOLING
737 Main Landing Gear Removal & Install Tooling
w/Dolly (New); (3) 737/757 APU Shipping Cradle
w/Dolly's; 737/CM56-7 Thrust Reverser Removal/
Install Sling Kit; 737 MLG Walking Beam Remove &
Install Kit P/N C32028-59; 737 MLG Lower Bearing
Seal Remove & Install Tool P/N C32017; 737 Nose
Landing Gear Metering Pin Removal & Install Tooling
C32035; 737 MLG Walking Beam Install & Removal
Sling C32028-3; (3) 737 Hyd Equipment Dolly's
C78011-37; B737 600, 700, 800 Air Data Assy Kit
AD737678; 737, 600, 700, 800, 767, 777 Fuel Shut
Off Valve Alignment Tool B28009; JC Air PSD 737-2
Boeing 737-600/700/800 Fuel Qty Interface Box; 737
Pressure Test Adapters 856A1467G01; 737 Alignment
Fixture 856A3708G01; 737 MLG Pin Removal & Install
Kit C320 29-1; 737 CFM56 Fan Blade Retainer Puller
85A378ZG0Z; 737 Landing Gear Spring Extender Tool
C32014-1; 737-757 Anti Skid Transducer Removal
Tool C32021-1; (16) 737 T/R Cowl Opening Pump
C78005-21; 737 Landing Edge Slat Sling C27056; 737
Leading Edge Slat Actuator Lock Out Set C27051;
737 Brake Puller B32016; Nose Landing Gear Door
Template B32053; 737 MLG Door Hold Open Door
Struts; 737 Aileron Removal & Install Sling C27055;
737 Trunion Removal & Install Kit C32031-1; 737
Elevator Tap Rigging Bar C27028-21; 737 IDG Jack
Adapter C24002-41; 737/767 Inlet Cowl Removal &
Install Lifting Bars B71040-3; (13) Boeing 737 thru
777 LAV System Pump Adapter Kits P/N A38012-0
& -1; 737/777 Lav System Vac Pump Kit A3813-18
& A3012-1; 707/777 Rudder Pedal Force Gauge
F8021-19; 737 Waste System Blockage Removal
P/N G-38006-1; Boeing Heat Exchanger Backflush
Equip; 737 Engine Sump Re-Lube Tool Set; T/R Sling
P/N C78022-1; 737 Stabilizer Jack Screw Handing
Kit C27050-32; Boeing Control Surface Balance
Beam w/Fixtures 737-600, 737-800, 757 Fixtures;
737/757/767 EFICS Software Loading Tray C3400652; Boeing Passenger Door Sling B52001-1; 737 APU
Mount Bolt Thread Protectors C49006-1; 737 Cargo
Door Sling; Boeing Elevator & Rudder Centering Unit;
737 Inboard Spoiler Lock C27046; 737 Landing Gear
Retention Straps C32030; 1,000 LB CSD Jack; Squibs
Testing Fixture; 737 Aft Engine Strut Removal &
Installation Jack; 737 Cargo Fire Extinguisher Tester
C26006; Boeing Rudder PCU Test Box C29002; Boeing
Line Maintenance Stab Trim Control Box C27007-27;
(2) 737-600/700/800 Variable Stator Vane Actuator
Maintenance Pump; Boeing NLG Rigging Protractor;
737/747/757/767 Angle of Attack Test Fixtures;
J34002 Boeing Entry Door Arm Line Removing Kit
F70335-1; Large Selection Rigging Pins, Sling &
Tool Kits for Boeing Aircraft; Boeing Control Wheel
Adapter Tool C27060; (8) Boeing Spoiler Actuator
Lock Sets C 27047; 737-757 Flight Deck Door Drilling
Fixture B221200; Transmission Jack C78009-33; (10)
737, L-1011 Fuel Sumping Tools; (4) 737 IDG Jack
Adapter Plate C24002-44; (11) Boeing Passenger Door
Maintenance Door Safety Barriers B52003-12; Boeing
Rudder Pedal Force Gauge F80102-19; (3) AT86 Accy
Kit; (5) 737 & 757 Cargo Fire Extinguisher Line Test
Kit B26002; (3) 737 T/R Lock Cables B78009-26; (5)
737 Engine Fire System Test Equipment C26004-33;
(3) 737 T/R C Duct Latching Tool C78020; (3) 737
T/R Locking Cables B78009-26; 737 Leading Edge
Slat Drive Lock B 27020-31; (2) 727-777 Sump Drain
Valve Removal & Install Tool B28001-13; 737 CFM567 T/R Hold Open Arm C78021-1; 737 T/R Cowl Hold
Open Rod C78019-15; 737 Battery Install Removal
Tray C24003-1; 737-757 Brake puller Set B3201613; 737 Inlet Cowl Lifting Fixture; Aerospace Inv,
Boeing Breakout Boxes; Cargo Fire Extinguisher Test
Set C26006; (3) 737 Hyd Ground Fault Test Consoles
F72917-19; (3) 737 Cargo Fire Extinguisher Test Box
C26006; 737 Air Conditioner PAC Hoist Adapter C210
05; (7) Boeing MLG Axle Thread Protectors C32022;
(3) 737 Nose Gear Wrench Kits C32012-1; (4) 737
LAV System Roto Rooter; (21) 737 Ground Spoiler
Lock Set C27046-13, C27047-1; 737 Rudder Pedal
Force Check Gauge F80212-19; Large Selection of
Boeing Wheel Wrenches; (5) LE Slat & Kruger Flap
Lock Sets C27051-1; Boeing Slat Actuator Measuring
Tool 898489; 737 Strut Inflation Gauges; 737 Fan
Disk Pressure Gauge Kit 856A4633G02; Boeing PCU
Breakout Box B27061-2; 737 Tooling to include
Boroscope Guide Tubes, Thread Protectors, Flight
Control Locks, Cowl Tie Downs, Clamps, Jack Screw
Tools, T/R Tools, CFM56 Tooling; 737/757 Specialty
Tools to include T/R Hold Open Arms, Leading Edge
Coupling, Pins, Seat Track Gauges, L/G Lock Down
Pins, Fan Cowl Slings, Wing Jack Fittings, Power
Cables, L/G Actuator, Door Locks, Cargo Roller
Staking Tools, Outflow Valves, Hold Open Valves,
Flap Servo Gauges, APU Removal Hoist, Control
Surface Rigging Blocks & Locks, L/G Alignment Pins;
Several Boeing Rigging Pin, Control Lock, Landing
Gear & Airframe Specialty Tools to include Boeing
# C32026-1, C27001-35, C78023, F80201-1, B270101, C 332012-1, B32049-6, C27008-22, C320021,
C78023-1, B27001, F80049-2, B32013-13, B5202322; 727 Engine Fan Change Kit; 727 1 & 3 Engine
Boot Strap Kit; (4) 727 Engine Slings; 727 Control
Surface Rigging Set
NOTE: This List of Tooling Should Be Used As A
Guideline. There Are Far More Tools Available Than
Could Be Listed. The Majority Of The Tools Were
Manufactured By Quality Tooling And/Or Airspares
Tooling, Both Boeing Companies.
PAYMENT TERMS: Cash, Cashiers Checks,
Travelers Checks, Certified Funds, or Company
or Personal Check ONLY IF ACCOMPANIED BY A
BANK LETTER OF GUARANTEE! NO EXCEPTIONS!
Wire Transfers will be accepted with a 20% NONREFUNDABLE Deposit made in one of the forms
listed above, payable day of sale. We also accept
MasterCard and Visa. There is an additional 3%
charge to all credit card transactions. This is in
addition to the 5% Buyers Premium.
ROLLS ROYCE
ENGINE TOOLING
RB-211-535 L.P. Fan Module Lifting Adapter
RB-211-535 Beam Assy; P/N CP30447
(2) Rolls Royce 524/22 B Single Point P3026513
Rolls Royce After Body Install/Removal Sling
CP30202
RB-211 03 Intercase Module Removal Fixture
RB-211 04 Module Removal Tool
RB-211 IPC Removal Tool HU23022
RB-211-535 Internal Pullers, Shafts & Tool Set
(4) RB-211 22B/524 Aft Body Transport Carts
(11) RB-211 22B/524 Fan Transport Cart
Rolls Royce 535 Shipping Cradles CP30503-2
(3) RB-211-22B/524 Thrust Reverser Lifting Fixture
Rolls Royce RB-211-535C Sling CP30481
RB-211-535 Compressor Nozzle Fixture
535 C Duct Transport Cart
(3) RB-211-535 Hi Speed Gear Box Maintenance
Dolly & Slings
(6) RB-211-535 Exhaust Nozzle Cradle B71033
(4) RB-211-535 Power Trim Adjustment Wrench
B730 01-1
RB-211-535 E4 T/R Retaining Pin Set B78620-1
Rolls Royce Single Point HU55439-3
Rolls Royce RB-211-22-52 P/N CP21853/1AR Fan
Guide Pin Tool
RB-211-524 Boot Strap Kit
RB-211-22 LP Fan Lifting Fixture
RB-211 Fan Blade Lifting Adapter; P/N HU25657
RB-211-22B Boot Strap Kit
RB-211 Cowling Work Tubs
Rolls Royce Lifting Sling CP300-72-2
RB-211-22B Front Fan Case Removal/Install Fixture
RB-211-22B C Duct Sling
Rolls Royce TH-100 Fan Blade Inspection Tool
RB-211 Duct Removal & Install Tools B78002-36
RB-211 EPR Leak Detection Kit
(8) RB-211 Engine Transport Stands
RB211-22B Specialty Tooling, Tubular Bolt Install &
Removal Tool, Splitter Removal Tools, Fan Shaft
Imolize Tool, IPC Turning Tool, T/R Blocker Door
Alignment Tool, Specialty Slide Wrenches
L-1011 TOOLING
L-1011 Main landing Gear Trunion Bushing Tool
L-1011 Rudder Sling
L-1011 AFT Cowl Sling
L-1011 Fuel Qty Break Out Boxes
(3) L-1011 Radio Alt Test Harness
L-1011 Wheel Wrenches
L-1011 Nose Cowl Transport Dolly
(3) L-1011 Nose Cowl Stands
L-1011 Main Landing Door Rod Test Fixture
L-1011 Auto Pilot Breakout Cables
L-1011 Rigging Pin Kits
L-1011 Nose Gear Maintenance Cradle
L-1011 Heavy Duty Maintenance Stand Castors
COMPOSITE REPAIR KITS
(5) ATACS Mdl 8024-2 Hot Bonder Kits
ATACS Mdl 8013 Hot Bonder
Avtron Mdl T477N Composite Bonder Meter
(4) WAP SQ10 Composite Sanding Vacs w/Sanders
Note: The Hot Bonder Kits Will Include The Blankets
& All Other Attch.
CABINETS, BENCHES, SHELVING, RACKS
(42) 2-Door Fireproof Cabinets
(39) 2-Door Metal Cabinets
(20) Vidmar & Vista Style Cabinets
(18) Foreman Stands
Good Selection of Pallet Racking, Various Sizes, Misc.
Bulk Racking
Very Large Selection of Gray Metal Shelving w/12", 18"
& 24" Shelves
Cantilever Shelving
Very Large Selection of Plastic Parts Bins
(2) Raw Stock Racks
Fireproof Overnight Rag Cans
(4) Roll-A-Round Parts Racks
International 5-Drawer Roll-A-Round Tool Cabinets
6' x 4' Metal Table w/Wheels
Several Hardware Cabinets
Several Metal & Wood Shop Benches 6', 8' & 10'
EDDY CURRENT TESTER, BOROSCOPES &
SPECIALTY TEST SETS
BATTERY CHARGERS
MTI Mdl PBS
4100 Portable
Engine Vibration
Balancing
System w/Printer
Controller
PBS 4100 Without
Printer
Christie Mdl RF-80H NiCad Battery Charger
Discharger
(2) D&C Type DC-201A NiCad Battery Charger
Analyzers
D&C Mdl DC-4A NiCad Battery Charger Analyzer
D&C Mdl 402-A NiCad Battery Charger Analyzer
D&C Mdl DC-40 NiCad Battery Charger Analyzer
(3) DC Mdl DCF-14 Battery Chargers Analyzers
LORAD LPX160 3-Piece X-Ray Kit, Control-Coder AssyX-Ray
Evergreen Roadrunner II 5-Channel Digital Aircraft
Scale 100,000 LBS Per Cell
ACMI Mdl BLS-99U Boroscope Light Source
Lenox FT-150 Boroscope Light Source
UE Systems Ultra Probe 500 Ultrasonic Inspection Gun
Wolf 4,000 LB Boroscope Light Source
Parker DA 200 Contour Probe
Machida MCZ-7000 Series Boroscope Camera &
Recorder
Olympus GT-JT-8 Flexible Boroscope
Zetec MIZ-22 Portable Eddie Current Tester
Branson USKIS Flaw Detector
Nortec NOT131 Digital Ultrascope
X-Rite 301 Density Meter
X-Ray Reader
Zetec Eddie Current Probe Accy Kit
JC Air 727 600-700-800 Fuel Qty Interface Test Box PSO
737-2
(20) Various Sizes of Dillon & Chatillion Dynamometers
(35) Enerpac 2,000 LB, 20,000 LB & 50,000 LB Load
Cells
Enerpac 5 Ton Dynometer
Simmonds PSD60-1 Fuel Qty Test Set
Altek 422 Thermocouple Calibrator
TIF 780 Digital Infrared Photo Tachometer
Monarch Digital Tachometer
Defelsko 600N2 Digital Thickness Gauge
Ultralight Mdl 100 Ultraviolet Light
Barber-Coleman-Mdl 9347-1 Hand Held Harness Tester
Thermal Anti-Ice Test Kit
GEC Digital Aircraft Scales
Lebow 3,000 LB Load Cell w/Digital Readout
Unison Power-To-Lite Ignitior Flight Line Tester P/N
137332
Vibrometer Type VM-3/C Vibration Analyzer
JC Air PSD757/767-1 Fuel Qty Test Stand
Drager Gas Detector Pump
Hamilton Standard AIDS System Test Kit Panel 7754192
ATACS Phosphoric Acid Anodizer Containment System
Mdl 0810
Ingersoll Rand Pneumatic Torque Multipliers
Sweeney 8102-8202 Torque Multiplier
Gastech GTS201 Portable Gas Monitor
DOUGLAS DC-10 TOOLING
Various Pieces of DC-10 Tooling. Approximately 150
Pieces. Call For Listing.
PLASTICS THERMOFORMING
MACHINE
AAA Model MB3660A Plastics
Thermoforming
Machine w/
Programmable
Controller, 60" x 40"
Table. Was Being
Used To Make Interior
Panels & Seat Plastic
Panels. Includes a Large Selection of Molds.
CFM-56 & P&W TOOLING
Several CFM 56 Shoring Stands
AGSE CFM56-3-7 Nose Cowl Dolly AM-1940-400
CFM 56-7 T/R Cowl Hold Open Tooling C78019
CFM 56 Engine Lifting Beam
CFM56 Fan Blade Puller Adapter 856A3905G01
Boeing CFM56 Platform Bushing Fixture 859A 3909G01
(5) 737 CFM56 T/R Accy Locks C78023-1
CFM 56 Fan Blade Puller 856A 3779G01
JT-8-15, -17 Sling
(11) JT-8 Pedestal Shoring Stands
JT8 2-3-6 Stage Boroscope Kit PWA 83002
P&W LPC Engine Ferry Strap Kit PWA 47907B
(3) JT-8D LPC Engine Ferry Strap Kit PWA 479077
JT-9D-7R4D Engine Control Test Cable A73001-1
JT-8D Transmission Gear Box Flow Meter
(3) P&W JT-8D Outer Combustion Chamber Eddie
Current Inspection Tool N01P640
Turbine Engine Lifting Bars
P&W 2000 Series Transport Cart
GE Engine Alignment Tool P/N 856A3709G02
GENERATORS
EX-CELL 5,000 Watt Gas Powered Generator, 10 HP,
BMZ5
Honda EG-5000 Gas Generator, 120V–240V
OFFICE EQUIPMENT
Canon Microprinter 90 Microfiche Reader/Printer
Canon Miro Printer 90 Reader Printer
3M Mdl 7565 Microfiche Reader/Printer
(2) Beverage Air Mdl KR24-1AS Industrial Cooler
Approx. (50) Office Desks include Metal & Formica
Top, Various Wood Desks, Some w/Credenzas, All
Double Pedestal
(30) Office Desk & Side Chairs
(36) Upholstered Side Arm Chairs
(20) 4-Drawer File Cabinets
(20) 2-Drawer File Cabinets
(20) Wood & Metal Bookshelves
JVC 36" Color TV
G.E. Color TV
Samsung 18" Color TV w/DVD Player
Overhead Projectors
Training Room Tables
Kodak Projectors
(4) DVD Players
(12) Microwave Ovens
(22) Folding Lunchroom Tables
Fax Machines
3 in 1 Machines
Office Jet G-85 3 in 1 Machine
Several Refrigerators
Woods 5' Chest Freezer
KROY Tube Marker 600 Label Maker
Sony VCR'S
Several Drop Safes
Grease & Bulletin Boards
Time Clocks & Card Holders
Magnavox CVL 300 Camcorder
MISCELLANEOUS
(4) 20"-32" Dayton Pedestal Fans
Dayton 48" Box Fans
(4) Digital Platform Scales; 10, 50 & 300 LBS
(10) Curbside Check-In Stands
(3) Digital Baggage Scales
Several Spill Containment Pallets
Prodeva Mdl 150 Can Crusher
4 Reel Air Pig Cart
Rubbermaid Forklift Dump Capable Trash Cart
Steel Scrap Cart
Sanding Discs
Scotchbrite Discs
Good Selection of Velcro
Several Rolls of Naugahyde; Rubber Mats & Cloths
Dry Ice Container
(2) First Aide Kits
Shop Built Water Faucet Spigot Test Tank
737 Officer & Captain Seat Acceptance Fixture
Hi-Lok Inv
Good Selection of Square Tubing & Angle Stock
Large Selection Hose Fitting Inv, Brass Fittings, Etc.
Aluminum Bar Stock
Steel Bar Stock
Brass Round Stock
Aluminum Extrusions, Channels & Angle
Several Sheets of Aluminum Various Sizes
Lexan Sheets
Steel Plates
Phenolic Sheets
Various Pieces of Honeycomb Panels
Gill Liner & Panels
(9) David Clark Maintenance Crew to Aircraft Head
Sets
Large Selection of Brooms & Mops
AUCTIONEER'S NOTE: ATA Airlines has closed their Indianapolis Maintenance Base and have contracted with Starman
Bros. Auctions to sell all remaining Equipment & Tooling at Public Auction. This Auction offers a very good line of Avionics
Equip. & Boeing Specialty Tooling as well as some good Shop and Ramp Equipment. Everything Sells "AS IS" "WHERE IS"
with no warranties implied or expressed. Neither the Auctioneer nor Owners shall be liable for any incorrect description
fault or defect. Everything positively sells to the highest bidder with no reserves. Payment must be made in full day of
sale. No property removed until settled for. Auctioneer is not responsible for accidents or stolen property. All counts are
approximate.