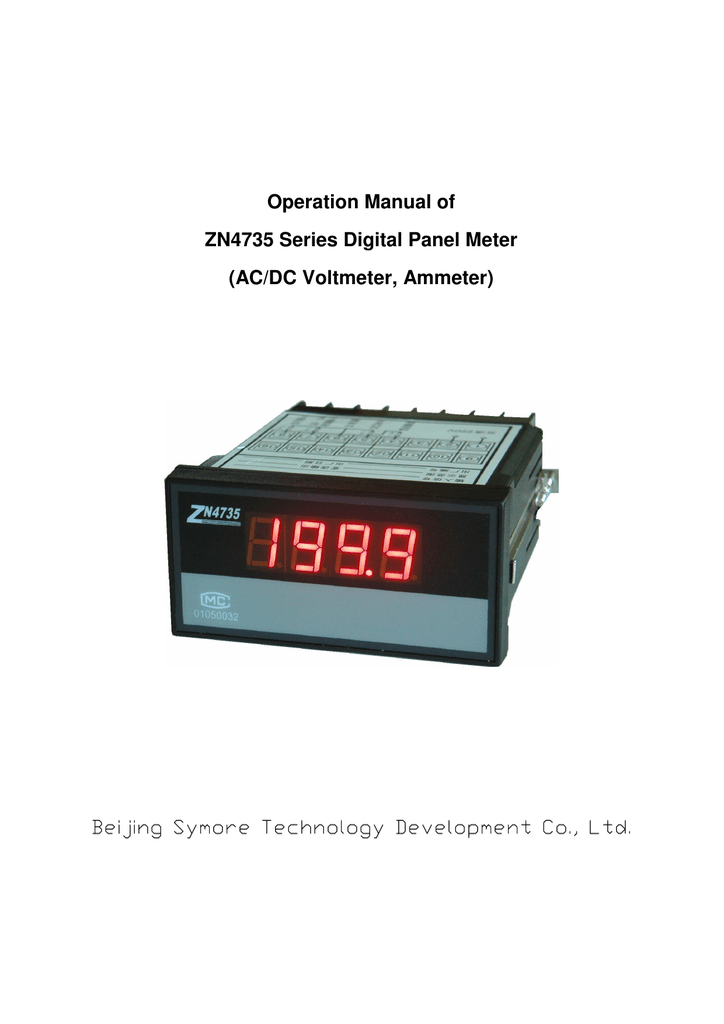 Operation Manual of
ZN4735 Series Digital Panel Meter
(AC/DC Voltmeter, Ammeter)
I.
Product Introduction
ZN4735 Series Digital Panel Meter is digital type electronic measure meter. With 48X96X112mm
international standard cases, 3-1/2 digits, 0.56 inches LED display, special large-scale integration (LSI) circuit,
and reasonable element and components disposition, this kind of quality product has a features of high
reliability and stability, excellent cost performance. It is very suitable to use as digital display for various digital
types of instruments and devices.
ZN4735 series of digital panel meter can be used directly in measure alternating and direct voltage and current.
If matches with inductance transformer it can measure 5-2000 A alternating current, matches current divider, it
can measure 2-2000A direct current. Directly join with three-wire system Pt100 and Cu50 resistance sensor,
measure temperature. Match standard signal transmitter to be used to measure temperature, humidity, acidity,
pressure, liquid level, displacement etc. All measure signals can be converted to standard signal (4-20 mA,
0-10 mA, 1-5 V and 0-5 V) to transmit output.
For some models frequently use, for example the AC 5A, DC 75mA, DC4-20mA models, the measurement
range can be customized by users.
II.
The
Product Denomination
ZN4735
Full measurement range value or sensor nominal value
AA Alternating current,
AV: Alternating voltage
DA: Direct current,
DV: Direct voltage
48X112X96 international standard case
3-1/2 digits 0.56 inches LED nixie light digital display
III.
Technical Specification
Upper Reading
±1999; effective value for AC type meter
Digital Display
4 digits 0.56 inches LED
Sampling Speed
DC type-1 Second AC type-3 Seconds
Overflow Display
1 or -1
Isolation Voltage
AC1500V between Input and power source
terminals
Power Source
AC220V±10% 50Hz
Power Consumption
less 3W
Weight
300g
Overall Size
48X96X112 mm
Mounting Hole Size
44+0.5X92+0.7 mm
Ambient Temperature
0-50
Relative Humidity
85%
IV.
ZN4735 Series Product Specifications
1. AC Ammeter
Model
Measurement
Range
4735AA-0.02
0-19.99mA
4735AA-0.2
0-199.9mA
4735AA-2
0-1.999A
4735AA-XX/5A
0- 199-1999
Accuracy
Input Mode
Input
Impedance
Remarks
10
Direct Input
1
1%
0.05
Current
Transformer
Measurement Range
0.05
Customized
2. AC Voltmeter
Model
Measurement
Range
Accuracy
Input Mode
Input
Impedance
4735AV-0.2
0-199.9mV
100K
4735AV-2
0-1.999V
100K
4735AV-20
0-19.99V
4735AV-200
0-199.9V
4735AV-500
0-500V
4735AV-XX/100V
0- 199-1999
Direct Input
Remarks
1M
1%
2M
2M
Voltage
Transformer
Measurement Range
1M
Customized
3. DC Ammeter
Model
Measurement
Range
4735DA-0.02
0-19.99mA
4735DA-0.2
0-199.9mA
4735DA-2
0-1.999A
4735DA-XX/75mA
0- 199-1999
Input
Mode
Direct
Input
Accuracy
Input
Impedance
Remarks
10
1
0.5%
DC
divider
0.1
Measurement Range
100K
Customized
4. DC Voltmeter
Model
Measurement
Range
Input Mode
Accuracy
Input
Impedance
4735DV-0.02
0-199.9mV
100M
4735DV-0.2
0-1.999V
100M
4735DV-2
0-19.99V
4735DV-20
0-199.9V
4735DV-200
0-200V
4735DV-500
0-500V
4735AV-XX/100V
0- 199-1999
Remarks
100M
Direct Input
0.5%
1M
2M
2M
Voltage
Transformer
1M
Measurement Range
Customized
5. Standard Signal Meter
Measurement
Model
Input Mode
Range
Input
Impedance
Accuracy
10
4735DA- 4-20mA
4735DA- 0-10mA
Connect to
Transmitter
0- 199-1999
4735DV- 1-5V
Measurement
10
0.2%
Range
1M
Customized
1M
4735DV- 0-5V
Remarks
6. Temperature
Input
Mode
Accuracy
Direct
Input
0.2%
Measurement
Model
Range
4735Pt100- X-X
-200.0-+600.0
4735Cu50- X-X
-50.0-+150.0
Input
Impedance
lead
<20
wire
Remarks
Three Wire
System
V. Products Wiring Diagram
RT
10
11
12
13
14
15
16
1
2
3
4
5
6
7
8
+
− DCA +
COM
−
+24V
AC 220V
Transmitting
O utput
9
ACA
+
−
75m V
DCA
ACA
+
−
VI. Application Illustrations
1. Measurement of the AC voltage: 0-380V
Use model 4735 AV-500 meter with its measurement range of 0-500V to direct measure (see picture).
AC 380V
Input
Power
4735AV 500
AC 220V
2. Measurement of the DC current: 0-50A
Select the model 50A/75mV DC current divider and the model 4735DA-XX/75mA customized measurement
range meter (nominal range is 50.0A) to measure. (See picture);
DC
Divider
Input
4735DA
Power
AC 220V
50.0/75mV
3. Measurement of the AC current: 0-130A
Select the model 150A/50A AC current transformer and the model 4735AA-XX/5A customized measurement
range meter (nominal range is 150.0A) to measure. (See picture);
AC current
T ransformer
Input
AC 220V
Power
4735DA
50.0/75mV
4. Measurement of the DC voltage: 0-300V
Use model 4735 DV-500 meter with its measurement range of 0-500V to direct measure (see picture).
DC 300V
Input
Power
4735DV 500
AC 220V
5. Measurement of the Temperature: -50 -+400
(1) Use Pt100 platinum resistance sensor.
(2) Select the model 4735 Pt100-(-50.0-+400.0) meter;
(3) Connect the Pt100 platinum resistance sensor directly to the three-wire system input terminals (see
picture)
Input
Pt100 Resistance
Power
AC 220V
4735Pt100 (-5.0 +400.0)
VII. Notes:
1. Don't connect the AC 220V power source to other terminals
2. Should avoid strong electromagnet interference, the measurement wires must use the shielding wires or
twisted wires.
3. Avoid the exquisite impact and vibration.
VIII. Trouble Shooting
1. Nixie tubes no lights, should inspection:
A. AC power connected to the terminals
B. The voltage is normal or not.
;
2. The digit numbers unstable, should inspection:
A. strong electromagnet interference;
B. Power supply stability
3. Only display digits 1 or -1, others no light, should inspection:
A. Whether the input terminals is open for voltmeter;
B. Whether the input voltage or current signal is over maximum range.