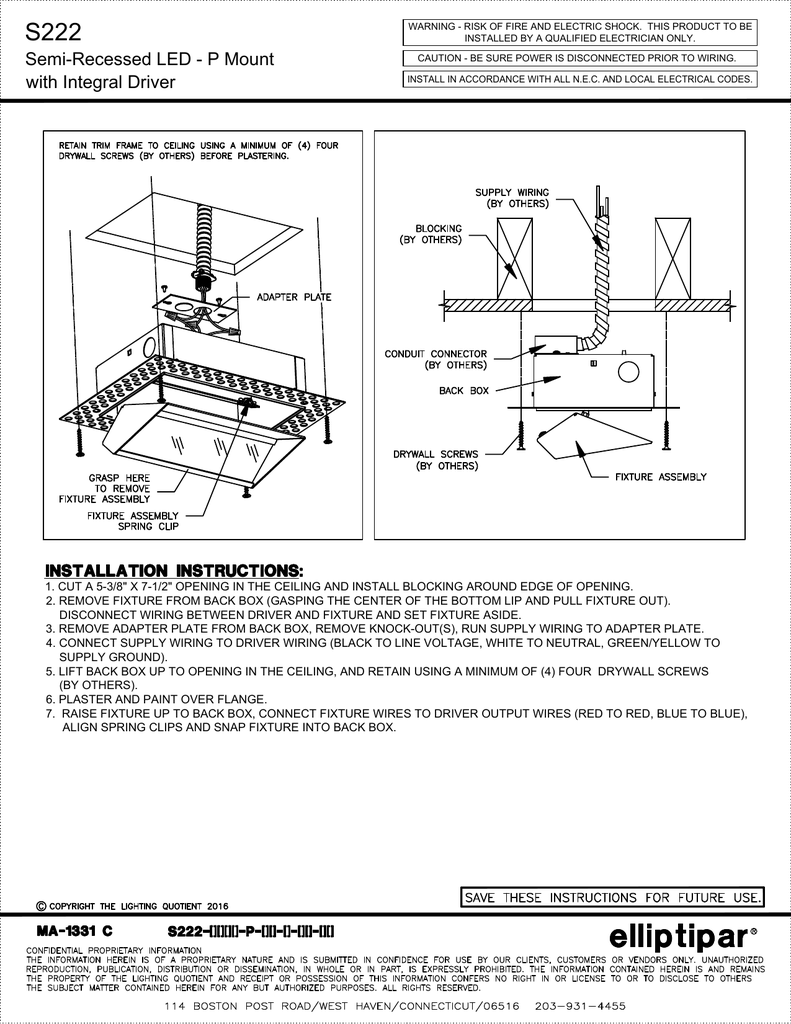 S222
Semi-Recessed LED - P Mount
with Integral Driver
WARNING - RISK OF FIRE AND ELECTRIC SHOCK. THIS PRODUCT TO BE
INSTALLED BY A QUALIFIED ELECTRICIAN ONLY.
CAUTION - BE SURE POWER IS DISCONNECTED PRIOR TO WIRING.
INSTALL IN ACCORDANCE WITH ALL N.E.C. AND LOCAL ELECTRICAL CODES.
1. CUT A 5-3/8" X 7-1/2" OPENING IN THE CEILING AND INSTALL BLOCKING AROUND EDGE OF OPENING.
2. REMOVE FIXTURE FROM BACK BOX (GASPING THE CENTER OF THE BOTTOM LIP AND PULL FIXTURE OUT).
DISCONNECT WIRING BETWEEN DRIVER AND FIXTURE AND SET FIXTURE ASIDE.
3. REMOVE ADAPTER PLATE FROM BACK BOX, REMOVE KNOCK-OUT(S), RUN SUPPLY WIRING TO ADAPTER PLATE.
4. CONNECT SUPPLY WIRING TO DRIVER WIRING (BLACK TO LINE VOLTAGE, WHITE TO NEUTRAL, GREEN/YELLOW TO
SUPPLY GROUND).
5. LIFT BACK BOX UP TO OPENING IN THE CEILING, AND RETAIN USING A MINIMUM OF (4) FOUR DRYWALL SCREWS
(BY OTHERS).
6. PLASTER AND PAINT OVER FLANGE.
7. RAISE FIXTURE UP TO BACK BOX, CONNECT FIXTURE WIRES TO DRIVER OUTPUT WIRES (RED TO RED, BLUE TO BLUE),
ALIGN SPRING CLIPS AND SNAP FIXTURE INTO BACK BOX.