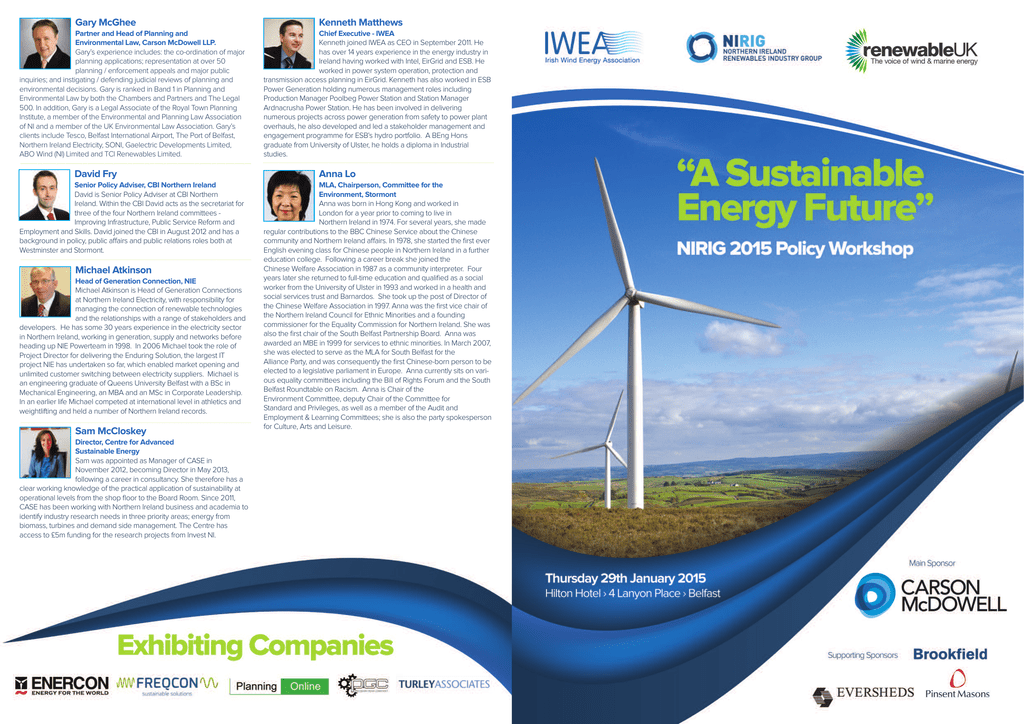 Gary McGhee
Partner and Head of Planning and
Environmental Law, Carson McDowell LLP.
Gary's experience includes: the co-ordination of major
planning applications; representation at over 50
planning / enforcement appeals and major public
inquiries; and instigating / defending judicial reviews of planning and
environmental decisions. Gary is ranked in Band 1 in Planning and
Environmental Law by both the Chambers and Partners and The Legal
500. In addition, Gary is a Legal Associate of the Royal Town Planning
Institute, a member of the Environmental and Planning Law Association
of NI and a member of the UK Environmental Law Association. Gary's
clients include Tesco, Belfast International Airport, The Port of Belfast,
Northern Ireland Electricity, SONI, Gaelectric Developments Limited,
ABO Wind (NI) Limited and TCI Renewables Limited.
David Fry
Senior Policy Adviser, CBI Northern Ireland
David is Senior Policy Adviser at CBI Northern
Ireland. Within the CBI David acts as the secretariat for
three of the four Northern Ireland committees Improving Infrastructure, Public Service Reform and
Employment and Skills. David joined the CBI in August 2012 and has a
background in policy, public affairs and public relations roles both at
Westminster and Stormont.
Michael Atkinson
Head of Generation Connection, NIE
Michael Atkinson is Head of Generation Connections
at Northern Ireland Electricity, with responsibility for
managing the connection of renewable technologies
and the relationships with a range of stakeholders and
developers. He has some 30 years experience in the electricity sector
in Northern Ireland, working in generation, supply and networks before
heading up NIE Powerteam in 1998. In 2006 Michael took the role of
Project Director for delivering the Enduring Solution, the largest IT
project NIE has undertaken so far, which enabled market opening and
unlimited customer switching between electricity suppliers. Michael is
an engineering graduate of Queens University Belfast with a BSc in
Mechanical Engineering, an MBA and an MSc in Corporate Leadership.
In an earlier life Michael competed at international level in athletics and
weightlifting and held a number of Northern Ireland records.
Sam McCloskey
Director, Centre for Advanced
Sustainable Energy
Sam was appointed as Manager of CASE in
November 2012, becoming Director in May 2013,
following a career in consultancy. She therefore has a
clear working knowledge of the practical application of sustainability at
operational levels from the shop floor to the Board Room. Since 2011,
CASE has been working with Northern Ireland business and academia to
identify industry research needs in three priority areas; energy from
biomass, turbines and demand side management. The Centre has
access to £5m funding for the research projects from Invest NI.
Kenneth Matthews
Chief Executive - IWEA
Kenneth joined IWEA as CEO in September 2011. He
has over 14 years experience in the energy industry in
Ireland having worked with Intel, EirGrid and ESB. He
worked in power system operation, protection and
transmission access planning in EirGrid. Kenneth has also worked in ESB
Power Generation holding numerous management roles including
Production Manager Poolbeg Power Station and Station Manager
Ardnacrusha Power Station. He has been involved in delivering
numerous projects across power generation from safety to power plant
overhauls, he also developed and led a stakeholder management and
engagement programme for ESB's hydro portfolio. A BEng Hons
graduate from University of Ulster, he holds a diploma in Industrial
studies.
Anna Lo
MLA, Chairperson, Committee for the
Environment, Stormont
Anna was born in Hong Kong and worked in
London for a year prior to coming to live in
Northern Ireland in 1974. For several years, she made
regular contributions to the BBC Chinese Service about the Chinese
community and Northern Ireland affairs. In 1978, she started the first ever
English evening class for Chinese people in Northern Ireland in a further
education college. Following a career break she joined the
Chinese Welfare Association in 1987 as a community interpreter. Four
years later she returned to full-time education and qualified as a social
worker from the University of Ulster in 1993 and worked in a health and
social services trust and Barnardos. She took up the post of Director of
the Chinese Welfare Association in 1997. Anna was the first vice chair of
the Northern Ireland Council for Ethnic Minorities and a founding
commissioner for the Equality Commission for Northern Ireland. She was
also the first chair of the South Belfast Partnership Board. Anna was
awarded an MBE in 1999 for services to ethnic minorities. In March 2007,
she was elected to serve as the MLA for South Belfast for the
Alliance Party, and was consequently the first Chinese-born person to be
elected to a legislative parliament in Europe. Anna currently sits on various equality committees including the Bill of Rights Forum and the South
Belfast Roundtable on Racism. Anna is Chair of the
Environment Committee, deputy Chair of the Committee for
Standard and Privileges, as well as a member of the Audit and
Employment & Learning Committees; she is also the party spokesperson
for Culture, Arts and Leisure.
Patrick McClughan
8:00am
Registration, Tea, Coffee & Exhibition Viewing
Session 1: "Keynote Session"
Chair: Patrick McClughan - NIRIG Chairperson
09.20
Patrick McClughan - NIRIG Chairperson
Head of Corporate Affairs, Gaelectric Developments
"Welcome Address"
09.30
Keynote Address (Speaker Confirmed)
"Keynote Address"
09.50
Questions & Answers
10.10
Tea, Coffee & Exhibition Viewing
Session 2: "Driving Sustainable Development"
Chair: Richard Murphy - Head of Energy &
11.00
John Mills - Head of Energy, DETI
"SEF Review"
11.20
Maf Smith - Deputy Chief Executive, Renewable UK
"Transition to the CfD"
11.40
Jo Aston - Director, NIAUR
"Regional Integration"
12.00
Questions & Answers
12.20
Lunch
Head of Energy & Natural Resources,
Pinsent Masons
Richard Murphy is a partner at leading international law
firm, Pinsent Masons LLP, advising public and private
energy clients on a range of regulatory, advisory and
transactional matters. Richard leads the Energy & Finance team in Ireland
with a strong track record in the renewable energy sector, securing a
range of high profile mandates including the recent appointment to
advise Full Circle Power/Bombardier on the 15 Mega Watt Energy from
Waste plant in Belfast Harbour Estate. Richard is recognised as an energy
policy expert, ranked as a leading lawyer in both Chambers UK and the
Legal 500. Richard sits on the Northern Ireland Renewables Industry
Group Committee (NIRIG) and is a regular speaker at energy industry
events and conferences.
Chair: Angela Larkin - Project Manager, Asset
Development, Brookfield Renewable Energy
Group
13.40
Angus Kerr - Director of Planning Policy Division, DOE
"Planning Frameworks for Sustainable
Development"
14.00
Derek McCallan - Chief Executive, NILGA
"Local Government Planning for Sustainability"
14.20
Gary McGhee - Partner, Carson McDowell
"Legal Update on Renewable Case Law"
14.40
Questions & Answers
15.00
Tea, Coffee & Exhibition Viewing
Session 4: "Pathways to a Sustainable Future"
Jo Aston
Director, NIAUR
Jo is a Chartered Civil Engineer; she has worked for both
the private and public sector, predominantly in the Utility
Sector. Her experience includes the design and
construction of major civil engineering projects,
operational management; Public Private Partnerships and Asset
Management planning. Jo has worked for the Utility Regulator since
2007, initially as Director of Water Regulation and since February 2014,
as Director of Wholesale Energy Markets. She is responsible for
regulation of the current Single Electricity Market and its re-design to an
integrated European market – I-SEM.
Richard Murphy
Natural Resources, Pinsent Masons
Session 3: "Planning for Sustainability"
MRICS - Head of Corporate Affairs,
Gaelectric Developments Ltd.
Patrick joined Gaelectric Developments Ltd over 4 years
ago and is responsible for Corporate Affairs in NI. Having
extensive development and M & A experience across a
range of sectors Patrick is a passionate advocate for the Renewable
Energy industry. He is a proven communicator and influencer when
voicing the opinions and concerns of the industry. Patrick completed a
BSc degree at the University of Ulster and is also a member of the Royal
Institute of Chartered Surveyors.
Chair: David Fry - Senior Policy Adviser, CBI
15.30
Michael Atkinson - Head of Generation Connections, NIE
"Project 40 Progress"
15.50
Sam McCloskey - Centre for Advanced Sustainable Energy (CASE) "Prespectives on New Opportunities"
16.10
Kenneth Matthews - Chief Executive, IWEA Ltd
"Reaching 2020 - Focusing 2030"
16.30
Anna Lo, MLA - Chair of the Environment Committee, Stormont
"Closing Address"
16.50
Workshop Close - Patrick McClughan - NIRIG Chairperson
Angela Larkin
Project Manager, Asset Development, Brookfield
Renewable Energy Group
Angela Larkin has worked in the renewable energy
sector since joining SWS Energy in 2008 and has over
10 years' experience in Project Management, Planning
and EIA experience in the delivery of renewable and capital infrastructure
projects. Angela currently works as part of the Asset Development team
in Brookfield Renewable Energy which is responsible for the delivery of
the company's Northern Ireland wind farm portfolio. Angela's previous
experience is in private consultancy with responsibility for securing
planning for residential and capital infrastructure projects. Angela has
been involved with the NIRIG Steering Committee and Planning &
Environmental Committee since 2008. Angela is a graduate of University
College Dublin.
John Mills
Head of Energy Division in the Department of
Enterprise, Trade and Investment (DETI)
John Mills has been Head of Energy Division in the
Department of Enterprise, Trade and Investment (DETI)
since January 2014. The Division's functions cover policy
development and implementation relating to electricity, gas, sustainable
energy in Northern Ireland and the all-island energy market. John has
previously been Director of Water Policy in the Department for Regional
Development including dealing with the establishment of Northern Ireland
Water as a regulated utility. Prior to this he has held a variety of posts in
the Northern Ireland Civil Service with a focus on policy and legislation.
Angus Kerr
Director of Planning Policy Division ,DOE
Angus Kerr is Director of Planning Policy Division with 22
years experience and is responsible for policy,
legislation, reform and transfer. He worked in the team
that prepared the original Regional Development
Strategy and has more recently worked on several development plans
across Northern Ireland. In his previous post Angus led the team
developing the new Development Plan system for Northern Ireland as
part of the wider Planning Reform process. He was then involved in the
team that took the Planning Reform Bill through the Assembly, which is
the largest Bill to go through the Assembly thus far.
Maf Smith
Deputy Chief Executive of Renewable UK
Maf Smith is the Deputy Chief Executive of
Renewable UK - the trade and professional body for the
UK wind and marine renewables industries. Formed in
1978, and with over 580 corporate members,
RenewableUK is the leading renewable energy trade association in the
UK. Prior to joining RenewableUK Maf worked at grid and regulatory
consultancy Xero Energy, and for much of this time was seconded to the
Department of Energy and Climate Change to work on Electricity Market
Reform. Between 2006 and 2011, Maf worked as Deputy Chief Executive
and Director of Scotland for the Sustainable Development Commission,
acting as advisor and scrutiny body to the Scottish Government. Between
2002 and 2006 Maf was Chief Executive of Scottish Renewables,
Scotland's leading renewable trade association.
Derek McCallan
Chief Executive, (NILGA)
Derek McCallan has been Chief Executive of the
Northern Ireland Local Government Association since
April 2011. Derek is responsible for advising /
supporting the NILGA political leaders, Executive and 157
elected members, taking forward policy and legislation as the
representative body of the 26 councils. This includes negotiations with
central government departments and agencies including the DoE,
regarding the major Local Government reform initiative within the NI
Executive's Programme for Government. Derek represents NILGA within
the Local Government Group as part of the UK / devolved assembly
national body for councils and is contracted by various Departments
fulfilling Strategic Migration, EU, Waste Management and other key
services for the sector. Derek is a graduate in Politics and English from
Trinity College, Dublin.