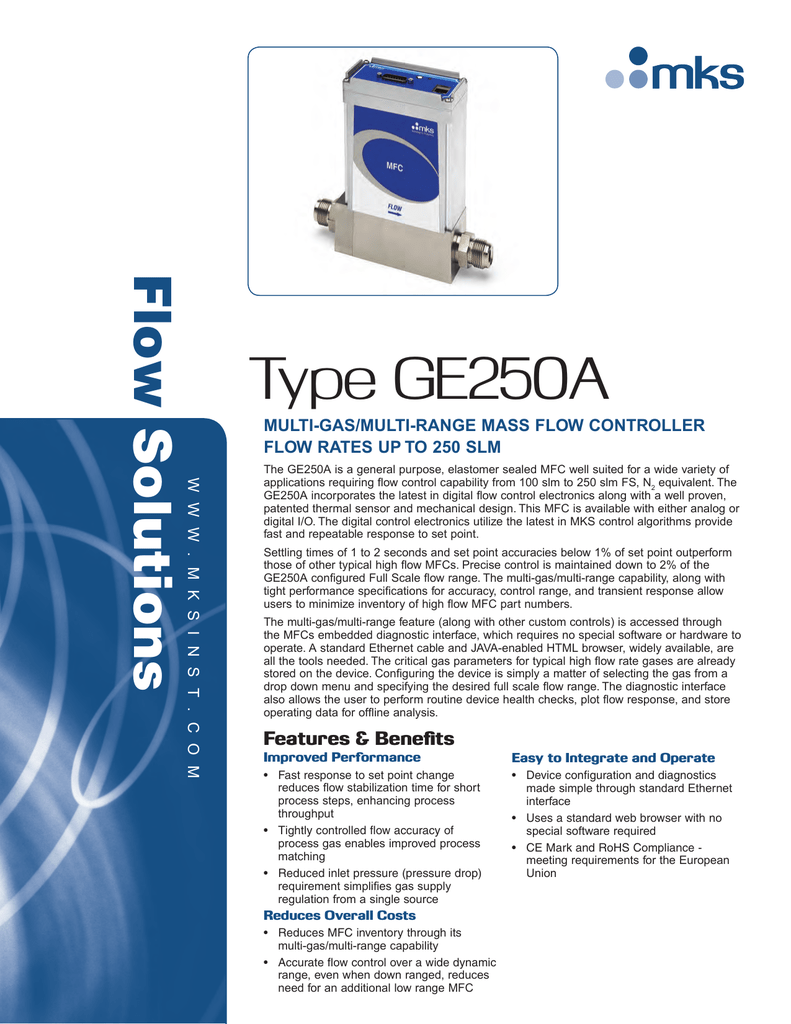 W W W . M K S I N S T . C O M
Flow Solutions
Type GE250A
MULTI-GAS/MULTI-RANGE MASS FLOW CONTROLLER
FLOW RATES UP TO 250 SLM
The GE250A is a general purpose, elastomer sealed MFC well suited for a wide variety of
applications requiring flow control capability from 100 slm to 250 slm FS, N2 equivalent. The
GE250A incorporates the latest in digital flow control electronics along with a well proven,
patented thermal sensor and mechanical design. This MFC is available with either analog or
digital I/O. The digital control electronics utilize the latest in MKS control algorithms provide
fast and repeatable response to set point.
Settling times of 1 to 2 seconds and set point accuracies below 1% of set point outperform
those of other typical high flow MFCs. Precise control is maintained down to 2% of the
GE250A configured Full Scale flow range. The multi-gas/multi-range capability, along with
tight performance specifications for accuracy, control range, and transient response allow
users to minimize inventory of high flow MFC part numbers.
The multi-gas/multi-range feature (along with other custom controls) is accessed through
the MFCs embedded diagnostic interface, which requires no special software or hardware to
operate. A standard Ethernet cable and JAVA-enabled HTML browser, widely available, are
all the tools needed. The critical gas parameters for typical high flow rate gases are already
stored on the device. Configuring the device is simply a matter of selecting the gas from a
drop down menu and specifying the desired full scale flow range. The diagnostic interface
also allows the user to perform routine device health checks, plot flow response, and store
operating data for offline analysis.
Features & Benefits
Improved Performance
• Fast response to set point change reduces flow stabilization time for short process steps, enhancing process throughput
• Tightly controlled flow accuracy of process gas enables improved process matching
• Reduced inlet pressure (pressure drop) requirement simplifies gas supply regulation from a single source
Reduces Overall Costs
• Reduces MFC inventory through its
multi-gas/multi-range capability
• Accurate flow control over a wide dynamic
range, even when down ranged, reduces need for an additional low range MFC
Easy to Integrate and Operate
• Device configuration and diagnostics made simple through standard Ethernet interface
• Uses a standard web browser with no special software required
• CE Mark and RoHS Compliance - meeting requirements for the European Union
Performance
Full Scale Flow Ranges (N2 equivalent)
100 to 250 slm
Maximum Inlet Pressure
150 psig
(cannot exceed pressure differential requirement across MFC)
Normal Operating Pressure Differential
30 to 55 psid (dependent on fitting type)
(with atmospheric pressure at the MFC outlet)
Burst Pressure
1500 psig
Control Range
2% to 100% of F.S. (range on mech.)
Typical Accuracy
± 1% of set point for > 20% to 100% F.S.
± 0.25% of F.S. for 5% to 20% F.S.
Repeatability
± 0.5% of Reading
Resolution
0.1% of Reading
Temperature Coefficients
Zero
< 0.05% of F.S./°C
Span
< 0.08% of Rdg./°C
Inlet Pressure Coefficient
< 0.03% of Rdg./psi or less
Typical Controller Settling Time
1 to 2 seconds typical above 10% F.S. @ 50 psi
Warm-up Time
one (1) hour
Operating Temperature Range (Ambient)
10°C to 50°C
Storage Humidity
0 to 95% relative humidity, non-condensing
Storage Temperature
-20° to 65°C (-4° to 149° F)
Mechanical
Fittings (compatible with)
8 VCO® male, ½'' NPT female, ½'' Compression, 8 VCR® male
Leak Integrity
External (scc/sec He)
< 1 x 10-9
Through closed valve
< 1.0% F.S. at 40 psia to vac (<500 mTorr)
(To assure no flow-through, a separate positive shut-off valve is required.)
Wetted Materials
Standard
316 S.S., 17-7 S.S., Elgiloy, 430FR
Seal OptionsViton®, Buna, Neoprene, EPDM
Surface Finish
16 µinch average Ra
Weight
less than 4.5 lbs. (2.05 kg)
Electrical Analog I/O CE Compliant to EMC Directive 2004/108/EC
Input Power Required
+15 to +24 VDC @ (< 4 watts)
Flow Input/Output Signal
Voltage (0 to 5 VDC)
15-pin Type "D" male
Current (4 to 20 mA)
15-pin Type "D" male
Dimensional Drawing
TOP VIEW
OVERALL LENGTH
SEE TABLE
FITTING CODE
FITTING NAME
OVERALL LENGTH
D
M
S
Dimensional Drawing Note: Unless specified, dimensions are nominal values in inches (mm referenced). Ordering Information
Ordering Code Example: GE250A013255TBV0020
Code
Configuration
GE250A
Type MFC High Flow Mass Flow Controller (multigas, multi-range) GE250A
Gas*
For example:
001 = Helium = He
001
013
004 = Argon = Ar
004
007 = Hydrogen = H2
007
013 = Nitrogen = N2
013
Flow Range Full Scale**
250 slm (250,000 sccm)
Fittings (compatible with)
8 VCR male
8 VCO male 1/2'' tube compression 1/2'' NPT female
Connector (Power & Control I/O)
15 pin D (Analog 0 to 5 VDC I/O)
15 pin D (4 to 20 mA I/O)
255
255
T D
T
S
M
B
B
H
Seal Materials
Viton
Buna-N
Neoprene
EPDM
V
B
V
N
E
Valve Type
Normally closed
Meter
Reserved for MKS Future Use
Standard
Firmware
Unless otherwise specified, MKS will ship firmware revision
current to date
0
3
0
0
0
20
20
* For gases not listed in the standard products gas table, please contact the MKS applications department for assistance.
Gas Table
Gas Name*
Helium
Argon
Hydrogen
Semi
Gas Code
001
004
Gas
Formula
He
Ar
Min - Max
FS (slm)
140 to 350
140 to 250
007
H2
100 to 250
Air
008
Air
100 to 250
Nitrogen
013
N2
100 to 250
** The Full Scale flow rate is designated by a 3 digit number. The first two digits represent the significant digits of the Full Scale flow rate separated by a decimal point. The third digit is the exponent of the power of ten.
Example flow rate code:
255 is 2.5 x 105 sccm or 250 slm
105 is 1.0 x 105 sccm or 100 slm
GE250A - 5/16
© 2015 MKS Instruments, Inc.
All rights reserved.
MKS Instruments, Inc.
Global Headquarters
MKS Instruments, Inc.
Flow Solutions
2 Tech Drive, Suite 201
Andover, MA 01810
Six Shattuck Road
Andover, MA 01810
Tel:978.645.5500
Tel: 800.227.8766 (in U.S.A.)
Web:www.mksinst.com
Tel:978.975.2350
MKS products provided subject to the US Export Regulations. Diversion or transfer contrary to US law is prohibited.
Specifications are subject to change without notice. mksinst™ is a trademark of MKS Instruments, Inc., Andover, MA. VCR®
and VCO® are registered trademarks of Swagelok Marketing Co., Solon, OH. Viton® is a registered trademark of E.I. Dupont
Company, Wilmington, DE. Elgiloy® is a registered trademark of Elgiloy Specialty Metals, Elgin, IL.