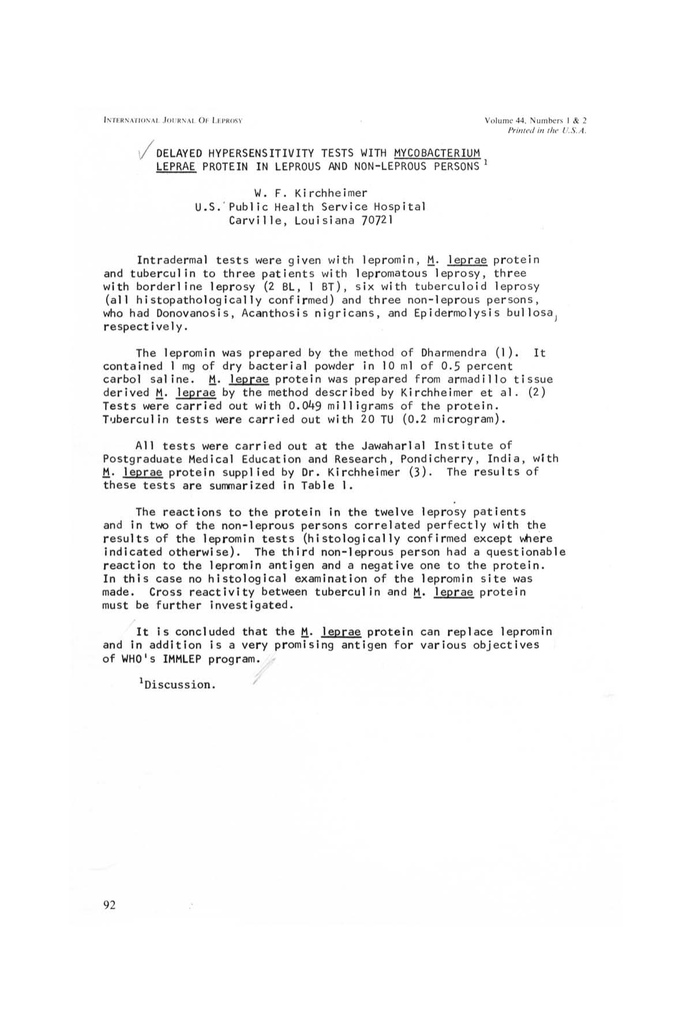 Volu me 44 . Num bers I & 2
Printed in the U.S.A.
vl' DELAYED HYPERSENSITIVITY TESTS WITH MYCOBACTERIUM
LEPRAE PROTEIN IN LEPROUS AND NON-LEPROUS PERSONS
1
W. F. Kirchheimer
U.S. ' Public Health Service Hospital
Carvil Ie, Louisiana 70721
Intradermal tests were given with lepromin , tl. leprae prot e in
and tubercul in to three patient s with lepromatous leprosy, three
with borderl ine leprosy (2 BL, 1 BT) , s ix with tuberculoid leprosy
(all histopathologically confirmed) and three non-leprous pe r sons ,
who had Donovanosis , Acanthosis nigricans, and Epidermolysis bullosa )
respective ly.
The lepromin was prepared by the method of Dharmendra (1). It
contained 1 mg of dry bacterial powder in 10 ml of 0.5 percent
carbol sal ine. tl. leprae protein was prepared from armadillo tissue
derived tl. leprae by the method described by Kirchheimer et al. (2)
Tests were carried out with 0.049 milligrams of the protein.
T'Jberculin tests were carried out with 20 TU (0.2 microgram).
All tests were carried out at the Jawaharlal Institute of
Postgraduate Medical Education and Research, Pondicherry, India, with
tl. leprae protein suppl ied by Dr. Kirchheimer (3). The results of
these tests are summarized in Table 1.
The reactions to the protein in the twelve leprosy patients
and in two of the non-leprous persons correlated perfectly with the
results of the lepromin tests (histologically confirmed except w,ere
indicated otherwise). The third non-leprous person had a questionable
reaction to the lepromin antigen and a negative one to the protein.
In this case no histological examination of the lepromin site was
made. Cross reactivity between tuberculin and tl. leprae protein
must be further investigated.
It is concluded that the tl. leprae protein can replace lepromin
and in addition is a very promising antigen for various objectives
of WHO's IMMLEP program.
IDiscussion.
92
'
44, I & 2
Table I.
W. F. Kirchheimer: M. leprae Protein Hypersensitivity Test
93
Lepromin , tl. leprae prot e in and tubercul in r e actions in
leprous an d non-leprous pe rsons
Type of
Disease
Lepromatous
Leprosy
Lepromatous
Leprosy
Lepromatous
Leprosy
Dimorphous
Leprosy(BT)
Dimorphous
Leprosy(BL)
Dimorphous
Leprosy(BL)
Tuberculoid
Leprosy
Tuberculoid
Leprosy
Tuberculoid
Leprosy
Tuberculoid
Leprosy
Tuberculoid
Leprosy
Tuberculoid
Leprosy
Donovanosis
Acanthos is
nigricans
Epidermolysis
bullosa
Lepromin
Reaction
in mm
Negative
M. leprae protein
Reaction in mm
48 hours
72 hours
Negative
Tubercul in
Reaction in mm
48 hours
72 hours
Negat ive
lOx 10
10 x 10
Negative
Negat ive
Negat i ve
12 x 12
12 x 12
Negative
Negative
Negat i ve
Negative
Negative
8 x 8
lOx 10
lOx 10
4
7
x
8
Negative
Negative
Negative
9 x 9
9 x 9
Negative
Negative
Negative
11 x 11
11 x II
5
6 x 7
7x 8
11 x 11
II x II
5
8 x 8
8 x 8
14 x 14
14 x 14
6
12 x 12
12 x 12
9 x 9
9 x 9
5
9
9
9 x 9
12 x 12
12 x 12
6
6 x 6
7 x 7
11 x 11
11 x 11
4
4
lOx 10
lOx 10
8 x 8
8 x 8
Negat ive
Negative
Negative
Negative
Negative
Questionable Negative
Negative
11 x 11
11 x 11
L3
x
5 x 5
5
x
5
9 x 9
8
x
8
94
International Journal of Leprosy
1976
REFERENCES
I.
Dharmendra. Notes on leprosy - Ministry of Health, Govt. of
India, 371-3~O, 1967.
2.
Kirchheimer, W. F., Prabhakaran, K., Harris, E. B., Sanchez, R. M.
and Shannon, E. J. Preparation of protein from Mycobacterium
leprae and skin-test responses of vaccinated armadillos. Lepr.
in I n d i all: I 42 - I 5 0, I 975 .
3.
Bedi, B. M. S., Harris, E. B., Narayanan, E. and Kirchheimer , W. F.
Delayed hypers ensitivity tests with Mycobacterium leprae
purified protein derivative. Accepted for publ ication, Leprosy
in India.