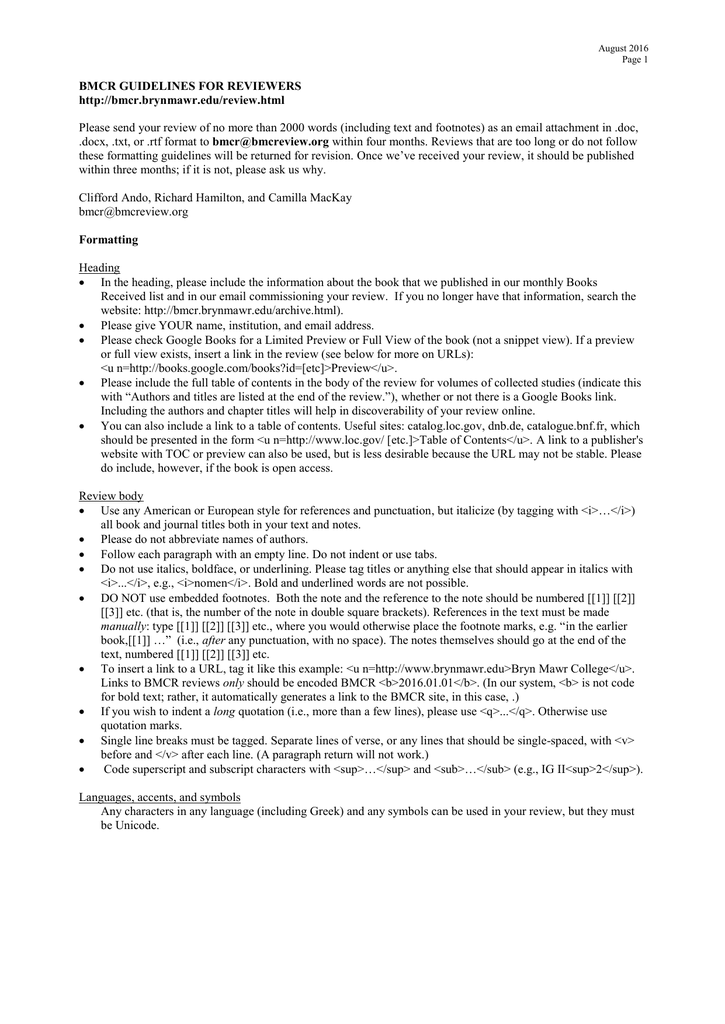 August 2016
Page 1
BMCR GUIDELINES FOR REVIEWERS
http://bmcr.brynmawr.edu/review.html
Please send your review of no more than 2000 words (including text and footnotes) as an email attachment in .doc,
.docx, .txt, or .rtf format to [email protected] within four months. Reviews that are too long or do not follow
these formatting guidelines will be returned for revision. Once we've received your review, it should be published
within three months; if it is not, please ask us why.
Clifford Ando, Richard Hamilton, and Camilla MacKay
[email protected]
Formatting
Heading
 In the heading, please include the information about the book that we published in our monthly Books
Received list and in our email commissioning your review. If you no longer have that information, search the
website: http://bmcr.brynmawr.edu/archive.html).
 Please give YOUR name, institution, and email address.
 Please check Google Books for a Limited Preview or Full View of the book (not a snippet view). If a preview
or full view exists, insert a link in the review (see below for more on URLs):
<u n=http://books.google.com/books?id=[etc]>Preview</u>.
 Please include the full table of contents in the body of the review for volumes of collected studies (indicate this
with "Authors and titles are listed at the end of the review."), whether or not there is a Google Books link.
Including the authors and chapter titles will help in discoverability of your review online.
 You can also include a link to a table of contents. Useful sites: catalog.loc.gov, dnb.de, catalogue.bnf.fr, which
should be presented in the form <u n=http://www.loc.gov/ [etc.]>Table of Contents</u>. A link to a publisher's
website with TOC or preview can also be used, but is less desirable because the URL may not be stable. Please
do include, however, if the book is open access.
Review body
 Use any American or European style for references and punctuation, but italicize (by tagging with <i>…</i>)
all book and journal titles both in your text and notes.
 Please do not abbreviate names of authors.
 Follow each paragraph with an empty line. Do not indent or use tabs.
 Do not use italics, boldface, or underlining. Please tag titles or anything else that should appear in italics with
<i>...</i>, e.g., <i>nomen</i>. Bold and underlined words are not possible.
 DO NOT use embedded footnotes. Both the note and the reference to the note should be numbered [[1]] [[2]]
[[3]] etc. (that is, the number of the note in double square brackets). References in the text must be made
manually: type [[1]] [[2]] [[3]] etc., where you would otherwise place the footnote marks, e.g. "in the earlier
book,[[1]] …" (i.e., after any punctuation, with no space). The notes themselves should go at the end of the
text, numbered [[1]] [[2]] [[3]] etc.
 To insert a link to a URL, tag it like this example: <u n=http://www.brynmawr.edu>Bryn Mawr College</u>.
Links to BMCR reviews only should be encoded BMCR <b>2016.01.01</b>. (In our system, <b> is not code
for bold text; rather, it automatically generates a link to the BMCR site, in this case, .)
 If you wish to indent a long quotation (i.e., more than a few lines), please use <q>...</q>. Otherwise use
quotation marks.
 Single line breaks must be tagged. Separate lines of verse, or any lines that should be single-spaced, with <v>
before and </v> after each line. (A paragraph return will not work.)

Code superscript and subscript characters with <sup>…</sup> and <sub>…</sub> (e.g., IG II<sup>2</sup>).
Languages, accents, and symbols
Any characters in any language (including Greek) and any symbols can be used in your review, but they must
be Unicode.
August 2016
Page 2
BMCR GUIDELINES FOR REVIEWERS
Content
We expect that reviews will have:
 a brief summary of the book's content and purpose, indicating its major sections;
 an assessment of the argument and the use of evidence;
 a discussion of its place in current scholarship, i.e., aspects of the book that the reviewer thinks are important
and innovative or of doubtful success or value;
 notice of factual errors and their gravity (presentation or appearance should generally be ascribed to the press,
and content to the author).
We expect that reviews will not have:
 ad hominem arguments;
 longwindedness or excessive detail (you're judging the author's case, not re-making it);
 excessive quotation, either of the book or of primary sources;
 attacks for not being the book you would have written.
For collected essays, since it will often be impossible within the assigned word limit to discuss all contributions one
by one, we recommend beginning with an overview of the book with a summary evaluation, and then discussing
some interesting, outstanding, or problematic contributions.
Editorial process
When your review is submitted, it will be read by two editors (usually an associate editor and a member of the
editorial board with expertise in the subject). These two editors read reviews for content and for grammar, spelling,
and typos. Reviews that require minimal correction (typos or spelling) are not returned to reviewers before
publication. Reviews are returned to reviewers only if substantive changes are needed. While every effort is made to
work with reviewers to improve problematic reviews, reviews are occasionally rejected on the recommendation of
the associate editor, with the agreement of the senior editors. Reviews are normally published within one to two
months of receipt, but please allow three months before contacting us (and at that point, please do contact us if your
review has not been published or if you have not heard from us).
Self-Archiving Policy
Authors retain copyright in their reviews, and are welcome to archive copies of their reviews on their own or
institutional websites or repositories. We prefer that authors archive the final version of the review (the review we
published) and include the link for the review on the BMCR website.
Statement on Publication Ethics
Bryn Mawr Classical Review is committed to upholding the highest standards of publication ethics and takes all
possible measures against any publication malpractices. All authors submitting reviews to BMCR for publication as
an original articles attest that the submitted works represent their own contributions and have not been copied or
plagiarized in whole or in part from other works. The authors acknowledge that they have disclosed all and any
actual or potential conflicts of interest with their work or partial benefits associated with it. BMCR is committed to
objective and fair peer review of the works submitted for publication and to the prevention of any actual or potential
conflict of interests between the editorial and review personnel and the reviewed authors. Any departures from the
above-defined rules should be reported directly to the senior editors, who are committed to providing swift
resolutions to such problems.
Ont
hel
ef
ti
swha
tt
her
ev
i
ewy
ous
ubmi
ts
houl
dl
ookl
i
k
e;
ont
her
i
ghti
s
wha
tt
hes
a
me l
el
ook
sl
i
k
ewhenpubl
i
s
hedt
oours
i
t
e
.
Pl
ea
s
eus
es
i
ngl
e
s
pa
c
i
ng,
l
ef
tj
us
t
ic
a
t
i
on,
a
ndonebl
a
nkl
i
ne(
i
.
e
.
,
t
wopa
r
a
gr
a
phbr
ea
k
s
)
bet
weenea
c
hpa
r
a
gr
a
ph,
wi
t
hnot
a
bs
.