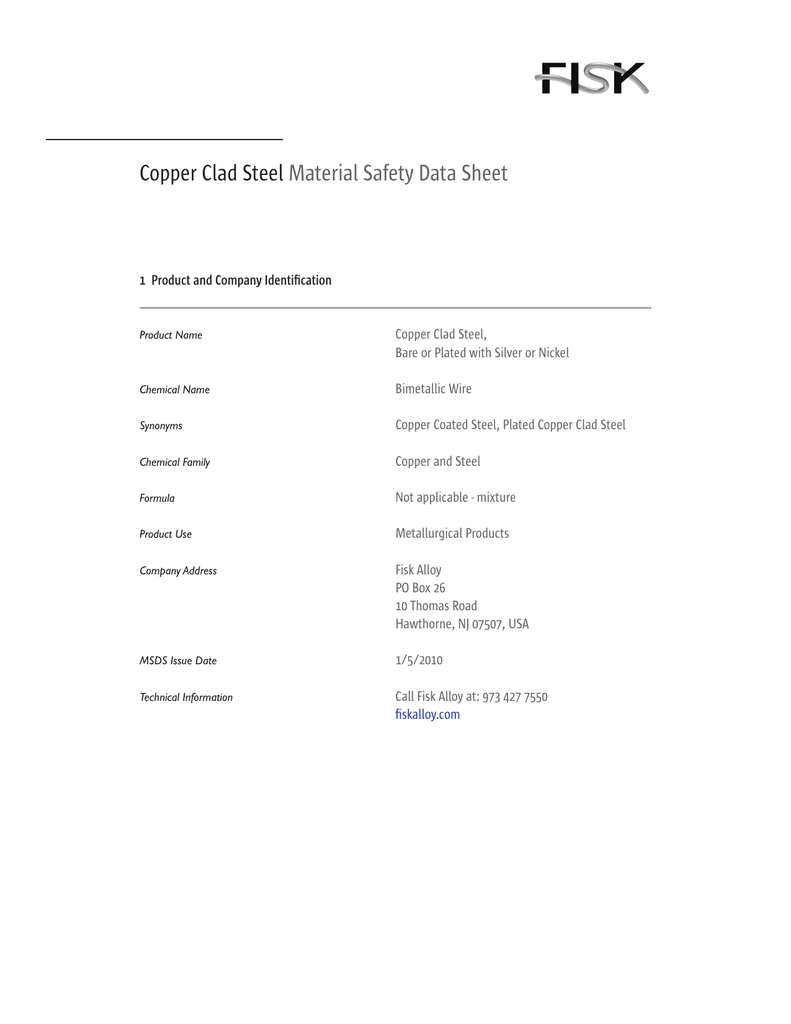 Copper Clad Steel Material Safety Data Sheet
1 Product and Company Identification
Product Name
Copper Clad Steel,
Bare or Plated with Silver or Nickel
Chemical Name Bimetallic Wire
Synonyms
Copper Coated Steel, Plated Copper Clad Steel
Chemical Family
Copper and Steel
Formula
Not applicable - mixture
Product Use
Metallurgical Products
Company Address
Fisk Alloy
PO Box 26
10 Thomas Road
Hawthorne, NJ 07507, USA
MSDS Issue Date1/5/2010
Technical Information Call Fisk Alloy at: 973 427 7550
fiskalloy.com
Copper Clad Steel Material Safety Data Sheet
2 Composition/Information on Ingredients
EU CLASSIFICATION
CAS NUMBER
COMPONENTS
WEIGHT %
EINECS/ELINCS
SYMBOL
R-PHASE
7440-50-8
Copper
30 — 40
231-159-6
None
None
7440-89-6
Iron
51 — 61
231-096-4
None
None
7440-02-0
Nickel
0 — 10
231-111-4
Xn
R 40-43
7440-22-4
Silver
0 — 10
231-131-3
None
None
OSHA Regulatory Status
In solid form this material is not hazardous. Dust or fume is classified as carcinogen, irritant, lung and
respiratory system toxicant, neurotoxicant, sensitizer.
3 Hazards Identification
WARNING!
EXPOSURE TO DUST OR FUMES CAN CAUSE EYE, SKIN AND RESPIRATORY TRACT IRRITATION.
EXPOSURE TO DUST OR FUMES CAN CAUSE RESPIRATORY SYSTEM DAMAGE. CONTAINS A MATERIAL
WHICH MAY CAUSE BLOOD, KIDNEY, REPRODUCTIVE AND NEUROLOGICAL EFFECTS. MAY CAUSE AN
ALLERGIC SKIN AND/OR RESPIRATORY REACTION. CONTAINS MATERIALS WHICH MAY CAUSE CANCER.
USE ONLY WITH ADEQUATE VENTILATION. AVOID CONTACT WITH EYES, SKIN AND CLOTHING. WASH
THOROUGHLY AFTER HANDLING.
Hazard Ratings for Dust or Fume (Degree of Hazard: 0 = low, 4 = extreme)
Hazardous Materials Identification System (HMIS):
Health: 2*
Flammability: 0
Physical Hazard: None
National Fire Protection Association (NFPA):
Mixture. Not Rated.
Human Threshold Response Data
Odor Threshold:
Unknown
Irritation Threshold:
Unknown
Immediately Dangerous to Life or Health (IDLH) values:The IDLH for this product is not known. The
IDLH for copper is 100 mg/m3. The IDLH for
nickel and silver is 10 mg/m3.
Potential Acute Health Effects
Eye: Dust or fume can cause irritation consisting of redness, swelling, and pain. May cause conjunctivitis with repeated exposures.
Copper Clad Steel Material Safety Data Sheet
Skin: Material not expected to be absorbed through the skin. Contact with dust may cause mild
irritation consisting of redness and/or swelling.
Inhalation: Harmful if inhaled. Inhalation of high concentrations of powder, dust, or fume may cause
severe respiratory and nasal irritation, coughing, and difficulty breathing. Inhalation of high concentrations of metallic copper dusts or fumes may cause nasal irritation and/or nausea, vomiting and
stomach pain. The metal fume may also produce influenza-like symptoms, known as metal fume fever.
Symptoms of this reaction may include metallic taste, runny nose, nausea, fever and chills. These
effects usually disappear within 24 hours, but may be delayed in onset.
Ingestion: Ingestion of large amounts of dust may cause nausea, diarrhea and or stomach pain.
Potential Chronic Health Effects
Prolonged or repeated skin contact with dust may cause more severe irritation or dermatitis. Prolonged or repeated inhalation of dust or fume may cause more severe irritation and possibly lung
damage. Chronic exposure to dust or fume may also lead to the development of permanent, severe,
obstructive or fibrotic lung disease characterized by coughing, wheezing, and shortness of breath.
Repeated exposure may cause an allergic skin reaction consisting of itching, redness, swelling, and
rash or urticaria (hives) in sensitized individuals. Prolonged or repeated inhalation of dust or fume
may cause an allergic type of asthma reaction characterized by wheezing, coughing, and extreme
breathing difficulty in sensitized individuals. Epidemiological studies in humans have shown an association between lung and nasal cancers and prolonged occupational exposure to high concentrations
of nickel. Long-term exposure to silver at high concentrations can produce a condition called argyria,
which is a bluish-gray pigmentation of the skin and other body tissues. This effect is not known to be
associated with any toxic effects.
Medical Conditions Aggravated by Exposure
Exposure to dust or fume may aggravate an existing dermatitis, blood condition, asthma, emphysema, or other respiratory disease.
Potential Environmental Effects
None known. Product has not been tested for environmental properties.
4 First Aid Measures
Eye Contact
Immediately flush out fume and dust particles with large amounts of water for at least 15 minutes,
occasionally lifting the upper and lower eyelids. If eye irritation develops, call a physician at once.
Copper Clad Steel Material Safety Data Sheet
Skin Contact
If exposed to dust or fumes, wash skin with plenty of water. Remove contaminated clothing and shoes
and launder before reuse. If skin irritation or rash develops and persists or recurs, get medical
attention.
Inhalation
If symptoms of lung irritation occur (coughing, wheezing or breathing difficulty), remove from
exposure area to fresh air immediately. If breathing has stopped, perform artificial respiration. Keep
affected person warm and at rest. Get medical attention.
Ingestion
Not a likely route of exposure for finished metal alloy. If dust is ingested, immediately drink water to
dilute. Consult a physician if symptoms develop.
Note to Physicians
There is no specific antidote to the active ingredients in this product; use symptomatic treatment.
5 Fire Fighting Measures
PROPERTY
VALUE
Explosive
No
Flammable
No
Combustible
No
Pyrophoric
No
Flash Point (0C)
Not Applicable
Burning Rate of Metgerial
Not Applicable
Lower Explosive Limit
Not Applicable
Autoignition Temperature
Not Applicable
Upper Explosive Limit
Not Applicable
Flammability Classification (Defined by 29 CFR 1910.1200)
Not Applicable
Unusual Fire and Explosion Hazards
Dust may cause an ignitable and/or an explosive atmosphere.
Extinguishing Media
For localized powder fires, smother with dry sand, dry dolomite, sodium chloride or soda ash. Use
fire-extinguishing media appropriate to fight surrounding fire.
Copper Clad Steel Material Safety Data Sheet
Special Fire Fighting Procedures
None required.
6 Accidental Release Measures
In dust form, this product may be an explosion hazard. Remove all sources of ignition. Dust or fume
may be suppressed by the use of a local exhaust system. Dispose of per guidelines under Section 13,
WASTE DISPOSAL.
7 Handling and Storage
Handling
Avoid dispersion of dust in air.
Storage
No special requirements.
Shelf Life Limitations:None known.
Incompatible Materials for Packaging:None known.
Incompatible Materials for Storage or Transport:None known.
Other Precautions
Do not shake clothing, rags or other items to remove dust. Dust should be removed by washing or
HEPA vacuuming.
8 Exposure Controls/Personal Protection
CAS No
CHEMICAL
NAME
7440-50-8
Copper
7440-89-6
Iron
ACGIH TLV
OSHA PEL
INTERNATIONAL OELS
0.2 mg/m3
(fumes)
0.1 mg/m3
(fumes)
1 mg/m3
(dusts and mists)
1 mg/m3
(dusts and mists)
Austria, Belgium, Canada: 0.2 mg/m3 (fumes),
1 mg/m3 (dusts);
Denmark: 1.0 mg/m3 (dusts and powders);
Germany (MAK): 0.1 mg/m3 (fumes),
1 mg/m3 (dusts and mists)
None established
None established
None established
Copper Clad Steel Material Safety Data Sheet
CAS No
CHEMICAL
NAME
ACGIH TLV
OSHA PEL
INTERNATIONAL OELS
Germany, MAK: 1 mg/m3
Canada (B.C.), Czechoslovakia, Denmark,
Norway: 0.05 mg/m3, K1, sensitizer
Poland: 0.25 mg/m3
Ireland, Sweden, Switzerland, U.K.: 0.5 mg/m3
Belgium, Canada (Alberta & others), Finland,
Japan, Mexico, The Netherlands: 1 mg/m3
7440-02-0
Nickel
1.5 mg/m3
(inhalable)
1 mg/m3
7440-22-4
Silver
0.1 mg/m3
0.1 mg/m3
Germany: 0.1 mg/m3 (inhalable)
Engineering Controls
Local exhaust ventilation is recommended if significant dusting occurs or fumes are generated. Otherwise, use general exhaust ventilation.
Eye/Face Protection
Use safety glasses.
Skin Protection
Wear impervious (cut-resistant) gloves and other protective clothing. If generating a dust, wash thoroughly after handling, especially before eating, drinking, or smoking.
Respiratory Protection
Respiratory protection not normally needed. If dusting occurs or fumes are generated above the PEL/
TLV, use a NIOSH-approved half-face or full-face respirator equipped with High Efficiency Particulate
(HEPA) filter cartridges.
General Hygiene Considerations
Do not eat, drink, or smoke while using this product in dust form.
9 Physical and Chemical Properties
PROPERTY
VALUE
Appearance
Red Metallic (silver metallic if plated)
Odor
None
Molecular Weight
Not Applicable - Mixture
Physical State
Solid
pH
Not Applicable
Vapor Pressure (mm Hg)
Not Applicable
Vapor Density
Not Applicable
Solubility in Water (20 0C)
Negligible
Copper Clad Steel Material Safety Data Sheet
PROPERTY
VALUE
Volatiles, Percent by Volume
Not Applicable
Vapor Density (air =1)
Not Applicable
Boiling Point
No Data
Melting Point
961 - 1090 0C (1762 - 1995 0F)
Specific Gravity (g/cc)
8.24
Bulk Density (g/cc)
8.24
Viscosity (cps)
Not Applicable
Decomposition Temp.
Not Applicable
Evaporation Rate
Not Applicable
Octanol/Water Partition Coefficient
Unknown
10 Stability and Reactivity
Stability
Stable under normal temperatures and pressure.
Conditions to Avoid
Avoid contact with carbon monoxide, particularly at temperatures between 50°C and 300°C, to prevent formation of nickel carbonyl which is toxic and a carcinogen.
Materials to Avoid
Acetylene, chlorine
Hazardous Decomposition Products
When heated to decomposition, may produce metal oxides and fumes. Inhalation of high concentrations of metal fumes may cause a condition known as "metal fume fever" which is characterized by
flu-like symptoms.
Hazardous Polymerization
Will not occur.
Copper Clad Steel Material Safety Data Sheet
11 Toxilogical Information
Potential Exposure Routes
For Dust:
Ingestion, inhalation, and eye contact.
For Fumes:
Inhalation and eye contact. The finished alloy
metal is not hazardous.
ACCUTE ANIMAL TOXICITY DATA
TYPE
FOR
PRODUCT
FOR COMPONENTS
COPPER
NICKEL
SILVER
IRON
> 5 g/kg (rat)
> 10 g/kg
(mouse)
30 g/kg (rat)
Oral LD­50
Believed to be
> 5 g/kg
3.5 mg/kg
(mouse,
intra-peritoneal)
Dermal
LD­50
Believed to be
> 2g/kg
375 mg/kg
(rabbit,
subcutaneous)
> 7.5 g/kg
(rabbit
subcutaneous)
No data
No data
Inhalation
LC­50
Believed to be
slightly toxic
No data
> 12 mg/kg (rat,
intratracheal)
No data
No data
Irritation
Eye and respiratory
irritant, sensitizer
Respiratory
irritant
Respiratory
irritant, skin
sensitizer
No data
Eye
irritant
Sensitivity
No data
Skin
sensitization
Subchronic/Chronic Toxicity
No information for product.
Carcinogenicity
In laboratory animal studies, chronic exposure to high concentrations of nickel has caused an increase
in lung and nasal tumors. The International Agency for Research on Cancer (IARC) has classified nickel
as possibly carcinogenic to humans, group 2B. The National Toxicology Program (NTP) classifies nickel
as a known human carcinogen.
Mutagenicity
This product is not known or reported to be mutagenic. Nickel has been shown to be mutagenic in in
vitro studies.
Reproductive,Teratogenicity or Developmental Effects
This product is not known or reported to cause reproductive or developmental effects. Exposure of
male rats to high concentrations of nickel caused testicular degeneration. However, symptoms of
systemic toxicity, including severe weight loss, were also observed at the same concentrations indicating that the testicular effects were secondary to the frank toxicity. Exposure at these levels is highly
unlikely under normal working conditions.
Copper Clad Steel Material Safety Data Sheet
Neurological Effects
This product is not known or reported to cause neurological effects.
Interactions With Other Chemicals That Enhance Toxicity
None known or reported.
12 Ecological Information
Ecotixicity
No data is available on this product. Individual constituents are as follows:
Copper: The toxicity of copper to aquatic organisms varies significantly not only with the species, but
also with the physical and chemical characteristics of the water, such as its temperature, hardness,
turbidity and carbon dioxide content. Copper concentrations varying from 0.1 to 1.0 mg/l have been
found by various investigators to be not toxic for most fish. However, concentrations of 0.015 to 3.0
mg/l have been reported as toxic, particularly in soft water to many kinds of fish, crustaceans, mollusks, insects, and plankton.
Nickel: 96 hr LC50, rainbow trout =31.7 mg/L; 96 hr LC50, fathead minnow = 3.1 mg/L; 72 hr
EC50, freshwater algae (4 species): = 0.1 mg/L; 96 hr LC50, Daphnia = 0. 51 mg/L
13 Disposal Considerations
If this product becomes a waste, it DOES NOT meet the criteria of a hazardous waste as defined under
40 CFR 261, in that it does not exhibit the characteristics of hazardous waste of Subpart C, nor is it
listed as a hazardous waste under Subpart D. Care must be taken to prevent environmental contamination from the use of this material. The user of this material has the responsibility to dispose of
unused material, residues and containers in compliance with all relevant local, state and federal laws
and regulations regarding treatment, storage and disposal for hazardous and non-hazardous wastes.
This product may be a candidate for metal reclamation.
14 Transport Information
Shipping is not regulated for this product.
Copper Clad Steel Material Safety Data Sheet
15 Regulatory Information
US FEDERAL
TSCA
The components of this product are listed on the Toxic Substance Control Act inventory.
CERLA
Copper, R.Q. = 5000 lbs.; Nickel, R.Q. = 100 lbs.; Silver, R.Q. = 1000 lbs. No reporting is required if diameter of the pieces of metal is equal to or exceeds 100 micrometers
(0.004 inches).
SARA 313
Copper, Nickel, Silver.
SARA 313
Hazard Class
Health: For dust
or fume only
SARA 302 EHS List
Acute: Yes
Chronic: Yes
Fire: None
Reactivity: None
Release of
Pressure: None
None of the components of this product are listed.
* R.Q. = Reportable Quality.
STATE RIGHT TO KNOW STATUS
COMPONENT
CA PROP. 65
NEW JERSEY
PENNSYLVANIA
MASSACHUSETTS
MICHIGAN
Copper
Not listed
X
X
X
X
Iron
Not listed
Not listed
Not listed
Not listed
Not listed
Nickel
X
X
X
X
X
Silver
Not listed
X
X
X
X
European Regulations
If nickel plated at > 0.1%, this material is classified as Xn, Harmful. However, this material in its
massive solid form is not required to be labeled under EC regulations. German WGK Classification:
Unknown
Canadian Regulations
The components of this product are on the DSL or are exempt from reporting under the New Substances Notification Regulations.
IDL: Copper
WHMIS: This product is considered to be a manufactured article and therefore not subject to WHMIS
requirements.
16 Other Information
This document is based on information obtained from Olin Brass, 427 North Shamrock St. East Alton,
IL 62024-1197, MSDS No. B04. EMERGENCY TELEPHONE NUMBER: 1-618-258-5167. For additional information visit olinbrass.com
Copper Clad Steel Material Safety Data Sheet
NOTICE: THE INFORMATION IN THIS MSDS SHOULD BE PROVIDED TO ALL WHO WILL USE, HANDLE,
STORE, TRANSPORT, OR OTHERWISE BE EXPOSED TO THIS PRODUCT. THIS INFORMATION HAS BEEN
PREPARED FOR THE GUIDANCE OF PLANT ENGINEERING, OPERATIONS AND MANAGEMENT AND FOR PERSONS WORKING WITH OR HANDLING THIS PRODUCT. THIS INFORMATION IS BELIEVED TO BE RELIABLE
AND CURRENT AS OF THE DATE OF PUBLICATION, BUT MAKE NO WARRANTY THAT IT IS.