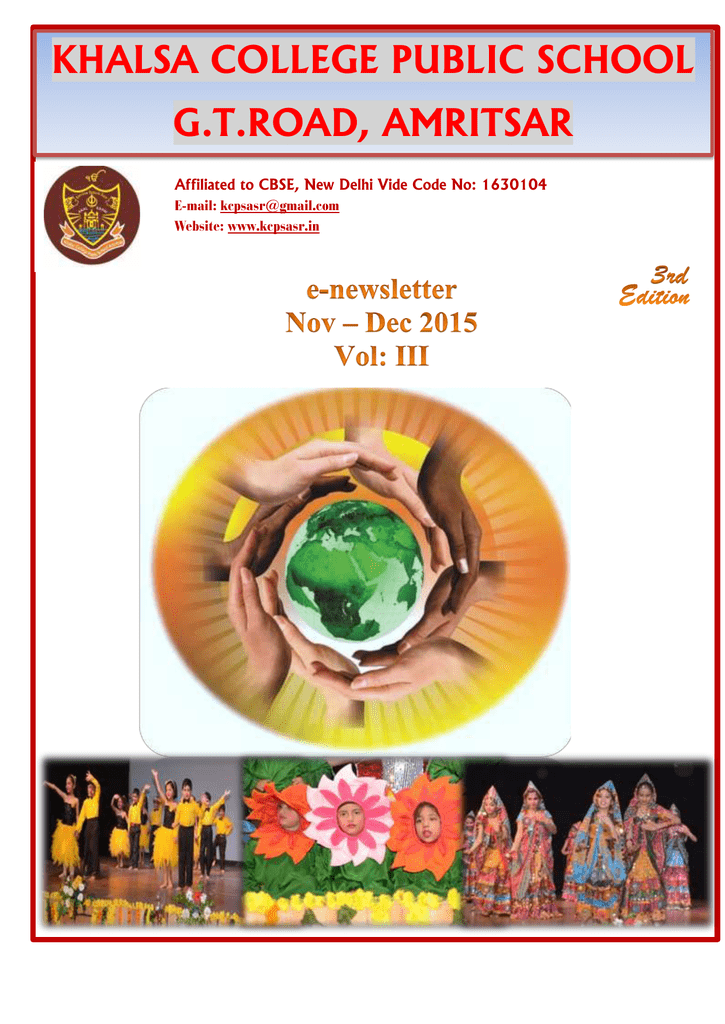 KHALSA COLLEGE PUBLIC SCHOOL
DSC_6191DSC_6191
G.T.ROAD, AMRITSAR
Affiliated to CBSE, New Delhi Vide Code No: 1630104
E-mail: [email protected]
Website: www.kcpsasr.in
VIBGYOR-Annual Function Cum Prize Distribution of Khalsa College Public School,
organized in school auditorium was a cultural bonanza of different colours and hues
depicting the true spirit of India. Prof. Ajaib Singh Brar, Vice Chancellor, GNDU, Amritsar
was chief guest on the occasion. Sh. Kunwar Vijay Partap Singh, IPS DIG/Counter
Intelligence Pb, was guest of honor. The function was presided over by S. Rajinder Mohan
Singh Chhina (Honorary Secretary, Khalsa College Charitable Council). Function started
with lighting of lamp. Principal Dr. (Mrs.) Sarvjit Brar welcomed the guests.
The function was a colourful splash by KCPSIANS enjoying each vibrant colour of life in
various dance forms. It consisted of Mayur Dance, Western Dance, Fusion Dance, Play
Jungle-Jungle, Gatka, Aerobics, Skating, Gymnastic, Pyramids, Folk Dance, Gidha & Bhangra
etc. students mesmerized the audience with their remarkable performance. Annual Report
of the school was presented by Principal Dr. (Mrs.) Sarvjit Brar highlighting school's
achievements in scholastic and co-scholastic areas.
Chief Guest Prof. Ajaib Singh Brar and Guest of Honor Kunwar Vijay Partap Singh and S.
Rajinder Mohan Singh Chhina appreciated the performance of students and motivated them
to scale new heights in life.
To develop the interest of students in I.T (Information technology) trends,
an Intra school competition (IT FEST) was conducted by NIIT at Khalsa
College Public school G.T.Road Amritsar for the students from class VI to
VIII. There were basically three teams. Each team comprised of three
participants per class. Mr.Vishal Arora, an IT Faculty and Miss Samriti were
the coordinators and Mr.Ankur Gulati, from NIIT Delhi, was the quiz master
of the event. A wide range of questions related to IT Application,
Programming, Multimedia, Computer Basics were posed from the students.
The winning team was awarded with merit certificates and other two
teams were awarded with certificates of participation.
Principal Dr(Mrs. )S Brar
congratulated the students
and encouraged them to
keep their selves updated
with IT Trends as it is the
need of hour.
SCHOOL SWACHHATA CAMPAIGN
At khalsa College Public School, "School Swachhta Campaign" initiated by
CBSE under the aegis of MHRD has been launched extensively from 1 st to 15th
November 2015 by performing numerous activities for making the school and
surroundings cleaner and greener.
Everyday a special assembly was being organized to sensitize the students by
various talks, seminars, recitations, highlighting themes of personal cleanliness
and health, clean surrounding including-clean toilets, clean drinking water,
clean food, clean school etc.
Poster making competition was held on 10th November, 2015 in the school on
the theme of ignorance towards bathroom etiquettes and cleanliness of
surroundings. The posters were displayed in toilets and different wings of the
school.
Nukkad Natak on Swachh Bharat
A Nukkad Natak was staged by the students conveying the message of
sound health practices focusing on proper toilet use and personal hygiene.
Students also cleaned school grounds and classrooms. To promote the
message of sanitation, health and hygiene practices students were
encouraged to come up with creative ideas and were awarded for keeping
their classrooms and toilets clean and litter free.
CHILDREN'S DAY CELEBRATION
Children day was celebrated at school on 13th November 2015 with great zeal to
commemorate the birth anniversary of our first Prime Minister Pt. Jawahar Lal
Nehru. A special assembly was organized for the students to mark this occasion.
First of all students paid tribute to Pandit Jawahar Lal Nehru. It was followed by
poetry recitation competition on the theme of "how to realize Chacha Nehru's
dreams". Students were excited to share their views. Principal, Dr. Sarvjit Kaur
Brar congratulated the students on this day and encouraged them to excel in life
as children are future of a nation.
DIWALI CELEBRATION
KCPS celebrated Diwali on NOV 10, 2015 with great grandeur and
creativity.Students decorated their classes and shared sweets among others.
A special morning assembly was held on this occasion in which students were
told about the importance of the day. They were told about Lord Rama's
Victory over Ravana.Rangoli, Card making and Diya making competitions were
held in which students participated enthusiastically. Principal Dr. Saravjit Kaur
Brar gave her best wishes to all the students and wished everyone a safe and
sound Diwali.
Christmas Celebration
NAGAR KIRTAN
To commemorate the birth anniversary of GURU NANK DEV JI, a Nagar
Kirtan was held on 24th November, 2015 by Khalsa College Governing
Council which started from school and culminated at Golden Temple.
During this sacred walk, our students participated enthusiastically by
reciting prayers to seek the blessings of Almighty. Students dressed up
as 'PANJ PYARAAS' lead the Nagar Kirtan followed by the school band and
Gatka performance by students.
FRUITS DAY CELEBRATION
To create awareness among students about the importance of consumption of
fruits in their regular diet, Fruits day was celebrated on December 4, 2015 by
the tiny tots with great zeal. On this day , the students brought different dishes
made from fruits and shared among themselves. The teachers explained them
the importance of fruits' intake in diet for their mental and physical growth. The
tiny tots also learned more about the taste, smell, colour and texture of different
fruits.
Children and teachers sang the fruit rhyme with great zest, enthusiasm and
vigour, enjoying the moments of joy and happiness on this special day.
CHRISTMAS CELEBRATION
Christmas was celebrated with great joy on Dec 24, 2015 by junior wing of the
school with great zeal. It is celebrated everywhere in the world as a joyous
affair. Tiny tots dressed as Santa Claus showcased beautiful programme started
with Christmas song "Jingle Bell". Gifts were exchanged among students and
they were filled with joy and danced with great enthusiasm.