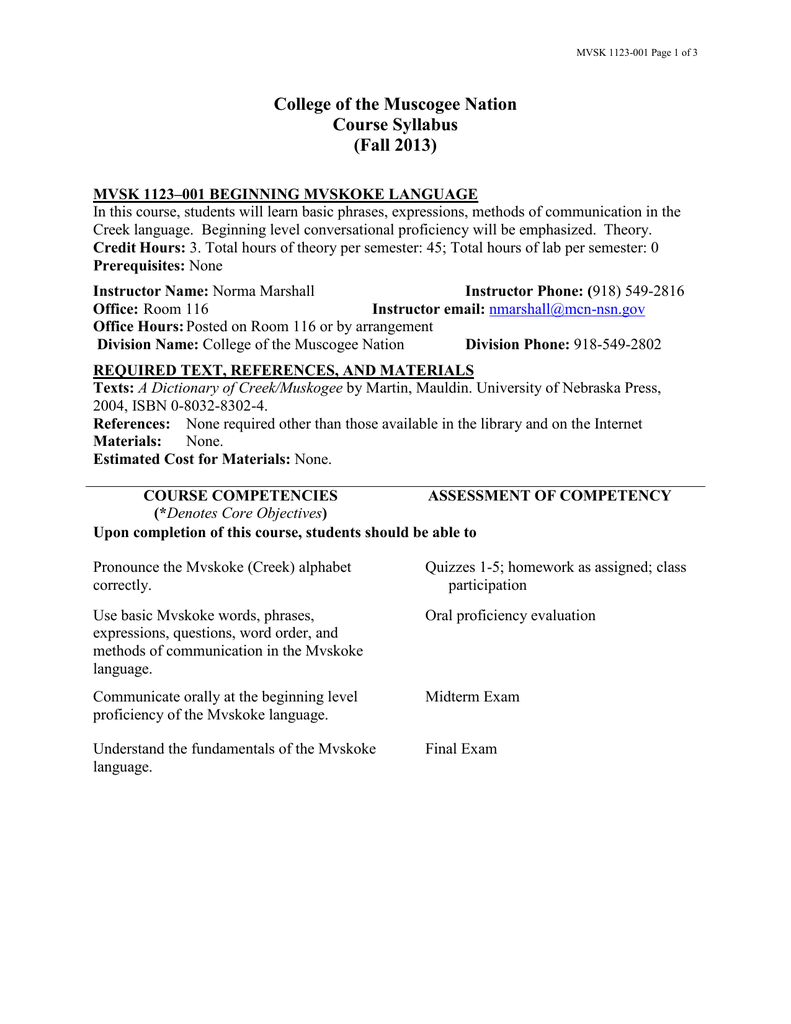 MVSK 1123-001 Page 1 of 3
College of the Muscogee Nation
Course Syllabus
(Fall 2013)
MVSK 1123–001 BEGINNING MVSKOKE LANGUAGE
In this course, students will learn basic phrases, expressions, methods of communication in the
Creek language. Beginning level conversational proficiency will be emphasized. Theory.
Credit Hours: 3. Total hours of theory per semester: 45; Total hours of lab per semester: 0
Prerequisites: None
Instructor Name: Norma Marshall
Instructor Phone: (918) 549-2816
Office: Room 116
Instructor email: [email protected]
Office Hours: Posted on Room 116 or by arrangement
Division Name: College of the Muscogee Nation
Division Phone: 918-549-2802
REQUIRED TEXT, REFERENCES, AND MATERIALS
Texts: A Dictionary of Creek/Muskogee by Martin, Mauldin. University of Nebraska Press,
2004, ISBN 0-8032-8302-4.
References: None required other than those available in the library and on the Internet
Materials:
None.
Estimated Cost for Materials: None.
COURSE COMPETENCIES
ASSESSMENT OF COMPETENCY
(*Denotes Core Objectives)
Upon completion of this course, students should be able to
Pronounce the Mvskoke (Creek) alphabet
correctly.
Quizzes 1-5; homework as assigned; class
participation
Use basic Mvskoke words, phrases,
expressions, questions, word order, and
methods of communication in the Mvskoke
language.
Oral proficiency evaluation
Communicate orally at the beginning level
proficiency of the Mvskoke language.
Midterm Exam
Understand the fundamentals of the Mvskoke
language.
Final Exam
MVSK 1123-001 Page 2 of 3
COURSE ACTIVITIES
In this course students will
 Participate in class discussions and in-class activities.
 View videos that depict the various cultural concepts as assigned by the instructor.
 Review basic Mvskoke grammar and usage.
 Maintain Mvskoke vocabulary list.
 Complete class assignments, quizzes, and tests on a timely basis.
GRADES WILL BE BASED ON QUALITY AND COMPLETION OF THESE TASKS:
Class participation and in-class activity 75 points
20%
College of the
Quizzes ([email protected] points each)
125 points
20%
Muscogee Nation
Oral Proficiency Evaluation
50 points
10%
Grading Scale
Midterm Exam
100 points
20%
A = 90.00 - 100.00
Final Exam
100 points
20%
B = 80.00 – 89.99
Homework as assigned
50 points
10%
C = 70.00 - 79.99
D = 60.00 - 69.99
500 points
100%
F = 00.00 - 59.99
AMERICANS WITH DISABILITIES ACT (ADA)
According to the ADA, each student with a disability is responsible for notifying CMN of his/her
disability and requesting accommodations. If you think you have a qualified disability and need
classroom accommodations, contact the OSUIT System Office of Student Disability
Service/ADA Compliance (ODS/ADAC). Please advise the instructor of your disability as soon
as possible, to ensure timely implementation of appropriate accommodations. Faculty have an
obligation to respond when they receive official notice of a disability from ODS/ADAC but are
under no obligation to provide retroactive accommodations. To receive services, you must
submit appropriate documentation and complete an intake process during which the existence of
a qualified disability is verified and reasonable accommodations are identified. Call 293.4988
for more information.
ACADEMIC DISHONESTY
Academic dishonesty or misconduct is neither condoned nor tolerated at CMN. Any student
found guilty of academic dishonesty or misconduct shall be subject to disciplinary
action. Academic dishonesty and/or misconduct includes, but is not limited to, the following
actions: (1) Plagiarism: the representation of previously written, published, or creative work as
one's own, including resubmitting all or revising portions of one's own work (selfplagiarism); (2) Unauthorized collaboration on projects; (3) Cheating on examinations; (4)
Unauthorized advance access to exams; (5) Fraudulent alteration of academic materials; (6)
Knowing cooperation with another person in an academically dishonest undertaking. Students
are required to actively protect their work against misuse by others. For details, refer to CMN
Student Handbook available in the Office of the Dean of Academic Affairs, each division office,
and online at http://www.mvsktc.org/pdf/Student-Handbook.pdf.
STUDENT CONDUCT
Students are expected to cooperate in maintaining a classroom environment conducive to
learning. Courteous and respectful behavior will be expected from all students each day. All
pagers, cellular phones, CD and MP3 players should be turned off. CMN is a tobacco free
campus.
MVSK 1123-001 Page 3 of 3
CLASS ATTENDANCE
Students are expected to attend all classes. Due to Title IV regulations, if a student doesn't attend
class for 14 consecutive days, the instructor will notify the registrar, which may affect financial
aid. If an emergency situation arises and a student cannot attend a particular class, it is expected
that the student contact the instructor prior to the class meeting in writing.
COURSE CALENDAR:
Week 1
Week 2
Week 3
Week 4
Week 5
Week 6
Week 7
Week 8
Week 9
Week 10
Week 11
Week 12
Week 13
Week 14
Week 15
Introduction and overview of course, Introduction to Mvskoke (Creek)
Alphabet and Writing/Reading, Greetings and responses
Continue Mvskoke Alphabet, Begin word order in sentences,
Writing/Reading simple questions and answers, class participation; Quiz1
Begin continuation of verbs, Writing/Reading singular/plural forms of
verbs, 1st, 2nd, 3rd person, class participation
Conjugation of verbs, Writing/Reading Singular/Plural sentences, class
participation; Quiz2
Vocabulary-Begin numbers/counting, Writing/Reading numbers, class
participation
Vocabulary-Names of animals, Writing/Reading sentences using animals,
class participation; Quiz3
Vocabulary-Descriptive names of animals, Writing/Reading
questions/sentences using animal names, class participation Midterm Exam
Vocabulary-Names/Descriptive names of objects, Writing/Reading
questions/sentences using object names, class participation; Quiz4
Games using vocabulary, Vocabulary-names of days of week/months/
directions/seasons, Writing/Reading Days/months/directions/seasons, class
participation
Vocabulary-Descriptive Names of occupations, Writing/Reading sentences
using occupations, class participation; Quiz5
Vocabulary- Colors/Foods, Writing/Reading sentences using Colors/Foods,
class participation
Vocabulary - Names of natural things, Writing/Reading sentences using
Names of natural things, class participation
Conversation/commands, Writing/Reading sentences using common,
conversation/commands, Oral Proficiency Evaluation
Writing/Reading sentences using sizes, lengths, etc, Singular/plural, Word
Games, Hearing Mvskoke words/numbers/names
Review for Final Exam; Final Exam
Syllabus may be subject to change by the instructor and the College of Muscogee Nation.