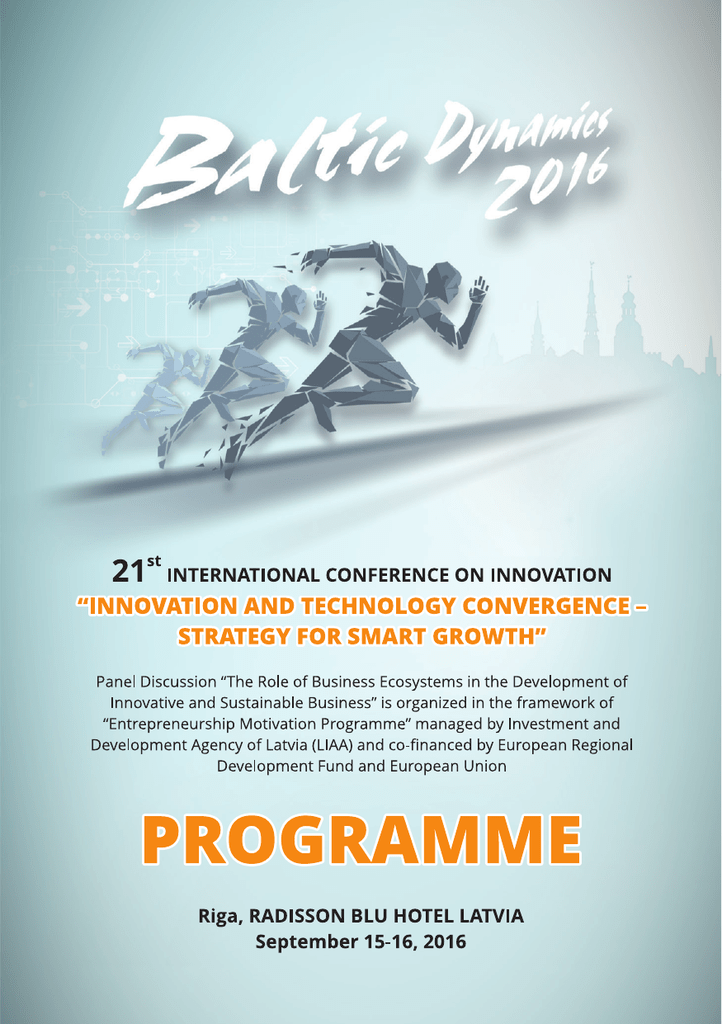 Wednesday, September 14, 2016
14.00 - 18.00 Arrival of Participants. Registration.
Hotel Radisson Blu Latvia, Elizabetes 55
Pre-conference workshops and/or meetings
16.30 - 17.30 BASTIC Board meeting - Hall Mi
19.00 - 21.00 Welcome Cocktail
Thursday, September 15, 2016
8.00 - 17.00
Registration. Radisson Blu Hotel Latvia,
Elizabetes 55, Hall on the 1st floor
9.00 - 9.30
Opening of the
BALTIC DYNAMICS 2016 Conference
Hall Alfa
Welcome Addresses:
Māris Kučinskis, Prime Minister of the Republic of Latvia,
Arvils Ašeradens, Minister of Economics, Tālis Juhna,
Pro-Rector of Riga Technical university
PLENARY SESSION 9.30 – 13.00 (Hall Alfa)
SETTING OUT THE RIGHT TRAFFIC SIGNS
ON THE INNOVATION SUPERHIGHWAY
Tribute to Debra Amidon (President of Entovation
International, USA) the BALTIC DYNAMICS key-note
speaker in 2007, 2010 and 2013
Session Chairpersons: BASTIC Board Members Martin Goroško, Estonia, Dr. Janis Stabulnieks,
Latvia, Tomas Černevičius, Lithuania
9.30
10.00
10.30
11.00
11.30
12.00
12.30
13.00
Meeting Global Challenges with 21st
Century Innovation Policies. Prof. Charles
Wessner, George Town University, USA
Knowledge-Based Strategies for
Competitiveness and Regional Quality of
Life. Gunter Clar, c3-solutions,Germany
European Frame for Speeding up
Innovation Development. Markku
Markkula, President of the European
Committee of the Regions, Finland.
EU Programmes to Support SMEs as a
Catalyst for Growth. Dr. Jose Puigpelat,
Executive Agency for Small and Medium
Sized Enterprises - EASME, European
Commission, Belgium
Coffee break
EU Gateway: Your Opportunity for
Long-Lasting Business Collaborations in
Asia. Siemon Smid, EU-Gateway / Business
Avenues, European Union
Using Cross Fertilisation to Generate
Innovation. Kitija Tigule, Vice President
Association of Latvian Travel Agents and
Tour Operators (ALTA), Regional Manager
Baltics at Amadeus, Latvia
End of the session
13.00 – 14.00 Lunch (Hall Beta 2)
Thursday, September 15, 2016
(parallel sessions 1 – 6, 14.00 – 17.30)
SESSION 1 14.00 – 17.30 (Hall Gamma 2)
SMART ENERGY, RESEARCH,
DEVELOPMENY AND DEMONSTRATION
IN COOPERATION WITH THE INSTITUTE OF PHYSICAL ENERGETICS
Session Chairpersons: Prof. Irina Oleinikova, Institute of Physical
Energetics, Latvia
14.00 Opening of the session. Prof. Irina Oleinikova, Institute of Physical Energetics, Latvia
14.05 Electricity Market Liberalization and Availability of Variable Renewable Energy – Is it Possible to Stay Competitive? Polina Ivanova, Maris Balodis, Olegs Linkevics, Latvenergo JSC, Latvia
14.25 Modeling of Energy System Development in Latvia:
Introduction of Energy and Climate Mitigation Policy
Issues in Energy Planning Model. Dr. Gaidis Klāvs, J.Reķis, Institute of Physical Energetics, Latvia
14.40 CloudGrid – the Development of a Transnational Smart
Grid Lab Cooperation. Emil Hillberg, Jan Djurström, STRI,
Sweden; Jimmy Ehnberg, Chalmers, Sweden; Elisabetta
Tedeschi, Kjetil Uhlen, NTNU, Norway; Rafael Segundo, Petr
Korba, ZHAW, Switzerland; Irina Oleinikova, Anna Mutule, IPE,
Latvia
14.55 Potential of Demand Response in the Baltic Market. Gatis
Junghans, HV Network, Latvia
15.10 Smart Grid Development in "A/S Sadales tīkls" Distribution
Networks. Martins Budahs, Ivo Grinbergs, Ivars Bičkovskis, JSC
Distribution Networks, Latvia
15.25 Prosumer's Role in Furthering Sustainability and Energy
Transition. Dr. sc.ing. Anna Mutule Head of Smart Grids
Research Centre at IPE, Latvia.
15.40 Coffee break
16.10 Stakeholder Involvement in Sustainable Energy Planning
for Resilient Urban Development. Gregory Olevsky,
University of Latvia, Timurs Safiulins, Riga municipal agency
"Riga Energy Agency", Latvia
16.25 University Role in Smart Power System Development. Prof.
Antans Sauhats, Riga Technical University (RTU)), Asoc.Prof.
Diana Zalostiba, RTU, Latvia
16.40 Networking and Cooperation as Core Elements of the TTI
Research Strategy and Basis for Sustainable
Development. Prof. Dr.Sc.Ing. Irina Yatskiv (Jackiva), Transport
and Telecommunication Institute, Latvia
16.55 Technology Testing Opportunities in Estonian Smart Grids
and the Innovation Hub for Smart Energy Technologies in
Northern Europe. Enn Laansoo, Jr., CEO, PAKRI Science and
Industrial Park, Estonia
17.10 Energy or Materials – Used Tyres Utilisation Problems in
Latvia. Dr.Janis Kalnacs, Institute of Physical Energetics, Latvia
17.30 End of the session
SESSION 2 14.00 – 17.30 (Hall Alfa)
THE ROLE OF BUSINESS ECOSYSTEMS IN THE
DEVELOPMENT OF INNOVATIVE AND SUSTAINABLE
BUSINESS Part 1
ENTREPRENEUSHIP ECOSYSTEMS
IN COOPERATION WITH INNNOVATION MOTIVATION PROGRAMME IN
LATVIA
Moderator: Heinz Fiedler, President, SPICE Group, Germany
14.00 Introduction to Entrepreneurship Ecosystems - Aims and
Work Pattern of this Session. Heinz Fiedler, President,
SPICE Group, Germany
Thematic Focuses of Entrepreneurship Ecosystems
14.15 International Invention and Innovation Exhibition "MINOX
2016". Ivans Griņēvičs, Latvian Inventors Association, Elmārs
Baltiņš, Association "CONNECT Latvia", Latvia
14.25 Green Technology Incubator – A Place for Ambitious Ideas.
Dr.Matiss Neimanis, Green Industry Innovation center, Latvia
14.35 University Business Incubator - Research Results from
Latvia. Iveta Cirule, RISEBA University, Latvia
14.45 Commercialization Reactor as Successful Technology
Commercialization Platform. Nikolai Adamovitch,
Commercialization Reactor, Latvia
14.55 Q & A
Achievements & Challenges –Experiences with Building an
Entrepreneurship Ecosystem
15.05 Experiences from the Entrepreneurship Ecosystem in
Kaunas, Lithuania. Paulius Nezabitauskas, Director of
Innovation & Entrepreneurship Development, Kaunas Science
& Technology Park, Lithuania
15.15 New Models and Mission of Entrepreneurial Ecosystems.
Anne Gustafsson-Pesonen, Natalia Narits, Mikkeli University of
Applied Sciences, Finland
15.25 Q & A
15.40 Coffee break
Startups in the Entrepreneurship Ecosystem
16.00 From Start-up to Open Innovation Platform: a Case of
GrabCAD. Tõnis Mets, University of Tartu, Estonia
16.10 EU-XCEL: Creating International Start-up Community.
Maciej Nowak, Poznan Science and Technology Park, Poland
16.20 Q & A
16.30 Interactive Discussion around topics like:
•Are rankings (of Entrepreneurship Ecosystems) help or hurdle?
•Does size of an ecosystem matter or is small beautiful or?
•Are themes (for example, Green Startups") needed or disturbing?
• Do the players in an ecosystem find to cooperation or is competition
growing.
• What approach for entrepreneurship support systems is needed; local –
regional – national – global?
• The role of politics for startup development - just talks or important
support?
• What are education and research institutions contributing; theory or
practice?
17.20 Summing up / Conclusions
17.30 End of the session
SESSION 3 14.00 – 17.30 (Hall Ksi)
ENTERPRISE EUROPE NETWORK – AN EFFICIENT TOOL
FOR SME GROWTH
IN COOPERATION WITH EEN LATVIA
Session Chairperson: Dr. Jose Puigpelat, Head of the Unit, Executive
Agency for Small and Medium Sized Enterprises - EASME, European
Commission, Belgium
14.00 Introduction by the Chairperson
14.10 Country and Consortium reports delivered by EEN Member
organisations
15.10 Business, Technology & Innovation reviews
15.40 Coffee Break
16.10 KAM & EIMC
16.40 Good Practices & Success Stories
17.10 Round Table Discussion
17.30 End of the session
SESSION 4 14.00 – 17.30 (Hall Gamma 1)
EMPOWERING FOR INNOVATION AND GROWTH IN
CITIES AND REGIONS
IN COOPERATION WITH BSR INTERREG PROJECT EmpInno
Session Moderators: Prof. Monika Petraite, Kaunas University of
Technology, Lithuania, prof. Volker Wittpahl, Klaipeda University,
Lithuania
14.00 Introduction by Moderators
14.10 Empowering Innovative Smart City Solutions in Tallinn.
Jaak Raie, Director of Tallinn Science Park Tehnopol, Estonia
14.30 Getting Regional Smart Specialisation Strategies Closer to
the Business – the Interreg BSR Project "EmpInno".
Gert Proba & Lars Schieber, Rostock Business and Technology
Development GmbH, Germany
14.50 Urban Society & Innovation: Integrated Transformation
Strategies for the Development of Sustainable
Middletowns. Prof. Dr.Volker Wittpahl, Klaipeda University,
Lithuania; Uwe Seidel, Institute for Innovation and Technology,
Berlin, Germany
15.10 Co-creating to Develop a Holistic and Sustainable
Cleantech Solutions to City Challenges. Bjarke Kovshøj,
Clean tech cluster CLEAN, Denmark
15.25 Challenges and Opportunities in Reaching Smart
Specialization Milestones. Prof. Monika Petraitė, Head of
Department of Strategic Management at Kaunas Univesity of
Technology, Lithuania
15.40 Coffee break
16.10 How Regional Developers can Support Technology-based
Young Entrepreneurial Firms? Tomi Heimonen, Manager for
Business and Innovation, South Savo Regional Council, Finland
16.30 Round Table Discussion and wrap-up by Moderators
17.30 End of the Session
SESSION 5 14.00 – 17.30 (Hall Epsilon)
THIRD GENERATION OF UNIVERSITIES
IN COOPERATION WITH RIGA TECHNICAL UNIVERSITY
Moderator: Māris Millers , organisation development consultant and
management trainer, founder of the "MM Studija" Ltd, Latvia
14.00 Empowering for Innovation, Entrepreneurship and
Cooperation among Businesses, Municipalities and
Universities - a case of Vidzeme University of Applied
Sciences. Dr. Kaspars Osis, Director of Vidzeme University of
Applied Sciences Knowledge and Technology Centre, Latvia
14.20 European Platform for Innovation and Collaboration
between Engineering Students (EPICES) Project
Accomplishment at Riga Technical University.
A.Janushevskis, I.Vaicis, I.Viksne, Riga Technical University,
Latvia
14.40 The Role of Alumni in 3rd Generation Universities. Anita
Straujuma, Executive Director of Riga Technical University
Alumni Association, Latvia
15.00 The Commercialization Ecosystem - Insights of a US Serial
Entrepreneur. Bob Kirscher, serial entrepreneur, USA
15.20 Innovation Capacity as a Determinant of the European
Economies Smart Growth. Dr. Tatyana Boikova, Baltic
International Academy, Latvia
15.40 Coffee break
16.10 Round Table Discussion
17.30 End of the session
SESSION 6 14.00 – 17.30 (Hall Beta 1)
INNOVATION AND NEW TECHNOLOGIES
IN TOURISM
IN COOPERATION WITH TOURISM ASSOCIATION
ALTA
Moderator: Irēna Riekstiņa, Secretary General,
Association of Latvian Travel Agents and Tour
Operators, Latvia
14.00 Introduction by the Moderator
14.10 Convergence of Travel Suppliers and
Travellers. Krzysztof Gostkowski, Travelport,
Poland
14.40 Panel Discussion: Innovation in Travel
Management (part 1)
15.40 Coffee break
16.00 Rail Baltica - Railway to the Future. Neils
Balgalis, grupa93, managing director, Latvia
16.30 Panel Discussion: Innovation in Travel
Management (part 2)
17.00 End of the Session
18.45 Depart from the hotel to Gala Dinner.
19.00 Gala Dinner.
Friday, September 16, 2016
FINAL PLENARY SESSION 9.30 – 13.15 (Hall Alfa)
THE ROLE OF BUSINESS ECOSYSTEMS IN THE
DEVELOPMENT OF INNOVATIVE AND SUSTAINABLE
BUSINESS
Part 2
IN COOPERATION WITH INNNOVATION MOTIVATION PROGRAMME IN
LATVIA
Moderator: Heinz Fiedler, President, SPICE Group, Germany
9.30
Country Report – Latvia: Improvement of the National
Innovation System of Latvia. Prof. Edvins Karnītis, CrossSectorial Coordination Centre, Latvia.
9.50 Country Report – Lithuania: State-of-the-art, Challenges
and Perspectives. Marius Skarupskas, Vice-minister of
Economy of the Republic of Lithuania.
10.10 Country Report – Estonia: Estonia: On the Road to
Sustainable, Not-Supported Business Development and
Incubation Services. Jaak Raie, Director of Tallinn Science
Park Tehnopol, Estonia
10.30 Panel Discussion
Panelists: Charles Wessner (USA), Gunter Clar (Germay), Jose
Puigpelat (EC), Andris Ozols (Latvia), Edvīns Karnītis (Latvia),
Jaak Rae (Estonia), Marius Skarupskas (Lithuania)
13.00 Closing of the Conference
13.15 Lunch
Chair-persons
Martin Goroško has worked in the field of sales, marketing
and PR for past 10 years. Former positions in the field of online
marketing and sales of web-based products have led to the
growing interest towards ICT and web entrepreneurship. The
portfolio of experiences combines starting up new ventures,
marketing & PR strategy management, mentoring, advertising,
design, online media and web. For past 5 years Martin has
been the marketing manager of Tallinn Science Park Tehnopol
and co-founder of a startup company called Virtual Garden.
BASTIC Board member.
Tomas Černevičius is a director of Operations at Kaunas
Science and Technology Park (Kaunas STP). He has more than
15 years of experience in direct assistance and consultations
to innovative and technology-oriented client companies
of Kaunas STP as well as wide experience in participating,
implementing and managing national and international
projects in the fields of entrepreneurship, creativity and
knowledge management. Since 2014 – the President of BASTIC.
Janis Stabulnieks, Dr.habil.sc.ing. is the Managing Director of
the Latvian Technological Center – the first innovation support
structure established in Latvia. Since 1993, his main research
in the expertise areas has revolved around the analysis and
policy advice for the creation of the National Innovation System
in Latvia. In 2001-2002, he was Chairman of the working group
for elaborating the National Programme on Innovation. Dr.
J.Stabulnieks is a member of the IASP (International association
of Science Parks ,BASTIC (Baltic Association of Science/
Technology Parks and Innovation Centres) and SPICE (Science
Park and Innovation Center Experts) Group. He is the President
of the Latvian Association of Technology Parks, Centers and
Business Incubators (LTICA).
Key-note Speakers
Dr. Charles Wessner currently teaches Global Innovation
Policy at Georgetown University and is a powerful advocate
of effective innovation policies. Previously, he served for
two decades as a National Academies scholar where he
founded and directed the National Academy of Sciences
Technology, Innovation, and Entrepreneurship Program. He
is recognized nationally and internationally for his expertise
on innovation policy, including public-private partnerships,
entrepreneurship, early-stage financing for new firms, 21st
century manufacturing, cybersecurity, and the special needs
and benefits of high-technology industry. As an outgrowth
of his work with the U.S. government, he advises technology
agencies, universities, and government ministries, including
the Prime Ministers of countries in Europe and Asia.
Gunter Clar has a 30 year professional record in the fields:
Research and Innovation (R&I), Higher Education Teaching,
R&I-Policy and -Programs, Regional Sustainable Development
/ Economic Diversificationand, methodologically in Technology
Roadmapping / Impact Assessment / Foresight and Evaluation.
He also focused on cluster strategy & management, and
implemented such activities with a focus on global value
chains. Concerning the Europe 2020 Strategy, Horizon 2020,
ESIF, OECD and APEC activities and the German High-Tech
Strategy 2020 he developed, implemented and assessed
related strategies. Currently, he is Chairman of the EC Expert
Group to assess all R&I Strategies for Smart Specialisation
in the EU-28. Firmly rooted in his professional and policy
networks, Günter is frequently invited to expert and advisory
groups (EU services, OECD, other international organisations
and networks).
Markku Markkula was elected President of the European
Committee of the Regions (CoR) in February 2015 for a two and
a half year term of office.
Since joining the CoR in 2010 he has held several influential
positions such as the first Vice-Chair of the CoR's EPP Group
and Chair of the CoR's EPP Task Force on Europe 2020.
He was the CoR's rapporteur in the field of innovation for
subjects including: "The digital agenda for Europe", "Enhancing
and focusing EU international cooperation in research and
innovation", etc. President Markkula is a former member
of the Finnish Parliament (1995-2003). He has held several
important roles related to innovation ecosystems development
in Finland, especially in the Helsinki region. For example he
is the initiator and orchestrator of the EUR 20m research
programme "Energising Urban Ecosystems" and has been
involved in several open innovation initiatives related to the
Espoo Innovation Garden and Aalto University.
Since 2007 José Puigpelat is head of the unit Network
Operations in the Executive Agency for Small and Medium
Sized Enterprises - EASME, European Commission. He started
his career in the European Commission in 1991 and he has
served in different posts in the area of education and training.
First he worked several years for the Tempus programme
(co-operation in higher education with Eastern and Central
Europe) and subsequently for the coordination of the Socrates
programme (co-operation in education in the EU). Between
2003 and 2007 he was head of the team in charge of the
Erasmus programme within DG EAC of the Commission. José
Puigpelat is holder of a Master of Science by the University
of Navarra (Spain) and a PhD of Science by the University of
Louvain.
Siemon Smid is the programme director of the Coaching
Network for the EU Gateway│EU Business Avenues
programme, assisting European companies entering into
Asian growth markets. Siemon has more than 20 years of
professional experience working for the European Commission
and he has advised more than 500 European SMEs and
research-intensive industries in more than 40 countries
worldwide. He is actively involved in the greening the European
construction industry through the European Construction
Observatory, a project of DG Grow. He is an evaluator for the
Horizon 2020 programme. He has been instrumental for the
creation of the European Space Agency's Business Incubation
Centres, he designed the Drenas Industrial Park in Kosovo
and he reoriented a former Fokker plant into a Science park
for composites. He is working with the PwC Accelerator in
recruitment and coaching of fast growing SMEs.
Kitija Tigule has been continuously contributing to the
tourism industry of Latvia since 2003. Her role as the Regional
Manager in the Baltics of Amadeus and General Manager of
Amadeus Latvia (since 2003) has provided Kitija with premium
industry innovation knowledge and expertise. In addition,
as the president (last 10 years) of Latvian Travel Agents and
Operators Association (ALTA), Kitija has been shaping and
advocating the Latvian tourism industry in the local and global
arena, leading to expanding recognition. Due to her influence,
commitment, global vision and extensive experience, Kitija is
recognized as one of the leading tourism experts in Latvia.
Edvins Karnitis, Prof. (since 1998), Dr. Sc. eng. (since 1992),
Dr. h. c. Latvian Academy of Sciences (since 2007). Leading
researcher, University of Latvia (since 1999); Adviser, CrossSectoral Coordination Centre (since 2016). Worked as
Advisor to the Prime Minister (1999-2000) and to the Minister
of Economy of Latvia (2000-2001). Active in elaboration of
national strategic programmes. Author of more than 200
scientific, technical and analytical publications.
Jaak Raie has worked in the field of management and teambuilding over ten years. Former position as the Member of
Executive board in Estonian Public Broadcasting has led to the
growing interest towards sustainable real-estate development
models and management of assets. Since April 2013, Jaak
Raie is the Manager of Tallinn Science Park Tehnopol,
responsible for strategy, real-estate development and business
development services.
Moderators
Dr. Irina Oleinikova. Received the BSc, E.E., MSc and Dr.sc.
ing. degrees from the Riga Technical University, in 1994, 1995,
1997 and 2000 respectively. Currently, Director of Institute of
Physical Energetics and FP7, IRP ELECTRA- European Liaison on
Electricity Committed Towards long-term Research Activities
for Smart Grids, Project Manager. Expert in the field of Energy,
Latvian Academy of Sciences. EERA (European Energy Research
Alliance) Joint Programme on Smart Grids Stearing Committee
Member. Previously: head of Smart Grid Research Centre,
Leading Researcher in the Laboratory of Electric Power System
Mathematical Modelling at the Institute of Physical Energetics
(IPE). Author of more than 150 papers, and 4 books.
Heinz Fiedler is the president of SPICE Group and has
facilitated the activities of this network since its beginning
in the year 1991. He is a pioneer in business incubation and
technology commercialization and has received recognition for
turning economic theory into practical results through creative
international collaborations.
Dr. Volker Wittpahl did his Ph.D. on contactless on-wafer
circuit test up to 100 GHz by using scanning force microscopy.
Afterwards he gained industrial work experience within the
Philips corporate group in the area of Technology Marketing
as well as Innovation Management for the automotive supplier
market. By an internal move to Philips Design in Eindhoven
(NL), he became one of the responsible persons within the
corporate owned interdisciplinary Think Tank. Next to his
professional work, Volker Wittpahl has taught technology,
innovation and project management on many universities
in Germany and abroad. He is also co-initiator of the Baltic
Innovation Center of Energy-efficient Systems (BICES) at the
Klaipeda University.
Monika Petraite is a Full Professor and Head of the
Department of Strategic Management at School of Economics
and Business at Kaunas University of Technology, Lithuania.
She is also a Director of GLORAD CEE (Global R&D research
Centre Central Eastern Europe), and runs an Open Innovation
research cluster. She holds a PhD degree in management
and business administration (2002) from Kaunas University of
Technology (KUT), Lithuania.
She is a founding member of International Association
of Knowledge Management, ISPIM, Knowledge Economy
Forum Lithuania, and also a public adviser for Kaunas
City Mayer on Strategy and Innovation. She is acting as
national and international expert on innovation policy and
entrepreneurship facilitation, is an author of more than
50 academic publications, and promotes innovation and
organizational development via business consulting practices.
Māris Millers works as a management consultant and
trainer on strategy, organisation development and change
management topics since 2004. During this period, he has
worked with more than 100 management teams of Latvian and
Baltic enterprises and organisations. He has also conduced
more than 400 seminars, trainings and knowledge sharing
events.
Maris has master degree in physics and MBA in Innovation and
entrepreneurship. Before establishing his own company MM
Studija, he worked 10 years with an international management
team at Lattelecom, largest Latvian telecommunication
company. Maris is co-founder of the Organisation
development club "OAK". He also is a visiting lecturer in Riga
Technical University, and currently works on his PhD research.
Irēna Riekstina is general secretary of Association of
Latvia Travel Agents (ALTA) and an enterpreneur. She has
previously worked with leading local and international travel
management companies specialising in providing innovative
corporate travel services for companies in Latvia. As an
experianced professional in travel industry she has served as a
president of ALTA, and was awarded as a Person of the Year in
Tourism by the turism industry professionals of Latvia.