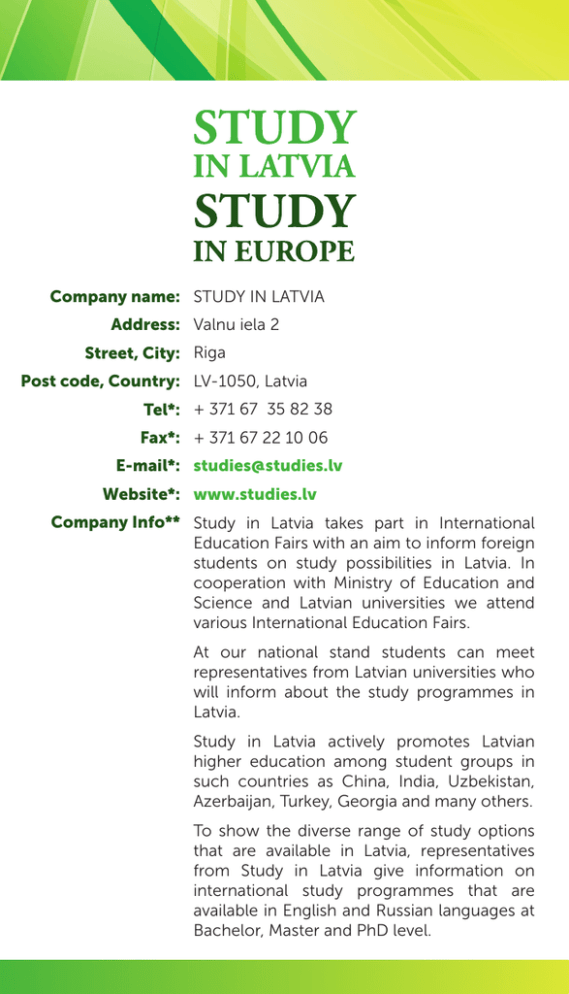 Company name: STUDY IN LATVIA
Address: Valnu iela 2
Street, City: Riga
Post code, Country: LV-1050, Latvia
Tel*: + 371 67 35 82 38
Fax*: + 371 67 22 10 06
E-mail*: studies@studies.lv
Website*: www.studies.lv
Company Info** Study in Latvia takes part in International
Education Fairs with an aim to inform foreign
students on study possibilities in Latvia. In
cooperation with Ministry of Education and
Science and Latvian universities we attend
various International Education Fairs.
At our national stand students can meet
representatives from Latvian universities who
will inform about the study programmes in
Latvia.
Study in Latvia actively promotes Latvian
higher education among student groups in
such countries as China, India, Uzbekistan,
Azerbaijan, Turkey, Georgia and many others.
To show the diverse range of study options
that are available in Latvia, representatives
from Study in Latvia give information on
international study programmes that are
available in English and Russian languages at
Bachelor, Master and PhD level.