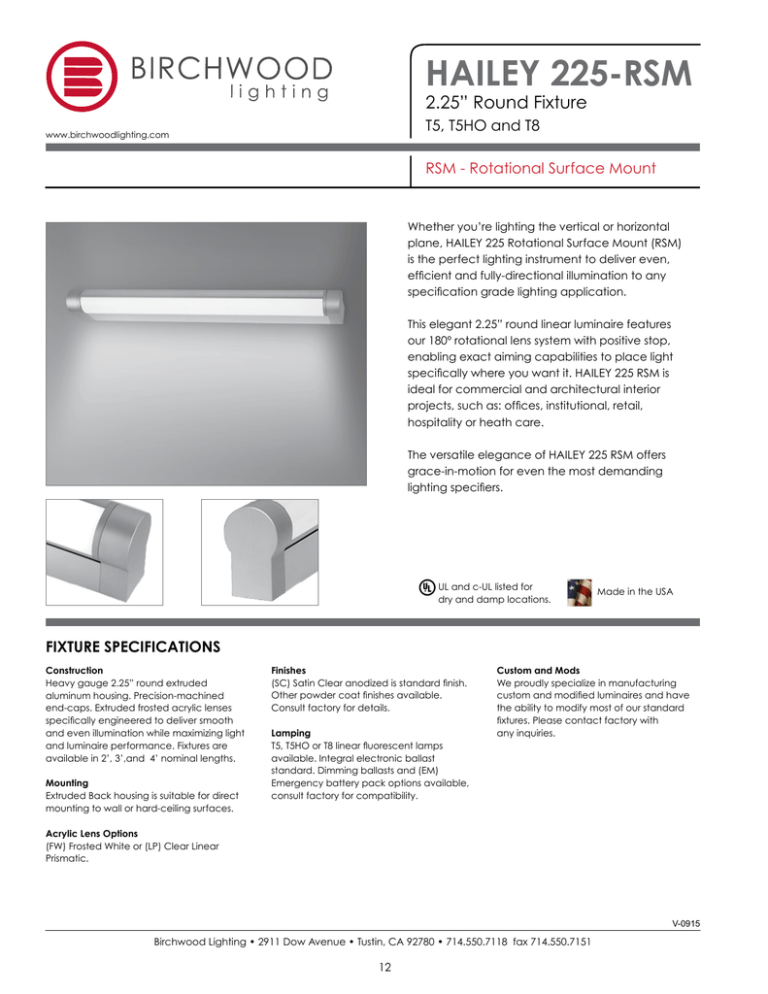 HAILEY 225-RSM
2.25" Round Fixture
T5, T5HO and T8
www.birchwoodlighting.com
RSM - Rotational Surface Mount
Whether you're lighting the vertical or horizontal
plane, HAILEY 225 Rotational Surface Mount (RSM)
is the perfect lighting instrument to deliver even,
efficient and fully-directional illumination to any
specification grade lighting application.
This elegant 2.25" round linear luminaire features
our 180º rotational lens system with positive stop,
enabling exact aiming capabilities to place light
specifically where you want it. HAILEY 225 RSM is
ideal for commercial and architectural interior
projects, such as: offices, institutional, retail,
hospitality or heath care.
The versatile elegance of HAILEY 225 RSM offers
grace-in-motion for even the most demanding
lighting specifiers.
UL and c-UL listed for
dry and damp locations.
Made in the USA
FIXTURE SPECIFICATIONS
Construction
Heavy gauge 2.25" round extruded
aluminum housing. Precision-machined
end-caps. Extruded frosted acrylic lenses
specifically engineered to deliver smooth
and even illumination while maximizing light
and luminaire performance. Fixtures are
available in 2', 3',and 4' nominal lengths.
Mounting
Extruded Back housing is suitable for direct
mounting to wall or hard-ceiling surfaces.
Finishes
(SC) Satin Clear anodized is standard finish.
Other powder coat finishes available.
Consult factory for details.
Lamping
T5, T5HO or T8 linear fluorescent lamps
available. Integral electronic ballast
standard. Dimming ballasts and (EM)
Emergency battery pack options available,
consult factory for compatibility.
Custom and Mods
We proudly specialize in manufacturing
custom and modified luminaires and have
the ability to modify most of our standard
fixtures. Please contact factory with
any inquiries.
Acrylic Lens Options
(FW) Frosted White or (LP) Clear Linear
Prismatic.
V-0915
Birchwood Lighting • 2911 Dow Avenue • Tustin, CA 92780 • 714.550.7118 fax 714.550.7151
12
HAILEY 225-RSM
2.25" Round Fixture
T5, T5HO and T8
www.birchwoodlighting.com
Type:
Job Name:
RSM - Rotational Surface Mount
SPECIFICATION CODE
HAI-225-RSM
model
Lamp Type
length
finish
lens
voltage
ballast
option
Model
Lamp
Type
Nominal
Length
Finish
Lens
Voltage
Ballast
Option2
HAI-225-RSM
2.25" aperature
Rotational
Surface Mount
Standard
T5
T5HO
T8
2 - 2'
3 - 3'
4 - 4'
Anodized
SC - Satin
Clear
FW -Frosted
White
120
277
EB - Electronic
(standard)
EM - Emergency
Battery Pack
Powder Coat
MW - Matte
White
FB - Flat
Black
CUP -Custom1
LP - Linear
Prismatic
T5/T5HO
T8
25 3⁄10"
27"
3'
37 2⁄10"
39"
4'
49"
51"
Dimming
HL3 - Hi-Lume 3D
ES - EcoSystem
ESH - EcoSystem
H-Series
0-10V - 0-10V
NOTES
1 consult factory for custom finish
2 consult factory for EM options
Fixture Lengths
2'
Dimensions
VARIOUS LENS OPTIONS
OPTIMIZED REFLECTOR
T5, T5HO, OR T8 LAMP
2-1/4"
EXTRUDED ALUMINUM
HOUSING
3-3/8"
2 1/4"
INTEGRAL BALLAST
1-3/8"
V-0915
Birchwood Lighting • 2911 Dow Avenue • Tustin, CA 92780
714.550.7118 fax 714.550.7151
13
Due to a program of continuous improvement
specifications are subject to change without notice.
© 2015 Birchwood Lighting, Inc. All rights reserved.