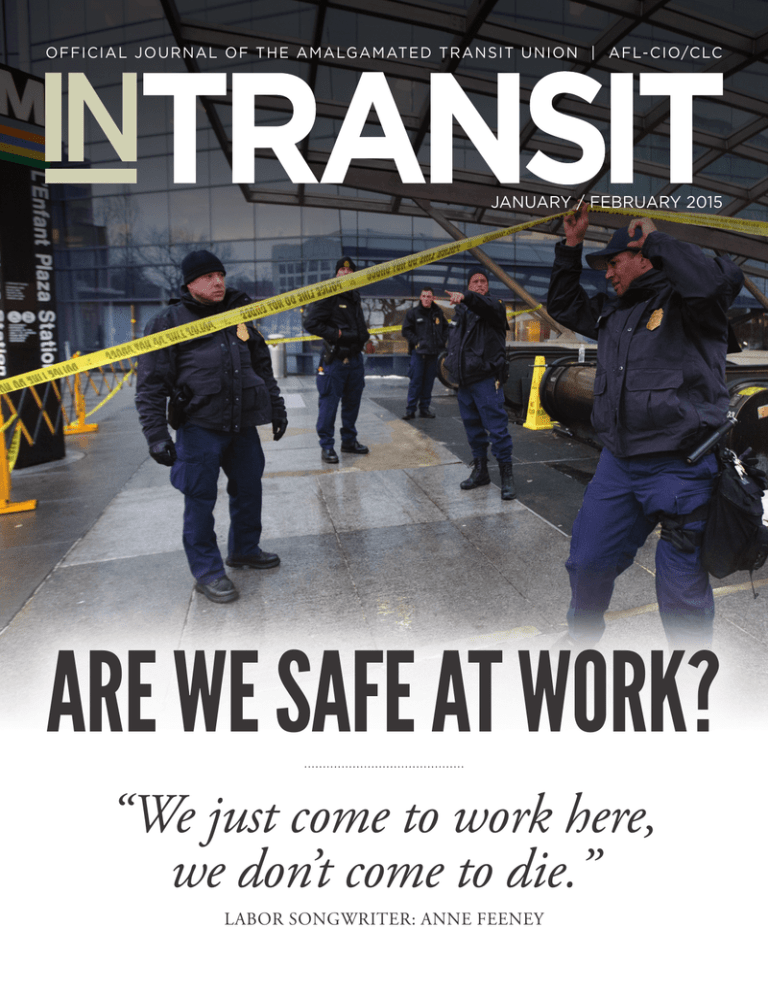 OFFICIAL JOURNAL OF THE AMALGAMATED TRANSIT UNION | AFL-CIO/CLC
JANUARY / FEBRUARY 2015
ARE WE SAFE AT WORK?
"We just come to work here,
we don't come to die."
LABOR SONGWRITER: ANNE FEENEY
INTERNATIONAL OFFICERS
LAWRENCE J. HANLEY
International President
JAVIER M. PEREZ, JR.
International Executive Vice President
OSCAR OWENS
International Secretary-Treasurer
INTERNATIONAL VICE PRESIDENTS
LARRY R. KINNEAR
Ashburn, ON – lkinnear@atu.org
RICHARD M. MURPHY
Newburyport, MA – rmurphy@atu.org
BOB M. HYKAWAY
Calgary, AB – bhykaway@atu.org
JANIS M. BORCHARDT
Madison, WI – jborchardt@atu.org
PAUL BOWEN
Canton, MI – pbowen@atu.org
KENNETH R. KIRK
Lancaster, TX – kkirk@atu.org
GARY RAUEN
Clayton, NC – grauen@atu.org
MARCELLUS BARNES
Flossmore, IL – mbarnes@atu.org
RAY RIVERA
Lilburn, GA – rrivera@atu.org
YVETTE SALAZAR
Thornton, CO – ysalazar@atu.org
GARY JOHNSON, SR.
Cleveland, OH – gjohnson@atu.org
ROBIN WEST
Halifax, NS – rwest@atu.org
JOHN COSTA
Kenilworth, NJ – jcosta@atu.org
CHUCK WATSON
Syracuse, NY – cwatson@atu.org
CLAUDIA HUDSON
Oakland, CA – chudson@atu.org
BRUCE HAMILTON
New York, NY – bhamilton@atu.org
MICHELLE SOMMERS
Brooklyn Park, MN – msommers@atu.org
INTERNATIONAL REPRESENTATIVES
NEWSBRIEFS
More than 13,000 ATU Facebook
'Likes' and growing
ATU has been garnering the power of social media. Thanks
to more members, riders and transit advocates spreading
the word about the ATU Facebook page by sharing and
liking stories, and recommending our page to "friends,"
ATU has passed the milestone of 13,000 "likes". It doesn't stop there. Our next goal is 15,000.
ATU uses social media sites like Facebook, Twitter, and YouTube to engage and inform
our members, riders and others interested in public transit about the latest news and
developments about ATU, transit, politics and labor issues across the globe. Get in on the fun. Invite your "friends" and tell your family to "like" ATU's Facebook page
(https://www.facebook.com/ATUInternational) to help spread the word on what we're
fighting for and more. Plus, don't forget to follow our Twitter handle @ATUComm to stay
up to date on what's trending in public transit, politics and other progressive issues.
Show your 'ATU Pride' with items from
the ATU Online Store
Get ready to show your "ATU Pride" – the ATU Online Store
is up-and-running!
Go traditional with the new polo or hat, or stand out with
an awesome mechanic's shirt. There are plenty of cool new
items, like the comfortable polar fleece, along with older
ones, like our member favorite leather jacket.
Whether you're shopping for yourself or someone else, for big gifts or small, you're sure
to find something anyone would want.
You can visit the ATU Online Store by clicking on the link in the far upper right corner of
atu.org, or go direct to http://atu.imagepointe.com/atu/
ANTHONY WITHINGTON
Sebastopol, CA – awithington@atu.org
DENNIS ANTONELLIS
INTERNATIONAL OFFICERS EMERITUS
STEPHAN MACDOUGALL
International President Jim La Sala, ret.
International President Warren George, ret.
ANTHONY GARLAND
International Executive Vice President Ellis Franklin, ret.
International Executive Vice President Mike Siano, ret.
Spokane, WA – dantonellis@atu.org
Boston, MA – smacdougall@atu.org
Washington, DC – agarland@atu.org
ANTONETTE BRYANT
Oakland, CA – abryant@atu.org
CANADIAN DIRECTOR
MICHAEL MAHAR
Rexdale, ON - director@atucanada.ca
Subscription: USA and Canada, $5 a year. Single copy: 50 cents. All others: $10 a year. Published bimonthly by the
Amalgamated Transit Union, Editor: Shawn Perry, Designer: Paul A. Fitzgerald.Editorial Office: 5025 Wisconsin Ave., NW,
Washington, DC 20016-4139. Tel: 1-202-537-1645. Please send all requests for address changes to the ATU Registry Dept.
ISSN: 0019-3291. PUBLICATIONS MAIL AGREEMENT NO. 40033361.RETURN UNDELIVERABLE CANADIAN ADDRESSES
TO:APC Postal Logistics, LLC, PO Box 503, RPO, West Beaver Creek, Richmond Hill ON L4B 4R6.
CONTENT
JAN/FEB
2015
Vol. 124, No. 1
12 Second Washington Local takes up
washroom campaign
13 DC paratransit driver reveals poverty, conditions
caused by privatization
14 ATU joins fight against Fast Track Trade Bill
15 International Vice President Bill McLean retires
4
DEATH OF A MECHANIC IN ERIE... DOES ANYONE CARE?
ATU, riders organize around transit
16 How They Do It: Locals active everywhere
18 ATU, unions fight 'grand larceny' plunder
of public worker retirement
19 ATU Hero: St. Louis paratransit operator
recognized for heroism
Retired Canadian IVP Arthur Burke passes
20 Local 1433: 'Are bus drivers' lives
worth $2,200?'
DC PARATRANSIT DRIVER REVEALS POVERTY,
CONDITIONS CAUSED BY PRIVATIZATION
13
Another Cleveland bus driver attacked
Halifax Transit workers sound alarm after
latest gun scare
21 Transit improves income, reduces
unemployment in NYC
2 International Officers & General Executive Board
22 Union members happier than
non-union workers
NEWS Briefs
3 Index Page
5 DC Local: Metro must commit itself to
safety culture – now
6 ATU leaders energized by DC innovative
bargaining training
Alabama, Georgia trainings activate
members, allies
7 Legislative Report: Save our cities
8 ATU training center to be named after Rosa Parks
and Tommy Douglas
More transit = more jobs
Depression highest among transit workers
23 Save the Date - 58th International Convention
Buses matter – NYC plan needs improvement
24 ATU to Lima Conference: Transit key to
fighting climate change
ATU backs international campaign to end
workplace violence against women
25 Announcing the 1st Annual ATU Photo Contest
9 International President's Message:
ATU: A Union that makes things happen
26 Get money out of politics
Fix United States Constitution
10 International Executive Vice President's
Message: 'We choose to go to the moon'
27 Cartoon: Is your grievance procedure being
used to tie up the union
11 International Secretary-Treasurer's Message:
Don't 'give the devil more than his due'
28 Translations (Spanish)
12 Guelph members get access to washrooms
and lunchroom
32 Cartoon: ATU.org promotion
31 In Memoriam
IN TRANSIT
| www.atu.org
3
DEATH OF A
MECHANIC IN ERIE
does anyone care?
By all accounts Jake Schwab was a great guy. A 27-year
veteran mechanic working for the Erie Metropolitan
Transit Authority (EMTA), many co-workers counted him
among their friends.
Local President John Renwick, 568-Erie, PA, describes
the former shop steward as a very active man who enjoyed
life, and loved his motorcycle. He and his wife had just
bought a new home, Renwick says, adding softly, "He was
my friend. I went hunting with him."
"Number one – he was a friend, a friend to everybody, we
love Jake," echoes Dispatcher Nathan Faback.
His co-workers thought so much of Jake that they
memorialized him with red mechanics' towels tied around
EMTA bus side mirrors after his death.
Before we go any further, with the details of this tragic
accident, there is something important to note. Three
weeks before, PennDot had released a report critical of the
EMTA. It read in part:
"…no staff member is currently assigned the Safety &
Security role as their primary function. This is a critical gap
in EMTA's organizational structure." 1
PennDOT conducts performance reviews of all systems.
These typically focus on ridership and revenue metrics, but
they went out of their way to point out this safety problem.
Lack of safety culture
The lack of a safety culture – particularly in maintenance
shops – is a dangerous, hidden problem plaguing many
transit agencies.
1 PennDot "Final Erie Metropolitan Transit Authority (EMTA) Transit
Performance Report" October 2014
4
January/February 2015 | IN TRANSIT
Schwab was working on the suspension of a bus EMTA
had contracted to maintain from another property. He was
killed when the bus shifted, and the suspension's air bag
blew up sending pieces of metal flying into the mechanic's
face. He died later at a local hospital.
The tragedy was covered by the city's news media, which
reported that EMTA was "tight lipped" about the incident.
Renwick says management acted like it was just an
unfortunate accident.
Amazingly the agency's insurance organization, the
Pennsylvania Association for Transportation Insurance, a
division of the state Department of Labor and Industry, is
conducting the investigation. It's not yet known what the
finding of their report will be. Not much else has been said,
but it doesn't seem like an insurance organization has the
workers' safety as its top priority.
State public workers not
covered by OSHA
Incredibly, it's possible that
no changes will take place
as a result of this good man
dying on the job. And that's
because unlike the employees
of any private enterprise,
Pennsylvania's
public
workers are not subject to
federal OSHA regulations.
There's no agency looking
out for the safety of these
transit workers; nowhere to
turn when something goes
wrong.
And things do go wrong. Renwick has seen cuts, and
broken arms that wouldn't have happened if some safety
procedures had been followed.
However, the agency gets a break on their insurance
because EMTA has a "safety committee" he says. But
nothing much happens as a result of the committee's work.
EMTA is currently building a new facility, so, Renwick
says, they're not putting any more money into their current
workplace.
The air in the garage is fouled with exhaust because
fans haven't worked there for a long time; doors that are
supposed to remain shut are wired open, he says, adding,
that oxygen tanks that are supposed to be in cages are
bungee-corded to the wall.
No safety training
But, worst of all, Renwick says, is that there is no safety
training. And this is a problem encountered by other ATU
locals as well.
Renwick wants all this to change. "We have to form a
group and talk to our politicians," he says. If nothing else,
he believes they should have OSHA's regulations put in
their contracts.
On February 8, ATU called an emergency meeting
of all Pennsylvania Locals to take decisive action to
address the safety concerns and fight to protect state
public workers. v
DC Local: Metro must commit itself to
safety culture – now
was confusion about when the third rail would be turned
off making it safe to enter the tunnel.
Woeful neglect
A deadly fire occurred, January 12, in Washington, DC's
Metro system, in which smoke from a subway tunnel
billowed into a stalled train, killing one 62-year old woman,
and sending 80 more to the hospital. An initial investigation
indicates that the smoke resulted from an electrical arc.
Unfortunately, the crisis was made much worse because
blowers designed to ventilate smoke out of the tunnels
either didn't work, or blew the wrong way.
Worse yet, terrified riders huddling on the train's floor
had to wait 40 minutes for help to arrive. Responders'
radios couldn't communicate with each other, and there
Local 689-Washington, DC, responded to the incident, saying
that the event has "exposed that the Washington Metropolitan
Area Transit Authority (WMATA) has woefully neglected
its commitment to a safety culture that can save the lives of
riders and workers. The cornerstone of a safety culture for
Metro should be an environment where Metro employees feel
empowered and welcomed to identify accidents and potential
hazards. WMATA leadership continues to fail miserably at
cultivating this environment."
Boston
Concern about safety on public transit was ratcheted up
a notch after another subway car in Boston filled up with
smoke on January 29. A failure in the propulsion system
was blamed for the problem. Riders got off five of the six
cars, but passengers in a sixth had to kick out windows to
let passengers out. v
IN TRANSIT
| www.atu.org
5
ATU leaders energized by DC innovative
bargaining training
Leaders from more than 30 Locals took part in
innovative bargaining training in Washington,
DC, in January. Attendees learned from the
experiences of their sisters and brothers and
heard from experts on topics including "Winning
Contract Campaigns," "Building International
Alliances," "Negotiations Skills Training,"
"Healthcare Bargaining." At the end attendees
committed to forming action committees at
their Locals to build power for bargaining. They
also spent a day at ATU's recently acquired
Parks-Douglas Center in Silver Spring, MD.
This training will be offered to all Locals in the
year as their contracts expire. v
Alabama, Georgia trainings activate members, allies
Alabama
Georgia
Members of Locals 725-Birmingham, 765-Montgomery,
and 770-Mobile, joined with passenger allies to take part
in an innovative ATU training in Alabama.
More than 40 Local 732 members took part in an ATU
training in Atlanta, GA, to learn new strategies to empower
members to get involved, make our Locals stronger, and
engage riders in our battles.
More
than
20
people took part in
the program which
covered a wide range
of topics and issues.
Attendees
discussed
the unacceptable state
of affairs for members
and riders and began to develop strategic plans to fight for
more, better and safer public transit.
In the coming year Alabama will be the site of several
high profile commemorations of historic events in the
civil rights movement, including the 60th anniversary of
the Montgomery bus boycott, which was triggered by
the arrest of Rosa Parks. The 50th anniversary of the voting
rights march from Selma to Montgomery will also be
remembered in early 2015. ATU Locals and allies will
organize a statewide campaign to improve bus service
in Alabama.
6
January/February 2015 | IN TRANSIT
and grievances. The trainings covered
topics such as: how
to be an effective union
member in a hostile
work
environment,
building rider and
community coalitions,
strategies for bargaining
ATU will continue offering exciting advanced training
and education programs in 2015. If you would like to take
part in one of these please contact your Local or email
training@atu.org. v
LEGISLATIVE AGENDA
There is a crisis brewing in Washington, DC, and we need
your immediate help to stop a bill that will have a direct
impact on you and your family. Corporate lobbyists have
been hard at work for the past three years working behind
closed doors on a massive "free trade" deal called the TransPacific Partnership (TPP). We've seen the results of these trade pacts before. Good
paying jobs get shipped overseas to countries where
workers are paid in pennies rather than dollars. Three
of the countries in the proposed trade deal — Brunei,
Malaysia and Vietnam — are serial human rights abusers
who cannot be counted on to comply with labor standards.
instituted a moratorium on fracking.
Not a smoker or an environmentalist? Here's one that hits
closer to home:
Veolia used ISDS to challenge Egypt's minimum wage.
So if you work for a transit system that contracts out work
to a company like MV, First Transit, or Transdev, and
your state or local government enacts a law to improve
your wages, benefits, or working conditions, the private
company would be able to sue the government. It's a
gun aimed straight at the heads of working families.
Stop fast-track!
Transit lays off workers
With no more jobs here, people move out of our cities,
which begin shrinking and crumbling. Then the transit
system starts eliminating routes and laying off workers.
If you live in a rust belt area, you remember what your
city used to look like. Compare that to the Main Street of
today. That's what happens when good paying American
jobs are lost. TPP is a massive power grab by corporations, which
undermines U.S. and Canadian sovereignty. The Investor
State Dispute Settlement (ISDS) is a provision in a number of
free trade agreements including the TPP that grants a foreign
corporation the right to initiate dispute settlement proceedings
against a government for failure to enforce the special investor
protections contained in trade agreements. These challenges
are heard before private UN or World Bank tribunals. What
does this mean for you? Here are a few examples:
Phillip Morris used ISDS to challenge anti-smoking laws
in Australia and Uruguay. Lone Pine Corporation is using
ISDS to sue Canada for $250 million because Quebec
Corporate America has a two-step plan to jam this trade
deal down our throats. First they need to pass a "fast-track"
authority bill that would force Congress to quickly take
an up-or-down vote on the pact. This would bypass the
normal process where they could either filibuster or amend
the trade agreement. If that passes, then they would move
on to the main bill. The idea here is to get lawmakers to
vote before they have had a chance to read the bill. This is
no way to run a railroad.
Stopping fast track is the only real way to change and defeat
the TPP. We need you to tell your Members of Congress
to stand with us against Corporate America. Organized
Labor is united in this effort, and ATU is working with
many other unions to fight back.
ATU Locals are mobilizing and meeting with key Members
of Congress who have said that they are uncertain how they
will vote on fast track. A vote is expected this spring, so
please get in touch with your Local's leadership and help us
fight back. With your help, we can save what is left of the
Middle Class. v
IN TRANSIT
| www.atu.org
7
ATU TRAINING CENTER
TO BE NAMED AFTER
ROSA PARKS,
TOMMY DOUGLAS
Tommy Douglas
The man who led the fight in Canada to provide
health insurance for all, Thomas Clement "Tommy"
Douglas, (October 20, 1904 – February 24 1986) has been
called "the greatest Canadian." A Baptist minister and champion boxer, he left the pulpit to
work for political reform. The powerful orator and tireless
activist was elected to serve as a Member of Saskatchewan's
parliament, and later, premier of the province – an office
he held for 17 years. The ATU General Executive Board has approved
International President Larry Hanley's recommendation
to name the new ATU training center the Parks-Douglas
Center after Rosa Parks and Tommy Douglas, heroes
ATU members honor as two of North America's most
courageous leaders.
Rosa Parks
A woman who risked her personal safety and perhaps
her life for the freedom of all Americans, Rosa Parks
(February 4, 1913 – October 24, 2005) took bold action
by refusing to give up her seat on a Montgomery, AL, bus
in 1955. Her action came to be regarded as a watershed moment in
the history of the civil rights movement.
"Rosa Parks was the most effective transit passenger
organizer in the history of our nation," says International
President Hanley. "America is a better place today
because of the singular stand she took on a bus against
segregation."
8
January/February 2015 | IN TRANSIT
He introduced the continent's first single-payer, universal
health care program; a program that would eventually be
adopted across Canada.
After setting up the Saskatchewan Medicare program,
Douglas was elected as the first leader of the New
Democratic Party (NDP), formed in 1935, to advance the
cause of Labour. He was a strong advocate of the Canada
Pension Plan and was considered the "conscience" of
Parliament on matters of civil liberties.
"A staunch supporter of public transit, Douglas believed
in the crucial role of civil rights and the great potential of
cooperation for the common good," says Hanley. "He is a
role model for the next generation of progressive leaders."
The Parks/Douglas Center
"The Parks/Douglas Center will open its doors to train
many in the tradition of these two leaders," Hanley
continued. "Future generations of organizers will draw
from the brilliance, strength and courage of these two
models of community action and leadership and we will
forever celebrate the generosity of their spirits and legacies.
They will live on in us." v
LARRY HANLEY, INTERNATIONAL PRESIDENT
ATU: A Union that makes
things happen
You will find no grass growing under our feet in the ATU
these days. We are living up to our promises:
• Training is expanding, and it is getting better.
Throughout ATU our members are learning to
do more.
• We are running campaigns in Las Vegas, Atlanta,
Washington, DC, fighting for member rights.
• In congressional districts across the U.S. our Locals
are fighting against Fast Track - Free Trade—also
known as sending more jobs to China and Vietnam.
• In Vancouver, BC, our Locals are campaigning for
a referendum to raise funds for mass transit.
• In Winnipeg, MB, this In Transit reports on
Local 1505 conducting "ride-alongs" with elected
officials.
• In Ontario the campaign against privatization
continues.
• In Ohio our Locals are preparing a fight for transit
funding.
• In Alabama we are working to build a campaign
for transit on the 50th anniversary of Rosa Parks'
arrest on a bus.
One ATU star is Bus Operator Karen Reed who, as a part
of Local 689's campaign for private sector transit workers,
rose in a church packed with 850 activists to tell her
story of working 65 hours a week but still being homeless
while working for First Transit's discount wages in the
U.S. Capital. Her brilliant speech to the new mayor of
Washington can be seen at www.atu.org under videos.
Please watch this member tell the story about the impact
it has on workers when private companies run transit.
In Scranton, PA, members of Local 168 have done a
great job of organizing riders, and through the riders,
preventing service cuts and layoffs. I am proud of the
energy that is exploding around our Union.
While training continues, we are renovating our own
new training center and as you will read in these pages,
the General Executive Board has agreed with my
recommendation to name our campus in honor of a
couple of the best organizers in our two countries' history,
Rosa Parks and Tommy Douglas.
As you read their stories and feel their humanity I'm sure
you will sense the power of their compassion for their
fellow citizens. Both fought for the dignity of regular people
and in winning health care for Canadians (Douglas) and
civil rights for Americans (Parks) they set the bar for us all.
We hope that many generations of community and labor
organizers will emerge from our trainings at the new
campus. We expect a dedication of the new campus in
Silver Spring, MD, in the late spring of 2015.
So much is coming together right now for the ATU - we
are seeing great success in organizing both new members
and our existing ones.
Finally, we are about to establish the Joint Industry
Councils and at the same time put more resources into
the safety of our members. The recent tragic death of
Jake Schwab, a mechanic and member of Erie, PA, Local
568, brought to us a reality we are compelled to deal
with. Too many of our mechanics work without proper
training and without adequate safety procedures.
We promise to grow our safety campaigns – for mechanics
to be trained and protected from hazards and bus operators
to be protected from assaults.
Some Locals have really picked up the fight for bathroom
breaks and their stories in this issue highlight the
success your Local can have. This is again an issue of
basic human dignity. So all in all, I can report with
sincerity and with confidence that the ATU is, more and
more, a Union that makes things happen.
Please visit www.atu.org for more information and the
latest ATU news. v
IN TRANSIT
| www.atu.org
9
JAVIER PEREZ, JR., INTERNATIONAL EXEC. VICE PRESIDENT
'We choose to go to the moon'
On July 21, 1969, the world watched, held it breath, and
prayed for the safety of astronaut Neil Armstrong as he
began his decent from the lunar module to the surface of
moon. This was the successful culmination of a vision,
a plan and a collaborative effort toward a goal shared by
many Americans.
The vision was first articulated in an address delivered by
President Kennedy on September 12, 1962. In describing
his vision and his goal Kennedy declared:
"Its hazards are hostile to us all. Its conquest deserves
the best of all mankind, and its opportunity for peaceful
cooperation may never come again. But why, some say,
the moon? Why choose this as our goal? And they
may well ask why we choose to climb the highest
mountain? Why?"
'…not because they are easy'
"We choose to go to the moon in this decade and do the
other things, not because they are easy," he said, "but
because they are hard, because that goal will serve to
organize and measure the best of our energies and skills,
because that challenge is one that we are willing to accept,
one we are unwilling to postpone, and one which we
intend to win".
Bill Gates had a vision when he established Microsoft. He
saw a path to harness the power of room-size mainframe
computers and shrink them down to our desktops. While
many doubted Gates' vision, his goal became a reality.
Steve Jobs also had a vision when he started Apple
computer. He believed he could take Microsoft's success
one step further. Why be bound to a desktop for
information? Why be tethered to a wall to make a call?
Jobs took computers from our desktops and put them in
our pockets.
10
January/February 2015 | IN TRANSIT
These innovators had vision and understood the value of
goal setting and follow-through. Their accomplishments
were not easy. Indeed, their visions were fulfilled, some
might say, against all odds.
ATU's vision
At our last Convention the delegate(s) from your Local
and others approved a vision and plan to move our ATU
forward. The Convention was the culmination of President
Hanley's discussions and interactions with Local officers
leading to a vision, and the subsequent crafting of a plan,
and course of action toward a tangible goal.
To date we have achieved a measure of success, but have
many miles to go and can't afford to rest.
We choose to do this, as President Kennedy said, "not
because it is easy." No, we do this because, no matter
how insurmountable the obstacles may seem, it is
something we must do if we are to keep faith with our
values, and our commitment to provide better service
for our passengers, a better life for those we love, and for
those who come after us.
A vision, however, is only a daydream until people come
together to make it a reality. That's where you come in.
We need you to join us in the great work that you see
described in page after page of this magazine.
Nothing can stop us if we all work together. v
Please visit www.atu.org for more information and the
latest ATU news.
OSCAR OWENS, INTERNATIONAL SECRETARY-TREASURER
Don't 'give the devil
more than his due'
I'm writing on a cold and rainy winter morning in
Washington. It's pretty miserable outside. Far different
from Northern California where I lived before coming
to DC.
The political climate doesn't seem much different – at
least from the point of view of those of us who fight for
working people and public transit. All we hear is "gloom
and doom."
Yes, it's important to see things clearly. It doesn't help to
pretend that things are better than they really are.
us if we are united and politically active – in other words,
if we have "solidarity."
There are many examples in history of leaders who
accomplished great things because they refused to believe
that nothing could be done about the injustice they
experienced in their lifetimes. Leaders like Mother Jones,
Tommy Douglas, and Dr. Martin Luther King, Jr., fought
on when others said their missions were pure folly, or, even
worse – dangerous.
A reason to hope
They're not invincible
But, it also doesn't help to think things are worse than they
really are; that the Koch brothers, the TEA party, and their
anti-labor friends in American and Canadian legislatures
are all but invincible – because they're not.
You hear people say that union members don't get involved
in political action because they are comfortable and
apathetic. But, I think a lot of people stay home because
they think that little can be done about the injustice
we're fighting.
A lot more of us than there is of them
I'm reminded of an old expression: "Don't give the devil
more than his due."
They attracted thousands to their cause because they gave
people hope. By lifting people up, they gave them a reason
to get involved. We'd do well to follow their example.
So the next time you hear a news report on the inevitability
of bad things happening to workers or public transit –
don't believe it.
We have the power to stop bad things from happening,
and to accomplish a lot of good. But, we have to begin
exercising that power while it's still winter.
Remember, no matter how cold, dark and miserable it gets
– spring is just around the corner. And spring, particularly
here in Washington, is really beautiful.
Please visit www.atu.org for more information and the
latest ATU news.
By that, I don't mean that those who oppose us are "devils."
What I mean to say is, yeah, things are tough right now,
but, even so, our opponents are not all-powerful, 10-foottall giants whose ideas can never be defeated.
Nope, they're just people who have a lot of power because
they have a lot of money. But there are a lot more of us
than there are of them, and, believe me, no force can beat
IN TRANSIT
| www.atu.org
11
Guelph members
get access to
washrooms and
lunchroom
For many ATU members, adequate
time for bathroom breaks and access
to clean and warm facilities have been
ongoing and troubling issues. Guelph, ON, transit workers were
suffering with that situation, but
thanks to successful contract
negotiations over the summer, and
some great cooperation with the
University of Guelph, the members of
Local 1189-Guelph, ON, now have
access to washrooms at the university
and a climate-controlled lunchroom.
The drivers can even access the
washrooms around-the-clock.
"We are continuing to work with
the management team at the City
of Guelph to address the needs of
our union members and ensure
quality working conditions at
all times of the year," says Local
President Andrew Cleary. "We thank
the Guelph Transit management
team and the University of Guelph
for being so responsive to the needs
of our drivers this season." v
Second Washington Local
takes up washroom campaign
In our last issue In Transit reported on the fine the Washington Department of
Labor and Industries (L&I) levied on King County Metro for failing to provide
bus drivers enough locations and adequate time to use the restroom. The agency
was also forced to submit an improvement plan to the state before the end of
the year.
The action was a direct response to the work Local 587-Seattle, WA, had been
doing on the issue for several years. Now Seattle's sister Local, 1576-Lynnwood,
WA, is undertaking a similar campaign to get First Transit to clean up it's act
there as well.
The campaign was instigated when management took a picture of a messy
bathroom in their building that was broadcast on their in-house TV feed with
the message: "This behavior is not acceptable, and it disrespects your fellow
employees."
That message provoked the following response from Local 1576:
'We are not pigs'
"Our members have been subjected
DAILY to filthy, unsanitary and
inaccessible Sani-Cans out in the
field, which are only cleaned every
3-7 days and often not stocked
with even basic hand sanitizer, let
alone running water and towels.
"We report these conditions, bring
them to Labor/Management meetings, and even call the vendors to no avail.
In fact, management blames us! Where is OUR RESPECT? We are not pigs.
We are human beings, and their employees. It really makes me wonder, when
management has to resort to name calling and public humiliation after a few
paper towels are left on the floor, while simultaneously refusing to provide us
with clean and available restrooms… WHO IS REALLY THE PIG?"
'Let's do something about it'
The Local then laid out its plan: "When you see poorly maintained restroom
facilities, or if you are driving a route that has no facility available, LET'S
DO SOMETHING ABOUT IT. Please take pictures of the conditions AND
cleaning schedule (posted on the wall) and forward them to the union. If there
is no facility available to you, we need to know about that as well. We will be
taking our concerns to the company, the Board of Directors, and L&I."
In Transit will keep you posted. v
12
January/February 2015 | IN TRANSIT
DC paratransit driver reveals poverty,
conditions caused by privatization
TESTIMONY MARKS TURNING POINT IN DC-AREA CAMPAIGN
In heart-wrenching and passionate testimony a Metro
Access paratransit operator gave new Washington Mayor
Muriel Bowser and 850 DC residents a first-hand look
at the grim impact transit outsourcing has on working
families.
Speaking on a January evening to a packed house at St.
Augustine Catholic Church in Washington, Operator Karen
Reed brought tears to Mayor Bowser's eyes as she described
the financial struggle she endures as an employee of a
private, for-profit company contracted by WMATA (DC's
transit agency) to provide paratransit service. Reed was one
of several speakers at a Washington Interfaith Network
(WIN) forum on public services held for the new mayor.
"Employee turnover is through the roof and customer
service suffers."
Second class citizens
Attended by members of Local 689, International
President Larry Hanley, and the ATU General Executive
Board, the emotional event marked the next phase of
ATU's campaign to fight outsourcing of transit services,
to strengthen transit investment in local communities, to
unionize, and to raise the wages of area transit workers
who for too long have been treated as second class citizens.
Through their involvement with WIN, 689 has been
building alliances with congregations, riders, community
activists, and labor allies to broaden their support.
"Karen's story is the story of thousands of workers in the
DC area," says International President Hanley. "It brought
the whole church to tears, including Mayor Bowser."
The power and emotion of Reed's story hit home
for many.
'Disposable people'
"It would be a smoother ride for everybody if WMATA
and First Transit would stop cutting corners and stop
treating me and my fellow workers like disposable
people," said Reed, who emphasized the importance of
her job in transporting people with disabilities and seniors.
She was joined on stage by Barbara Mushette, one of her
passengers, who praised Reed's dedication to the job and
questioned the scheduling policies of First Transit and its
treatment of workers and passengers alike.
$26,000 per year
Reed talked about the importance of her connection
with riders and the accompanying dangers she and her
co-workers face every day, from bad road
conditions to robberies. Reed is dedicated to her work,
but is paid only $26,000 per year (less than 30% of area
median income), which qualifies her and her daughter
for food stamps, housing assistance, and Medicaid.
She and her daughter were homeless for three months
last year. "You are going to pay me either way. In my public benefits
check – or my paycheck," she explained in relating her
need for public assistance to survive. "I enjoy working
for a living. Stop insulting me. Pay me in just one check
– MY PAY CHECK!"
Watch Karen's testimony at; www.atu.org or on the Local
689 web site at; www.atulocal689.org/videos v
IN TRANSIT
| www.atu.org
13
ATU Joins
FIGHT AGAINST
Fast Track Trade Bill
Recognizing the destructive impact of free trade agreements
on working families, ATU has joined all of Labor in
its fight against a fast track free trade bill that would
establish a process that allows no amendments and
limited debate in the U.S. Congress on international trade
agreements negotiated by the president.
in the environmental movement will mobilize for fair trade. A vote is expected in late February or early March. Fast track passage would let President Obama railroad
through three job-losing trade treaties, led by the TransPacific Partnership (TPP) agreement with 11 other Pacific
Rim nations. Several of those nations, notably Vietnam
and Brunei, feature impossibly low wages, extensive worker
repression, or both.
Shrouded in secrecy
Creates unbalanced system
"Fast track' is just another name for the corrupt and
undemocratic process that has been used to ram destructive
trade deals through Congress; deals that have led to a
systematic elimination of good jobs, have devastated our
communities, and degraded our standard-of-living for the
last 30 years.
Fast track legislation allowed the North American Free
Trade Agreement (NAFTA) and the Korea Free Trade
Agreement (KFTA) to be quickly passed through Congress
with weak labor and environmental side deals. NAFTA
and KFTA resulted in the loss of nearly 800,000 jobs and
the closing of countless factories.
Many years later, we find an unbalanced system in which
profits soar even as workers take home a diminishing share
of the national income.
Labor's strategy to battle fast track will be to pick key
congressional districts where unions and their allies, notably
14
January/February 2015 | IN TRANSIT
This is the latest scheme concocted by the wealthy elite to
line their pockets at the expense of the middle class. The trade deals the fast track authority would affect
are shrouded in secrecy. The bill doesn't give the public
any opportunity to improve a bad deal. Indeed, it doesn't
even require that Congress or an independent body
evaluate the trade deal to ensure it has a positive impact
on the U.S. trade balance, job creation or environmental
protections before the fast track procedures apply – every
deal, no matter how bad, is entitled to the same preferential
treatment. If passed, the bill would:
1. Keep the very low congressional "standards" that
allowed weak trade agreements like NAFTA to
pass;
2. Keep the negotiating process behind closed doors,
subject to too much Wall Street and special interest
influence;
3. Ensure that irresponsible corporations remain
unaccountable for labor and environmental
violations anywhere in their supply chain.
"ATU will be joining with all of Labor to fight with
vigor the president's and Congress's fast track and free
trade legislation which would do more to hurt working
Americans than his progressive programs could do to help,"
says International President Larry Hanley. v
International Vice President
Bill McLean retires
International Vice President
Bill McLean retired in
January, after serving ATU
members in that office since
his appointment in 2002. He
was elected to that post at
the International Convention
in 2004, and was re-elected at
every subsequent Convention
until his retirement.
McLean worked his way
through graduate school by
driving extra-board for Santa Clara Transit.
He graduated with an associate's degree in mathematics,
and bachelor's and master's degrees in history.
He chose the bus
After McLean completed his studies, he had a choice between
starting as an associate professor for $9,000 per year, or
driving a bus full-time for $12,000. He chose the bus.
McLean became active in Local 265-San Jose, CA, after the
new propane buses they were driving at the time regularly
started catching fire. He and other members demanded
safe vehicles.
He was elected local executive board member in 1977,
secretary in 1984, and president in 1988, where he built a
strong and successful local union.
He then chose to stay involved, leading to a 38 year
career helping ATU members throughout the U.S. and
Canada. v
ATU, riders organize around transit
ATU is having great success in mobilizing members and
riders to fight for more, better and safer transit across the
U.S. and Canada. With events such as May Transit Action
Month, the Fund Transit Rally in DC, and the Year of
Transit Action campaign there has been a growing movement
demanding change for public transit and working families. Coalitions
Alicia Williamson from
Pittsburghers for Public Transit
One example is in Pittsburgh
where ATU members helped
establish Pittsburghers for
Public Transit (PPT). Founding
PPT member Alicia Williamson
writes in a recent blog about
the importance of coalitions
working together to fight
rampant layoffs, service cuts,
fare hikes, and privatization
while building solidarity
among the working people who operate and use transit: "ATU has become an increasingly progressive and activist
union in recent years," writes Williamson. "Worker
coalitions organizing locally can help build the cultural
movements we need to initiate systemic changes and
strengthen public control of resources that are crucial to
more sustainable and equitable futures." In 2015 ATU will continue its push for more, better, and
safer transit, while working for social, environmental, and
economic justice, all of which are invariably linked with
our cause. Read her full blog at: http://bit.ly/1Dtz4dU
The ATU International Field Mobilization Department
can help your Local in this work. The IU also trains local
officers to arrange these coalitions. v
IN TRANSIT
| www.atu.org
15
Forging a worker-rider alliance
in 'Electric City'
A similar scheme had been uncovered earlier in neighboring
Luzerne County. In that case, PennDOT sought to
prosecute two managers, and the state reclaimed the
fraudulent funding by tapping into LCTA's reserves.
Solution: Crush transit riders, workers
COLTS, however, lacked such financial reserves. A new
management team cooperated with PennDOT to devise a
plan to repay the state $5.7 million by crushing riders and
transit workers alike.
The year was 1886 when the city of Scranton, nestled
in Pennsylvania's coal-rich Lackawanna River Valley,
introduced the nation to America's first-ever electrified
streetcar. The event not only gave Scranton its nickname,
"Electric City," but also eventually helped open a new era
for transit in the United States.
'Phantom riders'
Fast forward to last year, when bus riders in Scranton were
facing a very different transit future. In early 2014, the
Pennsylvania Department of Transportation (PennDOT)
uncovered a scandal. From 2006-2011, they claim, County
of Lackawanna Transit System (COLTS) management
defrauded the state by creating "phantom riders." COLTS,
which operates the county and Scranton's bus system,
inflated the number of senior citizen riders, claiming to
transport more than one million seniors when in fact they
were moving closer to 200,000.
Why? Because such increases in ridership would
automatically trigger an increase in state funding.
16
January/February 2015 | IN TRANSIT
Six bus routes were to be eliminated, and several others
were to be shortened or rerouted. Thirteen bus operators
stood to lose their jobs.
Adding insult to injury, the state had no plans to hold
the former COLTS managers accountable. You read
that right: rather than investigate the culprits,
PennDOT wanted working families to pay for
management's crimes.
Local 168 – a 115-year old Local Union with fewer than
80 members – did not wait for the hammer to drop. Using
skills they learned at ATU trainings and the connections
they have made as community members, local officers like
Local President Mark Gifford, the Local 168 executive
board, and rank-and-file members like Bob Lesh quickly
mobilized members and riders to oppose the cuts.
How they fought back
üFirst, they went online to gather phone numbers for
local elected officials, put them on a leaflet with a
short message to the public about the proposed cuts,
and began leafleting riders along the routes and at
major hubs. Soon, concerned riders joined them.
üSecond, they launched a petition to oppose the
cuts and began gathering signatures from riders.
Concerned riders began collecting signatures on
their own. Within just a few weeks, the combined
effort yielded more than 6,000 signatures.
üThird, through a word-of-mouth campaign, they
mobilized community members, passengers, and the
press to attend COLTS' public meetings. Hundreds
of people participated, all strongly opposing a plan
that they said would cost them their jobs, their
health, and their only means to get around their city.
The enormous outcry resulted in a series of favorable press
reports and spurred a team of elected officials to travel to
Harrisburg to meet with PennDOT. In December 2014,
PennDOT agreed to revisit the repayment proposal.
Routes and jobs still intact, but Local
not waiting around
COLTS riders still have their routes and drivers still
have their jobs, all thanks to a few committed union and
community volunteers who sounded the alarm when they
saw the devastation that lie ahead.
As of press time, PennDOT and COLTS are currently in
talks to extend the repayment window and permanently
eliminate the threat of cuts or layoffs. But Local 168 and
its riders aren't waiting around. They are forming a joint
committee to plan more actions and ensure that riders and
workers aren't punished for the crimes of a few corrupt
managers. v
Winnipeg local gives legislators hands-on
appreciation of transit work
Local 1505-Winnipeg, MB, has taken legislator "ride-alongs"
a step further by providing local officials with a closer look at
what it takes to be a transit worker.
Kevin Lamoureux, Liberal MP of Winnipeg North, got a
behind-the-scenes look at maintenance work at Winnipeg
Transit's Fort Rouge garage. Lamoureux previously had
gone on a bus ride-along with Local President John Callahan
earlier in 2014 (photo).
On the facility tour, Callahan showed how things have
changed over the years, from the past, when blacksmiths
used coal forges to make mechanics' tools to the ongoing
Liberal MP Kevin Lamoureux, Winnipeg North, left, during a ride- rebuilding of every aspect of a bus. along with Local President John Callahan, 1505-Winnipeg, MB
Councilor behind the wheel
City Councilor Mike Pagtakhan from Point Douglas, also got a tour of the Fort Rouge facility, and actually learned
what it's like to be behind the wheel of a 40-foot bus (in controlled conditions on the property of course). He experienced
how it feels to drive inches beside a loader – without having to worry about picking up passengers or traffic. The Local
says he now has much added respect for the operators of Local 1505. v
IN TRANSIT
| www.atu.org
17
ATU, unions fight 'grand larceny' plunder of
public worker retirement
Did you see the story about Detroit's city workers voting
to accept the pension adjustment offered by the City in
their collective bargaining contract? If you did you
probably thought that the deal offered to the members of
Local 26-Detroit, MI, wasn't great, but it could have been
a lot worse.
Retirees plunged into poverty
Problem was – it was a lot worse, but nobody knew it at
the time. The majority of Detroit's public service union
members accepted language in their latest contracts that
committed them to accepting whatever the city's U.S.
bankruptcy judge decided regarding their pension.
With the average Detroit General Retirement System
recipient receiving only $19,000 per year, at least 20% will
be pushed below the poverty level. The deal once known as
"the grand bargain," is now being called "grand larceny."
The 'grand bargain'
A group called the Detroit Active and Retired Employees
Association (DAREA) filed an appeal of the bankruptcy
judge's decision with U.S. District Court Senior Judge
Bernard Friedman.
They did so believing that ratifying that language
represented an acceptance of the "grand bargain" proposed
by the city's emergency fund manager at the time which
would reduce future retiree pension payments by 4.5%;
replace retiree health care with Medicare for retirees
older than 62, and a health care stipend of $125 per
month for those under 62; and eliminate cost-of-living
allowance (COLA) increases.
ATU advised members to vote 'No!'
It's worth noting that Local 26 never trusted the deal, and
advised its members to vote "No!"
The Local's fears were borne out when the bankruptcy judge
later also decided to plunder workers' optional annuity
funds in addition to their regular pension.
The original annuity fund deal gave workers the option of
investing 3%, 5%, or 7% percent of their wages in the fund.
The employees were guaranteed no less than 7.9% return on
their investment, and more if the fund earned more.
The judge decided that public employees should not have
been guaranteed 7.9% return on their money, and should
never have earned anything above that.
So it was decided that the City would "claw-back" the
"excess" money it had already paid out.
18
January/February 2015 | IN TRANSIT
Some retirees with rolled over accounts received bills for
over $100,000. The City simply took the money out of
the accounts of those whose money was still invested in the
annuity fund.
ATU and the other public union retirees are not going to
allow this to happen without a fight.
A lot at stake
ATU members like all public workers have a lot at stake
in the outcome of this legal challenge, because it is being
viewed as a model for other cities and states to follow in
robbing pension money from their own workers while
giving larger tax breaks to those who don't need them.
Artwork saved!
While Detroit is cutting pensions and driving workers
and retirees into poverty, the City is holding artwork
estimated to be worth between $2.7 – $8.5 billion.
Current and retired city employees are wondering why at
least some of that art couldn't have been leased to other
cities to restore the pension. v
ST. LOUIS PARATRANSIT OPERATOR RECOGNIZED FOR HEROISM
St. Louis, MO, Metro Call-ARide operator Lamont Moore,
who helped rescue a toddler and
an adult from an apartment fire,
was recognized November 21,
for his bravery at the Bi-State
Development Agency Board of
Commissioners meeting.
On October 26, Moore had just finished dropping off
a Metro Call-A-Ride customer and was getting ready to
take his break, when he noticed black smoke in the air. He
followed the smoke and saw an apartment building on fire.
He could see people trapped in a second floor apartment.
Flames were blocking them from getting out the only door.
the ground. With the help of another bystander, he broke
her fall and got her to safety.
Catches toddler thrown to safety
The Local 788 member then saw a man holding a toddler
at the same window. He told the man he would catch the
child. The man dropped the 2-year-old boy and Moore
caught the toddler. Moments later, someone arrived with a
ladder and got the man out of the burning building. The fire
department arrived shortly thereafter.
After everyone was safely out of the burning apartment,
Moore looked at his watch and saw that his break was nearly
over, so he drove off to pick up his next passenger. v
Moore instructed a woman to climb out feet first, and then
hang from the windowsill before letting go and falling to
Retired Canadian IVP Arthur Burke passes
Retired International Vice President Arthur H. Burke passed away recently in Canada. Burke was
first appointed an international vice president in 1971, and was elected at the following International
Convention. He was re-elected IVP at every subsequent Convention until his retirement in 1983.
When he was appointed, Burke was serving as vice-president of Local 113-Toronto, ON, a
position he had filled for four years. Prior to his election as local vice president in 1967, he
served as the shop steward for the "interurban group" from 1956 to 1959, when he was elected
a board member – an office he held until he was elected local vice-president.
Born in Kearney, ON, Burke at 18 joined the Royal Canadian Dragoons and served during
World War II in Italy, France, Germany, and Holland. Upon leaving the service, he took employment at Gray Coach
Lines, a subsidiary of the Toronto Transit Commission, as a driver in the interurban service. He joined Local 113 in 1946.
Burke served as president of the National Canadian Regional Conference and the Canadian Council during his years as
international vice president.
Art Burke was a true ATU man who attended many international events and Conventions during his retirement. The
international staff will miss his supportive presence. v
IN TRANSIT
| www.atu.org
19
Local 1433: 'Are bus drivers' lives worth $2,200?'
In the first incident a would-be rider pummeled a 67-year
old driver with a skateboard when he was asked for the
correct fare. In the other, a driver was punched 20 times.
'They don't know what to expect'
Local President Bob Bean says his drivers are under attack every day. "They don't know what to expect," he says.
"When they tell somebody, 'You're short 25 cents, I can't
give you a pass,' they don't know whether they're going to
get hit, spit on, kicked or a soda thrown in their face."
Assault against bus drivers is a crime, but it's also an unrecognized social phenomenon that is occurring in cities and
towns around the world. The violence seems to grow as the
heralded end of the recession and income inequality leaves
millions worse off than they were eight years ago.
Bean is pushing for harsher sentences for convicted assailants, and protective shields.
He estimates each shield would cost around $2,200 to install, and asks, "What it comes down to is, are these drivers'
lives worth $2,200?" v
Too many transit agencies and private operators have been
slow to do anything about the problem.
That's what Local 1433-Phonix, AZ, has concluded after
two recent violent attacks on their members.
Another Cleveland bus
driver attacked
Halifax Transit workers sound
alarm after latest gun scare
Attacks on Cleveland, OH, bus operators have hit epidemic
proportions as another driver has been brutally assaulted.
Violent attacks on transit workers are making headlines
across North America almost daily. Halifax, NS, transit
workers have been expressing serious safety concerns since
the arrest of a man who allegedly boarded a city bus with
a loaded gun.
This latest incident involved two passengers violently hitting
the driver after they boarded the bus. The driver suffered cuts
to his face and was taken to a nearby hospital for treatment.
The attackers fled and have not been apprehended.
In the past few months alone, four teenagers were arrested
and accused of pummeling a driver with a sock filled with
rocks. Another driver was robbed at gunpoint. There have
been 14 documented attacks on members of Local 268
through the end of August and more since.
ATU continues to demand that transit agencies address this
issue for the safety of both drivers and riders. v
20
January/February 2015 | IN TRANSIT
It's the second incident in the last few months and Local
508 President Ken Wilson is calling for immediate changes
to toughen up security on buses for the safety of drivers
and riders alike.
Wilson says transit drivers are as vulnerable as police
officers and home care workers, who are routinely placed
in unpredictable and often difficult situations in their line
of work. v
Transit improves income, reduces
unemployment in NYC
Public transit is New York City's crucial equalizer in matters
of housing, income and employment.
Somewhat surprisingly, areas that have a little access to transit
have the lowest income, and the highest unemployment rate.
That's the conclusion of New York University's Center for
Transportation and Management, which just published a
report on the impact of access to public transit.
Why do neighborhoods with some public transit do worse
than areas that have even less? The answer is the automobile.
The Center found that of the 177 NYC neighborhoods
studied, those with the best access to public transportation
had the highest median household income and the lowest
unemployment rate.
The study reveals that areas with the lowest transit access
have lower median incomes and slightly lower
unemployment. But over 50 percent of the people in
these neighborhoods commute by car – giving them access
to more jobs.
Fewer people in the last group drive, and more rely on
the limited public transit options available to get to work.
That restricts the jobs available to them, as well as their
economic mobility.
In other words, the more jobs you can reasonably commute
to within an hour, the more job opportunities you'll have,
the more secure your job will be, and the greater your
wages will be. v
To read the full report go to: http://bit.ly/1AiQLPO
More transit = more jobs
Spending on transit generates more jobs than spending on
highways, according to a new report, More Transit = More
Jobs, published by the Transit Equity Network (TEN).
new transit jobs over a five-year period – for a net gain of
180,150 jobs over five years – without a single dollar of
new spending.
Based on data from 20 metropolitan areas, this study shows
that the proportion of total transportation dollars spent on
transit varies from 15 percent to 75 percent.
If federal spending on transit increased as proposed by
Transportation for America and TEN, it's estimated
it would create 1.3 million jobs over the life of the law,
and almost 800,000 more jobs than under present federal
transportation law (SAFETEA-LU).
Metropolitan areas that give a higher priority to transit
generate more jobs per dollar spent on transportation.
If our 20 metropolitan areas shifted 50 percent of their
highway funds to transit, they would generate 1,123,674
IN TRANSIT
| www.atu.org
21
UNION MEMBERS
HAPPIER THAN NONUNION WORKERS
Do union members have more fun?
Hard to say, but one thing seems clear from a new study by
professors at Baylor and the University of Arkansas – union
members are definitely happier than non-union workers.
In Labor Union Membership and Life Satisfaction in the
United States researchers ask whether "being a member of a
labor union might increase quality of life compared to not
being a member," particularly in areas such as, "…having
greater satisfaction with one's experiences while working,
feeling greater job security, being afforded numerous
opportunities for social interaction and integration, and
enhancing the participatory benefits associated with more
engaged democratic citizenship."
The study shows that "the substantive effect of union
membership on life satisfaction is large… across
demographic groups."
Moreover, the study concludes, "The degree to which
workers are organized in a society and are able to collectively
bargain with their employers can have profound effects on
social and political arrangements." v
Depression highest among transit workers
In Transit readers know that transit workers have more job
stress than those in any other occupation, and that they suffer
the highest rates of some health problems in the workforce.
Now comes word that transit workers suffer from depression
at a rate higher than those in any other profession.
A new study reveals that 16.2 percent of transit workers
suffer from clinical depression. The average of the 55
occupations studied was 10.45 percent. The results were tabulated from data received from 214,000
western Pennsylvanians. While the authors acknowledge
that the study's conclusions are based on information from
just one area, their findings align with reports from other
studies conducted over the last 50 years.
in normal activities and relationships – symptoms that
are present every day for at least two weeks. In addition,
symptoms can include:
• Fatigue or loss of energy almost every day
• Feelings of worthlessness or guilt almost every day
• Impaired concentration, indecisiveness
• Insomnia or hypersomnia (excessive sleeping)
almost every day
• Markedly diminished interest or pleasure in almost
all activities nearly every day (called anhedonia,
this symptom can be indicated by reports from
significant others)
• Restlessness or feeling slowed down
What is clinical depression?
WebMD describes clinical depression in this way:
Most people feel sad or low at some point in their lives. But
clinical depression is marked by a depressed mood most of
the day, particularly in the morning, and a loss of interest
22
January/February 2015 | IN TRANSIT
• Recurring thoughts of death or suicide
• Significant weight loss or gain (a change of more
than 5% of bodyweight in a month)
Transit workers, in particular, should know that depression
is high in their line of work, and that there is no shame in
seeking professional help. v
Buses matter –
NYC plan needs
improvement
AMALGAMATED TRANSIT UNION
CONVENTION DELEGATES
& GUESTS
SAVE THE DATE
THE 58TH
INTERNATIONAL
CONVENTION
will be held at
Sheraton Centre Toronto Hotel
October 3 – 7, 2016
Information about Traveling to Canada
An international destination of choice, Toronto is easily
accessed by land, water and air. Don't forget to ensure you
have a valid passport at all times. American citizens returning
home should also be aware that there are new customs
requirements in effect.
For more information, visit the websites of:
Citizenship and Immigration Canada
http://www.cic.gc.ca/english/visit/index.asp
U.S. Department of State (Passport Information)
http://www.travel.state.gov/content/travel/english.html
Full funding of New York's MTA Capital Plan matters
less than correctly funding the projects that matter argue
Local Presidents Mark Henry, 1056-Flushing, NY, and
John Lyons, 1179-New York, NY. The local presidents
are responding to proposals in the MTA Transportation
Reinvention Commission Report published late last year.
"Calling for funding the plan without regard for what it
includes makes little sense," explains Henry whose Local
represents drivers and mechanics who work for MTA at
New York City Transit's Queens Bus Division.
Plan still fails
"Frankly, the plan still fails to adequately provide for
current and future needs of Queens public transit; this
especially relates to public bus transit," insists Lyons, whose
Local represents bus operators, mechanics and supervisors.
Too many old, deteriorated,
inefficient buses
"Queens lacks sufficient buses to meet existing and
planned service needs," Henry notes. "The current fleet
of buses in Queens includes too many deteriorated, old,
and inefficient buses that operate beyond their expected
useful life and often disrupt service."
"Let's face the facts," asserts Lyons, "the current transit
administration knows it will not be building any train
services in Queens. ATU will continue to advocate a
better scheduled service for Queens and so should all
concerned about the state of public transit." v
IN TRANSIT
| www.atu.org
23
ATU to Lima Conference: Transit key to fighting climate change
As the critical 2015 world climate talks in Paris near, global climate
negotiators met in Lima, Peru for the 20th Conference of the Parties to
plan the transition from fossil fuels. And ATU was there to talk about
the importance of public transit and workers in this fight.
Stronger social protections are needed in this transition from fossil
fuels. ATU told negotiators that Labor must be part of planning the
transition, and not solely corporations. It is the only thing that will
protect vulnerable communities from greedy corporate decision-making.
ATU also urged increased public transportation worldwide; pointing
out it is one of the best ways to fight climate change because it reduces
carbon emissions while creating jobs. v
ATU backs international campaign to end workplace
violence against women
At least one in three women worldwide, according to recent estimates, will be sexually
assaulted, physically beaten or otherwise abused in their lifetime. Violence against
women occurs everywhere – even at the workplace.
That's why the ATU is calling on all nations to support the International Labor
Organization Convention on gender-based violence, in order to spread awareness
about the disturbing problem and help end assaults against women and all
workers worldwide.
Zero tolerance
"No one should feel threatened while working to provide for their families. All
countries must have a zero tolerance policy on violence against women," says ATU
International President Larry Hanley. "The ATU strongly urges all nations to support
the ILO convention. This would be a strong step in ensuring that women and all
workers feel safe and protected from abuse and intimidation at work." v
There's a big wide world out there, and it's tough to keep up with all the events
which can affect your profession and your livelihood. One of the easiest ways
to stay informed is by visiting: www.atu.org.
Don't stay in the dark! Find out what's going on.
Visit www.atu.org.
24
January/February 2015 | IN TRANSIT
ANNOUNCING THE
ANNUAL ATU
PHOTO CONTEST
The old adage "a picture is worth a thousand words" is certainly true. Throughout the
years ATU's In Transit, and more recently the ATU website and Facebook page, have
featured incredible photos of ATU members on the job, rain or shine, or snow; at protests;
rallies; and other events; as well as captivating shots of buses, railcars, riders, and
public transit in action.
Now, we want to give our members and retirees a chance to capture the images that show
what makes the ATU the great union it is today, the pride and dedication our members
have for their jobs, and the important role public transit plays in our communities
So grab your camera or smart phone and start taking photos for the first-ever ATU photo
contest. Contest rules and details are below.
Deadline: June 30, 2015. Prizes will given out for 1st Place, 2nd Place,
3rd Place and Honorable Mention.
PHOTO CONTEST RULES
1. The contest is open to active and retired ATU members only. The
person submitting the photograph must be the person who took the
picture. Members may enter more than one photo.
2. International officers and staff are not eligible.
3. Photos can be submitted as digital files as large as possible, but
at least 300 dpi, in color or black and white. The preferred print
size is 8x10. For more guidance on electronic photo sizes, go to
www.atu.org. Click on the Photo Contest button for the "Contest
Rules and Photo Guidelines."
4. The ATU reserves the right to use the photos submitted for contest.
5. Photo entries must have an ATU theme of some sort – such as
ATU members at work, engaged in a union-related activity, rally,
action, protest or images of the public transportation industry
or ATU.
6. If members are featured in the photo, they should be identified.
If large groups are pictured, the name of the group, or the purpose
of the gathering (e.g. a protest, training, rally, union meeting, etc.)
can be submitted in place of individual names.
7. Photos previously published in ATU publications or the website are
not eligible for submission.
8. Entries must be made through the photo contest application on the
ATU website at www.atu.org or mailed with the form below to ATU at:
ATU Photo Contest
5025 Wisconsin Ave., NW
Washington, DC, 20016
9. ATU International will select finalists and post them on www.atu.org
for final judging by the public. The winners will be featured in an
upcoming issue of In Transit, the ATU website, social media and
other publications.
Mail form with your photo entry
NAME
ADDRESS
CITYSTATEZIP
EMAIL
CELL NUMBER
IN TRANSIT
| www.atu.org
25
FIVE YEARS AFTER 'CITIZENS UNITED'
Get money out of politics
Fix United States Constitution
SUPREME COURT RULING BROUGHT OUT-OF-CONTROL
SPENDING, SUPER PACS, DARK MONEY GROUPS
Hardy labor, religious, and political activists gathered
during a snowstorm in Washington, DC, January 21,
in support of a constitutional amendment to ban big
corporate contributions to political campaigns.
More voices across the country decried the U.S. Supreme
Court's controversial Citizens United decision, the same
day, at rallies, marches, movie showings, and lobby days
to mark the ruling's fifth anniversary.
The nationwide events highlighted the growing momentum
for a constitutional amendment to overturn Citizens
United, which gave corporations and the wealthy the green
light to spend unlimited sums to influence elections.
Events included: the DC rally co-sponsored by ATU that
called attention to the biggest dark money spender in the
26
January/February 2015 | IN TRANSIT
2014 midterms – the U.S. Chamber of Commerce; a press
conference on Capitol Hill in which more than a dozen
congressional lawmakers introduced measures designed
to curb the influence of money in politics; lobby days
in Albany, NY, and Olympia, WA; and a march in New
Hampshire. Other events included showings of the movie
"Pay 2 Play" in Tulsa, OK, and Tucson, AZ; a rally at the
Savannah, GA, Chamber of Commerce and a house party
in Savage, MN.
The constitutional amendment considered last year by the
Senate would enable the government to pass laws ending
corporate spending on elections, eliminating or curbing
outside donations, imposing limits on overall election
spending and adopting mandatory systems of small-donor
and public financing. v
IS YOUR GRIEVANCE PROCEDURE
BEING USED TO TIE UP THE UNION?
Volunteer to build an
action-based union today!
IN TRANSIT
| www.atu.org
27
ATU: Un Sindicato que hace
que las cosas ocurran
Usted estos días no encontrará hierba creciendo bajo
nuestros pies en ATU. Estamos cumpliendo con nuestras
promesas:
• La formación se está expandiendo y es cada vez
mejor. A través de ATU nuestros miembros están
aprendiendo a hacer más.
• Estamos llevando a cabo campañas en Las Vegas,
Atlanta, Washington, DC, luchando por los
derechos de los miembros.
• En los distritos del congreso en todo Estados Unidos,
nuestros Locales están luchando contra el Fast
Track---Free Trade (Vía Rápida-Libre Comercio) —
también conocido como enviar más trabajos a China
y Vietnam.
• En Vancouver, BC, nuestros Locales están haciendo
campaña por un referéndum para recaudar fondos
para el transporte público.
• En Winnipeg, MB, este En-Tránsito informa que el
Local 1505 está llevando a cabo la campaña "Ride
Alongs" con oficiales elegidos.
• En Ontario, la campaña contra la privatización
continúa.
• En Ohio, nuestros Locales están preparando una
lucha para la financiación del transporte.
• En Alabama, estamos trabajando para crear una
campaña para el transporte en el 50 aniversario del
arresto de Rosa Parks en un autobús.
Una estrella de ATU es la Operadora de Autobús Karen
Reed quien, como parte de la campaña para los trabajadores
de tránsito del sector privado, en una iglesia que estaba
totalmente llena con 850 activistas, cuenta su historia de
estar trabajando durante 65 horas a la semana, pero aun así
no tiene hogar, mientras trabaja para First Transit cobrando
sueldos de descuento en la Capital de EEUU. Su discurso
brillante destinado al nuevo alcalde de Washington se
puede mirar en www.atu.org en la parte de los videos. Por
favor, observe a esta miembro contar la historia sobre el
impacto que tiene en los trabajadores cuando las empresas
privadas dirigen el tránsito de viajeros.
En Scranton, PA, miembros del Local 168 han hecho un
trabajo muy bueno de organizar a los conductores, y a través
28
January/February 2015 | IN TRANSIT
de los conductores evitar los recortes y los envíos a descansar
en los servicios. Me siento orgulloso de toda la energía que
está explosionando alrededor de nuestro Sindicato.
Mientras la formación sigue adelante, estamos renovando
nuestro nuevo centro de formación y como usted leerá
en estas páginas, la Mesa Ejecutiva General ha estado
de acuerdo con mi recomendación de nombrar a
nuestro campus en honor de una pareja de los mejores
organizadores en la historia de nuestros dos países, Rosa
Parks y Tommy Douglas.
Según vaya leyendo sus historias y sienta su humanidad, estoy
seguro de que usted sentirá el poder de la compasión que
tenían por sus compañeros ciudadanos. Ambos lucharon por
la dignidad de la gente normal, y al ganar el cuidado médico
para los Canadienses (Douglas) y los derechos civiles para
las personas de Estados Unidos (Parks), ellos establecieron el
listón para todos nosotros.
Esperamos que muchas generaciones de organizadores
de la comunidad y organizadores sindicales emergerán
de nuestras sesiones de formación en este nuevo campus.
Esperamos que el nuevo campus esté totalmente disponible
en Silver Spring, MD, al final de la primavera de 2015.
Hay tanto que está ocurriendo a la vez en este momento
para ATU - estamos observando un gran éxito en organizar
tanto a los miembros nuevos como a nuestros miembros
actuales.
Finalmente, estamos a punto de establecer los Consejos
Unidos de la Industria (Joint Industry Councils, en inglés)
al mismo tiempo que ponemos más recursos en la seguridad
de nuestros miembros. El reciente fallecimiento trágico
de Jake Schwab, mecánico y miembro de Erie, PA, Local
568, nos trajo una realidad a la que estamos obligados a
enfrentarnos. Demasiados de nuestros mecánicos trabajan
sin la formación o capacitación laboral adecuada y sin
procedimientos adecuados de seguridad.
Prometemos hacer crecer nuestras campañas de seguridad
– para que los mecánicos estén entrenados y protegidos
contra riesgos y para que los operadores de autobuses estén
protegidos contra los asaltos.
Algunos Locales han elegido la lucha por los descansos
para ir al cuarto de baño, y sus historias en esta edición
ensalzan el éxito que su Local puede tener. Este es de nuevo
un asunto de dignidad humana básica. Así que en general
puedo informar con sinceridad y confianza que ATU es
cada vez más un Sindicato que hace que las cosas ocurran.
Por favor, visite nuestra website www.atu.org para más
información y para las últimas noticias de ATU. v
'Nosotros elegimos ir a la luna'
La visión de ATU
El 21 de julio de 1969, el mundo observaba, contenía
el aliento y rezaba por la seguridad del astronauta Neil
Armstrong cuando él comenzó su descenso del módulo
lunar en la superficie de la luna. Esta fue la culminación
exitosa de una visión, un plan y esfuerzo colaborador hacia
la meta compartida por muchos americanos.
En nuestra última Convención, el(los) delegado(s) de su
Local y de otros aprobaron una visión y un plan para mover
ATU hacia adelante. La Convención fue la culminación de
las conversaciones e interacciones del Presidente Hanley
con los oficiales Locales guiando hacia una visión y la
elaboración posterior de un plan, y por supuesto el curso de
la acción hacia una meta tangible.
La visión fue expresada bien por primera vez en un discurso
pronunciado por el Presidente Kennedy el 12 de septiembre
de 1962. Al describir su visión y su meta, Kennedy declaró:
Hasta la fecha de hoy hemos conseguido un éxito medible,
pero tenemos muchas millas que recorrer y no podemos
permitirnos descansar.
"Sus peligros son hostiles para todos nosotros. Su
conquista se merece lo mejor de toda la humanidad, y su
oportunidad para la cooperación pacífica puede que no
vuelva nunca de nuevo. Pero algunos dicen ¿Por qué la
luna? ¿Por qué elegir esto como nuestra meta? Y también
puede que pregunten, ¿Por qué elegimos subir a las
montañas más altas?, ¿Por qué?"
Decidimos hacer esto, como dijo el Presidente Kennedy
"no porque sea fácil" No, nosotros hacemos esto porque, no
importa lo insuperables que puedan parecer los obstáculos,
es algo que debemos hacer si queremos mantener la fe en
nuestros valores y nuestro compromiso de proporcionar
un servicio mejor para nuestros pasajeros, una vida mejor
para aquellos a los que amamos y para todos los que vienen
detrás de nosotros.
'…no porque sean fáciles'
"Nosotros elegimos ir a la luna en esta década y hacer las
otras cosas, no porque sean fáciles", dijo él, "sino porque
son difíciles, porque esa meta va a servir para organizar y
medir lo mejor de nuestras energías y habilidades, porque
ese desafío es uno que estamos dispuestos a aceptar, uno
que no estamos dispuestos a posponer, y uno que nosotros
intentamos ganar".
Bill Gates tuvo una visión cuando estableció Microsoft.
Él vio un camino para aprovechar el poder de las
computadoras centrales que ocupaban toda una sala y
reducirlos hasta que pudieran estar en nuestras mesas de
trabajo. Aunque muchos dudaron de la visión de Gates, su
meta se hizo realidad.
Steve Jobs también tenía una visión cuando comenzó con
las computadoras Apple. Él creía que podía tomar el éxito
de Microsoft y dar un paso más, un paso adelante. ¿Por qué
estar amarrado a una computadora de escritorio para tener
información? ¿Por qué estar enganchado a una pared para
hacer una llamada? Jobs se llevó las computadoras de los
escritorios y las puso en nuestros bolsillos.
Estos innovadores tuvieron una visión y comprendieron
el valor de establecer una meta y seguir a través de ella y
hacia adelante. Sus logros no fueron fáciles. En verdad sus
visiones se cumplieron, y algunos podrían decir, que contra
todo pronóstico.
Sin embargo, una visión es sólo un sueño hasta que la gente
se une para hacerlo realidad. Ahí es donde entra usted.
Nosotros necesitamos que usted se una en el gran trabajo
que usted ve descrito aquí en una página tras otra de esta
revista.
Nada puede pararnos si todos nosotros trabajamos juntos.
Por favor, visite nuestra website www.atu.org para más
información y para las últimas noticias de ATU. v
No 'darle al diablo más de lo
que le corresponde'
Estoy escribiendo en una mañana fría y lluviosa de
Washington. Afuera está bastante desagradable, deprimente.
Muy diferente del Norte de California donde vivía antes de
venir al DC.
El clima político no parece estar muy diferente – al menos
desde el punto de vista de aquellos de nosotros que luchamos
por la gente trabajadora y el transporte público. Todo lo
que escuchamos es "pesimismo, todo negro".
Es importante mirar a las cosas con claridad. No ayuda el
pretender que las cosas están mejor de lo que realmente están.
IN TRANSIT
| www.atu.org
29
Ellos no son invencibles
Pero no ayuda el pensar que las cosas están peor de que
realmente están; que los hermanos Koch, el partido del TÉ
(TEA Party, en inglés) y sus amigos anti-trabajadores en las
legislaturas de Estados Unidos y Canadá son casi invencibles
– porque no lo son.
Usted escucha a la gente decir que los miembros del
sindicato no participan en la acción política porque son
cómodos y apáticos. Pero yo creo que mucha gente se queda
en su hogar porque piensan que pueden hacer muy poco
sobre la injusticia contra la que estamos luchando.
Hay muchos más de nosotros que los
que hay de ellos
Me recuerda a una expresión antigua: "No darle al diablo
más de lo que le corresponde."
Al decir esto, no quiero decir que lo que se nos oponen sean
"diablos". Lo que quiero decir es que, sí es cierto, las cosas
están duras ahora, pero incluso así, nuestros oponentes no
son todo-poderosos, gigantes de 10 pies de alto cuyas ideas
nunca pueden ser derrotadas.
Tampoco que ellos son sólo gente que tiene mucho poder
porque tienen mucho dinero. Pero hay muchos más de
nosotros que los que hay de ellos, y créame, ninguna fuerza
nos puede vencer si estamos unidos y activos políticamenteen otras palabras, si tenemos 'solidaridad'.
Hay muchos ejemplos en la historia sobre líderes que
consiguieron grandes cosas porque se rehusaron a creer
que no se podía hacer nada sobre la injusticia que estaban
experimentado en sus vidas. Líderes como la Madre Jones,
Tommy Douglas y Dr. Martin Luther King, Jr., lucharon
sobre cosas en las que otros habían dicho que sus misiones
eran simplemente una locura, o incluso peor – peligrosas.
Una razón para la esperanza
Ellos atrajeron a sus causas a miles de personas porque le
dieron esperanza a la gente. Al levantar a la gente, les dieron
una razón para que se involucraran y participaran. Nosotros
haríamos bien siguiendo su ejemplo.
Así que la próxima vez que escuche un reporte de las noticias
sobre la inevitabilidad de las cosas malas que les pasan a los
trabajadores del transporte público – no se lo crea.
Nosotros tenemos el poder de parar las cosas malas que
puedan ocurrir y de conseguir muchas cosas buenas. Pero
tenemos que comenzar con ejercitar el poder mientras
todavía es invierno.
Recuerde que no importa lo frio, oscuro y miserable que
se pone – la primavera está a la vuelta de la esquina. Y
la primavera, particularmente aquí en Washington, es
realmente preciosa.
Por favor, visite nuestra website www.atu.org para más
información y para las últimas noticias de ATU. v
STAY
CONNECTED
For the latest ATU News and Action Alerts please check out the ATU's social media network
30
Facebook: facebook.com/ATUInternational
YouTube: youtube.com/user/stpatuorg
Twitter: twitter.com/ATUComm
Flickr: flickr.com/photos/atuinternational/
January/February 2015 | IN TRANSIT
In Memoriam
Death Benefits Awarded November 1, 2014 - December 31, 2014
1- MEMBERS AT LARGE
GLEN HANSELMAN
AUBREY W MC SWAIN
ROBERT J VERKEST
22- WORCESTER, MA
WILLIAM W BATTELLE
85- PITTSBURGH, PA
ROBERT M BUTLER
VERLIN D CRESSLEY
JEROME T JOYCE
EDWARD HENRY KLOS
ROBERT R KRAMER
EDWARD LANETZ
WILLIAM J LANGE
RAY H MYERS
RICHARD F PURTELL
HARRY J ROSCOE
JACKSON B THOMS
STEVEN YANOSKY JR
103- WHEELING, WV
GLENN R CONAWAY
113- TORONTO, ON
CLAUDIUS S ABRAHAM
PATRICK JAMES BURNS
LEONARD ROY CAIRNS
RANDY E DEAN
CARMINE GUERRA
ALBERT PEARSON HYLAND
MANFRED S MALINOWSKI
CLIFFORD NICHOLS
MARTIN NOEL
HAROLD SACKS
WAYNE R STEELE
AUGUSTO VEDANA
DANIEL VINCENT
174- FALL RIVER, MA
NORMAN F BELANGER
192- OAKLAND, CA
DONALD PAUL BOYER
JOHN F DURAN JR
ADRIANE KNOX
DARRELL D LIPPINCOTT
MURL LEROY RHOADS
241- CHICAGO, IL
CHESTER ANDERSON
MATTIE L BANKHEAD
LEE E CAMPER
PHILIP CARLSEN
GARLAND L DICKERSON
JOSEPH R DILL
CHARLES EDWARDS
ROOSEVELT GRAHAM
DEBORAH HILLARD
EARL HOBSON
RYUJI INADA
SALLIE W KILGORE
HENRY J KOHLER
WILLIAM A MACK
ARTHUR MC CARTY
JOHN L NEWBERN
BEN PERRY
MICKEY JOE REEDER
HOWARD L ROWELL
CHARLES E RUTLEDGE
HORACE L SINGLETON
ELDER A VILLEDA
WILLIAM S WILLIAMSON
265- SAN JOSE, CA
LOURDES HILL
GLENN A PENNER
268- CLEVELAND, OH
RICHARD S BALLA
ALVIN A GOLDEN
WALTER THOMAS
279- OTTAWA, ON
JEAN-PIERRE ARCHAMBAULT
JOHN R RALPH
281- NEW HAVEN, CT
WILLIE MELTON
STEPHEN P NISTA
282- ROCHESTER, NY
RICHARD D BASTEDO
CRAIG L FIEN SR
308- CHICAGO, IL
ELLEN CARMODY
JOHN E CHALMERS
ERNEST HAYES
JACKIE L HUBBARD
ROBERT PRINCE
MICHAEL RAMIREZ
GEORGE RICHMOND
JOSE M RODRIGUEZ
DANIEL A SOMSEL
DANIEL G SYLVA
JOHNNY C TERRY
382- SALT LAKE CITY, UT
MELVIN L PERSCHON
568- ERIE, PA
JACOB F SCHWAB
569- EDMONTON, AB
VICTOR BABICH
ERIC BUCKLAND
EDWARD DEHEK
SIKANDER S DEOL
ALLAN J HEMMINGS
KEN LANE
JIM C NOYES
587- SEATTLE, WA
CHARLES P LARSEN
589- BOSTON, MA
ROBERT D DAMIGELLA
FREDERICK B GOODINE
ALBERT KELLEY
JOHN P O'SHEA
PAPKAN SAHAGIAN
PAUL C STEWART
THOMAS P VAUGHAN
615- SASKATOON, SK
RONALD CARON
618- PROVIDENCE, RI
CHARLES T HAYES
627- CINCINNATI, OH
PHILLIP JENKINS
689- WASHINGTON, DC
MICHAEL W BARRIS
OSWALD L BROWN
EDWARD F CAMPBELL
CALVIN BEDELL COLEMAN
CHARLES S EDWARDS
DAVID W GATHGENS
REBECCA A GRIFFIN
PERCELL M JOHNSON
JOHN R JONES
EVAN JOHN OWENS
ELIJAH SAMUELS
ROBERT W SMALLS SR
WILLIAM T THURSTON JR
ARTHUR P TILLEY
PETER L WADE
704- LITTLE ROCK, AR
CONNIE A GILBERT
713- MEMPHIS, TN
JULE S BUTTLER
WILLIAM F KIRK
725- BIRMINGHAM, AL
JULIUS MATTHEWS JR
732- ATLANTA, GA
FRANCIS BARNES
ROSIE B MARSHALL
DEXTER N RUTHERFORD
757- PORTLAND, OR
SAM L AVERY
HARRY M HOPKINS
788- ST. LOUIS, MO
JAMES E CHILTON
JAMES W DEPPING
STEPHEN L FLOWERS
MARCELLA ROSE HAHN
JOHN J PFEIFFER
819- NEWARK, NJ
MICHAEL GUIDO JR
DAVID A STEVENS
822- PATERSON, NJ
GERALD L KRIEGER
823- ELIZABETH, NJ
STEVE WANKO
824- NEW BRUNSWICK, NJ
LARRY ROSENBERG
1249- SPRINGFIELD, IL
GEORGE L CROW
825- ORADELL, NJ
YEFIM REZNIK
880- CAMDEN, NJ
ROBERT L HAGGE
1277- LOS ANGELES, CA
GERALD L ALFORD
GEORGE MERA
FREDERICO NOVO
JOSE A PALACIOS
956- ALLENTOWN, PA
ROBERT ZAJKOWSKI
1287- KANSAS CITY, MO
JOHN M FARNSWORTH
998- MILWAUKEE, WI
STEVE SOMODI
RALPH A STACHOWIAK
ERWIN R WENZEL
1300- BALTIMORE, MD
ALBERT DAVIS
AMOS HUBBARD
WEELER MC CRAY
DONALD A PULLIAM
1001- DENVER, CO
RICHARD E CAIN
1005- MINNEAPOLIS
& ST. PAUL, MN
MARK S ANTUS
1177- NORFOLK, VA
DENNIS DAVIS CAPPS
DORTHY E TOOMBS
1181- NEW YORK, NY
ALICIA ACERO
ROSELIE APPEL
LESTER ARKIN
LORRAINE AZZANITE
JOSEPH BARRETT
VINCENT BOLOGNA
THERESA CASSARO
VIOLA CAVALCANTE
PATSY J DELLAMURA
EDNER DESROSIERS
FRANCIS J DUFFY
HELEN DUMONT
ARTHUR L EDWARDS
ELAINE GENTILE
MARY GRANDE
THOMAS JEMMOTT
RICHARD KROHLEY
NICOLAS S MARTINEZ
ANTHONY R MARTINO
ANNADELE MARX
BEVERLY A MATTHEWS
FILOMENA MEGARO
ANN NABEL
ANTHONY PATERNOSTRO
GLORIA RABINOWITZ
JOANNE ROTHBERG
WILLIE SAMUELS
MARIE C TESTA
MARIA A VARGAS
1309- SAN DIEGO, CA
BLANCA VALENCIA
1321- ALBANY & TROY, NY
EDWARD R SOBLOSKY
1342- BUFFALO, NY
FRANK CRITELLI
LLOYD ROSE
ROBERT RUTKOWSKI
1385- DAYTON, OH
JOHN DAWSON MOLES
1395- PENSACOLA, FL
CLIFTON D SALTER
1433- PHOENIX, AZ
MARK PUCCETTI
1436- HARRISBURG, PA
MARY E SWANSON
1505- WINNIPEG, MB
LORENZ EDWARD MARSCH
PETER PAULS
MICHAEL VIRGOE
1572- MISSISSAUGA, ON
MICHAEL SHUK
1700- CHICAGO, IL
ROGER W HILL
1724- VANCOUVER, BC
BRIAN HILLS
GLEN S REINERS
1225- SAN FRANCISCO, CA
ALLAN D ANDERSON
1235- NASHVILLE, TN
WILLIAM D BILBREY
IN TRANSIT
| www.atu.org
31
Amalgamated Transit Union
AFL-CIO/CLC
5025 Wisconsin Ave., NW
Washington, D.C.20016
www.atu.org
STAY CONNECTED
NON-PROFIT ORG
US POSTAGE
PAID
LANCASTER,PA
PERMIT #1052
PRINTED IN U.S.A.
Look what you're missing out on!
Go to www.ATU.org today to learn about issues affecting you at work and at home!