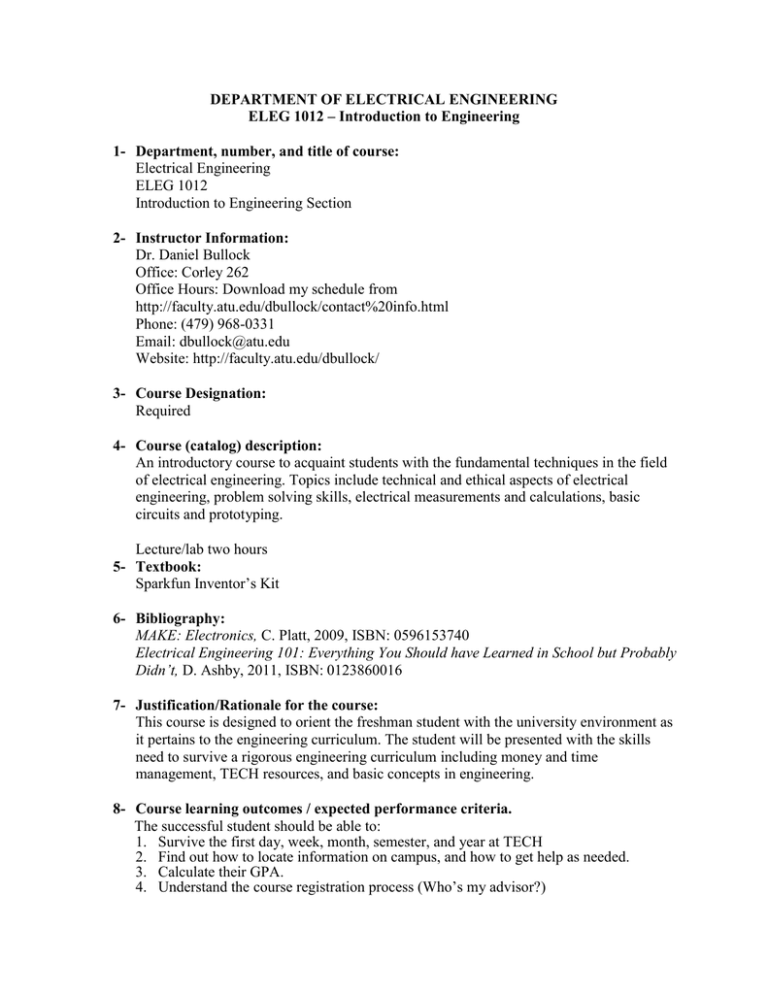 DEPARTMENT OF ELECTRICAL ENGINEERING
ELEG 1012 – Introduction to Engineering
1- Department, number, and title of course:
Electrical Engineering
ELEG 1012
Introduction to Engineering Section
2- Instructor Information:
Dr. Daniel Bullock
Office: Corley 262
Office Hours: Download my schedule from
http://faculty.atu.edu/dbullock/contact%20info.html
Phone: (479) 968-0331
Email: dbullock@atu.edu
Website: http://faculty.atu.edu/dbullock/
3- Course Designation:
Required
4- Course (catalog) description:
An introductory course to acquaint students with the fundamental techniques in the field
of electrical engineering. Topics include technical and ethical aspects of electrical
engineering, problem solving skills, electrical measurements and calculations, basic
circuits and prototyping.
Lecture/lab two hours
5- Textbook:
Sparkfun Inventor's Kit
6- Bibliography:
MAKE: Electronics, C. Platt, 2009, ISBN: 0596153740
Electrical Engineering 101: Everything You Should have Learned in School but Probably
Didn't, D. Ashby, 2011, ISBN: 0123860016
7- Justification/Rationale for the course:
This course is designed to orient the freshman student with the university environment as
it pertains to the engineering curriculum. The student will be presented with the skills
need to survive a rigorous engineering curriculum including money and time
management, TECH resources, and basic concepts in engineering.
8- Course learning outcomes / expected performance criteria.
The successful student should be able to:
1. Survive the first day, week, month, semester, and year at TECH
2. Find out how to locate information on campus, and how to get help as needed.
3. Calculate their GPA.
4. Understand the course registration process (Who's my advisor?)
5. Personal Finance
6. Study skills and note taking.
7. Electrical Concepts
8. Basic circuits symbols.
9. Programming Concepts
10. Building and testing prototype electric circuits.
9- Topics covered.
1. College terms
2. GPA Calculation
3. Time management
4. Budgeting
5. Campus organizations
6. Advising
7. How to make Good Presentations (g)
8. Electrical Circuits (a)
10- Class / Laboratory schedule:
1 lecture sessions per week, 110 minutes per session
Assigned work from the web
11- Contribution of course to meeting the requirements of Curriculum (Criterion 5)
Engineering Topics – 2 Credit Hours
12- Relationship of Course to Program Outcomes
a
W
b
M
c
M
S – Strong
d
S
e
f
W
M – Medium
g
W
h
W
i
j
k
W – Weak
13- Evaluation Methods:
Attendance – Each absence subtracts 5% from grade
Mid-Term Test - 50%
Final Exam- 50%
14- Assessment:
A 90 – 100%
B 80 – 89%
C 70 – 79%
D 60 – 69%
F Below 60%
15- Course Policies:
Absence Policy*:
Students will be dropped from the course with an F* after three
unexcused absences. If not dropped from the class, grade will be lowered one letter for
each three absences, excused or non-excused.
Academic Dishonesty Policy*: Cheating or plagiarism is not tolerated and repercussions
will range from a grade of zero on the assignment to expulsion from the university.
Academic Misconduct Policy*: Disruption of teaching is not tolerated and repercussion
will range from a verbal warning to expulsion from the class.
Make Up Tests: Make-up tests will be administered from 3:00 – 5:00 p.m. on Fridays by
appointment and only for excused absences. Tests must be taken within 6 weekdays of
the original date of the test. Make-up quizzes are not available.
*Please refer to the Student Handbook p. 10-20
(http://www.atu.edu/currentstudents.shtml) and the Faculty Handbook pages 74-79
(http://www.atu.edu/stuserv/files/StudentHandbook.doc Section 4) for definitions and
clarification of these policies.
16- Person(s) who prepared this description and date of preparation
Daniel Bullock, August, 2012.