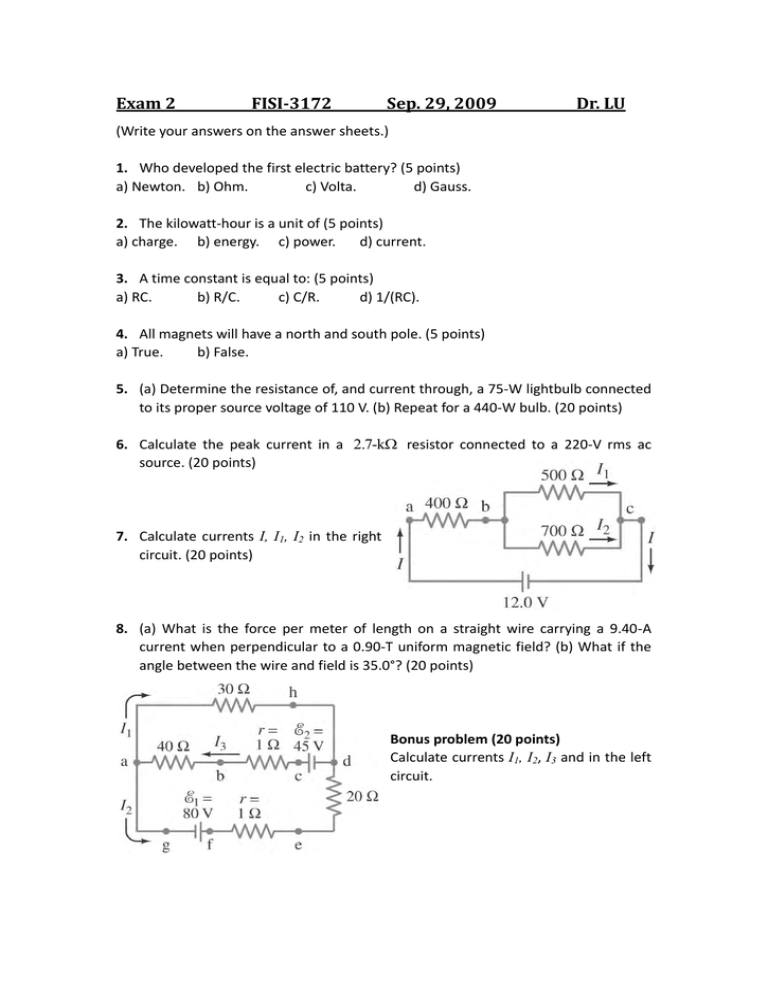 Exam 2
FISI-3172
Sep. 29, 2009
Dr. LU
(Write your answers on the answer sheets.)
1. Who developed the first electric battery? (5 points)
c) Volta.
d) Gauss.
a) Newton. b) Ohm.
2. The kilowatt-hour is a unit of (5 points)
a) charge. b) energy. c) power.
d) current.
3. A time constant is equal to: (5 points)
a) RC.
b) R/C.
c) C/R.
d) 1/(RC).
4. All magnets will have a north and south pole. (5 points)
a) True.
b) False.
5. (a) Determine the resistance of, and current through, a 75-W lightbulb connected
to its proper source voltage of 110 V. (b) Repeat for a 440-W bulb. (20 points)
6. Calculate the peak current in a 2.7-k resistor connected to a 220-V rms ac
source. (20 points)
7. Calculate currents I, I1, I2 in the right
circuit. (20 points)
8. (a) What is the force per meter of length on a straight wire carrying a 9.40-A
current when perpendicular to a 0.90-T uniform magnetic field? (b) What if the
angle between the wire and field is 35.0°? (20 points)
Bonus problem (20 points)
Calculate currents I1, I2, I3 and in the left
circuit.