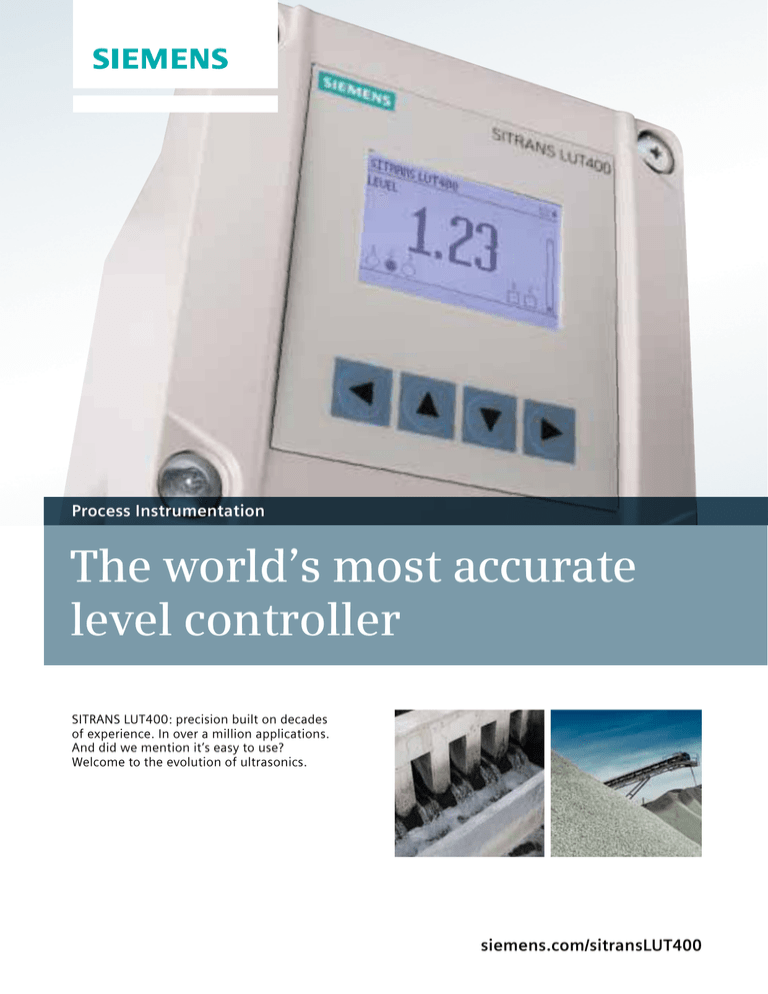 Process Instrumentation
The world's most accurate
level controller
SITRANS LUT400: precision built on decades
of experience. In over a million applications.
And did we mention it's easy to use?
Welcome to the evolution of ultrasonics.
siemens.com/sitransLUT400
The world's most accurate ultrasonic
controller for level measurement
Customer-driven features. Setup in under a minute. Intuitive operation.
All of this plus a world-leading accuracy of 1 mm (0.04").
Siemens brings you the SITRANS LUT400 series ultrasonic
controllers. Compact, single point controllers that excel at
continuous level monitoring and control in liquid, solid, or
slurry applications in a wide range of industries.
Three models make up the series:
• SITRANS LUT420 Level Controller
• SITRANS LUT430 Level, Pump, and Flow Controller
• SITRANS LUT440 High Accuracy Open Channel Monitor
(OCM), which also provides a full suite of advanced level,
volume, and pump controls
These controllers are a flexible solution for a world of
applications: water/wastewater monitoring and pumping,
inventory management, crusher control, truck load-outs,
or anything in between.
High accuracy keeps operations in all of these applications cost-effective: inventory monitoring is always precise, processes can be better controlled, and expensive
spill cleanups can be avoided.
A reliable ultrasonic level controller reduces the need to
send operators to the application for maintenance. By
keeping workers out of hazardous situations altogether,
you can immediately reduce the chance of accidents and
the consequences to your company.
SITRANS LUT400 series features Siemens' patented Sonic
Intelligence, which continuously evaluates and adjusts for
noise level and changing process conditions. The controllers have three relays combined with a suite of pump,
alarm, and other control features.
All three models are compatible with the full line of
Siemens Echomax transducers. These transducers feature
self-cleaning faces and submergence detection, with an
operating range of 0.3 to 60 meters (1 to 200 ft.), making
them an ideal fit for a wide range of industries.
Installing the SITRANS LUT400 series controllers is simple with a selection of mounting options, whether you prefer a DIN rail, pipe, or wall mount.
Operators can program the controllers in less than a minute using the four-button local user interface and intuitive menu options.
• Industry-leading accuracy – SITRANS LUT400's
±1 mm (0.04") accuracy gives you confidence in your
measurements
• Saving you money – energy-saving algorithms and
real time clock help you reduce pump operation costs
by avoiding peak energy periods
• Easy to use – local user interface with four-button
programming, menu-driven parameters, and Wizard
support for key applications
• Integrated datalogger – record historic performance
and alarm events
• Quick to configure – graphical Quick Start Wizards
guide you during setup
• Next generation Sonic Intelligence – improved performance in noisy environments thanks to digital receiver
technology
• Consistently high performance – patented digital
receiver technology ensures reliability even in the
harshest environments
• Communications convenience – HART® communications with access via the local user interface, SIMATIC
PDM, Emerson AMSTM, FC375/475, FDTs, and web-browser
• Enhanced diagnostics – echo profile and trend view
on the display
• Installation simplicity – wall, pipe, and DIN rail mounting configurations with ¼-turn fasteners for quick access
and hassle-free wiring with removable terminal strips
Standard specifications
SITRANS LUT400 series
Range
0.3 to 60 m (1 to 200 ft), transducer and material dependent
Accuracy
• Standard accuracy: ±1 mm (0.04") plus 0.17% of distance*
• High accuracy configuration (SITRANS LUT440): ±1 mm (0.04"), within 3 m (10 ft) range
Resolution
0.1% of measured range or 2 mm (0.08"), whichever is greater
Ambient temperature
-20 to 50 °C (-4 to 122 °F)
Application temperature
-40 to 150 °C (-40 to 302 °F)
Interface
• Back-lit LCD 60 x 40 mm (2.36 x 1.57")
• Removable display, operational up to 5 m (16 ft) from enclosure base
Communications
HART, USB
Programming
our local push buttons, SIMATIC PDM, Emerson AMSTM, web browser (Internet Explorer), Field Device
F
Tool (FDT), Field Communicator 375/475 (FC375/FC475)
Output
• Three relays: One form C (SPDT) relay, two form A (SPST) relays
• One 4 to 20 mA output (Active or Passive)
Input
• Two discrete inputs (0-50 V DC max switching level) with 24 V DC bias for contact level device and/or
pump interlock
• One temperature sensor input for optional TS-3 temperature sensor
Enclosure
Wall/ Pipe/ DIN Rail mount
• ½ DIN - (HxWxD): 144 mm (5.7") x 144 mm (5.7") x 146 mm (5.75")
• Type 4X/NEMA 4X/IP 65**, panel mount display IP 54 (Type 3/NEMA 3/IP 54)
• Polycarbonate
Power
• AC version: 100 to 230 V AC ±15%, 50/60 Hz, 36 VA 10 W
• DC version: 10 to 32 V DC 10 W
Approvals
• General purpose: CE, CSAUS/C, FM, UL Listed, C-TICK
• Hazardous location: Canada - CSA Class I, II, III, Division 2 (Groups A, B, C, D, F, G)
International/Europe - CE, ATEX 3D, IECEx, C-TICK
* Standard accuracy : ±1 mm (0.04") plus 0.17% of distance applies to all models excluding the SITRANS LUT440 in high accuracy mode.
** Note - Use of the knock-out on the blind lid for the panel mount version reduces the electronics enclosure rating to IP 20/NEMA 1.
3
More information:
www.siemens.com/ultrasonic
www.siemens.com/sitransLUT400
Siemens AG
Industry Sector
Sensors and Communications
76181 KARLSRUHE
GERMANY
Subject to change without prior notice
Order No. 7ML1996-5MA03
Printed in Canada
© 2012 Siemens AG
The information provided in this brochure contains merely general
descriptions or characteristics of performance which in case of actual
use do not always apply as described or which may change as a result
of further development of the products. An obligation to provide the
respective characteristics shall only exist if expressly agreed in the
terms of the contract.
All product designations may be trademarks or product names of
Siemens AG or supplier companies whose use by third parties for their
own purposes violate the rights of the owners.