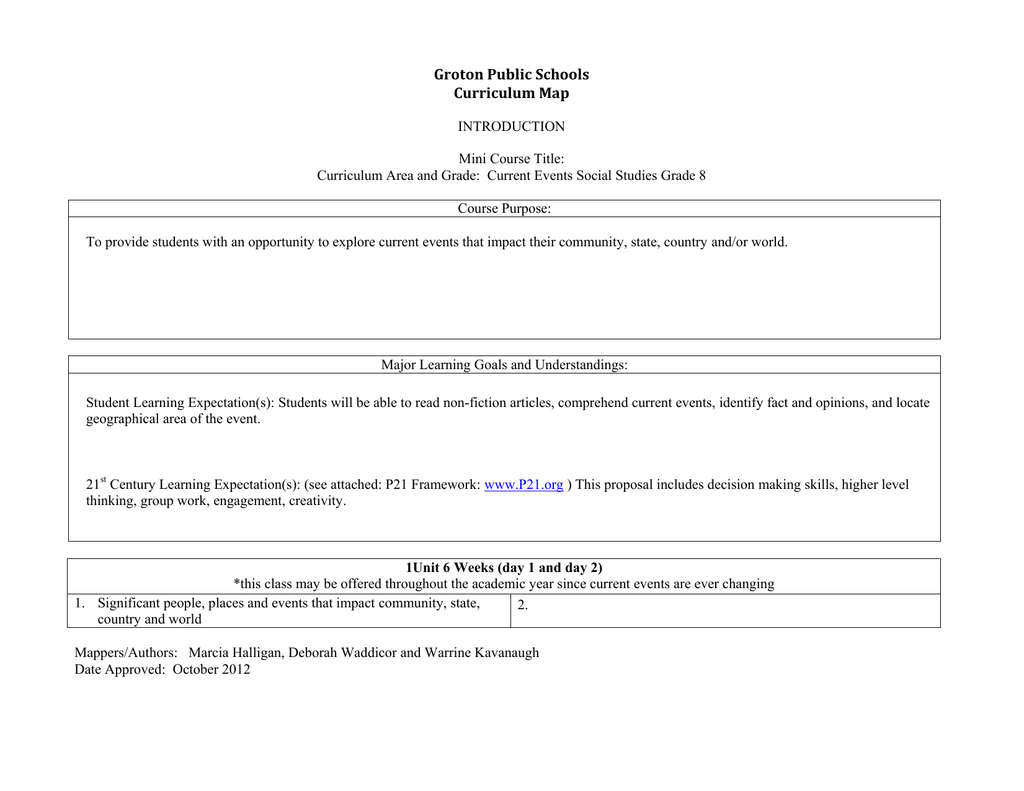 Groton Public Schools
Curriculum Map
INTRODUCTION
Mini Course Title:
Curriculum Area and Grade: Current Events Social Studies Grade 8
Course Purpose:
To provide students with an opportunity to explore current events that impact their community, state, country and/or world.
Major Learning Goals and Understandings:
Student Learning Expectation(s): Students will be able to read non-fiction articles, comprehend current events, identify fact and opinions, and locate
geographical area of the event.
21st Century Learning Expectation(s): (see attached: P21 Framework: www.P21.org ) This proposal includes decision making skills, higher level
thinking, group work, engagement, creativity.
1Unit 6 Weeks (day 1 and day 2)
*this class may be offered throughout the academic year since current events are ever changing
1. Significant people, places and events that impact community, state,
2.
country and world
Mappers/Authors: Marcia Halligan, Deborah Waddicor and Warrine Kavanaugh
Date Approved: October 2012
Part 1 - Unit/Theme/Concept
Grades: 6 to 8
Subject:
History
Course:
Current Events
Length of Unit:
(# of weeks)
6
Common Core State Standards
Key Ideas and Details: #2 Determine the central idea or information of a primary or secondary source; provide an accurate summary of the source
distinct from prior knowledge or opinions.
Supporting Standards
Connecticut State Standards
Standard 1 – Content Knowledge – knowledge of concepts, themes and information from history and social studies is necessary to promote
understanding of our nation and world.
Standard 1.1 – Demonstrate an understanding of significant events and themes in United States history.
Part 2 – Standards
Key (GLE) Content Knowledge and Concepts/Skills
The students will know:
The students will be able to:







How current events are
linked to past history
How to locate geographical
points of interest
The difference between a
primary and secondary source
How to discriminate between
fact and opinion
Big Idea:
Current events are a product of past history and have an impact on our community, state, country and world.


Students will analyze,
synthesize and create news
stories.

Through comprehension
activities, students will
practice their understanding
and remembering.
Analyze news presented by a variety of sources
Understand how current events are formed from past history
Evaluate the point of view of the author
Big Idea and Essential Questions

Bloom's Taxonomy Levels
Creating, Evaluating, Analyzing,
Applying, Understanding and
Remembering
Essential Question
How do current events impact our community, state, country and world?
Part 3 – Common Unit Assessments


An oral and/or written presentation of current event article
Based on comprehension questions from current event articles
Part 4 – Common/Assured Learning Experiences




Questioning strategies
Comprehension strategies
Vocabulary building
Map and chart interpretation
Part 5-Teacher Notes
Daily mini lessons may include access to newspapers, technology, UpFront New York Times, Junior Scholastic magazine, and guest speakers.