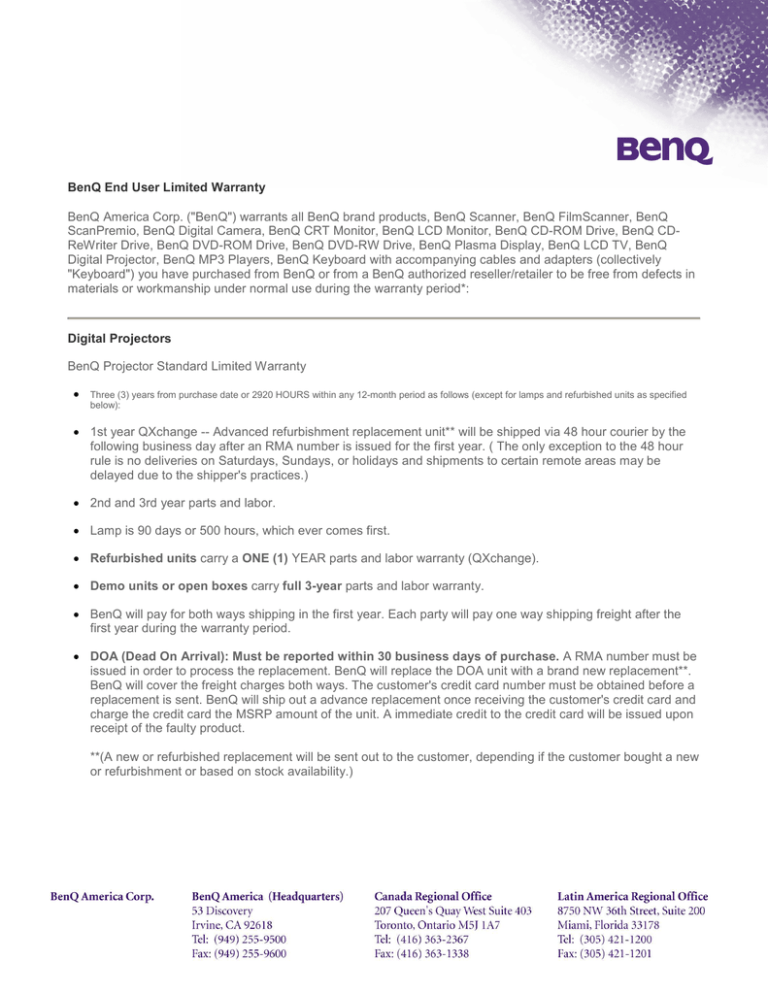 BenQ End User Limited Warranty
BenQ America Corp. ("BenQ") warrants all BenQ brand products, BenQ Scanner, BenQ FilmScanner, BenQ
ScanPremio, BenQ Digital Camera, BenQ CRT Monitor, BenQ LCD Monitor, BenQ CD-ROM Drive, BenQ CDReWriter Drive, BenQ DVD-ROM Drive, BenQ DVD-RW Drive, BenQ Plasma Display, BenQ LCD TV, BenQ
Digital Projector, BenQ MP3 Players, BenQ Keyboard with accompanying cables and adapters (collectively
"Keyboard") you have purchased from BenQ or from a BenQ authorized reseller/retailer to be free from defects in
materials or workmanship under normal use during the warranty period*:
Digital Projectors
BenQ Projector Standard Limited Warranty
•
Three (3) years from purchase date or 2920 HOURS within any 12-month period as follows (except for lamps and refurbished units as specified
below):
• 1st year QXchange -- Advanced refurbishment replacement unit** will be shipped via 48 hour courier by the
following business day after an RMA number is issued for the first year. ( The only exception to the 48 hour
rule is no deliveries on Saturdays, Sundays, or holidays and shipments to certain remote areas may be
delayed due to the shipper's practices.)
• 2nd and 3rd year parts and labor.
• Lamp is 90 days or 500 hours, which ever comes first.
• Refurbished units carry a ONE (1) YEAR parts and labor warranty (QXchange).
• Demo units or open boxes carry full 3-year parts and labor warranty.
• BenQ will pay for both ways shipping in the first year. Each party will pay one way shipping freight after the
first year during the warranty period.
• DOA (Dead On Arrival): Must be reported within 30 business days of purchase. A RMA number must be
issued in order to process the replacement. BenQ will replace the DOA unit with a brand new replacement**.
BenQ will cover the freight charges both ways. The customer's credit card number must be obtained before a
replacement is sent. BenQ will ship out a advance replacement once receiving the customer's credit card and
charge the credit card the MSRP amount of the unit. A immediate credit to the credit card will be issued upon
receipt of the faulty product.
**(A new or refurbished replacement will be sent out to the customer, depending if the customer bought a new
or refurbishment or based on stock availability.)
• Damages: All shipping damages must be reported within 7 business days upon receipt of the product.
BenQ is not responsible for the shipping damages reported after such period.BenQ is not responsible for the
shipping damages reported after such period.
All repaired or replaced parts or products shall be warranted only for the remainder of the original
warranty period (hours) specified above.
Obtaining Depot Warranty Service
If you purchased a BenQ product in the United States or Canada, you are entitled to depot repair service during
the warranty period subject to the following terms and conditions:
1. Depot warranty service is available for all Products purchased and located in the continental United States or
Canada.
2. You must contact BenQ Technical Support Center at 1-866-600-2367.
3. BenQ or BenQ Technical Support Center will attempt to resolve technical issues over the phone. If telephone
resolution is not possible, BenQ or BenQ Customer Service Center will then issue a Return Materials
Authorization ("RMA") number to be used as a means of identifying the product returned. RMA authorizations
and numbers are valid for fifteen (15) business days and void thereafter
4. You must return the product to BenQ or unless otherwise directed by BenQ to a BenQ Authorized Service
Provider. You must prepay any shipping charges, export taxes, custom duties and taxes, or any charges
associated with transportation of the BenQ product. In addition, you are responsible for insuring any Product
shipped or returned and assume the risk of loss during.
5. All returned Products must be accompanied with (i) the original shipping and packing materials, (ii) a
description of the BenQ product symptom and (iii) proof of the place and date of purchase. The RMA number
must be clearly printed on packing slip and on the exterior-shipping container. All Products must be sent in
secure packaging to avoid any shipping damages.
6. BenQ and BenQ Authorized Service Provider reserve the right to refuse and return, freight collect, Products
(i) that are not covered by BenQ's warranty; or (ii) for which there is no trouble found. Products delivered to
BenQ or a BenQ Authorized Service Provider with an expired RMA may be refused and returned to the
customer freight collect.
7. BenQ or BenQ Authorized Service Provider will use its best efforts to service Products within 30 business
days after BenQ's or BenQ Authorized Service Provider's receipt of the Products at its warehouse facilities
located at California, USA, or some other location identified by BenQ. For return shipments, except otherwise
described herein, BenQ or BenQ Authorized Service Provider will pay the shipping cost and retain risk of loss
until delivery to the customer's location as evidenced by signature collected by carrier. The customer may
designate only one location within the continental Untied States or Canada for return shipments. BenQ and
BenQ Authorized Service Provider are not responsible for shipping or other delays beyond their control.
8. Refund policy is depended on the sales term between end users and resellers/retailers. BenQ will only
provide repair or replacement services to end-users.
9. The DOA (Defective on Arrival) policy is depended on the sales term between end users and
resellers/retailers.
This limited warranty does not extend to any product not purchased from the BenQ authorized reseller. This
limited warranty also does not extend to any product that has been damaged or rendered defective (a) as a
result of use of the product other than for its normal intended use, or other misuse, abuse or negligence to the
product; (b) by the use of parts not manufactured or sold by BenQ; (c) by modification of the product; (d) as a
result of service by anyone other than BenQ or a BenQ authorized service provider; (e) improper
transportation or packing when returning the product to BenQ or a BenQ Authorized Service Provider; (f)
improper installation of third-party products; (g) improper environment (including proper temperature or
humidity); (h) unusual physical or electrical stress or interference, failure or fluctuation of electrical power,
lightning, static electricity, fire, or acts of God. BenQ is not responsible for damage to or loss of any programs,
data or removable storage media. You are responsible for saving (backing up) any programs, data or
removable storage media.
* EXCEPT FOR THE WARRANTIES SET FORTH HEREIN, BenQ DISCLAIMS ALL OTHER WARRANTIES,
EXPRESSED OR IMPLIED OR STATUTORY, INCLUDING BUT NOT LIMITED TO THE IMPLIED
WARRANTIES OF MERCHANTABILITY OR FITNESS FOR A PARTICULAR PURPOSE. ANY IMPLIED
WARRANTIES THAT MAY BE IMPOSED BY APPLICABLE LAW ARE LIMITED TO THE TERMS OF THIS
LIMITED WARRANTY. IN NO EVENT SHALL BenQ BE LIABLE FOR ANY INCIDENTAL, SPECIAL OR
CONSEQUENTIAL; DAMAGES, INCLUDING BUT NOT LIMITED TO LOSS OF BUSINESS, PROFITS,
DATA OR USE, WHETHER IN AN ACTION IN CONTRACT OR TORT OR BASED ON A WARRANTY,
ARISING OUT OF OR IN CONNECTION WITH THE USE OR PERFORMANCE OF THE PRODUCT, EVEN
IF BenQ HAS BEEN ADVISED OF THE POSSIBILITY OF SUCH DAMAGES. YOU AGREE THAT REPAIR,
REPLACEMENT OR REFUND, AS APPLICABLE, UNDER THE WARRANTY SERVICES DESCRIBED
HEREIN IS YOUR SOLE AND EXCLUSIVE REMEDY WITH RESPECT TO ANY BREACH OF THE BenQ
LIMITED WARRANTY SET FORTH HEREIN. IF, DESPITE THE FOREGOING LIMITATIONS, FOR ANY
REASON BenQ BECOMES LIABLE TO YOU FOR DAMAGES INCURRED BY YOU IN CONNECTION WITH
THIS AGREEMENT, THEN, THE LIABILITY OF BenQ WILL BE LIMITED TO THE AMOUNT EQUAL TO
THE INVOICE AMOUNT PAID BY YOU TO BenQ OR AN BenQ AUTHORIZED RESELLER FOR THE
PRODUCT.
All prices, products, terms & conditions are subject to change without notice. Some states or
provinces/jurisdictions do not allow the exclusion or limitation or incidental or consequential damages for
consumer products, and some states or provinces/jurisdictions do not allow limitations on how long an implied
warranty lasts. In such states or provinces/jurisdictions, the exclusions or limitations of this limited warranty
may not apply to you. This limited warranty gives you specific legal rights. You may also have other rights that
vary from state to state/jurisdiction to jurisdiction. You are advised to consult applicable state and provincial/
local laws for a full determination of your rights.
** Subject to refurbished replacement availability.
Please call Technical Support Center to report a defective product.
Hours: M-F 6:00am - 6:00pm PST
Phone: 866-600-2367
You may also request information by mailing to the following address:
ATTN: RMA Department
BenQ America Corp.
53 Discovery
Irvine, CA 92618
To avoid delays, please DO NOT SEND ANY BenQ product to this address.