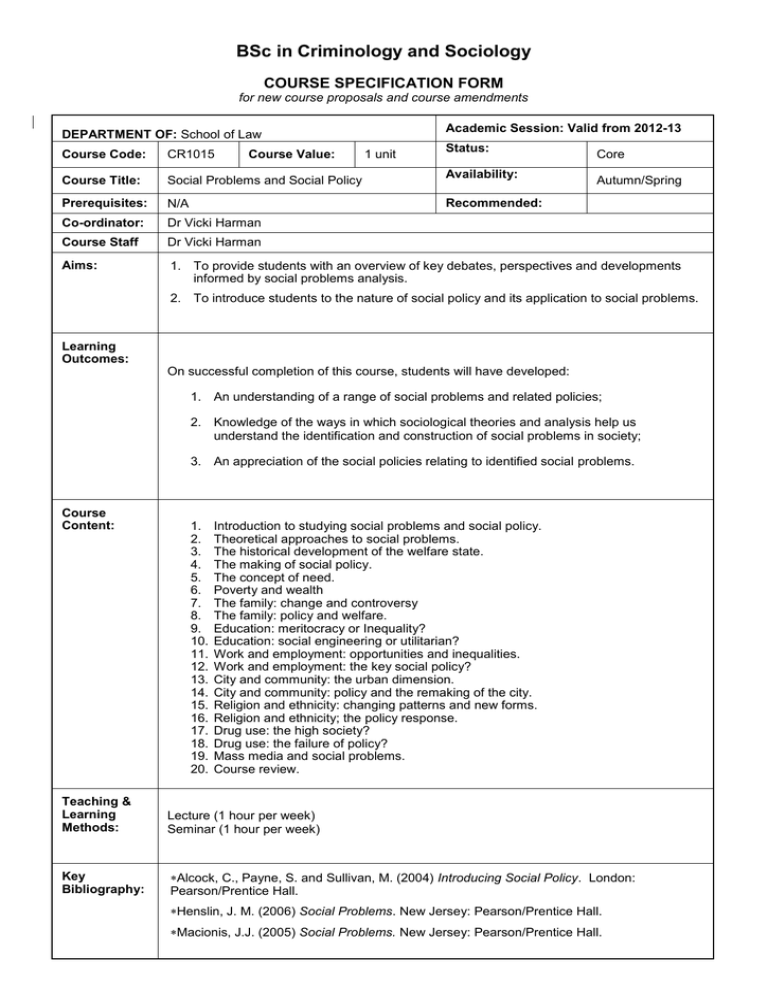 BSc in Criminology and Sociology
COURSE SPECIFICATION FORM
for new course proposals and course amendments
Academic Session: Valid from 2012-13
DEPARTMENT OF: School of Law
Course Value:
Status:
Course Code:
CR1015
Course Title:
Social Problems and Social Policy
Prerequisites:
N/A
Co-ordinator:
Dr Vicki Harman
Course Staff
Dr Vicki Harman
Aims:
1. To provide students with an overview of key debates, perspectives and developments
informed by social problems analysis.
1 unit
Availability:
Core
Autumn/Spring
Recommended:
2. To introduce students to the nature of social policy and its application to social problems.
Learning
Outcomes:
On successful completion of this course, students will have developed:
1. An understanding of a range of social problems and related policies;
2. Knowledge of the ways in which sociological theories and analysis help us
understand the identification and construction of social problems in society;
3. An appreciation of the social policies relating to identified social problems.
Course
Content:
1.
2.
3.
4.
5.
6.
7.
8.
9.
10.
11.
12.
13.
14.
15.
16.
17.
18.
19.
20.
Introduction to studying social problems and social policy.
Theoretical approaches to social problems.
The historical development of the welfare state.
The making of social policy.
The concept of need.
Poverty and wealth
The family: change and controversy
The family: policy and welfare.
Education: meritocracy or Inequality?
Education: social engineering or utilitarian?
Work and employment: opportunities and inequalities.
Work and employment: the key social policy?
City and community: the urban dimension.
City and community: policy and the remaking of the city.
Religion and ethnicity: changing patterns and new forms.
Religion and ethnicity; the policy response.
Drug use: the high society?
Drug use: the failure of policy?
Mass media and social problems.
Course review.
Teaching &
Learning
Methods:
Lecture (1 hour per week)
Seminar (1 hour per week)
Key
Bibliography:
Alcock, C., Payne, S. and Sullivan, M. (2004) Introducing Social Policy. London:
Pearson/Prentice Hall.
Henslin, J. M. (2006) Social Problems. New Jersey: Pearson/Prentice Hall.
Macionis, J.J. (2005) Social Problems. New Jersey: Pearson/Prentice Hall.
May, M., Page, R. and Brunsden, E. (eds.) (2001) Understanding Social Problems. Oxford:
Blackwell Publishers.
Parrillo, V.N. (2005) Contemporary Social Problems. Boston: Pearson.
Williams, F. (2006) Social Policy: A Critical Introduction. Second edition. Cambridge: Polity.
 Recommended for purchase.
Formative
Assessment
& Feedback:
Students will complete 1 formative essay (1400-1600 words)
Advice about seminar presentations.
Course evaluated by anonymous self-completion questionnaire
Summative
Assessment:
Exam: (50%) (2 hours)
Coursework: (50%) 1 essay 1400-1600 words.
Deadlines: TBA
The information contained in this course outline is correct at the time of publication, but may be subject to change as part of the Department's
policy of continuous improvement and development. Every effort will be made to notify you of any such changes.