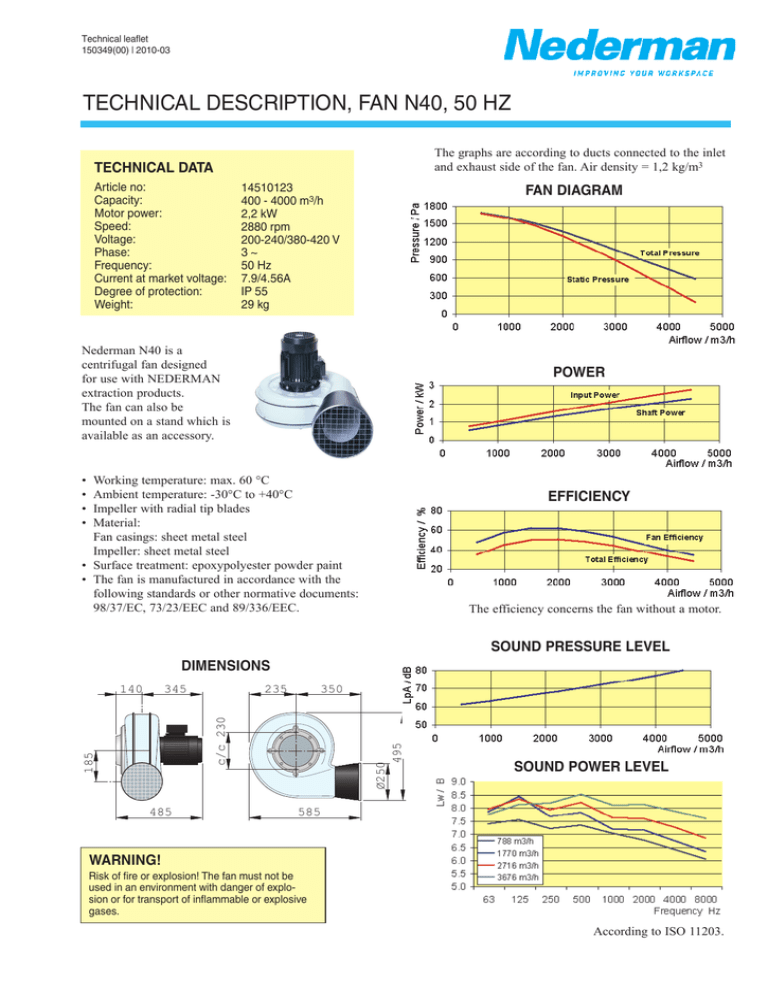 Technical leaflet
150349(00) | 2010-03
TECHNICAL DESCRIPTION, FAN N40, 50 HZ
TECHNICAL DATA
Article no:
Capacity:
Motor power:
Speed:
Voltage:
Phase:
Frequency:
Current at market voltage:
Degree of protection:
Weight:
The graphs are according to ducts connected to the inlet
and exhaust side of the fan. Air density = 1,2 kg/m3
14510123
400 - 4000 m3/h
2,2 kW
2880 rpm
200-240/380-420 V
3~
50 Hz
7.9/4.56A
IP 55
29 kg
FAN DIAGRAM
Nederman N40 is a
centrifugal fan designed
for use with NEDERMAN
extraction products.
The fan can also be
mounted on a stand which is
available as an accessory.
POWER
•
•
•
•
Working temperature: max. 60 °C
Ambient temperature: -30°C to +40°C
Impeller with radial tip blades
Material:
Fan casings: sheet metal steel
Impeller: sheet metal steel
• Surface treatment: epoxypolyester powder paint
• The fan is manufactured in accordance with the
following standards or other normative documents:
98/37/EC, 73/23/EEC and 89/336/EEC.
EFFICIENCY
The efficiency concerns the fan without a motor.
SOUND PRESSURE LEVEL
DIMENSIONS
235
345
350
485
Ø250
495
185
c/c 230
140
SOUND POWER LEVEL
585
WARNING!
Risk of fire or explosion! The fan must not be
used in an environment with danger of explosion or for transport of inflammable or explosive
gases.
According to ISO 11203.