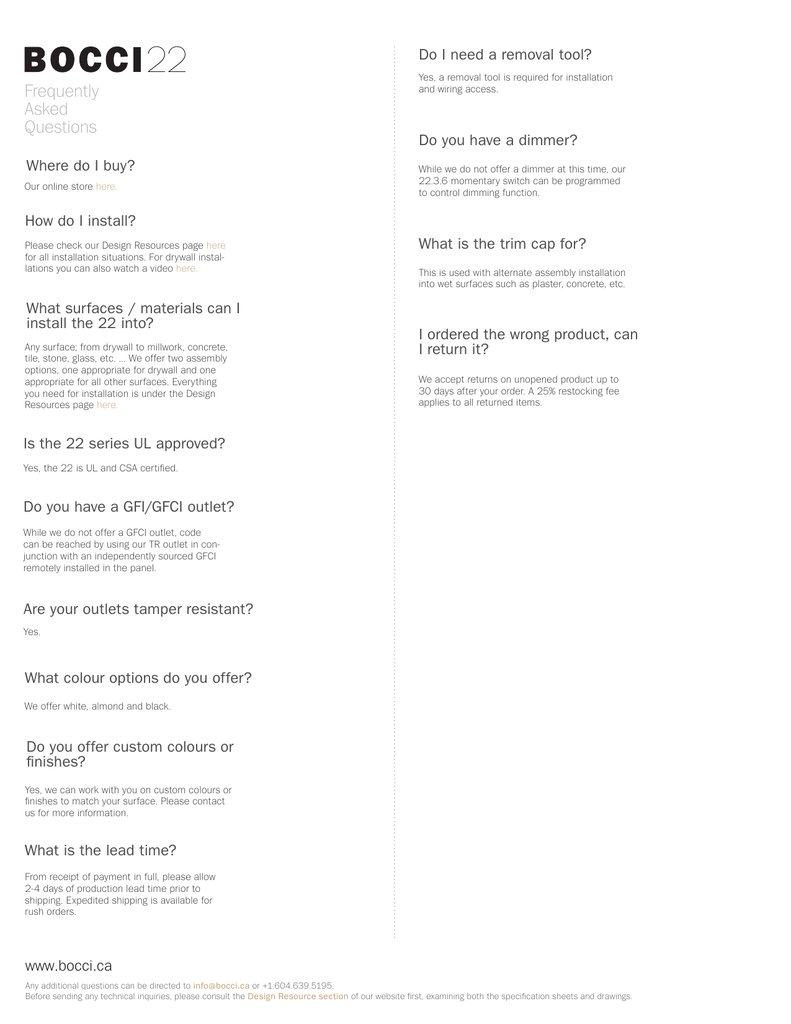 Frequently
Asked
Questions
22
Where do I buy?
Our online store here.
Do I need a removal tool?
Yes, a removal tool is required for installation
and wiring access.
Do you have a dimmer?
While we do not offer a dimmer at this time, our
22.3.6 momentary switch can be programmed
to control dimming function.
How do I install?
Please check our Design Resources page here
for all installation situations. For drywall installations you can also watch a video here.
What surfaces / materials can I
install the 22 into?
Any surface; from drywall to millwork, concrete,
tile, stone, glass, etc. ... We offer two assembly
options, one appropriate for drywall and one
appropriate for all other surfaces. Everything
you need for installation is under the Design
Resources page here.
What is the trim cap for?
This is used with alternate assembly installation
into wet surfaces such as plaster, concrete, etc.
I ordered the wrong product, can
I return it?
We accept returns on unopened product up to
30 days after your order. A 25% restocking fee
applies to all returned items.
Is the 22 series UL approved?
Yes, the 22 is UL and CSA certified.
Do you have a GFI/GFCI outlet?
While we do not offer a GFCI outlet, code
can be reached by using our TR outlet in conjunction with an independently sourced GFCI
remotely installed in the panel.
Are your outlets tamper resistant?
Yes.
What colour options do you offer?
We offer white, almond and black.
Do you offer custom colours or
finishes?
Yes, we can work with you on custom colours or
finishes to match your surface. Please contact
us for more information.
What is the lead time?
From receipt of payment in full, please allow
2-4 days of production lead time prior to
shipping. Expedited shipping is available for
rush orders.
www.bocci.ca
Any additional questions can be directed to [email protected] or +1.604.639.5195.
Before sending any technical inquiries, please consult the Design Resource section of our website first, examining both the specification sheets and drawings.