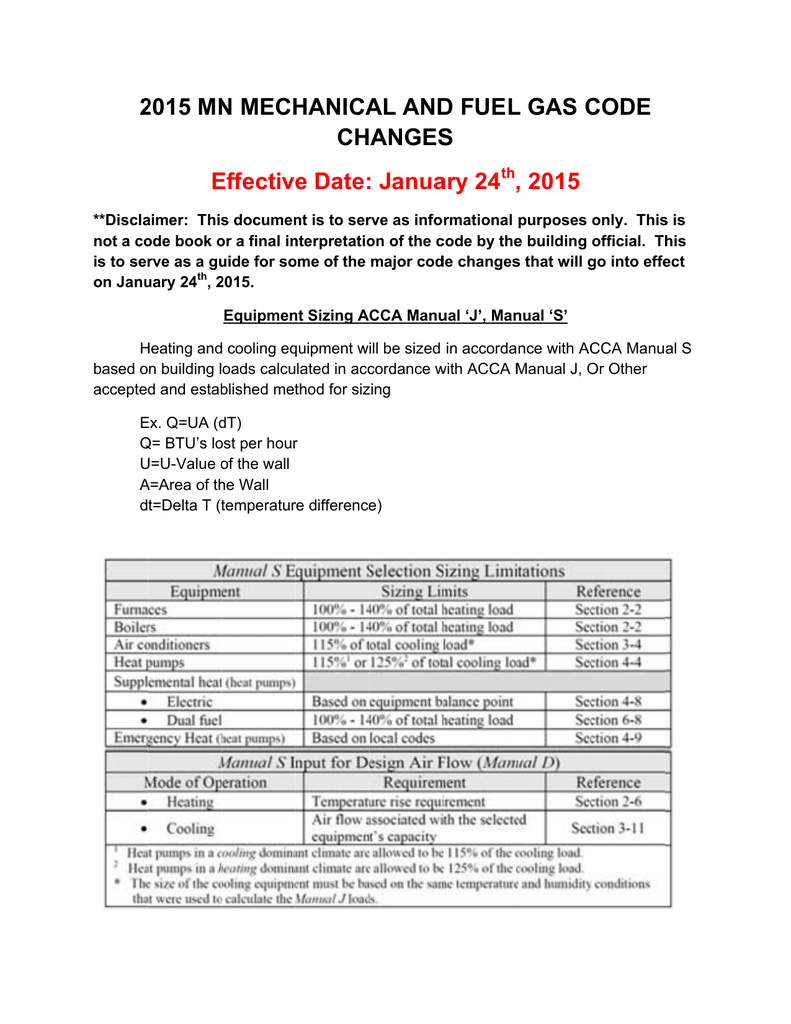 2015
2
MN
N MECH
HANICA
AL AND
D FUEL
L GAS C
CODE
CHANGES
S
Effectiv
E
ary 24th, 2015
e Date:: Janua
**Discla
aimer: This
s documen
nt is to serrve as informational purposes only. This
s is
not a co
ode book or
o a final in
nterpretatio
on of the c
code by the
e building official. Th
his
is to serrve as a gu
uide for so
ome of the major cod
de changes
s that will g
go into effe
ect
th
on Janu
uary 24 , 2015.
2
Equipmen
nt Sizing ACCA Manu
ual 'J', Man
nual 'S'
Heating
H
and
d cooling eq
quipment will be sized in accordance with AC
CCA Manual S
based on building loads calculated in acc
cordance w
with ACCA M
Manual J, O
Or Other
accepted and estab
blished metthod for siz
zing
Ex.
E Q=UA (d
dT)
Q=
Q BTU's lo
ost per hourr
U=U-Value
U
of
o the wall
A=Area
A
of th
he Wall
dt=Delta T (ttemperaturre difference
e)
Ven
ntilation Sy
ystem Req
quirements
s
Exhaust Only Sys
stems (no longer
l
Allo
owed)
ced System
ms" a ventilation system in whiich the air intake is w
within 10%
% of
"Balanc
the exhaust outpu
ut.
-H
HRV/ERV
-A
An intake and exhaustt fan linked together to
o operate equally
ake-Up Air
Ma
e 1346 curre
ently in tables 501 calculates Ma
ake-up air.
Mn Rule
The tablles have be
een updated
d, Exhaust only system
ms were removed from
m the table..
(balance
ed only), an
nd dwellings
s are now changed
c
to Dwelling U
Units, separrating each unit
as its ow
wn dwelling.
Type I an
nd Type II H
Hoods
Required use for sp
pecific applliances is now determ ined by AS
SHRAE Stan
ndard 154, not
the IMC.
Duct Gage
Round ducts and exposed rectangular ducts:
< 14" = 28 gage galv.
16"and 18" = 26 gage galv
20" and over = 24 gage galv
Duct Sealing
2012 IMC 603.9 Amendment: Pressure-sensitive tape shall not be used as the primary
sealant on ducts, unless it has been certified to comply with UL-181A or UL-181B by a
nationally recognized lab and used in accordance with that certification.
Boiler sizing and state inspections
1001.2 states Anyone who installs a boiler must ensure that the boiler is inspected by
DLI before placed in operation IF BTU/hr values exceed: 100,000, 500,000, and
750,000 BTU/HR (same BTU's as existing)
Essentially, it means that once a boiler of this size is installed, the installer must contact
the DLI pressure vessel inspector for this region for a final inspection. The burden is on
the installer for the inspection.
DLI deals with:
A. Boilers 100,000 BTU's for steam
500,000 BTU's for hot water supply
750,000 BTU's for hot water heating boilers
B. High pressure piping for boilers. Steam systems operating at or below 15psi,
or Hot water or other heating medium operating at or below 30psi and 250 F.
Refrigeration
Section 1101.1 Scope: "This chapter shall govern…"
Now there is an exception:
Exception: For all ammonia refrigeration systems, refer to Minnesota Rules, chapter
5230.
Metallic piping joints & fittings
Pipe joints. Pipe joints shall be threaded, flanged, brazed, welded, or made with pressconnect fitting complying ANSI LC-4.