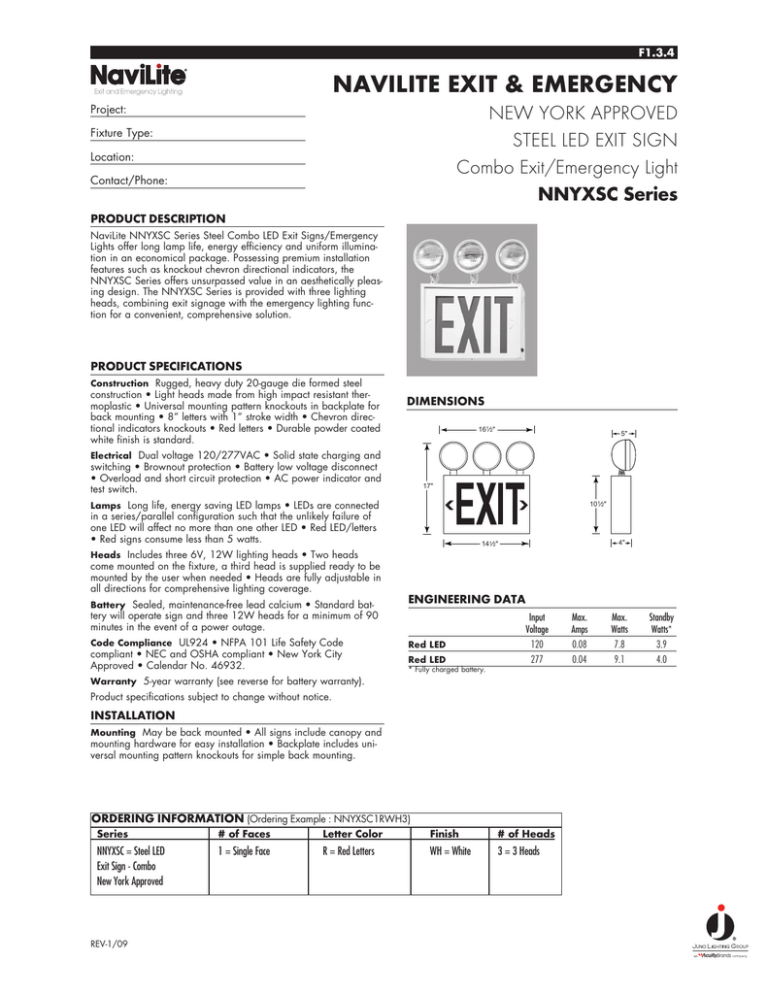 F1.3.4
NAVILITE EXIT & EMERGENCY
Project:
NEW YORK APPROVED
STEEL LED EXIT SIGN
Combo Exit/Emergency Light
NNYXSC Series
Fixture Type:
Location:
Contact/Phone:
PRODUCT DESCRIPTION
NaviLite NNYXSC Series Steel Combo LED Exit Signs/Emergency
Lights offer long lamp life, energy efficiency and uniform illumination in an economical package. Possessing premium installation
features such as knockout chevron directional indicators, the
NNYXSC Series offers unsurpassed value in an aesthetically pleasing design. The NNYXSC Series is provided with three lighting
heads, combining exit signage with the emergency lighting function for a convenient, comprehensive solution.
PRODUCT SPECIFICATIONS
Construction Rugged, heavy duty 20-gauge die formed steel
construction • Light heads made from high impact resistant thermoplastic • Universal mounting pattern knockouts in backplate for
back mounting • 8" letters with 1" stroke width • Chevron directional indicators knockouts • Red letters • Durable powder coated
white finish is standard.
DIMENSIONS
161⁄2"
Electrical Dual voltage 120/277VAC • Solid state charging and
switching • Brownout protection • Battery low voltage disconnect
• Overload and short circuit protection • AC power indicator and
test switch.
17"
Lamps Long life, energy saving LED lamps • LEDs are connected
in a series/parallel configuration such that the unlikely failure of
one LED will affect no more than one other LED • Red LED/letters
• Red signs consume less than 5 watts.
Heads Includes three 6V, 12W lighting heads • Two heads
come mounted on the fixture, a third head is supplied ready to be
mounted by the user when needed • Heads are fully adjustable in
all directions for comprehensive lighting coverage.
Battery Sealed, maintenance-free lead calcium • Standard battery will operate sign and three 12W heads for a minimum of 90
minutes in the event of a power outage.
Code Compliance UL924 • NFPA 101 Life Safety Code
compliant • NEC and OSHA compliant • New York City
Approved • Calendar No. 46932.
5"
101⁄2"
141⁄2"
ENGINEERING DATA
Input
Voltage
Red LED120
Red LED277
* Fully charged battery.
Warranty 5-year warranty (see reverse for battery warranty).
Product specifications subject to change without notice.
INSTALLATION
Mounting May be back mounted • All signs include canopy and
mounting hardware for easy installation • Backplate includes universal mounting pattern knockouts for simple back mounting.
ORDERING INFORMATION (Ordering Example : NNYXSC1RWH3)
Series
# of Faces
Letter Color
Finish
NNYXSC = Steel LED 1 = Single Face
R = Red Letters
WH = White
Exit Sign - Combo
New York Approved
REV-1/09
4"
# of Heads
3 = 3 Heads
Max.
Max.Standby
Amps
WattsWatts*
0.087.8 3.9
0.049.1 4.0
F1.3.4
NAVILITE EXIT & EMERGENCY
NEW YORK APPROVED
STEEL LED EXIT SIGN
Combo Exit/Emergency Light
NNYXSC Series
PHOTOMETRICS
6V, 12W Tungsten Wedge Base Lamp (ANSI 963), Round Head (Replacement Lamp NL6V12WB)
10
FEET
LEFT
5
Horizontal Distribution
1FC
0
5
FEET
RIGHT
10
0
0.5
0.3
10
FEET
UP
5
0.2
0.1
LAMP
AXIS
10
20
30
40
50
60
FEET FROM LAMP (Measured on axis)
70
Vertical Distribution
1FC
0
5
FEET
DOWN
10
0
0.5
0.3
0.2
0.1
LAMP
AXIS
10
20
30
40
50
60
FEET FROM LAMP (Measured on axis)
70
BATTERY DATA
• Lead Calcium battery warranted for one full year with additional 4 years pro-rated warranty
• Recharges in 24 hours or less
Type
Lead Calcium (Std.)
1
2
At 77˚F
To obtain rated life and capacity.
Battery
Shelf
Expected
Temperature
VoltageLife1Life1Range2
6V, 10Ah
15 months
5-8 years
40˚F-95˚F
1300 S. Wolf Road • Des Plaines, IL 60018 • Phone (847) 827-9880 • Fax (847) 827-2925
220 Chrysler Drive • Brampton, Ontario • Canada L6S 6B6 • Phone (905) 792-7335 • Fax (905) 792-0064
Visit us at www.junolightinggroup.com
Printed in U.S.A. ©2016 Acuity Brands Lighting, Inc.