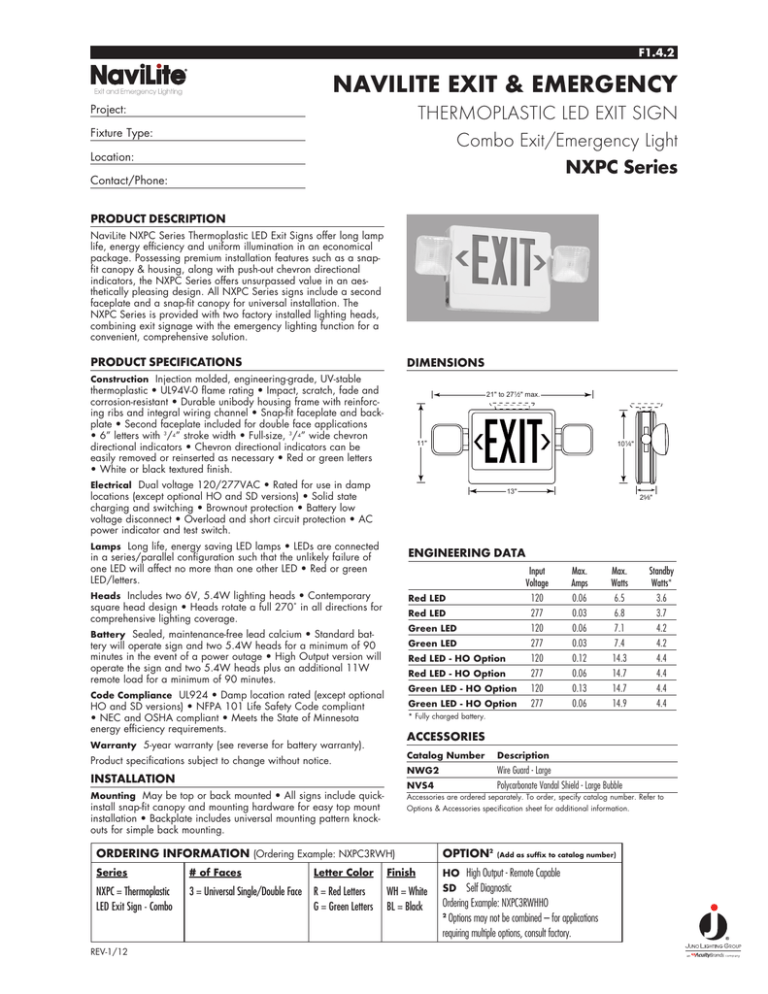 F1.4.2
NAVILITE EXIT & EMERGENCY
Project:
THERMOPLASTIC LED EXIT SIGN
Combo Exit/Emergency Light
NXPC Series
Fixture Type:
Location:
Contact/Phone:
PRODUCT DESCRIPTION
NaviLite NXPC Series Thermoplastic LED Exit Signs offer long lamp
life, energy efficiency and uniform illumination in an economical
package. Possessing premium installation features such as a snapfit canopy & housing, along with push-out chevron directional
indicators, the NXPC Series offers unsurpassed value in an aesthetically pleasing design. All NXPC Series signs include a second
faceplate and a snap-fit canopy for universal installation. The
NXPC Series is provided with two factory installed lighting heads,
combining exit signage with the emergency lighting function for a
convenient, comprehensive solution.
PRODUCT SPECIFICATIONS
DIMENSIONS
Construction Injection molded, engineering-grade, UV-stable
thermoplastic • UL94V-0 flame rating • Impact, scratch, fade and
corrosion-resistant • Durable unibody housing frame with reinforcing ribs and integral wiring channel • Snap-fit faceplate and backplate • Second faceplate included for double face applications
• 6" letters with 3/4" stroke width • Full-size, 3/4" wide chevron
directional indicators • Chevron directional indicators can be
easily removed or reinserted as necessary • Red or green letters
• White or black textured finish.
21" to 271⁄2" max.
11"
101⁄4"
Electrical Dual voltage 120/277VAC • Rated for use in damp
locations (except optional HO and SD versions) • Solid state
charging and switching • Brownout protection • Battery low
voltage disconnect • Overload and short circuit protection • AC
power indicator and test switch.
13"
Lamps Long life, energy saving LED lamps • LEDs are connected
in a series/parallel configuration such that the unlikely failure of
one LED will affect no more than one other LED • Red or green
LED/letters.
ENGINEERING DATA
Input
Max.
Max.Standby
Voltage
Amps
WattsWatts*
Red LED120
0.066.5 3.6
Red LED277
0.036.8 3.7
Green LED
120 0.067.1 4.2
Green LED
277 0.037.4 4.2
Red LED - HO Option120
0.1214.3 4.4
Red LED - HO Option277
0.0614.7 4.4
Green LED - HO Option 120 0.1314.7 4.4
Green LED - HO Option 277 0.0614.9 4.4
Heads Includes two 6V, 5.4W lighting heads • Contemporary
square head design • Heads rotate a full 270˚ in all directions for
comprehensive lighting coverage.
Battery Sealed, maintenance-free lead calcium • Standard battery will operate sign and two 5.4W heads for a minimum of 90
minutes in the event of a power outage • High Output version will
operate the sign and two 5.4W heads plus an additional 11W
remote load for a minimum of 90 minutes.
Code Compliance UL924 • Damp location rated (except optional
HO and SD versions) • NFPA 101 Life Safety Code compliant
• NEC and OSHA compliant • Meets the State of Minnesota
energy efficiency requirements.
* Fully charged battery.
ACCESSORIES
Warranty 5-year warranty (see reverse for battery warranty).
Catalog Number Description
NWG2
Wire Guard - Large
NVS4
Polycarbonate Vandal Shield - Large Bubble
Product specifications subject to change without notice.
INSTALLATION
Mounting May be top or back mounted • All signs include quickinstall snap-fit canopy and mounting hardware for easy top mount
installation • Backplate includes universal mounting pattern knockouts for simple back mounting.
Accessories are ordered separately. To order, specify catalog number. Refer to
Options & Accessories specification sheet for additional information.
ORDERING INFORMATION (Ordering Example: NXPC3RWH)
OPTION2 (Add as suffix to catalog number)
Series
# of Faces
Letter Color
Finish
NXPC = Thermoplastic
LED Exit Sign - Combo
3 = Universal Single/Double Face
R = Red Letters
G = Green Letters
WH = White
BL = Black
HO High Output - Remote Capable
SD Self Diagnostic
Ordering Example: NXPC3RWHHO
2
Options may not be combined – for applications
requiring multiple options, consult factory.
REV-1/12
25⁄8"
F1.4.2
NAVILITE EXIT & EMERGENCY
THERMOPLASTIC LED EXIT SIGN
Combo Exit/Emergency Light
NXPC Series
PHOTOMETRICS
6V, 5.4W Tungsten Wedge Base Lamp (ANSI 939), Square Head (Replacement Lamp NL6V5WB)
6
FEET
LEFT
3
Horizontal Distribution
1FC 0.5
0
3
FEET
RIGHT
6
0
0.3 0.2
5
FEET
UP
0
0.1
Vertical Distribution
1FC
LAMP
AXIS
5
10
15
20
25
30
35
FEET FROM LAMP (Measured on axis)
40
5
FEET
DOWN
10
0
LAMP
AXIS
0.5
0.3
0.2
0.1
10
20
30
40
50
60
FEET FROM LAMP (Measured on axis)
70
BATTERY DATA
• Lead Calcium battery warranted for one full year with additional 4 years pro-rated warranty
• Recharges in 24 hours or less
Type
Lead Calcium (Std.)
Lead Calcium (HO)
1
At 77˚F
2
To obtain rated life and capacity.
Battery
Shelf
Expected
Temperature
VoltageLife1Life1Range2
6V, 4.5Ah
15 months
5-8 years
40˚F-95˚F
Two 6V, 6Ah
15 months
5-8 years
40˚F-95˚F
1300 S. Wolf Road • Des Plaines, IL 60018 • Phone (847) 827-9880 • Fax (847) 827-2925
220 Chrysler Drive • Brampton, Ontario • Canada L6S 6B6 • Phone (905) 792-7335 • Fax (905) 792-0064
Visit us at www.junolightinggroup.com
Printed in U.S.A. ©2016 Acuity Brands Lighting, Inc.