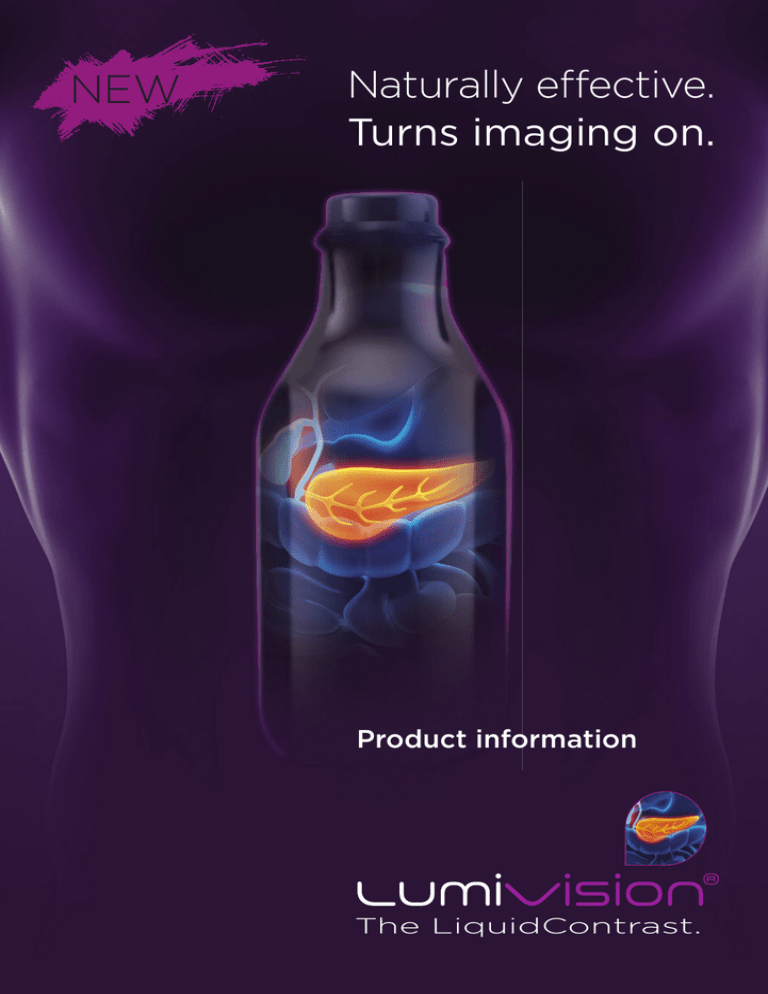 NEW
Naturally effective.
Turns imaging on.
Product information
The LiquidContrast.
LumiVision® – the LiquidContrast
Only available medical product for oral MRI
procedures:
• for MRI diagnostics of the abdomen
and gastrointestinal tract
• especially for MRCP
• standardised and CE-marked
• cost-efficient
LumiVision® – naturally effective –
sharp images!
• only available oral negative MRI contrast agent
for T2-weighted MRI
• achieves optimised delineation independent of
Fe and Mn concentrations, respectively
• eliminates undesirable signal overlays caused
by liquids in stomach and abdomen
Only the important things are being visualised!
Example of use:
MRI pre LumiVision
post LumiVision
The LiquidContrast.
LumiVision® – easy application:
• practically no adverse effects
• Normally, 1 bottle (250 mL) is equivalent
to 1 application
• 1 – 2 bottles to be diluted with the same / up to
the double amount of water
• may also be administered in children
• MRCP may be performed already 15 minutes
upon application
LumiVision® – the innovation presented
by b.e.imaging
• the LiquidContrast
• PZN 10917171 (German Reg. No. for
pharmaceuticals and medical products)
• Price per bottle (250 ml): 22,50 € (Germany)
For further information on LumiVision® please
refer to your local sales representative or to
www.liquidkontrast.de
For further information on the bender gruppe please refer to www.bendergruppe.de
The LiquidContrast.
Information for the user
Description
LumiVision® is a preparation of different special
fruit juices like pineapple juice concentrate,
organic agave syrup, blackcurrant juice concentrate, guar gum (thickener), defoamers.
LumiVision® contains no preservatives and no
dyes.
Application
Invert the bottle several times before use!
Apply LumiVision® always as instructed by
your physician. In case of uncertainties please
consult your physician or pharmacist.
Unless otherwise prescribed, the dosage in
adults is 250 - 500 ml (1 - 2 bottles) LumiVision®
diluted with the same amount up to the double
amount of water. In most cases, a total volume
of 500 – 1.000 ml (0.5 - 1 liter) oral solution is
sufficient – depending on your body type (size,
weight). For an examination of the lower part
of the digestive tract, the maximum amount
should be taken preferentially, for the upper
sections generally smaller amounts suffice. In
children, the dosage should be reduced according to the height and weight.
Precautions
LumiVision® should not be used in case of
known hypersensitivity to any of its ingredients.
LumiVision® is suitable for oral application.
LumiVision® must not be injected.
LumiVision® can have a laxative effect due to
its natural content of fructose (approx. 29 g
per bottle of 250 ml).
www. b e n d e rg ru p p e.d e
b·e·imaging·gmbh
Dr.-Rudolf-Eberle-Straße 8-10
If you have a known fructose malabsorption,
you should take LumiVision® only after consultation with your physician.
If you are a diabetic, be sure to adjust your
medication according to the sugar content
(approx. 6.5 BE per bottle of 250 ml) of
LumiVision®.
LumiVision® should not affect your ability to
drive and use machines. Although there are no
studies available, LumiVision® can be used in
children, pregnant women and during breastfeeding because the components correspond
to foods. If you are unclear or have any questions
please consult with your physician.
Interactions with other medicinal products are
not known.
Keep LumiVision® out of reach of children.
Protect from light and temperatures above
25 °C.
The expiration date of this product is printed
on the outer packaging and on the bottle.
LumiVision® should not be used after the expiration date.
Once opened, consume on the same day.
How is the product available
250 ml LumiVision® for oral application.
PZN: 10917171
Manufacturer
b·e·imaging·gmbh
Dr.-Rudolf-Eberle-Straße 8-10
D-76534 Baden-Baden, Germany
Tel.: +49 7223 9669-70
Fax: +49 7223 9669-653
info@be-imaging.de
www.bendergruppe.de
Date of Information
January 2015
D-76534 Baden-Baden
Tel.: +49 72 23 96 69-70
CE
V2 / February 2015
LumiVision® is a natural LiquidContrast for imaging techniques such as MRI (Magnetic Resonance Tomography) diagnosis of the abdomen
or the digestive tract. With LumiVision® a matrix
improving the MR diagnostics can be achieved.