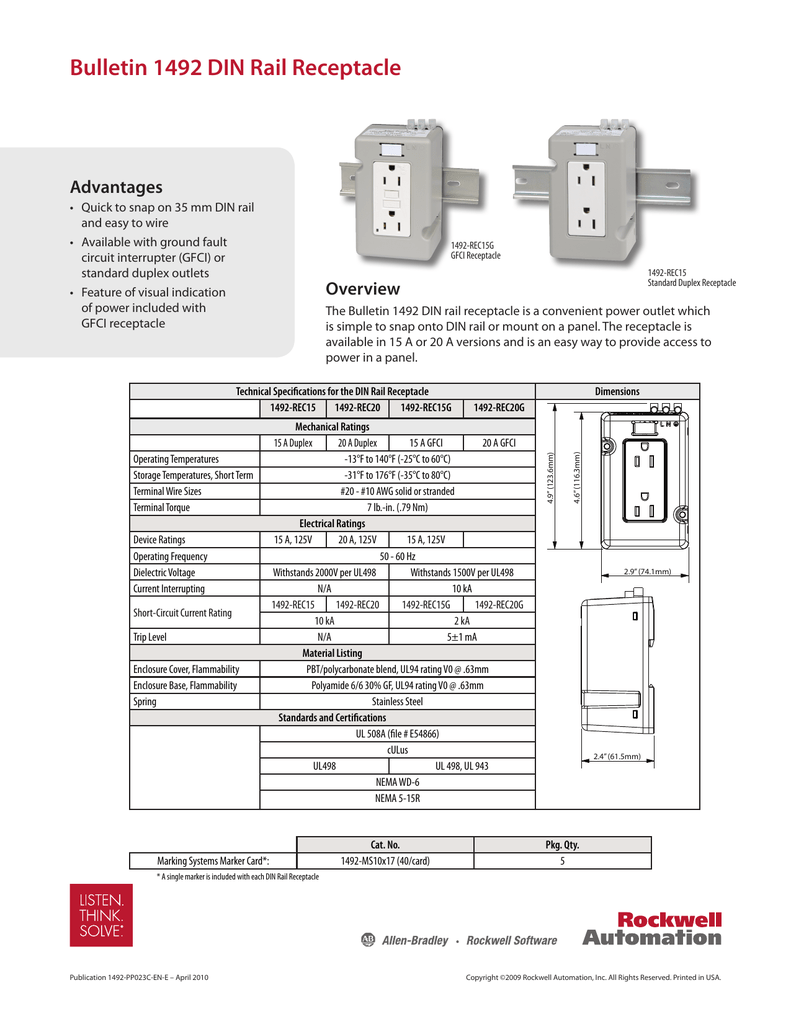 Bulletin 1492 DIN Rail Receptacle
Advantages
• Quick to snap on 35 mm DIN rail
and easy to wire
• Available with ground fault
circuit interrupter (GFCI) or
standard duplex outlets
• Feature of visual indication
of power included with
GFCI receptacle
1492-REC15G
GFCI Receptacle
Overview
The Bulletin 1492 DIN rail receptacle is a convenient power outlet which
is simple to snap onto DIN rail or mount on a panel. The receptacle is
available in 15 A or 20 A versions and is an easy way to provide access to
power in a panel.
Device Ratings
Operating Frequency
Dielectric Voltage
Current Interrupting
Short-Circuit Current Rating
Trip Level
Enclosure Cover, Flammability
Enclosure Base, Flammability
Spring
Dimensions
Mechanical Ratings
15 A Duplex
20 A Duplex
15 A GFCI
20 A GFCI
-13°F to 140°F (-25°C to 60°C)
-31°F to 176°F (-35°C to 80°C)
#20 - #10 AWG solid or stranded
7 lb.-in. (.79 Nm)
Electrical Ratings
15 A, 125V
20 A, 125V
15 A, 125V
50 - 60 Hz
Withstands 2000V per UL498
Withstands 1500V per UL498
N/A
10 kA
1492-REC15
1492-REC20
1492-REC15G
1492-REC20G
10 kA
2 kA
N/A
5±1 mA
Material Listing
PBT/polycarbonate blend, UL94 rating V0 @ .63mm
Polyamide 6/6 30% GF, UL94 rating V0 @ .63mm
Stainless Steel
Standards and Certifications
UL 508A (file # E54866)
cULus
UL498
UL 498, UL 943
NEMA WD-6
NEMA 5-15R
Marking Systems Marker Card*:
Cat. No.
1492-MS10x17 (40/card)
4.6" (116.3mm)
1492-REC20G
4.9" (123.6mm)
Technical Specifications for the DIN Rail Receptacle
1492-REC15
1492-REC20
1492-REC15G
Operating Temperatures
Storage Temperatures, Short Term
Terminal Wire Sizes
Terminal Torque
1492 REC15
1492-REC15
Standard Duplex Receptacle
2.9" (74.1mm)
2.4" (61.5mm)
Pkg. Qty.
5
* A single marker is included with each DIN Rail Receptacle
Publication 1492-PP023C-EN-E – April 2010
Copyright ©2009 Rockwell Automation, Inc. All Rights Reserved. Printed in USA.