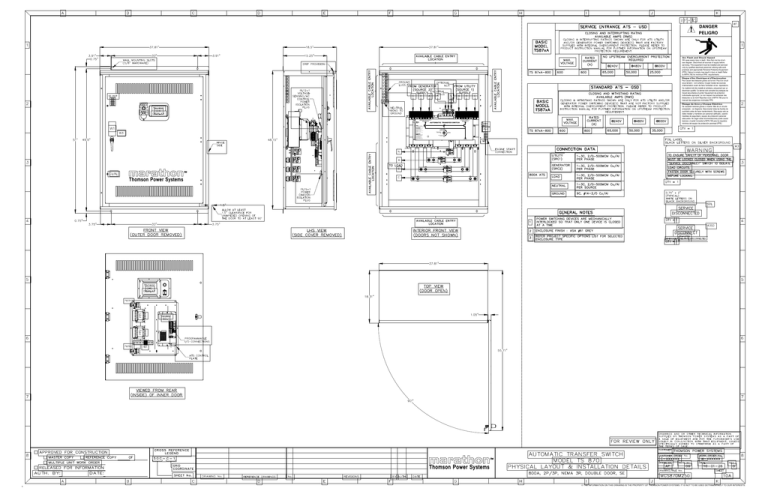 Arc Flash and Shock Hazard
Will cause severe injury or death. More than one live circuit see diagram. Disconnect all sources of supply before
servicing. This equipment must be installed and serviced
only by qualified electrical personnel utilizing safe work
practices and appropriate Personal Protective Equipment
(PPE). Failure to comply may result in injury or death! Refer
to NFPA 70E for minimum PPE requirements.
Risque d'Arc Electrique et d'Electrocution
Peut causer des blessures graves out la mort. Plus d'un circuit
sous tension - voir schema. Couper toutes les sources
manuel des exigences minimales PPE.
Riesgo de Arco y Choque Eléctrico
energizado - ver diagrama. Desconectar todas las fuentes de
suministro antes de hacer mantenimiento. Este equipo solo se
debe instalar y mantener por personal calificado, usando
GENERATOR SUPPLY
(SOURCE 2)
OPERATING
HANDLE
UTILITY SUPPLY
(SOURCE 1)
adecuados. No seguir estas recomendaciones puede causar
lesiones o muerte! Consultar la NFPA 70E para los requisitos
AUTOMATIC TRANSFER SWITCH
WARNING:
THIS SWITCH MAY TRANSFER
AUTOMATICALLY. DISCONNECT
ALL SOURCES BEFORE SERVICING.
MANUAL OPERATION:
(OR TO RESET A TRIPPED POWER
SWITCHING DEVICE)
- REMOVE ISOLATION PLUG TO
PREVENT SUBSEQUENT
AUTOMATIC OPERATION (IF
DESIRED)
- USING MANUAL HANDLE, ROTATE
MECHANISM TO DESIRED
POSITION.
CAUTION - DO NOT CONTACT LIVE
PARTS.
NOTE TO INSTALLER
CAUTION!!
- SEE INSTRUCTION MANUAL FOR
LUG TIGHTENTING TORQUES &
REQUIREMENTS FOR UPSTREAM
OVER-CURRENT DEVICES.
- COVER TRANSFER SWITCH
MECHANISM DURING
INSTALLATION TO KEEP DIRT,
GRIT, METAL DRILL CHIPS, ETC.
OUT OF COMPONENTS.
- SECURE ALL CONDUCTORS TO
PREVENT CONTACT WITH MOVING
PARTS.
LOAD ON
GENERATOR
(SOURCE 2)
REMOVE MANUAL
HANDLE AFTER
USE
NEUTRAL
POSITION
LOAD ON UTILITY
(SOURCE 1)
LOAD
Thomson Power Systems
Thomson Power Systems
© THE INFORMATION ON THIS DRAWING IS THE PROPERTY OF THOMSON POWER SYSTEMS. IT IS NOT TO BE USED DETRIMENTALLY TO OUR INTERESTS.