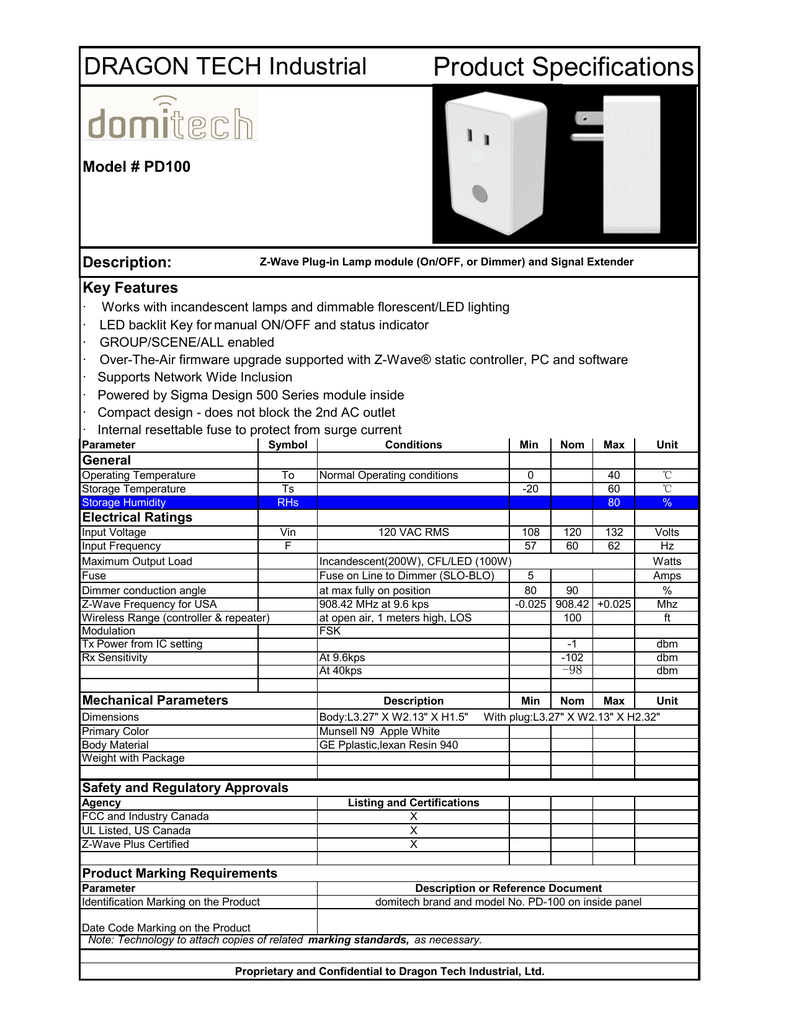 DRAGON TECH Industrial
Product Specifications
Model # PD100
Description:
Z-Wave Plug-in Lamp module (On/OFF, or Dimmer) and Signal Extender
Key Features
·
·
·
·
·
·
·
·
Works with incandescent lamps and dimmable florescent/LED lighting
LED backlit Key for manual ON/OFF and status indicator
GROUP/SCENE/ALL enabled
Over-The-Air firmware upgrade supported with Z-Wave® static controller, PC and software
Supports Network Wide Inclusion
Powered by Sigma Design 500 Series module inside
Compact design - does not block the 2nd AC outlet
Internal resettable fuse to protect from surge current
Parameter
Symbol
Conditions
Min
Nom
Max
Unit
40
60
80
℃
℃
%
132
62
Volts
Hz
Watts
Amps
%
Mhz
ft
General
Operating Temperature
Storage Temperature
Storage Humidity
To
Ts
RHs
Normal Operating conditions
0
-20
Electrical Ratings
Input Voltage
Vin
Input Frequency
F
Maximum Output Load
Fuse
Dimmer conduction angle
Z-Wave Frequency for USA
Wireless Range (controller & repeater)
Modulation
Tx Power from IC setting
Rx Sensitivity
Mechanical Parameters
120 VAC RMS
120
60
Incandescent(200W), CFL/LED (100W)
Fuse on Line to Dimmer (SLO-BLO)
5
at max fully on position
80
90
908.42 MHz at 9.6 kps
-0.025 908.42 +0.025
at open air, 1 meters high, LOS
100
FSK
-1
At 9.6kps
-102
At 40kps
-98
Description
Body:L3.27" X W2.13" X H1.5"
Munsell N9 Apple White
GE Pplastic,lexan Resin 940
Dimensions
Primary Color
Body Material
Weight with Package
108
57
Min
Nom
Max
Unit
With plug:L3.27" X W2.13" X H2.32"
Safety and Regulatory Approvals
Agency
FCC and Industry Canada
UL Listed, US Canada
Z-Wave Plus Certified
Listing and Certifications
X
X
X
Product Marking Requirements
Parameter
Identification Marking on the Product
dbm
dbm
dbm
Description or Reference Document
domitech brand and model No. PD-100 on inside panel
Date Code Marking on the Product
Note: Technology to attach copies of related marking standards, as necessary.
Proprietary and Confidential to Dragon Tech Industrial, Ltd.