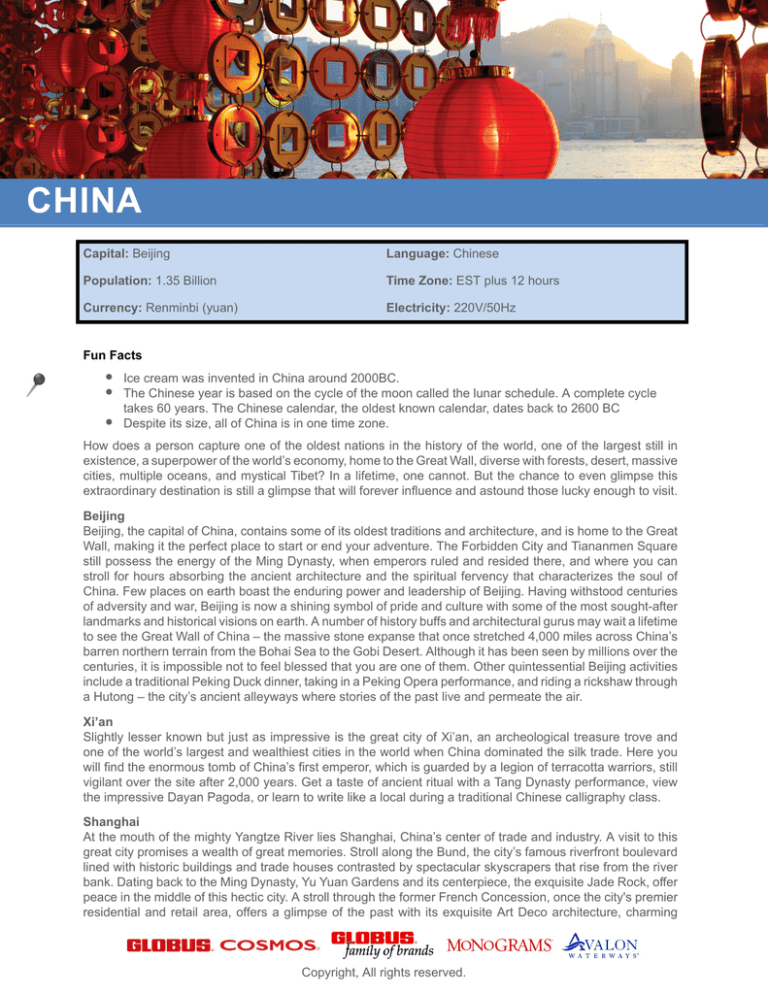 CHINA
Capital: Beijing
Language: Chinese
Population: 1.35 Billion
Time Zone: EST plus 12 hours
Currency: Renminbi (yuan)
Electricity: 220V/50Hz
Fun Facts
●
●
●
Ice cream was invented in China around 2000BC.
The Chinese year is based on the cycle of the moon called the lunar schedule. A complete cycle
takes 60 years. The Chinese calendar, the oldest known calendar, dates back to 2600 BC
Despite its size, all of China is in one time zone.
How does a person capture one of the oldest nations in the history of the world, one of the largest still in
existence, a superpower of the world's economy, home to the Great Wall, diverse with forests, desert, massive
cities, multiple oceans, and mystical Tibet? In a lifetime, one cannot. But the chance to even glimpse this
extraordinary destination is still a glimpse that will forever influence and astound those lucky enough to visit.
Beijing
Beijing, the capital of China, contains some of its oldest traditions and architecture, and is home to the Great
Wall, making it the perfect place to start or end your adventure. The Forbidden City and Tiananmen Square
still possess the energy of the Ming Dynasty, when emperors ruled and resided there, and where you can
stroll for hours absorbing the ancient architecture and the spiritual fervency that characterizes the soul of
China. Few places on earth boast the enduring power and leadership of Beijing. Having withstood centuries
of adversity and war, Beijing is now a shining symbol of pride and culture with some of the most sought-after
landmarks and historical visions on earth. A number of history buffs and architectural gurus may wait a lifetime
to see the Great Wall of China – the massive stone expanse that once stretched 4,000 miles across China's
barren northern terrain from the Bohai Sea to the Gobi Desert. Although it has been seen by millions over the
centuries, it is impossible not to feel blessed that you are one of them. Other quintessential Beijing activities
include a traditional Peking Duck dinner, taking in a Peking Opera performance, and riding a rickshaw through
a Hutong – the city's ancient alleyways where stories of the past live and permeate the air.
Xi'an
Slightly lesser known but just as impressive is the great city of Xi'an, an archeological treasure trove and
one of the world's largest and wealthiest cities in the world when China dominated the silk trade. Here you
will find the enormous tomb of China's first emperor, which is guarded by a legion of terracotta warriors, still
vigilant over the site after 2,000 years. Get a taste of ancient ritual with a Tang Dynasty performance, view
the impressive Dayan Pagoda, or learn to write like a local during a traditional Chinese calligraphy class.
Shanghai
At the mouth of the mighty Yangtze River lies Shanghai, China's center of trade and industry. A visit to this
great city promises a wealth of great memories. Stroll along the Bund, the city's famous riverfront boulevard
lined with historic buildings and trade houses contrasted by spectacular skyscrapers that rise from the river
bank. Dating back to the Ming Dynasty, Yu Yuan Gardens and its centerpiece, the exquisite Jade Rock, offer
peace in the middle of this hectic city. A stroll through the former French Concession, once the city's premier
residential and retail area, offers a glimpse of the past with its exquisite Art Deco architecture, charming
Copyright, All rights reserved.
shops, and quaint tree-lined streets. The Shanghai Museum has an extensive collection of ancient Chinese
art ranging from bronze and ceramics to jade and calligraphy. At night you can't miss the opportunity to
witness a performance of the world-famous Shanghai Acrobats. Here you will see spectacular feats of
strength, balance, and contortionism.
Guilin
Guilin possesses a beautifully quiet mystery and intrigue. The vistas and limestone mountains surrounding
the famous Li River, despite attempts at capturing their allure in countless paintings and photographs, exhibit
a power beyond description. In addition to the landscape, dotted with green and limestone spires, Guilin is
a gracious and friendly town, easy to explore on foot and brimming over with charm. Ease into this magical
nest in southern China and enjoy its sparkling reflection of pagodas at night along a river that has been the
center of its livelihood for centuries.
Chengdu
Chengdu is the capital of the Sichuan province and known for its flavorful food. When visiting this area, one
should not miss the world's tallest stone Buddha in Leshan, which sits at 233 ft. Created by a monk in hopes
of making peace with the water spirits at the town's three river confluence, the Leshan Giant Buddha took
90 years to complete and is a UNESCO World Heritage Site. Another highlight to put on your agenda is the
Giant Panda Research Base where you can see pandas up close and learn about conservation efforts in
place to protect these beautiful animals.
Hong Kong
As China's sparkling commercial empire, Hong Kong towers over its harbor with buildings of skyscraping
height and beacons of light stretching out over the waters. Ride to the top of Victoria Peak for a chance at
spectacular views of the city below. Hong Kong is a shopper's paradise with end boutiques and a variety
of interesting local markets. Here you will find items ranging from Couture dresses and custom made silk
suits to tableware and knock-off purses. Trolling around the markets is also a fun way to interact with the
locals! This city is a foodie's delight, with over 11,000 restaurants. Cuisine ranges from local specialties like
Dim Sum and Chinese barbecue to high-end international cuisine from around the world. Other things to
consider are a sunset cruise on the harbor, a visit to nearby Lantau Island to see the giant Buddha, or an
excursion to the lively city of Macau. Hong Kong has something for nearly everyone and is a true contrast
of the old and new and of the East and West.
Macau
Located on the western bank of the Pearl River Delta in southern China, Macau is just 37 miles east of Hong
Kong. Once a Portuguese settlement, visitors will immediately notice the fascinating integration of Chinese,
Western, and Portuguese culture in its architecture, art, religion, cuisine, and traditions. The Historic Centre
of Macau, a UNESCO World Heritage Site, holds over 20 ancient monuments and urban squares woven
in the heart of the city, and serves as a living testimony to the city's unique and rich heritage. Macau is a
melting pot of 'East Meets West,' where churches and temples co-exist. Learn more during visits to any of
the museums, including the Macau Museum.
Lhasa, Tibet
A destination of intrigue and awe, Tibet has been compelling residents of the world for centuries and
continues to draw visitors of spiritual and natural interest to this day. At a staggering altitude of 14,000 feet,
you'll feel a sense of escape as the mountains of Tibet and its fascinating city, Lhasa, take you in. A visit
to this distinct terrain allows visitors the chance to witness magnificence – the looming fortress of Potala
Palace is a main attraction, a seat of government initiated by the Great Fifth Dalai Lama and the former
winter residence of the current Dalai Lama. This impressive building, rich in artwork and design, watches
over the peaceful town of Lhasa and beckons curious visitors with its compelling history. During lunch at a
local home you will have the opportunity to get up close and personal with the family and learn more about
their daily life. Also, visit a traditional Tibetan Monastery, Jokhang Temple – one of Tibet's oldest shrines
– and take the rare opportunity to visit a Tibetan Hospital where you can learn about the culture's ideas
of medicinal treatments and health – a natural and open-minded approach that has influenced medicine
around the world. Discover flavors, colors, culture, and visions of surpassing beauty in this distant and
alluring "rooftop of the world".
Copyright, All rights reserved.
China, massive in area and extensive in its history still maintains a weighted sense of tradition, heritage,
and honor. It is a country of considerable architectural treasures, fast-moving city life, and a community of
people eager to share their unique past with visitors from around the world. It is a privilege to be a small
witness to one of the oldest, grandest, and most influential countries on the globe.
VISAS AND PASSPORTS
A visa for your visit to China is necessary for U.S. citizens. If you hold a passport from another country,
check with your local consulate about requirements for travel to China.
A visa is not required if you are only visiting Hong Kong or Macau.
You must travel on Tourist passports and visas in China. Diplomatic or official passports will be denied travel,
even when holding a Tourist visa.
Tourist visas must be obtained before departing the US through an embassy or a visa service. The embassy
or visa service will be able to advise the latest requirements for obtaining a visa.
In general going through a visa service is more expensive but offers convenience and peace of mind. If
you choose to go this route, we recommend contacting Generations Visa Services (GenVisa), our preferred
partner for visa and passport services, at least 90 days prior to departure. GenVisa has a special website and
toll-free number. Call (800) 845-8968, email info@genvisa.com, or visit their below web-sites for additional
information. Our travelers receive discounted prices and other special services:
●
For Globus, visit: genvisa.com/globus
●
For Avalon, visit:genvisa.com/avalon
●
For Monograms, visit: genvisa.com/monograms
●
For Cosmos, visit genvisa.com/cosmos
All passengers traveling internationally are required to have a passport. Please carry proper identification
(your passport) on you and do not leave in your suitcase or hotel room. Most countries have laws that require
you to carry your passport with you at all times.
COUNTRY CODES
The country code for China is 86. When calling to China from overseas, dial your international access code
(011 from the U.S./Canada) followed by the country code, area code, and phone number. Phone numbers
in China are 12-15 digits in length. Dialing from the U.S./Canada: 011 86 ### ##### ######.
CURRENCY
In China the local currency is the Chinese Yuan ¥ or Renimbi (RMB). 1 RMB = 10 jiao; 1 jiao = 10 fen
●
Banknote denominations: ¥1, ¥2, ¥5, ¥10, ¥20, ¥50, ¥100
●
Coin denominations: 1, 2, 5 fen; 1, 5 jiao; ¥1 (yuan)
For the most current exchange rates, please go to our website at globusfamily.com/currency.
For initial convenience we recommend you bring some local currency with you from home in case you are
not able to immediately access a money exchange or ATM.
Major credit cards are widely accepted (Visa and MasterCard are most common) but some shops and
restaurants require a minimum purchase amount when using them (so they are not appropriate for
incidentals such as ice creams, snacks, etc.). You might consider bringing more than one card, as some
outlets may not accept all types. Due to increasing credit card fraud worldwide, be prepared to show
Copyright, All rights reserved.
identification (i.e. your passport or driver's license) when making a transaction with your credit card. If you
use a credit card for your purchase, you will be debited in the local currency, and your bank will establish
the rate of exchange on the debit.
BUDGETING AND SHOPPING
The following budget guidelines are just approximate values or starting values for meals and are per person.
Actual prices will vary widely by restaurant and city within a country but below are some averages as
provided by our experienced personnel.
The approximate cost of a soft drink/mineral water/coffee is ¥5-10.
An average lunch consisting of a salad or sandwich and a soda or water starts at approximately ¥25-35.
A steak dinner at a mid-range restaurant with dessert and a non-alcoholic beverage starts at approximately
¥150-200.
Shopping
Prices are as marked in department stores, though in Asia it is customary to barter. Start negotiating with
an offer at one-third or half the vendor's initial price.
Please be warned that if you buy items on tour to be shipped to your home, customs import charges are
hardly ever included in the price. Sales tax or GST (Goods & Services Tax) is normally already included on
price tags; GST refunds, if applicable, are processed at the departing airport from the relevant country.
TIPPING
Tipping has become commonplace in China over the last few years. We recommend adding a 10% tip
for good service in western restaurants. In local Chinese restaurants tipping is not customary but we still
suggest recognizing good service with a tip of some sort. In some restaurants they may add a 5% to 15%
surcharge on your bill so review carefully.
Tipping for taxi drivers is not necessary but in some cases they may round up the fare for a tip.
If you choose to tip hotel staff for services, ¥5 is appropriate.
ELECTRICAL OUTLETS
Voltage for outlets is 220V. North American voltage is generally 110V. Therefore, a converter may be
necessary for your travels. Adapters will be necessary to adapt your plug into the outlet but may not convert
the voltage, so both devices are necessary.
China uses a round, 2-prong plug that looks like:
Type C
Type E
TEMPERATURES
To help you plan, below are average low and high temperatures for China.
Copyright, All rights reserved.
Beijing
Guilin
Hong Kong
Lhasa
Shanghai
Xi'an
January
15/34°F
41/53°F
47/74°F
15/45°F
32/45°F
24/40°F
February
19/39°F
44/53°F
47/76°F
20/48°F
34/47°F
28/45°F
March
30/52°F
51/62°F
52/81°F
27/54°F
41/54°F
37/57°F
April
45/67°F
60/72°F
59/85°F
34/60°F
51/65°F
48/68°F
May
55/79°F
68/81°F
68/90°F
41/68°F
60/74°F
56/78°F
June
64/86°F
74/87°F
73/91°F
49/73°F
68/81°F
65/88°F
July
70/87°F
77/91°F
74/92°F
50/72°F
76/88°F
70/89°F
August
68/85°F
76/92°F
75/92°F
49/70°F
76/88°F
69/88°F
September
57/78°F
71/87°F
72/91°F
46/68°F
68/81°F
59/76°F
October
45/66°F
63/78°F
66/88°F
35/62°F
58/72°F
49/66°F
November
31/50°F
53/68°F
56/82°F
23/53°F
47/62°F
37/53°F
December
19/37°F
44/58°F
49/77°F
16/46°F
36/51°F
26/43°F
To convert to Celsius, subtract 32, then multiply by 5 and then divide by 9.
FOOD SPECIALTIES
Chinese cuisine is influenced by many different regions throughout the country. Some important elements
include rice, noodles, herbs, fresh vegetables, mushrooms, and soybean. Peking Duck is famous worldwide and a major tradition, and dim sum, a traditional Cantonese cuisine of small dishes served with tea,
should not be missed. Another popular style of cuisine is called "Shabu-shabu" (actually a Japanese term,
also referred to as "hot pot") – it is an assortment of fresh vegetables and uncooked meat varieties that you
cook to your own liking in a spicy broth. It's delicious and fun – you get to cook it yourself.
Drinking Water
Tap water is generally not safe to drink throughout Asia. For sightseeing and excursions, we recommend
you purchase bottled water to bring with you. Bottled water is also common in restaurants.
CUSTOMS AND CULTURE
●
●
Never place your chopsticks upright or vertical in your bowl, as it looks too similar to burning
incense in honor of deceased family members. Instead, place them on the chopsticks holder or
across your bowl if a holder is not available. Do not use your chopsticks to stab food like a spear.
Smoking is common in Asia so locals tend to be less sensitive to issues regarding smoking around
others and often ignore "non-smoking" signs.
A FEW WORDS OF THE LOCAL LANGUAGE
Mandarin is the most widely spoken language in China. A few words are below. Along the way, you may
learn some helpful Cantonese words spoken in various parts of mainland China and Hong Kong.
Mandarin:
Good morning/day: Zao shang hao, Good evening: Wan shang hao, Hi: Ni hao, Please: Qing, Thank
you: Xie xie, You're welcome: Bu keqi, Yes: Dui, No: Bu Dui, Do you speak English? Nin shuo ying yu
ma?, I don't understand: Bu ming bai, How much? Duo Shao Qian?, 1: Yi, 2: Er, 3: San, 4: Si, 5:Wu, 6:Liu,
7:Qi, 8: Ba, 9: Kiu, 10: Shi, Where is...? Zai na il...?, Telephone: Dian hua, Bathroom: Xi shoujian, Tea:
Cha, Coffee: Ka fei, Bottled water: Chun jing shui, Cheers! Gan bei!, Have a nice day! Zhu ni zouyun!
Last Updated 8/4/16
Copyright, All rights reserved.