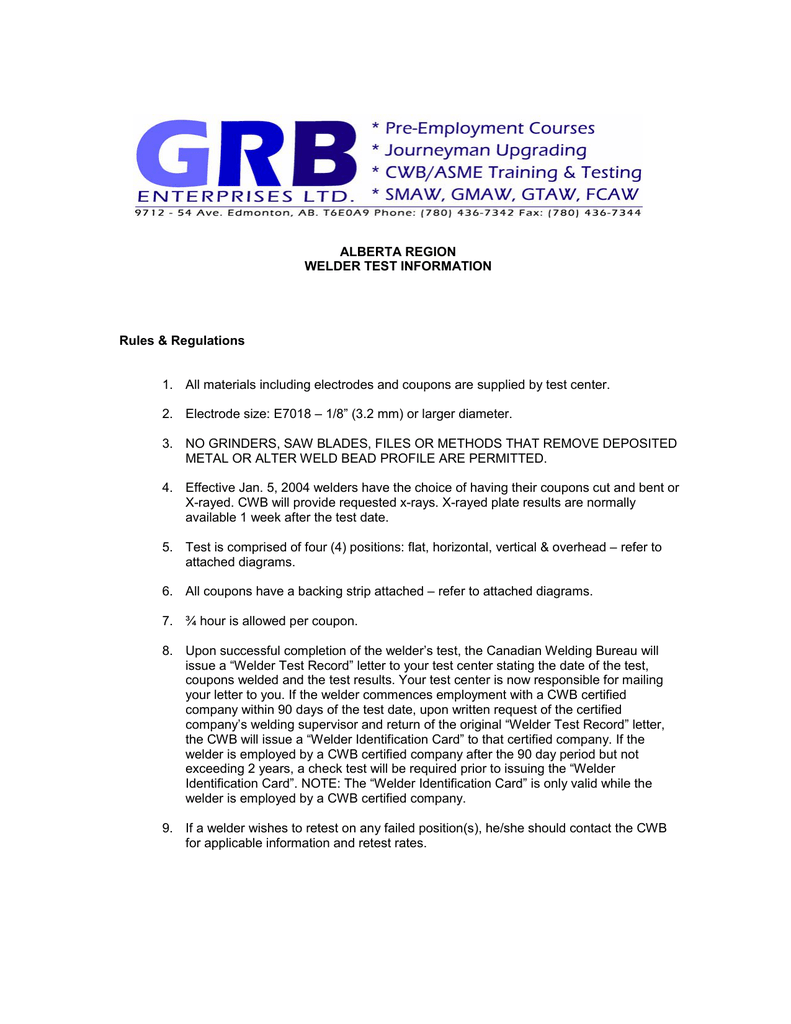 ALBERTA REGION
WELDER TEST INFORMATION
Rules & Regulations
1. All materials including electrodes and coupons are supplied by test center.
2. Electrode size: E7018 – 1/8" (3.2 mm) or larger diameter.
3. NO GRINDERS, SAW BLADES, FILES OR METHODS THAT REMOVE DEPOSITED
METAL OR ALTER WELD BEAD PROFILE ARE PERMITTED.
4. Effective Jan. 5, 2004 welders have the choice of having their coupons cut and bent or
X-rayed. CWB will provide requested x-rays. X-rayed plate results are normally
available 1 week after the test date.
5. Test is comprised of four (4) positions: flat, horizontal, vertical & overhead – refer to
attached diagrams.
6. All coupons have a backing strip attached – refer to attached diagrams.
7. ¾ hour is allowed per coupon.
8. Upon successful completion of the welder's test, the Canadian Welding Bureau will
issue a "Welder Test Record" letter to your test center stating the date of the test,
coupons welded and the test results. Your test center is now responsible for mailing
your letter to you. If the welder commences employment with a CWB certified
company within 90 days of the test date, upon written request of the certified
company's welding supervisor and return of the original "Welder Test Record" letter,
the CWB will issue a "Welder Identification Card" to that certified company. If the
welder is employed by a CWB certified company after the 90 day period but not
exceeding 2 years, a check test will be required prior to issuing the "Welder
Identification Card". NOTE: The "Welder Identification Card" is only valid while the
welder is employed by a CWB certified company.
9. If a welder wishes to retest on any failed position(s), he/she should contact the CWB
for applicable information and retest rates.
TECHNIQUES TO AID IN PASSING CWB TESTS
•
•
•
•
•
•
•
•
•
Tack only on outer perimeters of the plate
No chipping hammer marks or stray arcs on plate
Use as much heat as you can "handle" on the first two passes
Fill in the craters at the ends of the welds to the full cross section of the
groove
Do not build weld up more than 3 mm (1/8") above the surface of the
plates
No more than 0.8 mm (1/32") undercut
No grinders, saw blades, files or tools for metal removal are allowed
Ensure that you are never weaving up against the square cut plate –
always point to the square cut plate when welding to it.
You are required to make stop-starts as directed by the CWB
Representative. They will ask for them on the first pass (fillet weld) and
on the second pass at the opposite end of the test coupon. Do not
make any other stop-starts close the one that you have made for the
CWB Representative. Keep them as far apart as possible.
Stop-Start Technique
•
•
•
•
•
•
Always restart the arc ahead of the crater where you stopped. Then
move back into the crater, fill it and continue to weld.
The second pass must touch the beveled plate.
Technique for the fill passes is up to the welder, but it is generally
considered easier and there is less chance of leaving a defect in the
weld if the stringer passes are used. The vertical position may be an
exception.
The legs of the fillet weld must not vary in size by more than 1.5 mm
(1/16")
Fillet weld size is 8 mm [5/16"] maximum (this means that you can put
on a 5 mm (3/16"), 6 mm (1/4") or 8 mm (5/16") fillet weld).
If attempting three passes in the root area, make sure enough room is
left to fuse the third pass to the back-up strip.
ASSEMBLIES/COUPONS FOR "S" CLASSIFICATION
CSA STANDARD W47.1
1.
2.
Maximum Fillet Weld size is 8 mm (5/16")
3.
Fillet Weld Legs shall not differ in length
more than 1.5 mm (1/16")
4.
Undercut shall not exceed 0.8 mm (1/32")
5.
Reinforcement shall not exceed 3 mm
(1/8")
6.
7.
75 mm
(3")
Fillet Weld shall be examined by the CWB
Representative before welding next
passes.
38 mm
(1-1/2")
75 mm
(3")
Stop/Start
150 mm
(6")
Stop/Start
38 mm
(1-1/2")
Stops/Restarts shall be visible in root
passes in specified places. The CWB
Representative shall examine them.
Root of Fillet
X
Top Down View
Weld Ends shall be filled in. Do not leave
crater ends.
30°
MATERIAL
PLATE OR BAR OF MAXIMUM
SPECIFICATION YIELD OF 300 MPa (44 KSI)
10 mm
(3/8")
6 mm 1/4"
NOTE
STOP/START REQUIRED ON ROOT PASSES
OF FILLET AND GROOVE WELDS AT 38 mm
(1-1/2") FROM THE ENDS OF TEST COUPON.
X
Root of Groove
End View
2GF TEST
8 mm (5/16")
1GF, 3GF, 4GF TESTS
13 mm (1/2")
(a) - Position 1GF
(b) - Position 2GF
Position of welding for "S" Classification
NOTE: (3-4) GF Assembly is identical
to the 4GF Assembly except the fillet
wield position is to be welded in the
vertical position, and the groove weld
portion is to be welded in the overhead
position.
(c) - Position 3GF
(d) - Position 4GF
MOST COMMON TYPES OF FAILURE
•
Undercut
Incomplete fusion at the root of the fillet weld.
Causes: Insufficient heat
Poor manipulation or technique
Incorrect electrode angle
Incomplete
Fusion
Slag
•
Incomplete fusion or slag inclusion at a Stop/Restart location.
Causes: Incorrect Restart technique
•
Incomplete fusion of the side wall of the square cut plate above the toe of the fillet weld.
Causes: Allowing the puddle to flow up against the square plate instead of pointing the arc at
the square edge of the plate.
•
Porosity
Causes: Holding a long arc/incorrect restart technique
LIMITS OF FLAWS
Porosity & fusion type defects such as slag, lack of fusion and inadequate penetration
•
•
The maximum dimension of a single flaw must not exceed 2.6 mm
Flaws of 2 mm to 2.6 mm are evaluated based on how close they are together.
Example 1 - a 2 mm slag inclusion is 15 mm away from another 2 mm slag inclusion. Result: fail—
they must be separated by 20 mm of clear metal.
2 mm
2 mm
2 mm
2 mm
15 mm
20 mm
FAIL
PASS
Example 2 - a 2 mm diameter pore is separated from a 2.6 mm long slag inclusion by 20 mm. Result:
fail—they must be separated by 26 mm of clear metal.
Example 3 - a 2 mm long lack of fusion is separated from a 2 mm diameter pore by 30 mm. Result:
pass—as long as they are separated by 25 mm they are acceptable.
2 mm
•
2.6 mm
2 mm
2 mm
20 mm
30 mm
FAIL
PASS
If you have clusters of porosity, pieces of slag etc. smaller than 2 mm in size, and if their
sizes add up to more than 9 mm in any 25 mm length of weld, a failure will result.