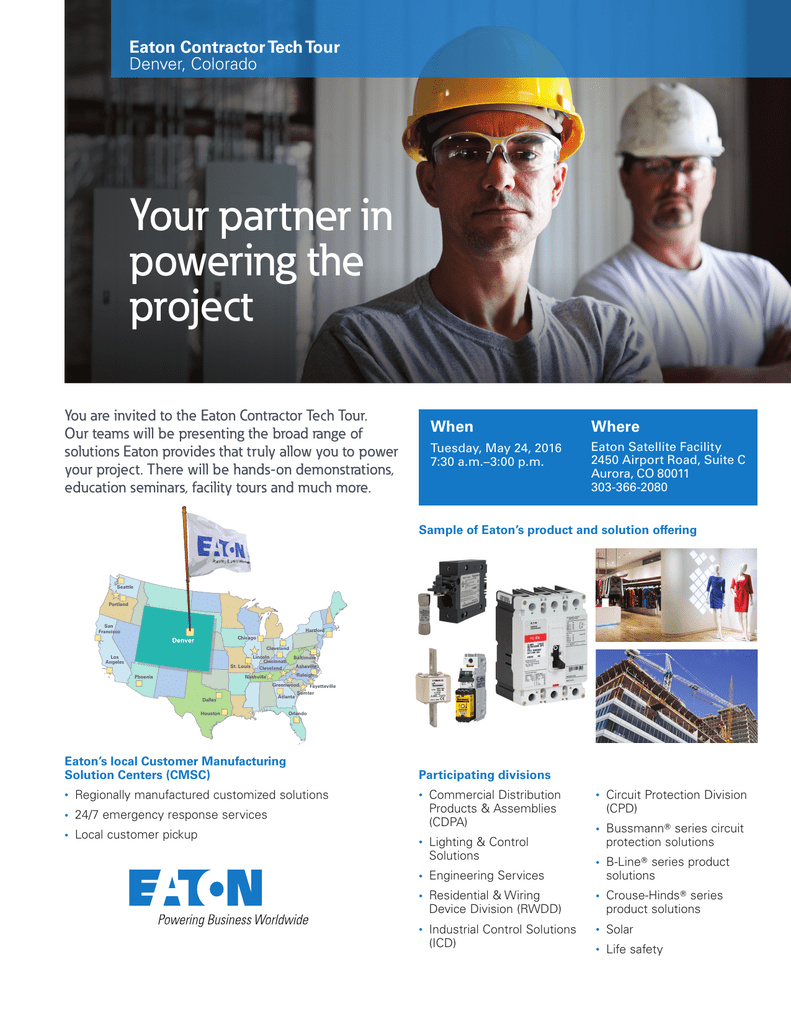 Eaton Contractor Tech Tour
Denver, Colorado
Your partner in
powering the
project
You are invited to the Eaton Contractor Tech Tour.
Our teams will be presenting the broad range of
solutions Eaton provides that truly allow you to power
your project. There will be hands-on demonstrations,
education seminars, facility tours and much more.
When
Where
Tuesday, May 24, 2016
7:30 a.m.–3:00 p.m.
Eaton Satellite Facility
2450 Airport Road, Suite C
Aurora, CO 80011
303-366-2080
Sample of Eaton's product and solution offering
Seattle
Portland
San
Francisco
Hartford
Chicago
Denver
Denver
Cleveland
Los
Angeles
St. Louis
Lincoln
Cincinnati
Cleveland
Baltimore
Asheville
Raleigh
Nashville
Phoenix
Greenwood
Dallas
Atlanta
Houston
Fayetteville
Sumter
Orlando
Eaton's local Customer Manufacturing
Solution Centers (CMSC)
•
Regionally manufactured customized solutions
•
24/7 emergency response services
•
Local customer pickup
Participating divisions
•
Commercial Distribution
Products & Assemblies
(CDPA)
•
Circuit Protection Division
(CPD)
•
Lighting & Control
Solutions
•
Bussmann series circuit
protection solutions
•
Engineering Services
•
B-Line series product
solutions
•
Residential & Wiring
Device Division (RWDD)
•
Crouse-Hinds series
product solutions
•
Industrial Control Solutions
(ICD)
•
Solar
•
Life safety
Tour, teach and taste!
Event agenda on Tuesday May 24, 2016
Arrivals, check-in/registration: starting at 7:30 a.m.
Classes (30 minutes each): starting at 8:30 a.m.
Trade show/product show case: 8:30 a.m.–3:00 p.m.
Departures: 3:00 p.m.
Technical presentations
Time
Lunch
11:30 a.m.–
1:00 p.m.
Main training room
Conference room
8:30–9:00 a.m.
Using busway to save time and labor (CDPA)
9:15–9:45 a.m.
Introduction to design light consortium (LI)
10:00–10:30 a.m.
Selective coordination (CPD/Bussmann)
Grand prize drawing #1 (must be present to win)
10:45–11:15 a.m.
Application of automatic transfer switches in
light commercial installations
11:30 a.m.–12:00 p.m.
Prefabrication solutions (Crouse-Hinds)
12:15–12:45 p.m.
Cost effective lighting & plug load control designs
for meeting new mandated energy codes
(LI/CDPA)
1:00–1:30 p.m.
Labor savings opportunities in panelboard
renovations (CDPA)
Grand prize drawing #2 (must be present to win)
1:45–2:15 p.m.
Cable tray structural steel savings (B-Line)
2:30–3:00 p.m.
LED lighting & wavestream technology (LI)
N/A
AFCI/NEC Section 210.12 update
GFCI—UL & NEC update for breakers & receptacles
N/A
Harmonics mitigation—How to preserve your
equipment and avoid utility fines (ICD)
N/A
Short circuit current ratings (CPD)
N/A
N/A
Note:Register for classes as space is limited. Some classes subject to changes.
Continuing Education Credits (CEUs) offered for select classes.
To register, please visit:
http://electricalsector.eaton.com/contractor-tech-tours-denver
Eaton
1000 Eaton Boulevard
Cleveland, OH 44122
United States
Eaton.com
© 2016 Eaton
All Rights Reserved
Printed in USA
Publication No. SA083072EN / Z18138
April 2016
Eaton is a registered trademark.
All other trademarks are property
of their respective owners.
Follow us on social media to get the
latest product and support information.