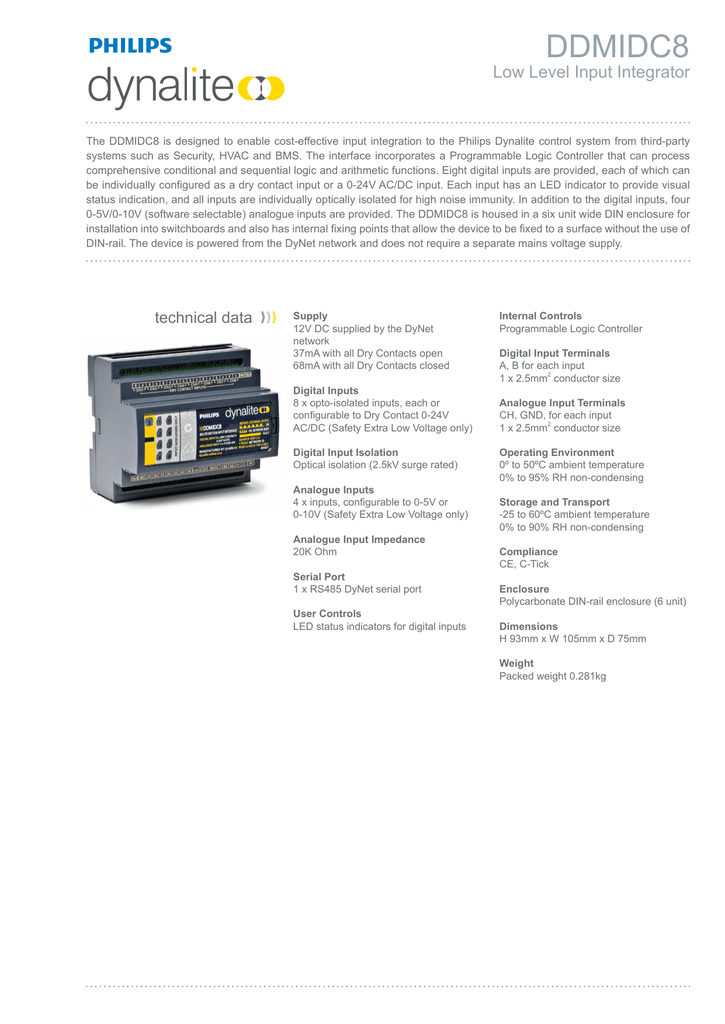 DDMIDC8
Low Level Input Integrator
The DDMIDC8 is designed to enable cost-effective input integration to the Philips Dynalite control system from third-party
systems such as Security, HVAC and BMS. The interface incorporates a Programmable Logic Controller that can process
comprehensive conditional and sequential logic and arithmetic functions. Eight digital inputs are provided, each of which can
be individually configured as a dry contact input or a 0-24V AC/DC input. Each input has an LED indicator to provide visual
status indication, and all inputs are individually optically isolated for high noise immunity. In addition to the digital inputs, four
0-5V/0-10V (software selectable) analogue inputs are provided. The DDMIDC8 is housed in a six unit wide DIN enclosure for
installation into switchboards and also has internal fixing points that allow the device to be fixed to a surface without the use of
DIN-rail. The device is powered from the DyNet network and does not require a separate mains voltage supply.
technical data
Supply
12V DC supplied by the DyNet
network
37mA with all Dry Contacts open
68mA with all Dry Contacts closed
Digital Inputs
8 x opto-isolated inputs, each or
configurable to Dry Contact 0-24V
AC/DC (Safety Extra Low Voltage only)
Digital Input Isolation
Optical isolation (2.5kV surge rated)
Analogue Inputs
4 x inputs, configurable to 0-5V or
0-10V (Safety Extra Low Voltage only)
Analogue Input Impedance
20K Ohm
Serial Port
1 x RS485 DyNet serial port
User Controls
LED status indicators for digital inputs
Internal Controls
Programmable Logic Controller
Digital Input Terminals
A, B for each input
1 x 2.5mm2 conductor size
Analogue Input Terminals
CH, GND, for each input
1 x 2.5mm2 conductor size
Operating Environment
0º to 50ºC ambient temperature
0% to 95% RH non-condensing
Storage and Transport
-25 to 60ºC ambient temperature
0% to 90% RH non-condensing
Compliance
CE, C-Tick
Enclosure
Polycarbonate DIN-rail enclosure (6 unit)
Dimensions
H 93mm x W 105mm x D 75mm
Weight
Packed weight 0.281kg
DDMIDC8
Low Level Input Integrator
electrical diagram
mounting dimensions
Optical Isolation
Barrier
Input 1
Input 2
SHIELD
94 mm
GND
DyNet
RS485
D+
Input 3
D+VE
Input 4
Input 5
Opto Isolated
Dry Contact/0-24V
AC/DC
Digital Inputs
Input 6
105 mm
Input 7
µP
Input 8
A/D
CH1
GND
A/D
CH2
GND
A/D
CH3
0-5V/0-10V
Analogue
Inputs
GND
A/D
CH4
GND
69 mm
46 mm
+5V
75mm
51mm
38 mm
For further information contact:
t +61 2 8338 9899 • f +61 2 8338 9333
www.philips.com/dynalite • [email protected]
DDMIDC8 Data Sheet November 2013
Specifications subject to change without notice. © WMGD Pty Ltd Trading as Dynalite.
Unit 6, 691 Gardeners Road Mascot 2020 Australia. ABN 33 097 246 921. All rights
reserved. Dynalite, DyNet and associated logos are the registered trademarks of
WMGD Pty Ltd. Not to be reproduced without permission.