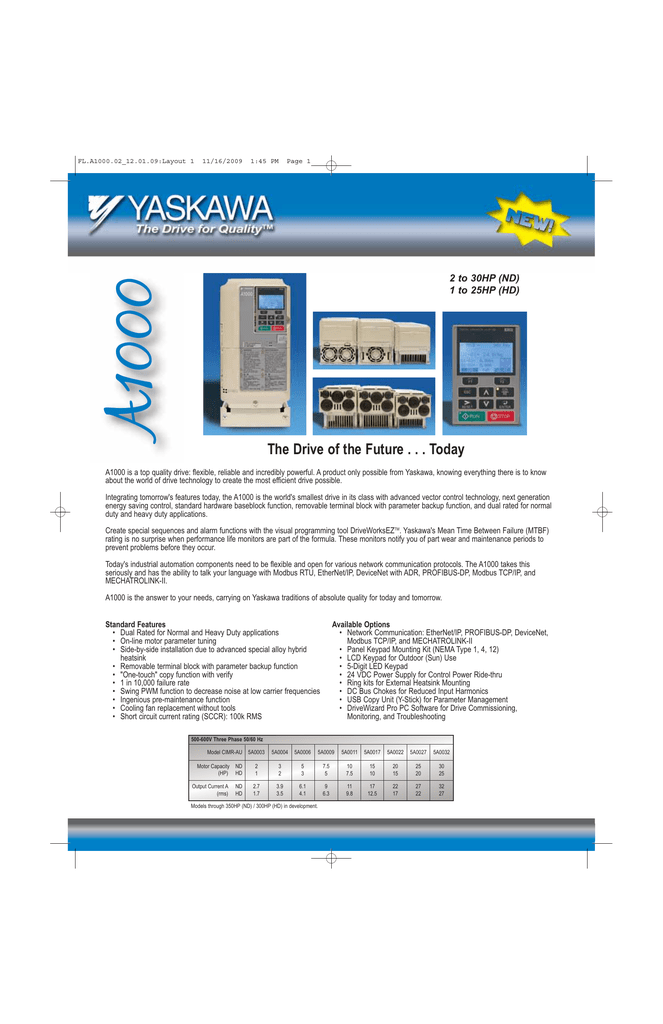 FL.A1000.02_12.01.09:Layout 1
11/16/2009
1:45 PM
Page 1
A1000
2 to 30HP (ND)
1 to 25HP (HD)
The Drive of the Future . . . Today
A1000 is a top quality drive: flexible, reliable and incredibly powerful. A product only possible from Yaskawa, knowing everything there is to know
about the world of drive technology to create the most efficient drive possible.
Integrating tomorrow's features today, the A1000 is the world's smallest drive in its class with advanced vector control technology, next generation
energy saving control, standard hardware baseblock function, removable terminal block with parameter backup function, and dual rated for normal
duty and heavy duty applications.
Create special sequences and alarm functions with the visual programming tool DriveWorksEZTM. Yaskawa's Mean Time Between Failure (MTBF)
rating is no surprise when performance life monitors are part of the formula. These monitors notify you of part wear and maintenance periods to
prevent problems before they occur.
Today's industrial automation components need to be flexible and open for various network communication protocols. The A1000 takes this
seriously and has the ability to talk your language with Modbus RTU, EtherNet/IP, DeviceNet with ADR, PROFIBUS-DP, Modbus TCP/IP, and
MECHATROLINK-II.
A1000 is the answer to your needs, carrying on Yaskawa traditions of absolute quality for today and tomorrow.
Standard Features
• Dual Rated for Normal and Heavy Duty applications
• On-line motor parameter tuning
• Side-by-side installation due to advanced special alloy hybrid
heatsink
• Removable terminal block with parameter backup function
• "One-touch" copy function with verify
• 1 in 10,000 failure rate
• Swing PWM function to decrease noise at low carrier frequencies
• Ingenious pre-maintenance function
• Cooling fan replacement without tools
• Short circuit current rating (SCCR): 100k RMS
Available Options
• Network Communication: EtherNet/IP, PROFIBUS-DP, DeviceNet,
Modbus TCP/IP, and MECHATROLINK-II
• Panel Keypad Mounting Kit (NEMA Type 1, 4, 12)
• LCD Keypad for Outdoor (Sun) Use
• 5-Digit LED Keypad
• 24 VDC Power Supply for Control Power Ride-thru
• Ring kits for External Heatsink Mounting
• DC Bus Chokes for Reduced Input Harmonics
• USB Copy Unit (Y-Stick) for Parameter Management
• DriveWizard Pro PC Software for Drive Commissioning,
Monitoring, and Troubleshooting
500-600V Three Phase 50/60 Hz
Model CIMR-AU 5A0003
5A0004
5A0006
5A0009
5A0011
5A0017
5A0022
5A0027
5A0032
Motor Capacity
(HP)
ND
HD
2
1
3
2
5
3
7.5
5
10
7.5
15
10
20
15
25
20
30
25
Output Current A
(rms)
ND
HD
2.7
1.7
3.9
3.5
6.1
4.1
9
6.3
11
9.8
17
12.5
22
17
27
22
32
27
Models through 350HP (ND) / 300HP (HD) in development.
FL.A1000.02_12.01.09:Layout 1
11/16/2009
1:45 PM
Page 2
A1000 Specifications
Overload Capacity
150% Overload for 60 sec. (Heavy Duty)
120% Overload for 60 sec. (Normal Duty)
Output Frequency
0 - 400 Hz (2000 Hz available with custom software)
Control Methods
Open and Closed Loop Current Vector; Open and Closed Loop V/f
Protective Design
IP20/NEMA1
Braking Transistor
Standard in all models up to 32A ND / 27A HD
Over-excitation Braking
40-50% decrease in stopping time when not using a braking resistor
KEB Function
Uses mechanical energy to continue operation during momentary
power failure, standard (no external sensor required)
Overvoltage Suppression Function
Function for die-cushion in a hydraulic mechanical press
and other cyclic applications
Maintenance
Preventative maintenance life monitors for cooling fan, capacitors,
and transistor life
Easily replaceable cooling fan
Global Certification
CSA, UL, cUL, RoHS
Available I/O
(8) multi-function digital inputs
(3) multi-function analog inputs (0 +/- 10 VDC, 4-20 mA)
(1) multi-function pulse input
(1) fault relay output (form C)
(3) multi-function relay outputs (form A)
(2) multi-function analog outputs (0 +/- 10 VDC, 4-20 mA)
(1) multi-function pulse output
Network Communication
Built-in: Modbus RTU, RS-422/485, 115 kbps
Optional: EtherNet/IP, DeviceNet, PROFIBUS-DP,
Modbus TCP/IP, MECHATROLINK-II, PROFINET*, EtherCAT*,
POWERLINK*
* In Development
Keypad Operator
Standard: Multi-lingual, full-text LCD with backlight
Optional: LED 5-digit display
Scan Time
1ms for all I/O, speed, and torque commands
Speed Control Range
1500:1 Closed Loop Vector; 200:1 Open Loop Vector
Speed Control Accuracy
≤ 0.02%: Closed Loop Vector; ≤0.2%: Open Loop Vector
Speed Response
≥ 50 Hz: Closed Loop Vector; ≥10 Hz: Open Loop Vector
DriveWorksEZ
Function Block Diagram (FBD) Programming
1ms Program Scan Time
100 Connections (Pro) / 30 Connections (Standard)
TM
Major Applications
Conveyor
Packaging
Fan
Food & Beverage
Compressor
Pump
Extruder
Punch Press
Winder
Dimensions
H
Normal Duty, IP20/NEMA 1
15.8"
25-30 HP
600V
13.4"
15-20 HP
600V
11.8"
2-10 HP
600V
0"
5.5"
7.1"
8.7"
W
Yaskawa Electric America, Inc.
2121 Norman Drive South
Waukegan, IL 60085
800-YASKAWA (927-5292) Fax: 847-887-7310
[email protected] www.yaskawa.com
YEA Document Number: FL.A1000.02 12/01/09 © 2009 Yaskawa Electric America, Inc.