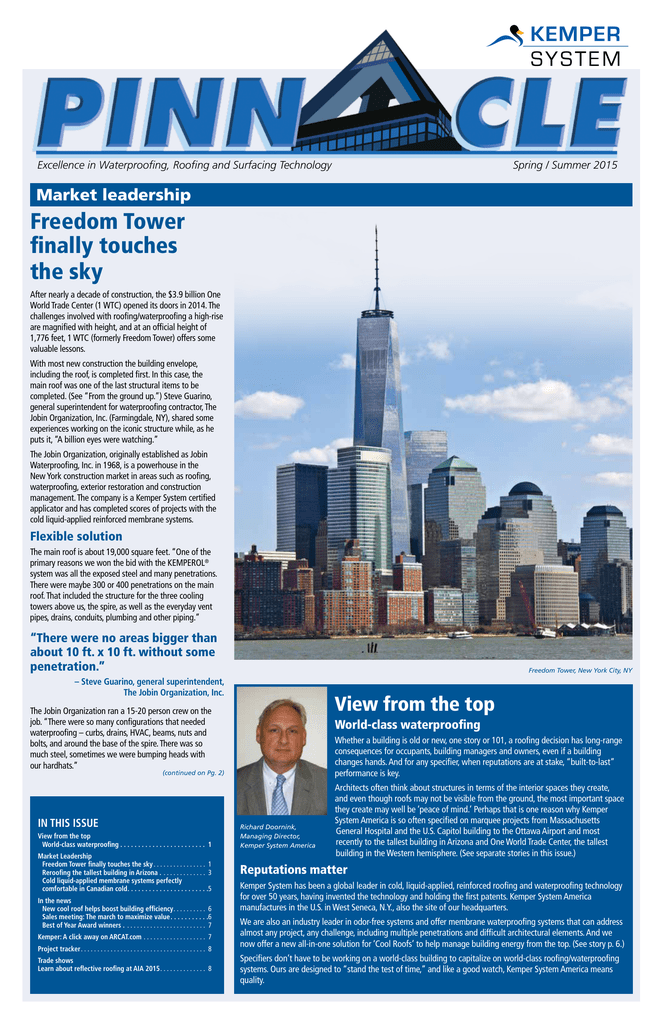 Excellence in Waterproofing, Roofing and Surfacing Technology
Spring / Summer 2015
Market leadership
Freedom Tower
finally touches
the sky
After nearly a decade of construction, the $3.9 billion One
World Trade Center (1 WTC) opened its doors in 2014. The
challenges involved with roofing/waterproofing a high-rise
are magnified with height, and at an official height of
1,776 feet, 1 WTC (formerly Freedom Tower) offers some
valuable lessons.
With most new construction the building envelope,
including the roof, is completed first. In this case, the
main roof was one of the last structural items to be
completed. (See "From the ground up.") Steve Guarino,
general superintendent for waterproofing contractor, The
Jobin Organization, Inc. (Farmingdale, NY), shared some
experiences working on the iconic structure while, as he
puts it, "A billion eyes were watching."
The Jobin Organization, originally established as Jobin
Waterproofing, Inc. in 1968, is a powerhouse in the
New York construction market in areas such as roofing,
waterproofing, exterior restoration and construction
management. The company is a Kemper System certified
applicator and has completed scores of projects with the
cold liquid-applied reinforced membrane systems.
Flexible solution
The main roof is about 19,000 square feet. "One of the
primary reasons we won the bid with the KEMPEROL®
system was all the exposed steel and many penetrations.
There were maybe 300 or 400 penetrations on the main
roof. That included the structure for the three cooling
towers above us, the spire, as well as the everyday vent
pipes, drains, conduits, plumbing and other piping."
"There were no areas bigger than
about 10 ft. x 10 ft. without some
penetration."
Freedom Tower, New York City, NY
– Steve Guarino, general superintendent,
The Jobin Organization, Inc.
View from the top
The Jobin Organization ran a 15-20 person crew on the
job. "There were so many configurations that needed
waterproofing – curbs, drains, HVAC, beams, nuts and
bolts, and around the base of the spire. There was so
much steel, sometimes we were bumping heads with
our hardhats."
World-class waterproofing
Whether a building is old or new, one story or 101, a roofing decision has long-range
consequences for occupants, building managers and owners, even if a building
changes hands. And for any specifier, when reputations are at stake, "built-to-last"
performance is key.
(continued on Pg. 2)
IN THIS ISSUE
View from the top
World-class waterproofing. . . . . . . . . . . . . . . . . . . . . . . . . 1
Market Leadership
Freedom Tower finally touches the sky. . . . . . . . . . . . . . . . 1
Reroofing the tallest building in Arizona .. . . . . . . . . . . . . . 3
Cold liquid-applied membrane systems perfectly
.
comfortable in Canadian cold. . . . . . . . . . . . . . . . . . . . . . . 5
In the news
New cool roof helps boost building efficiency. . . . . . . . . . 6
Sales meeting: The march to maximize value. . . . . . . . . . . 6
Best of Year Award winners . . . . . . . . . . . . . . . . . . . . . . . . . . 7
Kemper: A click away on ARCAT.com. . . . . . . . . . . . . . . . . . . 7
Project tracker. . . . . . . . . . . . . . . . . . . . . . . . . . . . . . . . . . . . . . 8
Trade shows
Learn about reflective roofing at AIA 2015. . . . . . . . . . . . . . 8
Richard Doornink,
Managing Director,
Kemper System America
Architects often think about structures in terms of the interior spaces they create,
and even though roofs may not be visible from the ground, the most important space
they create may well be 'peace of mind.' Perhaps that is one reason why Kemper
System America is so often specified on marquee projects from Massachusetts
General Hospital and the U.S. Capitol building to the Ottawa Airport and most
recently to the tallest building in Arizona and One World Trade Center, the tallest
building in the Western hemisphere. (See separate stories in this issue.)
Reputations matter
Kemper System has been a global leader in cold, liquid-applied, reinforced roofing and waterproofing technology
for over 50 years, having invented the technology and holding the first patents. Kemper System America
manufactures in the U.S. in West Seneca, N.Y., also the site of our headquarters.
We are also an industry leader in odor-free systems and offer membrane waterproofing systems that can address
almost any project, any challenge, including multiple penetrations and difficult architectural elements. And we
now offer a new all-in-one solution for 'Cool Roofs' to help manage building energy from the top. (See story p. 6.)
Specifiers don't have to be working on a world-class building to capitalize on world-class roofing/waterproofing
systems. Ours are designed to "stand the test of time," and like a good watch, Kemper System America means
quality.
Market leadership
Freedom Tower (continued)
For the main roof, insulation and pre-primed cement
board are first installed and adhered with beads of foam
adhesive. The cement board is staggered in a joint pattern
over the insulation and sealed at the seams with beads of
NP1 polyurethane sealant. The seams of the cement board
are also sealed with 4-inch continuous stripping plies of
KEMPEROL.
The KEMPEROL resin membrane was specified for the
main roof and louvre areas on lower floors that are
enclosed on three sides. The liquid-applied resin membrane
systems are reinforced with KEMPEROL 165 fleece and
can conform around any shape. Penetrations, drains, curbs
and perimeters are also sealed with the system and then
overlapped by the membrane in the larger expanse to
provide durable waterproofing protection.
The work on the main roof membrane began in mid-June
2014 and was completed in mid-October. At nearly onethird of a mile high, the roof weather could be a surprise.
"A lot of times when it was a cloudy day on the ground, it
could be foggy. Or if it was foggy on the ground, it could
be raining when we got to the top. But the heat was not
too bad, and there was no sweltering hot weather."
Getting there
One obvious challenge in waterproofing a high-rise is
simply getting materials to the roof. "By the time we got
to the roof, the outside hoist had been taken down, which
might have saved a little time," Guarino said. "But with
the KEMPEROL system, there's no heavy equipment, so we
were OK. The heaviest tool we used was a hand mixer for
the resin."
Huge bolts at the base of the spire were among hundreds of exposed roof details protected with the KEMPEROL®
waterproofing system.
The trek to the 105th floor could take up to two
hours because of all the trades on the site. The Jobin
Organization crew would bring materials up through the
building on the elevator cars, many times on Saturdays
and Sundays to have all the required materials ready
to go.
"We would take materials from the loading dock to the
main floor elevators, up to [floor] 102, and then transfer to
105. The insulation and cement board were loaded on 4 ft.
x 4 ft. skids and some stored on 104 during the job." Also
easy to transport, the KEMPEROL resin comes in 2.5 and 5
gallon buckets, and the fleece reinforcement on rolls up to
41 inches wide.
Job-site coordination
Kemper System specialists were on-site weekly to inspect
and advise on the job. In addition, a building envelope
consultant photographed progress daily to provide
feedback to the A/E/C management team. "Our goal
every day was to make it watertight."
The square area at the base of the spire is surrounded by a three-story framework for mechanical equipment inside the
communications platform ring.
There were conversations with the management
consultants every morning to make sure everything was
running smoothly, Guarino said. But there was no cell
phone service available on the roof during construction
because of the thickness of the slab, so more urgent
messages were often relayed a couple of floors down
the old-fashioned way – by walkie-talkie.
"The biggest challenge was coordination on the job site.
There were a lot of trades there at the same time, so we
had to constantly clear people out of the way. The deck
needed to be prepared ahead of us. The concrete was
too rough in some areas. Overpours needed grinding and
debris removed, or grease needed to be cleaned off.
"There was also a crew working above us on the cooling
towers, so we needed to inspect if any areas had become
wet before the membrane was cured. When things
happened, the Kemper System made it possible to
redo or repair small areas," he said.
From the ground up
The waterproofing story at 1 WTC really began at the
ground floor, or actually more than 30 feet below it. The
Jobin Organization originally submitted bids on the 1
WTC project with Kemper System America circa 2004.
What appears to be a simple white coating is actually the top layer of the Kemper System. The KEMPEROL® membrane is fleecereinforced and forms a seamless surface that is unaffected by standing water, snow or ice. It also resists chemicals and corrosives,
and UV light.
2
Following the resolution of project design and financing
issues, construction finally got underway in the spring
of 2006. Ironworkers erected the steel at a fairly steady
pace, though heavy winter storms dampened the pace
toward the end. Every tenth floor required temporary
waterproofing with EPDM sheet and caulking until a new
slab, ten stories above, could be poured. Skyscraper cranes
would lift bundles of steel and pallets of materials from
the ground up or from one completed section to the next.
Month after month, the arm would swing from the outside
frame of the building, and deposit bundles stories above.
Burj Khalifa – 2717 ft.
United Arab Emirates (2010)
The outside frame of the Tower is very slightly tapered
with a notch in at several floors as the shaft rises skyward.
The Jobin Organization crew waterproofed the roof
perimeter and exposed steel at these levels as well as the
top three floors of the main roof – 103 to 105 – which are
exposed to the elements.
from recycled or eco-friendly building materials, and the
building's green design earned LEED Gold Certification.
Sustainability
KEMPEROL 2K-PUR resin system is 80 percent from
renewable materials, which fit with the overall design
goals for the project. Nearly 75 percent of 1 WTC is made
One World Trade Center
Building owner: Port Authority of NY/NJ
Architects: David Childs, Daniel Libeskind (2002)
Main contractor: Tishman Construction
Project A/E firm: Skidmore Owings & Merrill LLP
Roof waterproofing installer: The Jobin Organization
Products used: KEMPEROL® Reinforced Membrane
2,717 ft.
Freedom Tower – 1,776 ft.
New York City (2014)
1,776 ft.
1,670 ft.
Tapei 101 – 1,670 ft.
Taiwan (2004)
1,450 ft.
1,614 ft
1,483 ft
1,381 ft.
1,250 ft.
1,362 ft.
Shanghai World Financial Center – 1,614 ft.
China (2008)
Petronas Towers – 1,483 ft.
Kuala Lumpur, Malaysia (1998)
Willis Tower – 1,450 ft.
Chicago (1974)
Jin Mao Tower – 1,381 ft.
Shanghai (1999)
Two International
Finance Center – 1,362 ft.
Hong Kong (2003)
Empire State Building – 1,250 ft.
New York City (1931)
Burj Khalifa
Taipei 101
United Arab Emirates
Petronas Towers
Taiwan
Freedom Tower
New York City
Jin Mao Tower
Malaysia
Shanghai World
Financial Center
China
Empire State
Building
Shanghai
Willis Tower
Chicago
New York City
Two International
Finance Center
Hong Kong
Taking measure of the tallest buildings In measuring the official height of buildings, spires are counted but not antennas. The
408-foot spire atop One World Trade Center weighs more than 750 tons and makes the New York City skyscraper 326 feet taller
than the $1.3 billion Willis Tower in Chicago, so it is now the tallest building in the U.S. – and in the Western hemisphere.
Reroofing the tallest building in Arizona:
From monsoons and sleepless nights, "peace of mind"
Monsoons and flooding are not terms most people associate with Arizona. But both
loomed large in reroofing a 483-foot office tower in Phoenix, the tallest building in
the state.
Those who live in the Phoenix area know the "heavy monsoon season" more for wind
and lightning storms than rain, but in 2014 the period from early June to late September
turned out to be one of the wettest monsoons on record. As with many projects, the
approval process took longer than originally planned. But in this case, the monsoon
season was when the green light came for the KEMPEROL® 2K-PUR cold liquid-applied
reinforced membrane system.
"Most of the storms during monsoon season come during the evening, so we were
really more concerned with the humidity in the air, which doesn't agree with cold liquidapplied systems very well," says Project Manager Scott Kukkola of Progressive Roofing,
headquartered in Phoenix.
Humidity was one of the main challenges on the project, which Kukkola calls the toughest
of his 30-plus year career. But to address the challenging areas of the roof, he says,
Kemper System was "the right call, and the right product."
Avoiding a nightmare
In fact, there are multiple roofs at the top of the tower, and Joe Parenza of FBE Products
Inc. in Phoenix, matched the roofing / waterproofing products to meet the conditions of
this prominent feature on the Phoenix skyline. As he explains:
"When I visited the site for the first time, there were three decks where I envisioned
utilizing a traditional SBS modified bitumen membrane roof with tapered insulation
to generate slope. The flip side is there were two decks that were going to be
extremely challenging.
"The first is the 3,000-square-foot chiller area on Floor 39 where two enormous chillers
are responsible for heating and cooling the entire 740,000-square-foot, 43-story building.
The second was the 40th floor roof which had multiple penetrations for the windowwashing equipment tracks and was experiencing leaks.
"The intricacies of the network of steel piping for the chillers that took up most of the
area that weaved in and out with almost zero clearance was the most challenging part of
putting a waterproofing system together that would give the building owner 100% peace
of mind. Accompanied with a dead-level concrete deck, and the fact that these chillers
have to be backwashed at least once a month where the entire roof area is flooded as
deep as 4 inches for days at a time, made this area an asphalt roofing system nightmare."
(continued on Pg. 4)
3
Market leadership
Arizona building (continued)
Dead-level deck, roof flooding, multiple
penetrations: "Kemper was a perfect fit for these
conditions."
"As I introduced the Kemper system to the [building management team] and we
proceeded with specifications and bids, we ran into contractors trying to deviate from my
plan. This forced the owner to either raise the height of the chillers and network of pipes
at an additional cost of about $1 million – or use a substandard product with a rider
added to the warranty to accept ponding water."
Pushing through monsoon season
immediately apparent. "After several meetings with the building owners, engineers,
architects and consultants, we went back to Kemper System. They recommended applying
two layers of their primer with their sand mixture and waiting to see if the moisture tries
to breathe up and cause blisters. On that section, it did not," Kukkola says.
The Progressive Roofing crew worked in sections. "As one section of the roof was
removed, the primer was put down to keep everything watertight at the end of the day."
The cure time on the KEMPEROL primer is about 24 hours, and all sections were primed
before the KEMPEROL® 2K-PUR liquid resin was applied. "The first area sat for four days
without any blistering."
Up, under, around
The ability of the KEMPEROL 2K-PUR system to overcome a variety of obstacles made it
the ideal choice for addressing problems both seen and unforeseen. The basic application
is straightforward but requires Kemper System certified applicators and teamwork.
Up: Because backwashing the chillers would flood the roof up to 4 inches deep, the
KEMPEROL 2K-PUR reinforced resin waterproofing system was applied at least 8 inches
up the vertical sides of penetrations, curbs and perimeter walls.
Under: Kukkola described the installation of the system for the roof area with the lowclearance horizontal piping. "Once we put down the liquid [resin system], we rolled out
the [polyester fleece reinforcement] immediately because you have to put it into the
liquid form of the coating. So multiple people were working on each end of the roll. We
rolled it out the length of the entire deck area, and then we slid that fabric underneath
the pipe, parallel with the length of the pipe. The fleece was skinny enough that you could
put the edge of it through."
The gap between the 12- to 18-inch piping and the roof was only about half an inch in
places. Following the fleece rollout, the KEMPEROL 2K-PUR resin topcoat was applied to
the fleece with rollers, and brushes where needed, to complete the reinforced membrane
system.
Low clearance conditions were not a
problem for the KEMPEROL® 2K-PUR
system.
Progressive Roofing was able to apply
the reinforced membrane even under this
approximately 2 ft. diam. pipe (shown here
before) by rolling out the reinforcement layer
with one edge in parallel to the pipe, and
brushing under with the liquid membrane
topcoat. The clearance under the pipe joint
cover is only about 3/16 of an inch.
Around: For the iron beam protrusions, Progressive Roofing first tried cutting and
grinding to bring them down to deck level. A change of scope was needed when that
was unsuccessful. "We ended up building a curb around them," Kukkola says.
The curbs were built with 2x4s and plywood and encapsulated with the KEMPEROL
Installing the Kemper system in the face of monsoon season created new scheduling
issues and meant that uncertainties about relative humidity (RH) needed to be addressed.
This was in addition to other conditions that arose during demolition, like spalled areas,
concrete "skulling," and a series of iron beams peeking through the deck surface.
The goal was to complete the project in 90 days, project manager Kukkola recalls.
The existing bituminous roof, which had been in place for more than 20 years, could
not be removed during regular business hours because of the noise. "We did all the
demolition at nighttime, and the daytime was when we started putting down the cold
liquid system," he says. This meant multiple crews, typically of 8, with some crews on
standby, and working virtually around the clock as weather would permit.
Deep dive
The issue with humidity turned out to be more than "skin deep" and required the team to
"dig deep" to overcome. To key adhesion over the existing concrete and repaired areas,
a primer was recommended. To avoid blistering, Progressive continuously tested core
samples to determine moisture retention levels in the concrete deck. Two different primers
were considered, KEMPEROL® EP 5 and a urethane primer from another manufacturer.
However, the retained moisture levels of the slab exceeded recommended levels for both.
Surface preparation is critical for any coating-based system, and a solution was not
The 40th floor catwalk required waterproofing around multiple posts (visible under the yellow
frame at left).
2K-PUR system. Inside the curb, the team applied multiple layers of insulation and primer
mixed with aggregate over the concrete. The sand strengthens the primer and helps
the coating expand and contract. "We basically filled that entire curbed area, and then
encapsulated the curb with the Kemper system," he explains.
The takeaway
"We started in August and met the goal to complete the project in 90 days, despite the
obstacles – the shutdown times and many days we lost because of the rain."
Building architect: Ramirez Architects, Inc.
Sales consultant: FBE Products Inc.
Roofing contractor: Progressive Roofing
Kemper System products used:
• KEMPEROL® EP 5 primer, with aggregate as needed
• KEMPEROL® 2K-PUR reinforced membrane system
FBE Products is an independent manufacturer's representative organization that has been
servicing the state of Arizona since 2005.
Progressive Roofing is a family-owned roofing contractor that has been offering
high quality services since 1978. Based in Phoenix, the company has regional offices
throughout the U.S. to effectively service clients nationwide.
Around The liquid membrane system can easily waterproof around curbs, roof drains and
protrusions.
4
Cold liquid-applied membrane systems perfectly
comfortable in Canadian cold
In Canada, the temperature performance of exterior waterproofing materials is a basic
consideration. Roofing, in particular, must take a pounding in the summer heat as well as
the sun, snow and frigid temperatures of winter.
Freeze-thaw cycles pry open crevices in and between these and other building materials,
especially around metal flashings, joints and drains. Rubberized or bituminous materials,
caulk and sealants are often the first to shrink and crack. Shingles and flashings can
loosen and fly away. And the snow and ice that piles high in winter can pond on roofs in
the spring when water damage often first becomes apparent.
Kemper System Canada has addressed these needs since it was first established and
is continuing to expand its distribution. During the past two years, KEMPEROL® cold
liquid-applied reinforced membrane systems have continued to prove valuable in harsh
Canadian conditions – including for projects such as those profiled below.
Chris Hunter, who joined Kemper System Canada as Eastern accounts manager in 2014,
is making sure that value is recognized, and that products are readily available and
supported with distribution and sales from the Atlantic provinces to British Columbia. As
Certified Technical Representative (CTR), Certified Construction Contract Administrator
(CCCA) and Registered Roof Observer (RRO), he is helping to educate building owners,
architects and consultants about the products, where they fit and where they may offer
unique advantages.
"We are working to develop a new understanding of
cold liquid-applied systems."
– Chris Hunter, CTR, CCCA, RRO
Kemper System products can align well with specifications for publicly bid projects,
Hunter says. "But we also can offer a combination of advantages that competitive
products may not have. A lot is temperature related, but not all. The Kemper System
reinforced roofing and waterproofing membranes can often go where other products
can't, or certainly not as easily."
Desjardines Financial The main roof of this high-profile project in downtown Mississauga is
10,000 square feet. "The owner wanted Kemper System and a long-term warranty," says Hunter,
who specified full roof waterproofing with the KEMPEROL® 2K-PUR reinforced resin membrane
system. A solar array was installed on the roof using platform supports.
Contractor: Triumph Inc. (Toronto)
KEMPEROL® liquid-applied systems are ideal for full roofing, especially jobs with multiple
penetrations, as well as for many specialized waterproofing applications, such as green
roofs, blue roof rainwater detention systems and white reflective roofs. (See "Cool Roof"
story in this issue.) "These are not single-ply or waterproofing paint, but reinforced resin
membrane systems designed for extended life."
Hunter points out that Kemper System pioneered cold liquid-applied reinforced resin
membrane technology more than 50 years ago, and the technology is well proven in the
colder climates of Europe and the U.S.
Kemper System membranes can be applied in cool temperatures, and even to cold
surfaces following manufacturer recommendations for the specified system. For best
results in cooler temperatures, the liquid resins are stored and acclimated at room
temperature prior to application. (See Kemper System Product & Application Guide
for details.) A temporary tent can also be erected over some job sites, and heated if
necessary, so work can proceed in wet or cooler weather. (See profile on the University
of Michigan reflecting pool in the last issue of The Pinnacle.)
A winning combination for Canada
A few advantages of the best-selling KEMPEROL® 2K-PUR reinforced membrane system:
• Ultra-low VOC resin system made 80% from renewable materials.
• Both solvent-free and odor-free (especially important for installers and building occupants).
• Fleece-reinforced resin membrane is seamless and self-flashing.
• Unaffected by ponding water, and resists UV light, roots and biodegradation.
• The system fully adheres across the surface and can fill minor gaps and crevices.
• Ideal for sealing multiple penetrations and architectural details such as skylights.
Shell Oil (above) In 2014, KEMPEROL® 2K-PUR system proved effective for reroofing Shell gas
stations / convenience stores at pilot locations in Ontario. Hunter worked with the Shell facility
manager to scope out the project, define specifications and identify certified applicators. "Odorfree, health and safety were important considerations," Hunter says.
Contractor: Flynn Canada Ltd. (Mississauga)
GTA Wind Turbines (below) The foundation of this turbine is one of several at a budding wind
farm for Ontario Hydro in Orangeville. The reinforced concrete was waterproofed with the
KEMPEROL® 2K-PUR membrane system in 2014. This followed turbine waterproofing for a wind
farm in Quebec the previous year.
Contractor: Bothwell-Accurate Co. Inc. (Mississauga)
5
In the news
Bright, white and watertight…
New liquid-applied 'cool roof' helps boost building efficiency
Kemper System, the originator of cold liquid-applied reinforced roofing membrane
technology, is introducing a new 'cool roof' system to help keep air-conditioning
demands in check. The bright white surface of KEMPEROL® Reflect 2K FR can
dramatically reduce the impact of infrared (IR) rays on building cooling systems.
The new system shares many of the same advantages as Kemper System America's
best-selling KEMPEROL 2K-PUR cold liquid-applied membrane system. It is easy to
apply, fleece-reinforced and designed for extended life. It's also low-VOC, solvent-free
and odor-free, especially important for occupied buildings.
Yet KEMPEROL Reflect 2K FR offers some unique advantages. It dries to a highly
reflective surface which can reduce labor costs since no additional reflective topcoat is
needed to meet LEED 2009 v4 Sun Reflective Index (SRI) requirements. In addition the
sun-reflective reinforced resin membrane is fire-rated for Class-A roofing assemblies
and offers superior UV resistance and color stability. The high reflectivity also helps
reduce the urban heat island effect.
"KEMPEROL Reflect 2K FR helps satisfy the need for more sustainable solutions that
are better for the planet and can dramatically reduce building cooling demands.
The sunnier and warmer the climate, the bigger the potential savings," says Richard
Doornink, Managing Director, Kemper System America. The company's sales and
distribution network extends across the U.S., Canada and Mexico.
The new system is ideal for new or existing main roofs, but it can be applied over
almost any exposed surface. "KEMPEROL Reflect 2K FR is an 'all-in-one' system,
manufactured to high-quality standards and will be preferred especially for expansive
roof areas and whenever a fire-rated system for 'Class A' assemblies is required."
The company's flagship roofing membrane system, KEMPEROL® 2K-PUR, will still be
the better choice for green roofs and other buried applications, as well as for balconies,
terraces and other outdoor areas that require a non-reflective or slip-resistant finish, a
traffic coating or a decorative color. But if it's sun-exposed, think KEMPEROL Reflect 2K
FR first.
"Our reputation for quality, technical support and customer service are why customers
keep coming back to us, and they've been telling us they really want a cool roof. We
listened, and now can give them the full package," Doornink says.
The buzz about cool roofs Architects, building owners, and roofing contractors will see
print and digital ads about the new 'cool roof' from Kemper System America in select trade
publications. In addition, the company is spreading the word about the advantages of cool
roofs in AIA-credited seminars, including one at the 2015 AIA Expo. The 2015 presentation was
fully booked more than a month in advance.
'Cool roofs' and sustainability
Cool roofs can contribute to sustainability goals by reducing building energy demands
and by reducing the urban heat island effect since they reflect infrared rays. In general,
they can also help reduce global warming by reducing the burning of fossil fuels
Of the more than 4 billion kilowatt hours of electricity generated in the U.S.,
about 67% is from fossil fuels (coal, natural gas, and petroleum).
Source: U.S. Energy Information Administration, 2014 preliminary figures.
Sales meeting
The march to maximize value
Through an expanded sales, distribution and technical support network, Kemper System
extends the value of its world-proven, cold liquid-applied reinforced membrane systems to
specifiers, building owners and managers across the U.S., Canada and now Mexico. That
value can also extend from the specification process to installation and customer support.
At the annual sales meeting, the team reviewed new product and market developments
– and best-in-class approaches to difficult roofing / waterproofing challenges. "Our
technology can satisfy a wide range, but our professionals can really make the difference
in building maximum value," says Managing Director Richard Doornink.
Boots on the Ground
Top Row:
Joe Hoekzema, Roland Wieth, Brian McGuire, Krzysztof
Dobrzanski, Eugene Wasiak, Jim Fell, Braeden Kleven, Chad
Brickner, John Fotopoulos, Aaron Wood, Steve Crone
Middle Row:
Rick Brill, Brian Kelly, Fred Day, Graydon Cox , Victoria Rusin,
Tim Sullivan, Katie Lehman, Jay Strother, Kathy Courteau,
Ed Umbreit, Tom Martinelli, Brad Johnson, Nicole Hillard,
Larry Price, Bill Spencer, Gino Soroker, Duane Zitkovic, Martin
Hernandez, Carson Braswell
Bottom Row:
Gina Cali, Mike Ennis, Corrin Bittner, Christian Schaefer, Holger
Freyaldenhoven, Andreas Wiggenhagen, Richard Doornink,
Brett Steinberg, Jerry Gudenau, Jim Arnold, Charlie Appleby,
Chris Hunter, Jeff Younger
6
Best-of-Year Award winners
Please join Kemper System America in congratulating our "Best of Year" award winners
for outstanding performance in 2014.
Kemper System Sales
Person of the Year
Steve Crone of Kemper System America
Elite Contractor of the Year:
Jasen Geraghty and Paul Losito of Skyline Restoration
Independent Representative
of the Year:
Eric Johnson and Braeden Kleven of KR Kline
Distributor of the Year:
Muhammad Iqbal, Allied Building Products, Long Island City branch
Just a click away on
ARCAT.com
Kemper System America product information is now available on ARCAT.com and the
ARCAT app, including complete CSI 3-part architectural specs. Also find catalogs and
brochures and application videos. No registration is required. Search "Kemper System"
and download.
ARCAT is the leading online resource of FREE building product information.
Note: Kemper System is not partnered with ARCAT.
7
Project Tracker
In Progress
•Brooklyn Public Library, NY
•MIT Chapel Moat, MA
•120 Glass Building, FL
•121 Golden Gate, CA
•Bronx Zoo, NY
•Kellogg School of Management -
•Grove at Grand Bay, FL
•Alexandria Condominiums, WA
•Ski Condominiums, CO
•National Cemetery
•Rikers Island Facility, NY
•Moynihan Station, NY
•University of Iowa, IA
•University of Michigan, MI
Northwestern University, IL
•Royal Botanical Gardens, Ontario
•FAA TRACON Merrimack, NH
•Fletcher Hospital, VT
•Utah State Historical Building, UT
•Whole Foods Market, LA
•Bush Intercontinental Airport, TX
Welcome Center, VA
•Ericsson, NJ
•Hilton Grand Vacations, SC
2015 Trade Shows
Learn more about 'Cool Roofs' at AIA, May 14-16, Booth #1717
Kemper System America is putting the spotlight on reflective roofing at 2015 trade
shows. At AIA, National Design & Specification Manager Brian Kelly is presenting
a new AIA-credited seminar, "Sustainable Roofing Strategies:
Fighting the Effect of Urban Heat Island."
Above: Kemper System's new 20 X 20 exhibit with high-impact graphics debuted at IRE 2015.
Left: Brian Kelly narrates a product demonstration by Roland Wieth at the International Roofing Expo in February.
NEW ADDRESS
KEMPER SYSTEM AMERICA, Inc.
KEMPER SYSTEM CANADA, Inc.
´
KEMPER SYSTEM MEXICO
1200 North America Drive
West Seneca, NY 14224
Tel: (800) 541-5455
4 - 6345 Netherhart Road
Mississauga, ON L5T 1B8
Canada
Tel: (905) 624-5463
Municipio Pabellón
de Arteaga Nº102
Aguascalientes, México. CP 20358
Tel: +52 (449) 9730133
www.kempersystem.net
www.kempersystem.ca
www.kempersystem.mx
All information and statements contained herein are believed to be accurate, but Kemper System America, Inc., its agents and/or affiliates make no warranty with respect thereto, including but
not limited to any results to be obtained or the infringement of any proprietary right. Improper and unauthorized use or application of such information or statements or the material or systems
described herein is at user's sole discretion and risk, and consequently user acknowledges that Kemper System America, Inc. shall bear no responsibility or liability for same. Nothing herein shall be
construed as a license of or recommendation for use which infringes any proprietary right. All sales are subject to Kemper System America, Inc.'s Standard Terms and Conditions of Sale, including
but not limited to its Limited Warranty.
KEMP-3266 ©Copyright 2015 Kemper System America, Inc.