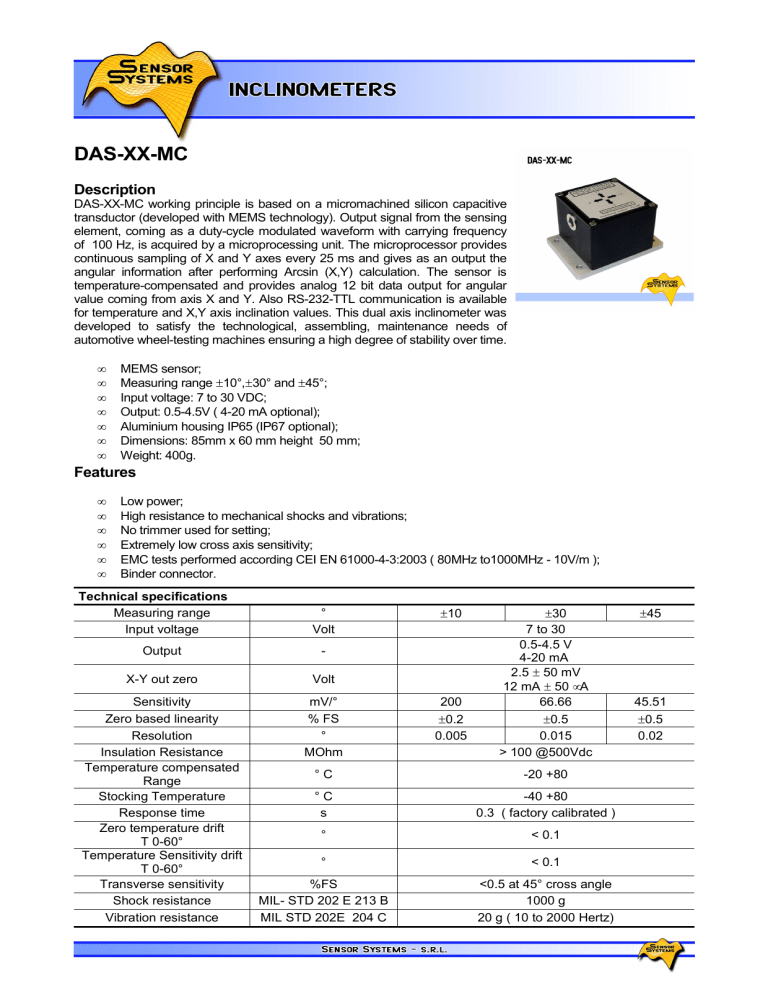 DAS-XX-MC
Description
DAS-XX-MC working principle is based on a micromachined silicon capacitive transductor (developed with MEMS technology). Output signal from the sensing element, coming as a duty-cycle modulated waveform with carrying frequency of 100 Hz, is acquired by a microprocessing unit. The microprocessor provides continuous sampling of X and Y axes every 25 ms and gives as an output the angular information after performing Arcsin (X,Y) calculation. The sensor is temperature-compensated and provides analog 12 bit data output for angular value coming from axis X and Y. Also RS-232-TTL communication is available for temperature and X,Y axis inclination values. This dual axis inclinometer was developed to satisfy the technological, assembling, maintenance needs of automotive wheel-testing machines ensuring a high degree of stability over time.
•
•
•
•
•
•
•
MEMS sensor;
Measuring range
±
10°,
±
30° and
±
45°;
Input voltage: 7 to 30 VDC;
Output: 0.5-4.5V ( 4-20 mA optional);
Aluminium housing IP65 (IP67 optional);
Dimensions: 85mm x 60 mm height 50 mm;
Weight: 400g.
Features
•
•
•
•
•
•
Low power;
High resistance to mechanical shocks and vibrations;
No trimmer used for setting;
Extremely low cross axis sensitivity;
EMC tests performed according CEI EN 61000-4-3:2003 ( 80MHz to1000MHz - 10V/m );
Binder connector.
Technical specifications
Measuring range
Input voltage
°
Volt
±
10
Output
X-Y out zero
-
Volt mV/°
% FS
°
MOhm
200
±
0.2
0.005
±
30
7 to 30
0.5-4.5 V
4-20 mA
2.5
±
50 mV
12 mA
±
50
µ
A
66.66
±
0.5
0.015
> 100 @500Vdc
Sensitivity
Zero based linearity
Resolution
Insulation Resistance
Temperature compensated
Range
Stocking Temperature
Response time
Zero temperature drift
T 0-60°
Temperature Sensitivity drift
T 0-60°
Transverse sensitivity
Shock resistance
Vibration resistance
° C
° C s
°
°
%FS
MIL- STD 202 E 213 B
MIL STD 202E 204 C
-20 +80
-40 +80
0.3 ( factory calibrated )
< 0.1
< 0.1
<0.5 at 45° cross angle
1000 g
20 g ( 10 to 2000 Hertz)
±
45
45.51
±
0.5
0.02