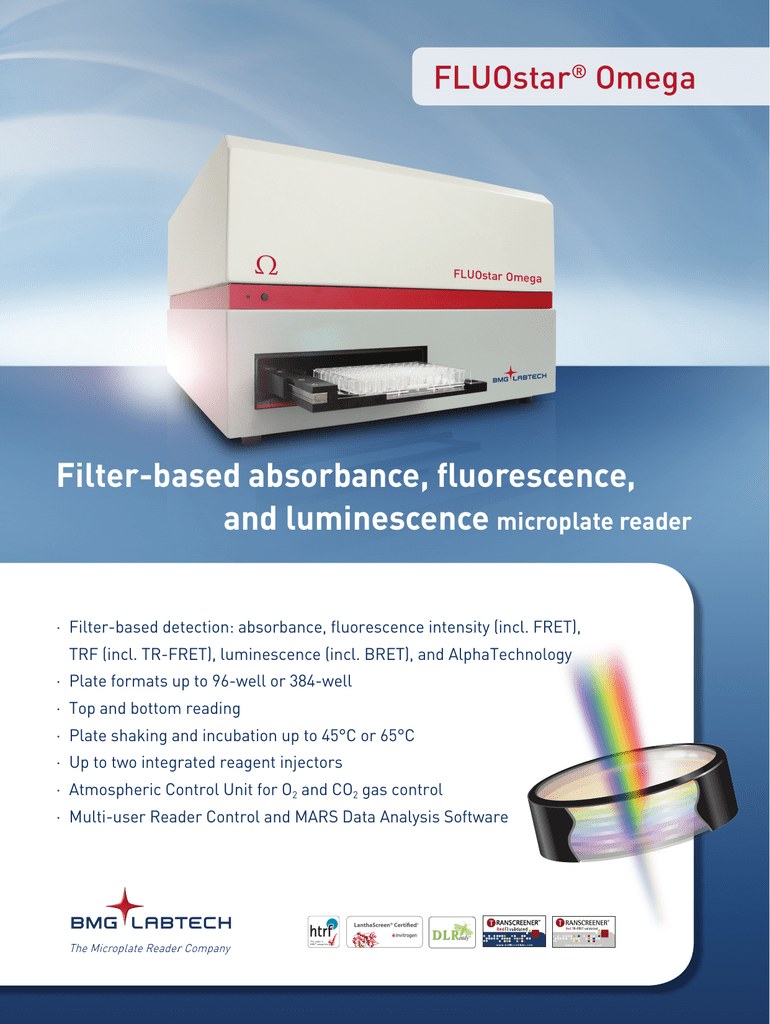 FLUOstar® Omega
Filter-based absorbance, fluorescence,
and luminescence microplate reader
· Filter-based detection: absorbance, fluorescence intensity (incl. FRET),
TRF (incl. TR-FRET), luminescence (incl. BRET), and AlphaTechnology
· Plate formats up to 96-well or 384-well
· Top and bottom reading
· Plate shaking and incubation up to 45°C or 65°C
· Up to two integrated reagent injectors
· Atmospheric Control Unit for O2 and CO2 gas control
· Multi-user Reader Control and MARS Data Analysis Software
T RANSCREENER™
FLUOstar® Omega - Technical Specifications
Due to the modularity of BMG LABTECH's instruments, all or combinations of the features below can be installed
at purchase or upgraded at any time. Please contact your local representative for more details or a quote.
Detection Modes
UV/Vis Absorbance filter-based
Fluorescence Intensity - including FRET
AlphaScreen®/AlphaLISA®
Luminescence (flash and glow) - including BRET
Time-Resolved Fluorescence - including TR-FRET
Measurement Modes
Top and bottom reading
Endpoint and Kinetic measurements
Sequential Multi-Excitation measurements
Sequential Multi-Emission measurements
Ratiometric measurements
Well Scanning
Microplate Formats
Up to 96-well plates, 384-well option
Light Source
High energy xenon flashlamp
Detectors
Side window photomultiplier tube
Optical Filters
Excitation and emission filter wheels for 8 filters each
Spectral Range
240 - 740 nm or 240 - 900 nm
Sensitivity
FI
< 1 fmol/well Fluorescein
< 0.2 fmol/well Fluorescein with 384-well option
TRF
< 70 amol/well Europium
< 30 amol/well Europium with 384-well option
High-End TRF for Omega
< 3 amol/well Europium
LUM
20 amol/well ATP with dedicated optic
DLReadyTM certified
AlphaScreen®
< 100 amol* (384)
ABS (filter-based)
OD range: 0 to 4 OD
Reproducibility: ±0.010 OD for 0-2 OD range
Read Times
Flying mode: 9 s (96), 16 s (384)
Reagent Injection
Up to 2 built-in reagent injectors
Injection at measurement position (6 to 384-well)
Individual injection volumes for each well (3 to 500 µL)
Variable injection speed up to 420 µL/s
Up to four injection events per well
Reagent back flushing
Shaking
Linear, orbital, and double-orbital with user-definable time and speed
Gas Vent
System to inject an atmosphere or to pull a vacuum into the reader
Incubation
+5°C above ambient up to 45°C or 65°C
Software
Multi-user software package including Reader Control and MARS Data
Analysis Software
Dimensions
Width: 44 cm, depth: 48 cm, height: 30 cm; weight: 28 kg
Accessories
Atmospheric Control
Unit (ACU)
Oxygen Regulation: 1-19% using nitrogen to purge.
Carbon Dioxide Regulation: 0 - 20% using 100% moisture-free carbon dioxide
to purge.
Dimensions (ACU only): Width: 44 cm, height: 17 cm and depth: 19 cm;
Weight: 5 kg
Stacker
Plate handler for up to 50 microplates - continuous loading feature
THERMOstar
Microplate Incubator and Shaker
Filters
Optimized for dyes, fluorophores and specific assays
Filters for all applications from UV to NIR
Customized filters available upon request
Upgrades
Upgrades to include options such as additional detection modes,
reagent injectors, extended temperature control, etc. are available.
Please contact your local representative for more information.
AlphaScreen, AlphaLISA and LANCE are registered trademarks of PerkinElmer, Inc.
DLR is a trademark of Promega Corporation.
LanthaScreen is a registered trademark of Invitrogen Corporation.
Transcreener is a registered trademark of BellBrook Labs.
Headquarters Germany
BMG LABTECH GmbH
Allmendgrün 8
77799 Ortenberg
Tel. +49 781 96968 -0
[email protected]
Australia
BMG LABTECH Pty. Ltd.
2/24 Carbine Way
Mornington, Victoria, 3931
Tel. +61 3 5973 4744
[email protected]
France
BMG LABTECH SARL
7, Rue Roland Martin
94500 Champigny s/Marne
Tel. +33 1 48 86 20 20
[email protected]
Japan
BMG LABTECH JAPAN Ltd.
1-6-2, Shimo-cho
Omiya-ku
330-0844 Saitama City
Tel. +81 48 647 7217
[email protected]
UK
BMG LABTECH Ltd.
5 Alton House Office Park
Gatehouse Way
Aylesbury
HP19 8YB
Tel. +44 1296 336650
[email protected]
USA
BMG LABTECH Inc.
13000 Weston Parkway
Suite 109
Cary, NC 27513
Tel. +1 877 264 5227
[email protected]
www.bmglabtech.com
* Limit of detection < 100 amol of biotinylated and phosphorylated polypeptide (P-Tyr-100 assay kit,
PerkinElmer, #6760620C), measured in white 384 small volume microplates (17 µL/well)
Limit of detection was calculated according to the IUPAC standard: 3x(SDblank)/slope
© 2014 All rights reserved. All logos and trademarks are the property of BMG LABTECH.
Made in Germany
Wolf Laboratories Limited
www.wolflabs.co.uk
Tel: 01759 301142
Fax:01759 301143
[email protected]
Use the above details to contact us if this literature doesn't answer all your
questions.
Pricing on any accessories shown can be found by keying the part number
into the search box on our website.