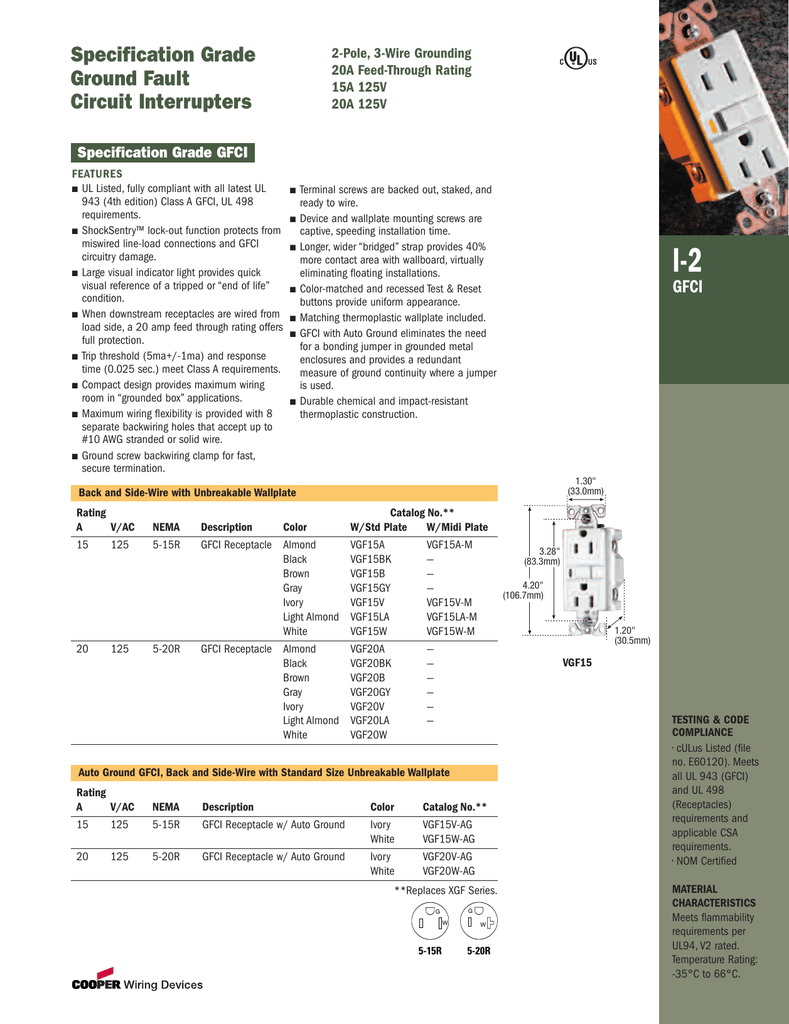 Specification Grade
Ground Fault
Circuit Interrupters
2-Pole, 3-Wire Grounding
20A Feed-Through Rating
15A 125V
20A 125V
C
R
US
Specification Grade GFCI
FEATURES
n UL Listed, fully compliant with all latest UL
943 (4th edition) Class A GFCI, UL 498
requirements.
n ShockSentry™ lock-out function protects from
miswired line-load connections and GFCI
circuitry damage.
n Large visual indicator light provides quick
visual reference of a tripped or "end of life"
condition.
n When downstream receptacles are wired from
load side, a 20 amp feed through rating offers
full protection.
n Trip threshold (5ma+/-1ma) and response
time (0.025 sec.) meet Class A requirements.
n Compact design provides maximum wiring
room in "grounded box" applications.
n Maximum wiring flexibility is provided with 8
separate backwiring holes that accept up to
#10 AWG stranded or solid wire.
n Ground screw backwiring clamp for fast,
secure termination.
n
n
n
n
n
n
n
Terminal screws are backed out, staked, and
ready to wire.
Device and wallplate mounting screws are
captive, speeding installation time.
Longer, wider "bridged" strap provides 40%
more contact area with wallboard, virtually
eliminating floating installations.
Color-matched and recessed Test & Reset
buttons provide uniform appearance.
Matching thermoplastic wallplate included.
GFCI with Auto Ground eliminates the need
for a bonding jumper in grounded metal
enclosures and provides a redundant
measure of ground continuity where a jumper
is used.
Durable chemical and impact-resistant
thermoplastic construction.
I-2
GFCI
1.30"
(33.0mm)
Back and Side-Wire with Unbreakable Wallplate
Rating
A
V/AC
15
125
20
125
NEMA
5-15R
5-20R
Description
Color
GFCI Receptacle Almond
Black
Brown
Gray
Ivory
Light Almond
White
GFCI Receptacle Almond
Black
Brown
Gray
Ivory
Light Almond
White
Catalog No.**
W/Std Plate
W/Midi Plate
VGF15A
VGF15A-M
VGF15BK
—
VGF15B
—
VGF15GY
—
VGF15V
VGF15V-M
VGF15LA
VGF15LA-M
VGF15W
VGF15W-M
VGF20A
—
VGF20BK
—
VGF20B
—
VGF20GY
—
VGF20V
—
VGF20LA
—
VGF20W
Auto Ground GFCI, Back and Side-Wire with Standard Size Unbreakable Wallplate
Rating
A
V/AC
15
125
NEMA
5-15R
Description
GFCI Receptacle w/ Auto Ground
20
5-20R
GFCI Receptacle w/ Auto Ground
125
Color
Ivory
White
Ivory
White
Catalog No.**
VGF15V-AG
VGF15W-AG
VGF20V-AG
VGF20W-AG
**Replaces XGF Series.
G
G
W
5-15R
W
5-20R
3.28"
(83.3mm)
4.20"
(106.7mm)
1.20"
(30.5mm)
VGF15
TESTING & CODE
COMPLIANCE
• cULus Listed (file
no. E60120). Meets
all UL 943 (GFCI)
and UL 498
(Receptacles)
requirements and
applicable CSA
requirements.
• NOM Certified
MATERIAL
CHARACTERISTICS
Meets flammability
requirements per
UL94, V2 rated.
Temperature Rating:
-35°C to 66°C.